También puedes leer este artículo en:Español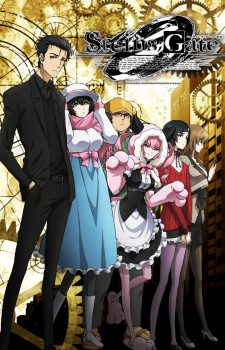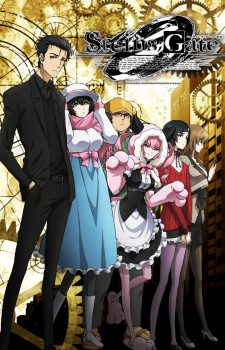 Honey's Highlights
I AM NOT CRYING. YOU ARE CRYING. IT'S NOT ME. NUH-UH. NOT ME.
Why.... I mean, I want more of this, but why. Why. Why. I am not ready for this.
I just got over everything in Boku dake ga Inai Machi, Re:Zero, and Toki wo Kakeru Shoujo. I guess spring anime is going to make me cry again. Manly tears only, of course.
Is time travel back in retro again? I just hope he can break out of this sad cycle like they tried to in Higurashi no Naku Koro ni. But can he?
Promotional Videos / PV
Game PV:
Official Images / Key Visuals
Synopsis
An alternate ending to Steins;Gate, set in the visual novel's Beta World Timeline.
Okabe has given up on saving Kurisu and returned to his everyday life, but is suffering from flashbacks of the events that happened in the world lines he crossed, and of Kurisu's death. He has sunk into despair, and starting with Mayuri, who encourages him to visit a mental health clinic, the labmen are worried for him. Before long, even 'Kyouma Hououin' has been sealed away…
That's when Okabe meets Kurisu's former acquaintances and volunteers to become a test subject for Amadeus, a computer system in which Kurisu's memories have been saved. Using an exclusive application, he can communicate with 'Kurisu.' Then one day, a girl comes to the lab for advice - a girl with a striking resemblance to Kurisu.
Characters & Voice Actors List
Rintaro Okabe
Voice Actor: Mamoru Miyano
---
The leader of the futuristic gadget research facility. Since a certain happening, he is painfully aware of his own lack of power.
Kurisu Makise
Voice Actor: Asami Imai
---
The brain of the lab, who Okabe tried to save in the past. Lost her life on July 28 in Akihabara.
Mayuri Shiina
Voice Actor: Kana Hanazawa
---
Okabe's childhood friend who understands things well. One of the members of Okabe's lab, aka 'labmen.'
Itaru Hashida
Voice Actor: Tomokazu Seki
---
A genius hacker known by the labmen as Daru. Knowledgeable about Akihabara culture.
Moeka Kiryuu
Voice Actor: Saori Gotou
---
She often has a taciturn poker face, but if it's via text message, she becomes garrulous. She has a severe dependence on her cellphone.
Luka Urushibara
Voice Actor: Yuu Kobayashi
---
From their physical appearance and mannerisms, Luka is a cross-dressing boy who is mistaken for a girl often. Their nickname is Lukako.
Faris Nyan-Nyan
Voice Actor: Hariko Momoi
---
Faris is a young girl who purposely does things at her own pace while working at a maid cafe in Akihabara. She attaches 'Nyan' to words when speaking with others.
Suzuha Amane
Voice Actor: Yukari Tamura
---
Suzuha is a time-traveler who has come from the future. Being that her sense of the times is different, her spontaneous actions have a propensity of making her stand out.
Episodes
23
Theme Songs

Opening Song: Fatima by Kanako Itou
Ending Song: LAST GAME by Zwei

Adaptation

Visual Novel

Main Staff

Original Creator: Chiyodamaru Shikura/MAGES.
Director: Kanichi Kawamura
Series Composition: Jukki Hanada
Character Design: Tomoshige Inayoshi
Sound Director: Takayuki Yamaguchi
Original Illustrator: huke
Music: Takeshi Abo, Nobuaki Nobusawa, Moe Hyuga
(Credit Honey's Anime when you use our description.)