También puedes leer este artículo en:Español
It's that wonderful time of year again, and who better to spend it with than imaginary 2D women?! All jokes aside, Christmas is the time of year to spend with friends, family, and lovers alike, which got us all wondering which anime girls we would like to spend the festive season with? Let's take a look at the Top 5 Anime Girls to Spend Christmas With!
Spoilers Ahead!
5. Kurisu "Christina, Assistant, American Virgin, Perverted Genius Girl, The Zombie, Celeb 17" Makise from Steins;Gate

Steins;Gate is one of the most popular anime of the last ten years and with good reason as it turned the Sci-Fi genre on its head with the outlandish story around time travel and government conspiracies. There are numerous amazing characters in Steins;Gate that we would love to spend Christmas with, but who better to get festive with than the one and only 'Christina'! Kurisu Makise is a genius who has written scientific papers and skipped grades in school, but throughout Steins;Gate, we see her softer side in wanting part of a normal life.
Despite Christmas being all about food, Kurisu Makise is not much of a chef, but that just means you can go for a more traditional Japanese dinner and get some sort of KFC or fried chicken. Even though Christmas is normally considered a family holiday, if that isn't your sort of thing, then Kurisu is the perfect person to spend Christmas with due to her strained familial relationship with her father.
---
4. Rem from Re:Zero kara Hajimeru Isekai Seikatsu (Re:Zero - Starting Life in Another World)

People may be wondering why Rem was chosen for this list instead of Emilia, and it's simple, maid over princess any day. Why spend Christmas serving a princess the whole time when you can have quality time with the sweetest maid in anime! Rem is most well known for her confession to Subaru in Re:Zero - Starting Life in Another World and his rejection due to being in love with Emilia. This means that spending Christmas with Rem is unlikely to upset anyone and will likely cheer her up.
Being from an unknown fantasy world, Christmas might be a strange concept for Rem, but as seen during the OVA episode E-EX Memory Snow, Rem can relax and have fun at a festive time despite her seriousness while she works as a maid. Subaru also introduces a Snow Festival in this episode, the closest thing to a Christmas in the Re:Zero universe so far! Rem may not be everyone's first choice to spend Christmas with, but at least we know she would be great company for anyone at this festive time of year!
---
3. Megumin from Kono Subarashii Sekai ni Shukufuku wo! (KonoSuba: God's Blessing on This Wonderful World!)

KonoSuba is well known for its comedy and absolutely absurd interactions between the main party. Any one of the three girls, Darkness, Aqua, or Megumin, not to mention Wiz or Yunyun, would be excellent companions for Christmas time. Of course, picking one of the characters to spend the festive period will boil down to personal preference, like if you want a drinking buddy, then Aqua will be your choice or if you enjoy the company of a masochist, Darkness will be for you. Still, for everyone, the universal choice of Megumin is the safest bet.
Megumin is the kind of character that caters to all tastes, providing some of the best comedic moments in Konosuba like her overuse of the explosion spell, her only magic spell, which wipes Megumin out to the point of not being able to walk. Not to mention the hilarity that ensues in the episode A Friend for This Crimson Demon Girl in the typical anime bath scene with Megumin and Kazuma after fighting a huge toad and running into Yunyun for the first time. Megumin also sports chuunibyou characteristics, giving her a larger-than-life persona that would be explosive to spend the festive period with.
Not only will spending the festive period with Megumin likely be full of mishaps and laughs, but she is also likely to bring along her cat Chomusuke and her apparent rival/best friend Yunyun, making a party out of any situation, and isn't that what Christmas is all about?
---
2. Raphtalia from Tate no Yuusha no Nariagari (The Rising of the Shield Hero)

Rising of the Shield Hero received some controversial coverage after its release. At the story's start, the main female character is a slave, and some unsavoury story elements are used to set up the central plot. However, despite this, Rising of the Shield Hero has gone on to be one of the best-rated Isekai anime of the last five years. Raphtalia quickly won over the audience's hearts as an interesting character with a naivety that came from someone unfamiliar with the world around her, guided by the tough love of the main character Naofumi Iwatani who freed Raphtalia from her enslavement.
Raphtalia is a kind character, exhibiting big sister energy during her interactions with Filo and Melty as Naofumi's party travel across the world trying to defeat the world, ending aberrations that have been spawning during the apocalypse. This kindness and friendliness are why Raphtalia ranks so highly on this list, characteristics of a festive companion that is likely to bring joy to anyone around her during the holidays. Not to mention that Raphtalia's loyalty is second to none, meaning she would go to the end of the world to protect those she cares for, though that might mean it could be hard to pry her away from Naofumi.
---
1. Mai Sakurajima from Seishun Buta Yarou wa Bunny Girl Senpai no Yume wo Minai (Rascal Does Not Dream of Bunny Girl Senpai)

A real-life bunny girl? What more could someone want in a companion at Christmas time! How about a model and successful actress as well? Why not all rolled into one, which is what you get with Mai Sakurajima!? Instead of carrying the usual attitude of a successful celebrity, Mai expresses a more humble attitude. Despite emitting some tsundere energy, Mai never overreacts to teasing or strange situations. She is a kind and quiet individual even though she has a larger-than-life presence due to her career.
A Christmas spent with someone with so much talent would be top of the list for anyone, and the added likeability of her character means that spending the festive period with Mai would be a good time for all! Added to Mai herself is the likelihood of all the other characters from Bunny Girl Senpai showing up to a festive party!
---
Final Thoughts
Christmas is a holiday to spend with others, and the recent events have shown how important that is for everyone, so whether they're 3D or 2D, make sure to spend it with your favourite people! After all, the festive period is what you make of it, be it romance, friendship, drunk banter, or whatever else you consider a good time this holiday season! So what did you think of our list for Christmas? Did we miss anyone you would want to spend Christmas with? Let us know in the comments!
---
---
Christmas is the best season of the year to spend time with your family and friends. And, if you're lucky, maybe you have a significant other to cuddle by the fireplace. All of that led us to wonder... which anime girls would we want to spend Christmas with if we could? Whether romantically tinged (as it tends to be in Japan) or not, who would be the best girl to help us get in the holiday spirit? Let's take a look at them; the Top 10 Anime Girls to Spend Christmas With!
10. Phosphophyllite from Houseki no Kuni (Land of the Lustrous)

Episodes: 12
Aired: October 2017 – December 2017
This technically genderless (but female-looking) gem starts out as a whiny brat who has spent her 300 years of life being clumsy, useless, and just supremely unhelpful to the rest of the gems. She's desperate for a real job that can hold her attention, and we think that putting her in charge of organizing Christmas festivities would brighten her attitude right up.
Phos can be quite endearing when she's excited, such as when she first went out hunting for Lunarians, so helping her string up garlands or pick out the best Christmas tree is bound to be adorable. She can spend more time with Antarcticite, too! At the very least, we want to give her a short reprieve from the avalanche of suffering she's due for after winter is over.
---
9. Popuko and Pipimi from Poputepipikku (Pop Team Epic)

Episodes: 12
Aired: January 2018 – March 2018
Traditions are going out the window if we spend Christmas with these two nutjobs. Popuko and Pipimi are so unpredictable that we would just want to hang out with them to see what holiday hijinks they come up with. Based on some promotional art spotted in Akihabara last year, it seems like they dream of namahage demons instead of sugarplums and plan to kidnap people by posing as Santa and invading homes. Also, their Christmas dinner appears to be a smiling brown creature wearing a beret. We couldn't make any of that up if we tried.
---
8. Hiyori Iki from Noragami (Noragami: Stray God)

Episodes: 12
Aired: January 2014 – March 2014
Hiyori may not be the most useful character in terms of combat ability (except for her ayakashi-boosted wrestling moves, of course), but there's one thing she excels at above everyone else in Noragami; making sure her friends are happy. She does everything she can to keep Yato and Yukine on good terms with each other, and she regularly risks her own safety to stay by their side.
But the most heartwarming thing she ever did was stay up all night to make a tiny shrine for Yato out of craft supplies. This small gesture meant so much to Yato that he lost all words and just cried out of happiness. We'd love to help Hiyori make more gifts for her friends to spread the Christmas spirit of giving from one's heart.
---
7. Sasha Braus from Shingeki no Kyojin (Attack on Titan)

Episodes: 25
Aired: April 2013 – September 2013
Sasha loves one thing above all else in her post-apocalyptic world, and that's food. With the remaining humans cramped within walls to protect themselves from the Titans, good food is hard to come by unless you're rich or steal it from those who are. Even though she's a highly competent soldier and possibly the best sniper in the Survey Corps, most people remember Sasha for her tendency to steal meat and potatoes from her superiors.
Christmas is the time of year where we go all out and prepare the best meat, side dishes, and desserts that we can manage. Sasha would be ecstatic if we asked her to bake cookies with us, and she'd be in heaven at the sight of a dining table laden with Christmas dinner. We would cook and bake all month long just to see the look of pure joy on her face.
---
6. Maika Sakuranomiya from Blend S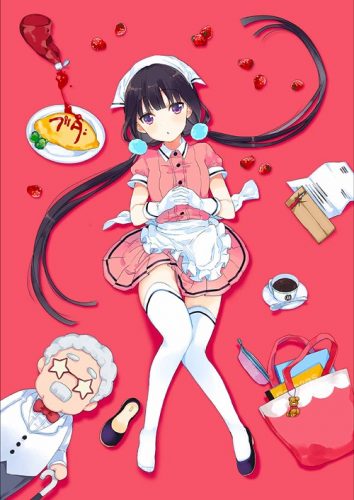 Episodes: 12
Aired: October 2017 – December 2017
She's a pure and precious jewel, perfectly embodying Japanese elegance with her straight black hair and shy demeanor... at least according to her love interest, Dino. In reality, Maika is a genuinely sweet girl with an unfortunate case of resting bitch face that makes her look much more intimidating than she really is.
Since she loves the Japanese concept of Christmas, we'd be happy to eat a traditional Kentucky Fried Chicken meal with her as she reminisces about how the statue of Colonel Sanders was her "first love". Afterwards, we could take her out for a walk among the glittering streetlights and snow-covered footpaths of the city. And even if her face doesn't show it, we'll know that Maika is having a great time.
---
5. Erza Scarlet from Fairy Tail

Episodes: 175
Aired: October 2009 – March 2013
Almost every member of Fairy Tail has some strange personality quirk, but S-class mage Erza takes the cake. She brings her trademark intensity into any situation, whether it's a life-or-death battle against a dark guild or just a tipsy Christmas party with her friends.
In the OVA "Fairies' Christmas", Erza gets herself and all of the other main characters absolutely plastered so they can play a variant of the Osama/King drinking game – which is really just an excuse for her to force her friends to do embarrassing things (often involving nudity) all night long. If we spent Christmas with Erza, we're sure it would turn out to be a drunk and debaucherous day.
---
4. Nanako Kuroi from Lucky☆Star

Episodes: 24
Aired: April 2007 – September 2007
Not everyone has someone to hold close under the mistletoe, and Kuroi-sensei is especially bitter about it. At the age of 27, she's considered to be just like a Christmas cake—something that nobody wants after the 25th passes. But she never gives up hope and she even buys a Christmas cake after the holiday is over just to prove that it still has value.
We wish that we could bond with her over cake and cheap wine, crying out our romantic woes and playing video games borrowed from Konata. After all, Christmas is what you make of it yourself, and nobody should have to spend it alone when they have plenty of reasons to celebrate.
---
3. Akira Kenjou/Cure Chocolat from Kirakira☆Precure A La Mode

Episodes: 49
Aired: February 2017 – January 2018
As possibly the first anime hero with chocolate-based superpowers, Akira Kenjou would be invaluable around Christmastime. On top of that, she's a kind person who puts her chronically ill sister's health and happiness above all else. We'd love to spend time making sweets with her and the rest of the team at the patisserie they run together.
Akira's favorite dessert to make for her little sister Miku is a brownie and chocolate bar combination that looks like a doghouse, complete with a puppy made of strawberry and whipped cream peeking out from the entrance. It would be fun to add royal icing and sanding sugar to make snow atop the doghouse, maybe even with tiny candies to resemble Christmas lights for the full holiday experience.
---
2. Shio Koube from Happy Sugar Life

Episodes: 12
Aired: July 2018 – September 2018
We can't stand seeing innocent people being taken advantage of, especially when they're children who don't know any better, and Shio's life with the secretly maniacal teenager Satou is so disturbed that it looks like something out of a true crime kidnapping documentary. Shio has no idea that she's being kept away from the rest of the world, that her family is looking for her, or that being locked in a small apartment with no free will is unusual.
If we could manage to rescue her from Satou's chilling embrace, we would give Shio the best Christmas ever. Let's go see Santa! Decorate the tree! We'll get her all the presents she could ask for! After all of the abuse that she's unknowingly suffered, it would be the least we could do.
---
1. Megumi Tadokoro from Shokugeki no Souma (Food Wars! Shokugeki no Souma)

Episodes: 24
Aired: April 2015 – September 2015
Every student at Toutsuki Culinary Academy is an expert at some kind of cuisine, like homestyle Japanese or fermented ingredients. Souma's shy, blue-haired friend Megumi specializes in Asian comfort food that instantly soothes the spirits of anyone who eats it. She doesn't have the unshakable confidence of her peers (which tends to put her at risk of expulsion more often than not), but when she gets the chance to shine, she proves that her cooking is worthy of the school's impossibly high standards.
Christmas food is basically optimized for comfort, from pies to roast turkey to mulled cider on a chilly winter's night. We bet that spending Christmas with Megumi would be delicious, since she could prepare old favorites and come up with new dishes that we didn't even know we were craving. She's a sweet girl who deserves a happy holiday, and Christmas seems like the perfect one to share with her.
---
Final Thoughts
As we mentioned before, Christmas is what you make of it. Hanging out with these girls could bring romance, friendly bonding, drunk shenanigans, or just about anything else you could think of to make your holiday season special. We just wish we had more Christmas episodes so we could see those scenarios for real!
What did you think of our list? Which anime girl would you want to spend Christmas with? Let us know in the comments, and thanks so much for reading!
---
---
Christmas time is finally upon us and it is our pleasure here at Honey's Anime to share the Christmas spirit with all of you anime fans. As you know, the holiday season is that time of year to spend time with your family and the people you love the most. Of course, as good anime freaks we also love anime and its awesome characters, so why not share that too?
For this reason we bring you a list with the cutest, hottest, funniest and most cheerful anime girls you'd love to spend Christmas with. Last year we did the same list but mostly focusing on anime girls who have special Christmas episodes (you can check that list right below this one). As this is an update, we're going to select some of the newest girls in anime who can bring something to the table on this magical and wonderful time of year.
This is our updated Top 10 anime girls to spend Christmas with! Enjoy the gifts! 😉
10. Shizuru Nakatsu from Rewrite

Episodes: 13
Aired: July 2016 – September 2016
Shizuru Nakatsu has to be THE loli of 2016. She's just so cute and special that we'd love to spend Christmas with her. Even though she's a bit shy and doesn't speak much, Shizuru has a very powerful way of expressing her emotions through her lovely face and mesmerizing heterochromatic eyes.
Shizuru is absolutely adorable and full of a contagious cheerfulness that will surely help make this Christmas all the much more special. But that's not it. Shizuru is also great at preparing delicious fish dishes like mackerel pike, and you know tasty food is always an essential part of Christmas.
---
9. Ruby Kurosawa from Love Live! Sunshine!!

Episodes: 13
Aired: July 2016 – September 2016
Ruby Kurosawa is one of the members of the school idol group Aqours and also a member of the sub-unit CYaRon. Obviously, spending Christmas with a teenage idol is probably one of the best ways to spend the holidays. Of course, all of the girls from Love Live Sunshine would be a great choice as they can perform just for you, but Ruby is special in many ways.
For an idol, Ruby Kurosawa is quite shy and fearful (especially of men), but she can still put on a good show. Of course, apart from being an idol, Ruby has other talents that may be useful on Christmastime. Ruby is great at knitting and sewing, so you will definitely be getting some fancy warm clothes for Christmas.
---
8. Mumei from Koutetsujou no Kabaneri / Kabaneri of the Iron Fortress

Episodes: 12
Aired: April 2016 – July 2016
Mumei is certainly one badass loli as well as one of the most interesting anime girls of this year. Everything about Mumei is just awesome, from her looks to her kickass moves and her cool fearless personality. A Christmas time with Mumei can only be full of adventures.
Mumei could put on a Christmas show for you displaying some of her sick moves and maybe she can even teach you some of them, which can turn out to be quite funny if you're already drunk on cider and champagne. Besides, Mumei is still a little girl who likes playing with toys, so we're sure she's full of Christmas spirit. And of course, there's always the possibility of a zombie outbreak, in which case Mumei will have your back. 😉
---
7. Yume from Hai to Gensou no Grimgar / Grimgar of Fantasy and Ash

Episodes: 12
Aired: January 2016 – March 2016
Yume seems to be that kind of girl you can easily make friends with. Yume is the most outgoing character of the show, she's very open about everything and she's really friendly. It's almost impossible not to like her and it's just as hard not to fall for her. Even though Ranta teases her for having a flat chest, Yume is still an absolute beauty and we'd be blessed to spend Christmas next to her.
As a huntress, Yume is really hard working, so you can definitely count on her to help you decorate the Christmas tree and your whole place. Yume's hunter skills can also come in handy to get a nice fat turkey for dinner. But most importantly, this lovely girl can make a good friend to share all the nice things of Christmas with.
---
6. Niko Niiyama from Kiznaiver

Episodes: 12
Aired: April 2016 – June 2016
Niko Niiyama is the eccentric girl of the group on Kiznaivers. We would also like to spend Christmas with some of the other Kiznaiver girls like Chidori who's super sweet and a great cook or even Noriko, the cold emotionless girl who we'd love to see overcome by the Christmas spirit (if it worked on the Grinch it can certainly work on her). However, we think that a Christmas with Niko would just be super fun.
Niko Niiyama is always bright, childish and energetic. That is the kind of girl we want to spend Christmas with: someone who is always happy, smiling and enjoying the nice moments. Niko can be somewhat childish and immature, but sometimes that's what we need to be like in order to enjoy life. Niko would surely make our Christmas all the much merrier!
---
5. Kurumi Tokisaki from Date a Live

Episodes: 12
Aired: April 2013 – June 2013
Yes, we know, Kurumi Tokisaki is not exactly the nicest girl out there, but we can find many reasons why it would be cool to spend Christmas time with her. For one thing, when she's not killing people or loathing humans, Kurumi can be really sweet and polite. Besides, we know Kurumi has a soft spot for little animals, so as long as you fill your place with fluffy kittens nothing can go wrong.
But the main reason why we'd love to spend Christmas with the beautiful yet deadly Kurumi Tokisaki is because of her time manipulation abilities. Think about it, if Kurumi is in a good mood maybe she can take you back to your past Christmas and you could experience the holidays over and over again. That means more of that delicious Christmas food, more gifts, more fireworks, more Christmastime and a lot of adventure. That'd definitely be something else!
---
4. Sharo Kirima from Gochuumon wa Usagi Desu ka? / Is the Order a Rabbit?

Episodes: 12
Aired: April 2014 – June 2014
Sharo Kirima is one little blonde beauty who works at the herbal tea café, Fleur de Lapin. Sharo is the most insecure and sensitive girl on the show and she's quite shy. So, why would we want to spend Christmas with her? Well, all it takes to make Sharo a lively and playful girl is a little caffeine. She becomes totally hyper whenever she has some coffee.
But the main reason why we think it would be awesome to spend Christmas with the lovely Sharo is because she knows how to serve people. You would just have to sit back and relax while Sharo prepares the dinner table with all the Christmas food. What could be better than being pampered by this lovely girl?
---
3. Naho Takamiya from Orange

Episodes: 13
Aired: July 2016 – September 2016
Who wouldn't want to spend Christmas with the sweetest girl ever? Naho Takamiya is very likely the loveliest anime girl of 2016, which is why she'd be a great girl to spend Christmas with. Naho is super hard working when it comes to making good things for her friends, so you can bet she'd make a fine job with the Christmas decoration for you.
Maybe you can do it together and have a lot of fun while you're at it. After all, Christmas is all about sharing with the people you love. And who knows, maybe you end up having a moment with the sweet Naho under the mistletoe. But even if you don't, at least you know you're getting a nice gift. Naho is great at making gifts!
---
2. Hotaru Shidare from Dagashi Kashi

Episodes: 13
Aired: January 2016 – April 2016
Hotaru Shidare is definitely one of the hottest anime girls of 2016. That's already reason enough to make us want to spend Christmas with her, but Hotaru is also crazy funny. There is just no way we can have a boring Christmas with Hotaru at our side. We know for a fact that things will end up as hilarious and bizarre as a candy eating contest in bondage.
As eccentric as Hotaru can be, she's also quite serious about her passions (mostly candy). And since Christmas time is full of sweets and yummy food, we're sure that Hotaru would work really hard to give you the best Christmas party ever. Besides, Hotaru would make sure to keep those candy boots pretty full. Yum!
---
1. Hestia from Dungeon ni Deai wo Motomeru no wa Machigatteiru Darou ka / Is It Wrong to Try to Pick Up Girls in a Dungeon?

Episodes: 13
Aired: April 2015 – June 2015
Do we really need a good reason to want to spend Christmas with the gorgeous Hestia (or any other time of year for that matter)? Hestia is one of the sexiest and most charming anime girls we've met in the last couple of years, so we have no doubt she would look great in a sexy Miss Claus costume. But of course, Christmas is not really about sex appeal but more about family, friends, gifts (even though they tell you it's not about gifts), sharing good things and being thankful for everything in your life.
And this is actually another reason why Hestia would be the best company on Christmas. Hestia has a strong sense of family as we can judge from the way she cares about Bell and how she regards him as her family even though he's just a human. Hestia would make sure to make us feel at home and to give us that warm familial love. Plus, she could also gift us some kickass abilities!
---
Conclusion
That was our updated list of Christmas anime girls. We hope you've liked it and that you're starting to feel the Christmas spirit. We'd certainly love to spend the holidays with these beauties.
If you want to see even more ladies that would make the perfect company for Christmas then just check our original selection below. You can also go ahead and tell us which anime girl you think would be perfect to spend Christmas with and why, although sometimes you don't even need a reason. Share your passion for anime and your Christmas spirit with us in the comment section below. Merry Christmas!! :3
---
---
Christmas is that happy time of year you spend with your family getting gifts, having delicious food, but mostly sharing the Christmas spirit that bonds us to our beloved ones. As countless Christmas specials have taught us, this time of year is much more than just getting gifts.
Christmas is about sharing and caring for the one next to us (regardless of our religion and beliefs). Of course, we usually spend this holiday with our families, but what would happen if you had to spend Christmas with someone else? Say, an Anime girl for example. It could be pretty damn interesting if you ask me.
Since this time of year is all about sharing with the ones we love, why not share with those Anime girls we love so much. The following is a selection of the 10 Anime ladies you'd love to be with on Christmas!
10. Umaru Doma from Himouto Umaru-chan / My Two-Faced Little Sister

Episodes: 12
Aired: Jul 2015 – Sep 2015
What better than to start Christmas Day next to the most childish girl in the world of Anime? The lovely Umaru-chan is an expert at always getting what she wants. Christmas time will be full of gifts with Umaru, so you'll have the time of your life next to her.
She's also extremely kind and generous, so even if you don't get what you wanted or as many gifts as you expected, she will surely share with you whatever it is she asked Santa for (which would probably be a bunch of manga comics, DVDs and videogames). And you get to play and rest with her in the warmth of her kotatsu. Pretty cool, huh?
---
9. Rin Hoshizora from Love Live! School Idol Project

Episodes: 13
Aired: Jan 2013 – Mar 2013
Basically, any of the girls from Love Live! would be great to spend Christmas with. Rin just happens to be my favorite one and probably also the cutest, constantly acting like a cat and ending her sentences with nyan. OMG, she's so cute :3
Wouldn't it be great having a pop idol for Christmas just for you? She could sing some Christmas jingles and dance for you. You would have plenty of love and hugs from her and you could also spend all day playing sports on the back yard with her while you wait for Santa's arrival. I'd really love to get a neko-chan like her for Christmas.
---
8. Aisaka Taiga from Toradora!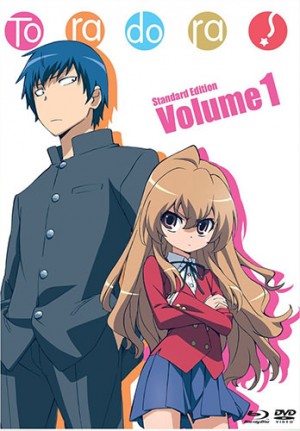 Episodes: 25
Aired: Oct 2008 – Mar 2009
Aisaka Taiga may be known as the Palmtop Tiger for being overly aggressive and rude. Still, we all know deep down she's a cute little girl who just wants to be loved and walk around with someone who cares for her. And isn't just that what Christmas is all about?
You can't possibly watch this show without falling for this adorable tsundere girl. I would love to be the one dressing as Santa Bear (ep. 19) to stand by her side during Christmas Eve. Plus, she could sing "Holy Night" to me with that beautiful voice of hers, and who knows; maybe we could end the night under the mistletoe.
---
7. Yui Hirasawa from K-On!

Episodes: 13
Aired: Apr 2009 – Jun 2009
Christmas with Yui Hirasawa would be a very musical and cheerful Christmas. Yui could play the Christmas boogie on her Les Paul for you and whatever jingle you ask her. She's also extremely sweet. As sweet in fact as the amount of candy she can have. She's a sweet tooth, so you will have plenty of sweet treats on Christmas Eve.
Yui would also be constantly holding your hand and hugging you since she likes to express her love in a physical way. You could also get warm under the kotatsu with her before or while you open your gifts. And what do you know? Maybe you get a brand new electric guitar for this Christmas.
---
6. Shiro from No Game No Life

Episodes: 12
Aired: Apr 2014 – Jun 2014
Shiro is just another sweet little girl we'd love to share Christmas Day with. I bet Shiro gets plenty of gifts for Christmas and they would all surely be cool games. We'd get to play all day long with the game master girl.
Just one thing, you'd probably like to team up with her unless you want to get your butt kicked every single time. This little girl is capable of beating the gods themselves, so you won't stand a chance against her even if she plays using only her feet. But seriously, Christmas with Shiro would mean loads of gaming and loads of fun.
---
5. Winry Rockbell from Fullmetal Alchemist: Brotherhood

Episodes: 64
Aired: Apr 2009 – Jul 2010
Winry Rockbell is that sweet yet tomboyish cute girl you'd love to be around at all times, but especially during Christmas time. She's a bit tough and even rude at times, but she can be extremely sweet towards the people she loves. Winry proves to be extremely caring and she also bakes the yummiest pies.
Winry's warm personality would surely fill you with the Christmas spirit. She's also good at handcrafting, so Christmas decoration won't be absent. Besides, you just might get something far better than anything you've ever asked Santa for; a brand new automail body part! How cool would that be?
---
4. Chii from Chobits

Episodes: 26
Aired: Apr 2002 – Sep 2002
What if we could literally ask Santa for anything we could think of? I bet most of us would probably ask for a beautiful girl. In the world of Chobits, such thing is possible. Just imagine getting a gorgeous girl (persocom, whatever, it's almost the same) like Chii for Christmas. Yup, that'd be your best Christmas ever.
You would have a sweet and adorable girl by your side to follow your every order. Besides, she knows very little of our world, so you could teach her all there is to know about Christmas, the Christmas spirit, family, love and sharing. You could also watch together all those Christmas specials you've already seen a million times on your own, because she won't know any of them.
Also, if you're lucky you just might get a bonus Christmas gift from her. 😉
---
3. Naru Narusegawa from Love Hina

Episodes: 24
Aired: Apr 2000 – Sep 2000
How wonderful it would be spending Christmas Day at the Hinata Inn together with the gorgeous tsundere Naru and the rest of the girls. Christmas time would be the perfect excuse to draw Naru away from her books for once, and you could all decorate the Hinata House like one big family.
The Christmas spirit should be more than enough to soften Naru for a while and let her express the warm feelings she's constantly repressing. Besides, it is said (on Love Hina's Christmas Special: Silent Eve) that if you confess your love on Christmas Eve, your dreams will come true. Plus, you'll get to sleep in an all-girls dorm afterwards.
---
2. Konata Izumi from Lucky Star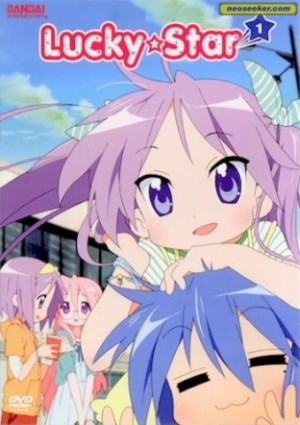 Episodes: 24
Aired: Apr 2007 – Sep 2007
I believe that Christmas with Konata would be the one of the funniest Christmas ever. It would be full of jokes, fun and loads of food. She loves Anime probably just as much as you do, so you can sit and watch Anime Christmas specials together instead of watching "How the Grinch stole Christmas" for the millionth time.
Plus, you'd be getting tons of cool stuff like ero-games, videogames and all sorts of games to play all Christmas Day long. You could also have the rest of the girls over for some Christmas cake and talks about Santa, girls' bust size (ep. 11) and your favorite Anime shows.
---
1. Asuna Yuuki from Sword Art Online

Episodes: 25
Aired: Jul 2012 – Dec 2012
I believe Asuna would be one of those people who are full of Christmas spirit. She is so selfless, kind and honorable that I can't help but to think of her on Christmas helping the people in need and doing all sorts of charity work with the biggest smile on her face. It's always nice to have people like that around you.
Asuna is incredibly determined and she tends to take things very seriously, so I bet that she would do an amazing job at decorating your place and getting it ready for Santa's arrival. One thing though, she's not exactly the best cook in the world, so try to take care of the food yourself or have someone else do it for you.
---
This was our selection of girls to spend the upcoming Christmas with. All these nice and lovely girls would make the best company for setting up the Christmas tree, decorating the house with candles and candy canes, exchanging gifts and Christmas cards, playing around on the snow making snow angels and having snow fights, or even playing board games next to the chimney.
You could share a delicious Christmas turkey with potatoes and cranberry sauce, and a Japanese Christmas cake for dessert. You could also end a perfect Christmas Eve together beneath the mistletoe. Because, what is Christmas if not being together with the ones you love? And we certainly do love all of these wonderful girls! :3
I hope you liked my selections and that you may start to feel the Christmas spirit inside you. Merry Christmas! 😀
Enjoy the Holidays with our Christmas Articles!
---