También puedes leer este artículo en:Español
Misato Katsuragi's ALPINE RENAULT A310 (Evangelion)
There's no question that when it comes to cars, there is a little spark that goes off in our heads that reminds of speed, luxury, and aesthetic. Cars have been an influence on our lives for years, and with new models and prototypes being presented at most car shows, it's no surprise that Honey's Anime had to rev up and write a top 10 on them. If cars and anime are the engine to your everyday needs, then lets gear up and cruise into Honey's Anime Top 10 Anime cars.
10. Roman and Otto's shark car / Comet Lucifer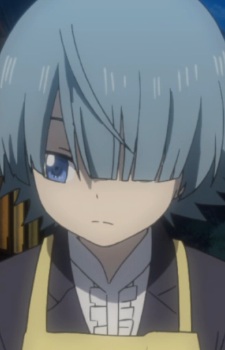 Episodes: 12
Aired: October 4, 2015 - ongoing
Cruising in at number ten in our top anime cars selection, we start off with the very colorful anime Comet Lucifer. Sougo is a young boy who lives in a world called gift, a vibrant land covered with blue crystals called Gifdium. His hobby is to wander around collecting rare crystals which leads him into this mysterious cave, paired with his classmate Kaon. This eventually leads him into meeting a mysterious young girl with blue hair and red eyes. What this mysterious girl's backstory entails is uncertain, but there are lots of laughs and great story in this wonderful anime.
Now you're wondering, where does the car come in. Well, it arrives very much in the first episode of the series. Roman and Otto are two of Sougo's other close classmates who own a very out of this world looking, high speed shark car. Blazing in with a hot red exterior and a sleek shark design on the front, this car gets its spot on the top 10 due to its cool looking body, but also having the ability to hover at top speeds, and can pretty much travel on any terrain, which is awesome. Check out this winter season's Comet Lucifer for more action.
---
9. Capeta's Formula One / Capeta

Episodes: 52
Aired: October 5, 2005 – September 26, 2006
Drifting into the 9th spot in the top anime cars spotlight is none other than Capeta. This manga turned anime series was quite popular among the car enthusiasts, but fell short of reaching the masses in a major way. At a staggering 52 episodes however, the anime did end up becoming a success and the manga sold reasonably well. Capeta is the story of a young boy with dreams of becoming the worlds number one Formula One racer. Losing his mother at a young age, it left an emptiness inside of him which lead him to put on a facade to maintain a manly image in front of his father. However, he felt lonely due to the loss, but it drove him to chase his dream even more. He eventually meets his rival Naomi, who is the current champion. His goal: become number one.
Capeta had a passion for cars at a young age, and through this love for cars he eventually fell in love with formula one racing. The formula one circuit is always a spectacle to watch, due to the insane speed at which these cars race at, but you also get to see the finesse behind it also. This wonderful anime couldn't miss the finish line in our top 10, so we hope you strap yourself in and enjoy this fast paced racer.
---
8. Vice Principal Uchiyamada's Toyota Cresta / GTO

Episodes: 43
Aired: June 30, 1999 – September 17, 2000
Entering in at number eight on the Top 10 Anime Car spotlight is none other than Mr. Uchiyamada's notorious Toyota Cresta. In GTO, Onizuka is a former gang member turned aspiring teacher, who finds himself in a school full of troublemakers, and its his job to transform these students into well behaved individuals. Throughout this wonderful school anime, we come to know and love Onizuka for his innate ability to read every situation, and solve every problem that comes his way. Unfortunately, no one could solve the ongoing problem that Uchiyamada had with is beautiful white cresta, that always met its fate at the hands of Onizuka.
The Toyota Cresta was a very popular luxury 4-door sedan in Japan in the late 90's. With its pearl white exterior, and eye catching interior, its no surprise that Uchiyamada insured this car three or four times throughout the entire GTO series. At first glance the Cresta may come off as somewhat bland by today's standards, but Japan has a strong taste for simplicity and the Cresta had all of that and more in one package. To see more of the shiny white Cresta, be sure to check out the wonderful anime series GTO.
---
7. Shiro's modified F-1 / Tailenders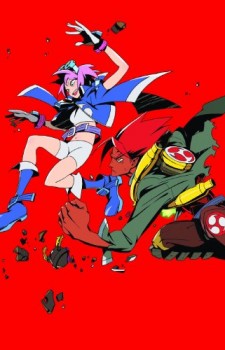 Episodes: 1
Aired: October 16, 2009
Tailenders is an action packed race of a lifetime where main character Shiro attempts to perform a risky u-turn in a race, which almost costed him his life. Without his notice, he somehow recovers entirely from the serious accident but his heart is now replaced with the engine of the very same racing car that almost ended it all. Due to this flaw, Shiro is then relegated and can no longer participate in major racing events. He then comes across another venue which takes place in a distant colonial planet which allows racers of his rank to take part. Shiro is then given the opportunity once again to make a name for himself in the world of futuristic F-1.
F-1 cars are always a beauty to admire due to its very simplistic approach to design, and aerodynamic ideals in mind. In Tailenders, Shiro's F-1 takes a whole new approach completely modifying a normal F-1 and turning it into a futuristic beast. Reaching unfathomable speeds, Shiro's F-1 is not only beautiful aesthetically, but its one car you don't want to run into if you ever feel the urge to do a street race. Check out Tailenders if you like a need for speed.
---
6. Soichi's Lotus Super 7 / eX-Driver: The movie

Episodes: 6
Aired: April 20, 2002
Number six on the lineup brings us to yet another very fast paced anime called eX-Driver. The story takes place in the future where most cars are controlled by the A.I. However Shoichi and his comrades decide to keep it classy and cruise in the most incredible list of cars you could ever have in an anime. Their goal is to ensure the safety and well being of the citizens in the city, since most cars due tend to show signs of age after much use and become a liability for many. It's a very action packed anime filled with lots of great attention to detail with the Subaru WRX, Lotus 7, and more.
As mentioned earlier, this anime really knows its attention to detail all the way down to the specific engine noises each car makes on the road. Shoichi's Lotus 7 is such a classic car which gained its popularity in the late 60's to early 70's. Lotus founder Colin Chapman emphasized the importance of performance through implementing a lightweight and simplistic design. The car became famous in the clubman racing circuit which eventually lead to its legendary status that we all know of today. If you like nostalgic cars with great realism, then check out Shoichi's ride in eX-Driver.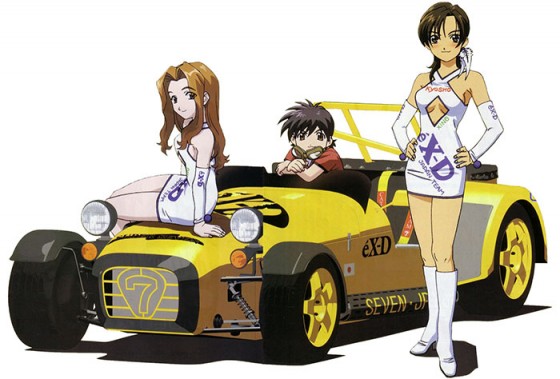 ---
5. Kakeru's Railbird / Chousoku Henkei Gyrozetter

Episodes: 51
Aired: October 2, 2012 - September 24, 2013
So we are now rolling our way right into the top 5 anime cars, and at fifth place we have Chousoku Henkei Gyrozetter. Based on the popular arcade card game of the same name released by Square Enix, the story takes place in a futuristic world where "A.I." cars have taken the world by storm, and have revolutionized the entire car industry. Kakeru, who is a student at Arcadia Academy was called upon by his principal and was given a mission hereby granting him his very own A.I. Car. The objective: to save humanity by chosen drivers like you. Kakeru finds out however, that his car is no ordinary car, but one that transforms into the extraordinary robot known as Gyrozetter.
The premise of the story pays somewhat of a homage to the transformer and voltron series, where cars become heroic robots to help save the world from demise. The Gyrozetter is just a real stunning car to look at with its flashy red exterior which looks very similar to the Subaru BRZ. Whether or not you're familiar with cars, the many different car models showcased by Toyota, Mazda, and more will surely entice you to watch this exciting anime.
---
4. Nico's Mercedes A-class / Next A-class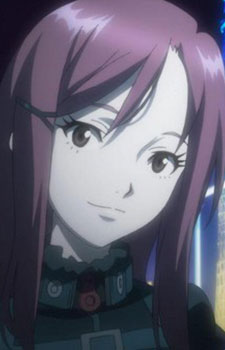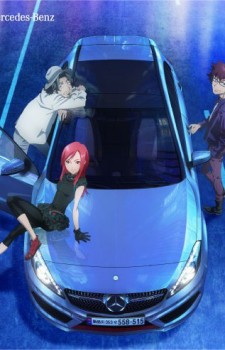 Episodes: 1
Aired: November 17, 2012
Our fourth place spot brings us to another anime that went under the radar due to its genre, but definitely had a lot of imagination behind it. Nico is a young woman who finds herself bored, stuck in her normal routine with nothing new to discover. Suddenly, this mysterious truck passes her by as she wanders down the Tokyo streets, but then realizes this truck has been the center of attention on internet chat sites. It's flashy design sparks her interest and she chases it down but then suddenly bumps into side characters Gatsu and Makito. They all decide to hop in Nico's A class Mercedes and chase down this mysterious truck, which changes form periodically.
While the story may seem strange at first, Next A-class is a very imaginative anime which really takes you on a road trip with spectacular visuals, and attention to detail. The A-class is no car to sleep on as it is one of the worlds most popular luxury vehicles to own. It's sleek and modern design truly capture the attention of those looking onward, but really draw you in once you see the interior. This truly deserves a spot on the list simply because it's Mercedes.
---
3. JP's Transam / Redline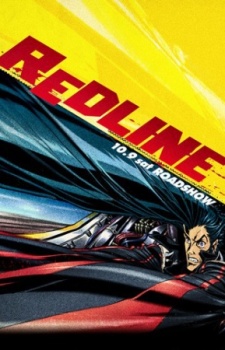 Episodes: 1
Aired: August 14, 2009
Coming in at number there is one anime racer you do not want to miss. Redline is an extremely fast paced, high octane anime which takes place in a futuristic world full of vibrant colors and intense battles. JP, the lead character in this anime takes part in the most deadly racing tournament in the universe: Redline. Everyone revs up to participate since this tournament is held once every five years, and the stakes are so high that you would be crazy not to miss out. JP is a reckless daredevil driver who completely ignores the term speed limit, and goes beyond the fifth gear into unimaginable speeds. However most races don't come without some scandal, as organized crime syndicates and corrupt governments are doing their bid to tip the scales in their favor. You can never have an anime without some romance, as JP meets his rival driver Sonoshee, a hardcore racer who shows no remorse for anyone.
Redline is an insane anime to watch because every scene that pops up on screen is just nothing short of excellence in terms of artistic direction. JP's highly modified car looks very similar to the bumblebee corvette but with a touch of crazy customization in almost every possible way. There is no shortage of action in this anime, as every race has you biting your nails as the petal is put to the metal for the top spot in redline. Check it out!
---
2. Akio's Fair Lady Z / Wangan Midnight

Episodes: 26
Aired: June 15, 2007- September 13, 2007
We are now shifting into the final gears to cross the finish line in our Top 10 Anime Car spotlight. Today in our garage is none other than the Fair Lady Z. There is no question that Nissan has created a car that stands the test of time in almost every possible way. The Fair Lady Z was created in 1969 as part of Nissan's strategy to create affordable sports cars, and pave the way for many car manufactures. Since then, the Fair Lady Z has seen constant cosmetic changes, but never lost the prestige that its so known for. In Wangan Midnight, Akio takes his Fair Lady Z out for a spin on the Tokyo Shuto Expressway (One of the original street racing spots in Tokyo, and is the longest, straight road in the country) when he is challenged by Tatsuya's Porsche 964 Turbo "Blackbird". He ultimately stood no chance against the beast, and eventually fell behind. This led Akio to become faster to overtake his enemy.
There are certain cars that just stand out without really having to try, and the Fair Lady Z is that car that exudes confidence in its sleek design and performance. As you watch Wangan Midnight, you are given a glimpse of just how powerful and dominating the car can be once maxed out to its full potential. Akio goes to the full extent of making sure his Fair Lady is well equipped to put a stop to Tatsuya's intimidating 964 Turbo. If you love street racing with a passion, then drift your way over to Wangan Midnight.
---
1. Takumi's AE86 / Initial D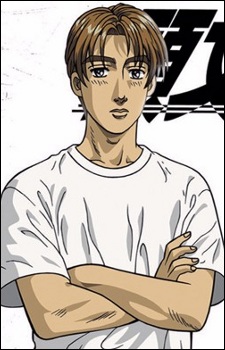 Episodes: 25
Aired: April 7, 2013- September 29, 2013
Initial D isn't the first car anime that Japan has created, but it is the anime that has surpassed every other car anime in every way possible. The unspoken rule is that if you haven't watched Initial D, then you haven't truly experienced the captivating lifestyle of street racing. Crossing the finish line at number one is none other than the AE86. Takumi is your ordinary young teen who finds himself working as a delivery boy for his father's tofu restaurant. This delivery route eventually becomes his training ground, as Takumi eventually finds a love for street racing, and is now on his way to become Japan's best street racer.
The reason the AE86 comes in at number one is not due to the aesthetic of the car, but rather its prestige. In Japan, the AE86 (or hachiroku in Japanese) is considered to be one of the iconic cars that really paved the way for street racing due to its performance on the road. Street racing has been extremely popular in Japan for years, and even today you will see an AE86 somewhere in the list of cars on the lineup. With its panda color exterior and very fundamentally sound performance, this car has become a fan favorite for newcomers and veterans in the scene. Definitely check out Initial D for more of the AE86.
---
Lupin's Abarth 500 (Lupin the Third)
Closing
The race is over, time to discover, dreams and places. This has been a long road, but much like every race, it must come to an end. There can only be one victor, and we all must celebrate in hopes that a new race will soon take place for us to look forward to. It is much like life in where every experience we go through is like a new challenge that awaits us. There will be twists and turns, risks we must take, but we must never give up on the road to prosperity.
We hope you enjoyed the top 10 anime cars spotlight, and that you continue to check out our other various top 10 highlights for more exciting stuff. As always, be sure to leave your comments below if you would like to add on more, but also to share your own insights too.
For all things sweet, keep it locked here on Honey's Anime.
---