También puedes leer este artículo en:Español
The new year isn't that new anymore and the routine of everyday life is back. But that is no reason to despair since another reason to celebrate is just around the corner. That's right, soon it's Valentine's Day and here at Honey's Anime, we want to start the celebration a little bit early!
Whether you like it or not, love is in the air and with it returns our wish for stories filled with young love and heartwarming scenes. We have already given you a line-up of anime we'd recommend you to watch on Valentine's Day, but that was one year ago and a lot of great shows have been released in the meantime. So today we want to give you a new, updated list that will definitely make your hearts beat faster. To keep things interesting, we are not including any shows we have already mentioned in the original list, so if you need more recommendations head on over there.
Enough talking, let's just jump right into it and take a look at our Top 10 Valentine's Day Anime. Enjoy!
10. Plastic Memories

Episodes: 13
Aired: April 2015 - June 2015
First up is one of our favorite romance anime from the Spring season 2015. You'll certainly remember Plastic Memories, right?
Tsukasa Mizugaki didn't quite manage to get accepted into college, but instead of sulking in his bedroom he decided to work for Sion Artificial Intelligence Corporation (SAI Corp), the makers of Giftias. These incredibly human-like androids make everyday life easier for humans like you and me - most of the time, at least. Together with his Giftia partner Isla, Tsukasa is responsible for taking out Giftia that are past their expiration date or have other malfunctions. The adventure of a lifetime awaits the young team.
What we enjoyed about Plastic Memories is the fact that you don't even have to be into romance to like this show. There is so much else to it - action, drama, science fiction - that almost everyone can find something to enjoy. Besides, the producers have done a great job at slowly pushing Tsukasa and Isla closer together without rushing any romantic component. Plastic Memories is a heartwarming all-rounder that will make you laugh and cry at the same time, so give it a try on Valentine's Day!
---
9. Ookami to Koushinryou (Spice and Wolf)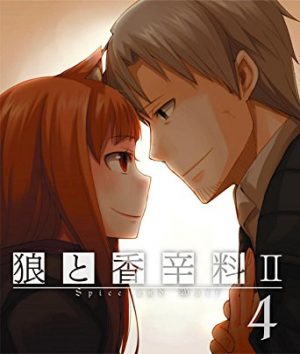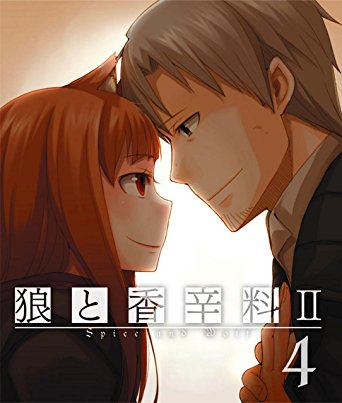 Episodes: 13
Aired: January 2008 - March 2008
After such a recent show we are moving back in time to a must-watch anime when it comes to romantic stories: Spice and Wolf.
Quite the opposite of Plastic Memories' Sci-Fi world, this story is set in a simpler, rural setting. Here, we meet traveling merchant Kraft Lawrence who prides himself in making a living all on his own. This is about to change when he meets Holo, a young woman who claims to be a powerful wolf deity. Lawrence agrees to let her accompany him on his travels to take her back to her home in the north. Watch Spice and Wolf if you want to find out how their story continues.
Spice and Wolf is a must-watch, not for its romantic component, but for its great storytelling. There are a lot of things you can learn from Lawrence and Holo's story since there are several layers to the storyline. Not only that, but the producers have succeeded in creating an interesting story while relying on just two main characters and lots of dialogue. Spice and Wolf is simply a gem in the anime world and should be watched regardless of the time of year - even though we do agree that watching it on Valentine's Day gives it an extra romantic touch.
---
8. Ao Haru Ride (Blue Spring Ride)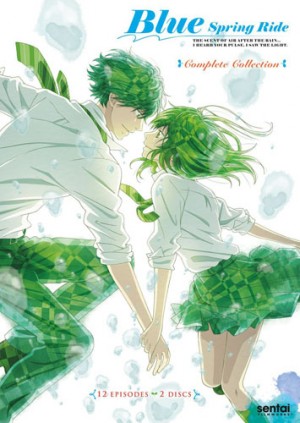 Episodes: 12
Aired: July 2014 - September 2014
After a Sci-Fi and a Fantasy universe, it's time to go back to the present with Ao Haru Ride.
The heroine of this story is Futaba Yoshioka, a girl who had to go through big changes. In middle school, she was a popular girl, mostly due to her good looks and feminine nature. But being ostracized by her female classmates got to Futaba and while entering high school she decided to change her image. Once feminine, she is now a tomboy and avoids any unnecessary attention. Her plan seemed foolproof until the ghosts from her past catch up with her: her middle school crush Kou Tanaka reappears and now Futaba has to question who she really is.
Ao Haru Ride might be set in a local high school, but that doesn't mean that the struggles of the main character don't apply to older viewers as well. Futaba - as well as the rest of the main cast - struggles with growing up and has to decide for herself what's most important in her life. Not only does she question her identity, but also how important friendship is to her. Of course, we also have the sweet romance between Futaba and Kou with all its youthful innocence, so definitely give Ao Haru Ride a try if you haven't already.
---
7. Nijiiro Days (Rainbow Days)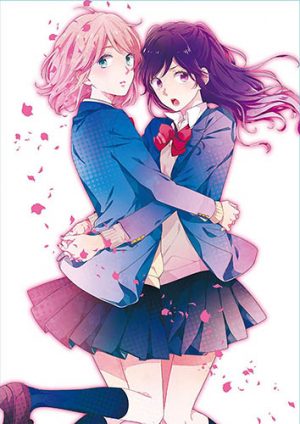 Episodes: 24
Aired: January 2016 - June 2016
We're staying in high school, but now we want to take a closer look at the romantic advances of high school boys.
In Nijiro Days, you get to follow Natsuki, Tomoya, Keiichi and Tsuyoshi on their everyday struggles with school and - most importantly - girls. The four boys couldn't be more different from each other, but what combines them is their youthful energy and their adolescent interest in their female classmates. Some seem to do a great job at making girlfriends; others might need a little bit more help. Regardless of their situation, these boys are charming and energetic and you will definitely find yourself cheering them on.
Nijiro Days is simply a carefree show. There aren't any grand plot twists or action-filled scenes, instead, you just get to lean back and relax for a bit. This show does a great job at capturing the ease and innocence of high school romances and we couldn't help but be reminded of our own youth. Nijiro Days is a great show if you're looking for a mellow Slice of Life show or simply want to watch characters struggle in their quest for love. Nijiro Days has something to offer for everyone.
---
6. Orange

Episodes: 13
Aired: January 2016 - June 2016
If you're looking for a heartwarming story, but don't want it to revolve simply around a romantic relationship, listen up because we might have just the thing for you.
Naho Takamiya's life is uneventful and straightforward, but that changes when she receives a letter from herself dated ten years into the future. Naho doesn't want to believe it at first, but the letter accurately predicts everything happening in her life. The key message of her future self is clear: there are a lot of regrets future Naho has and she wants to change the past in order to make things right again. On top of it all, a mysterious transfer student named Kakeru steps into Naho's life and the letter tells her to watch him closely.
Orange's premise might be the most interesting one out of all our recommendations today. It's definitely the most mysterious one and makes you want to keep watching until the very end. At first, it's not even quite clear if any romantic relationship will appear in the story, but that is not important. We have not included Orange for its romantic love aspects, but rather the love between the group of friends which persists for more than a decade. Valentine's Day isn't all about flirting and dating and that is why we had to include Orange and the beautiful friendship of its main cast on this list.
---
5. Skip Beat!

Episodes: 25
Aired: October 2008 - March 2009
After Spice and Wolf, there is one more classic we couldn't resist but include in today's selection. We're talking about Skip Beat!, of course, and the charming Kyouko Mogami as our heroine.
Kyouko has her heart at the right place, but she has one major flaw: she is still young and naive and believes in the good of people. That's why she cannot believe it when her childhood friend and long-time crush Shoutarou Fuwa dumps her once he rises to fame as a pop star. But Kyouko won't give up easily and she plans her revenge. She will become a star herself and then give Shou a taste of his own medicine. But the road to fame is longer and tougher than Kyouko had expected and there are more than just a few challenges she has to overcome to reach her goal.
In case the age of this show puts some of you off, just think about the fact that Skip Beat! has managed to stay relevant for almost ten years now. So what makes this show so popular? We cannot give you a definite answer, but let us just say that the storyline and characters work together flawlessly. Kyouko is a charming heroine that you actually root on from the very beginning and all the twists and turns of the storyline will keep you on the edge of your seat. Most importantly, Skip Beat! shows you both the ugly and the beautiful sides of being in love and that is why we believe it's a perfect anime to watch on Valentine's Day.
---
4. Kimi no Na wa. (Your Name.)

Episodes: 1
Aired: August 2016
We simply couldn't resist but include the last creation of Makoto Shinkai on this list. Next up is Kimi no Na wa.!
Mitsuha Miyamizu lives a peaceful life in the countryside. Taki Tachibana enjoys all the excitement of life in the heart of Tokyo. What would happen if the two unlikely high school students were to swap bodies? Lots of confusion and embarrassing moments as it turns out, but that doesn't mean that nothing good can come out of their strange encounter. Kimi no Na wa. is the heartwarming story of Mitsuha and Taki and their search for each other.
There is a reason Kimi no Na wa. got such a great reception and it's not the stunning beauty of the movie (even though a little bit of eye candy never hurts). No, Kimi no Na wa. is simply a gorgeous story that not only has a romantic component, but it's also a drama that will bring you to tears more than just a few times. We have included this movie on our list since it's a heartwarming story that combines romance, drama, action and a little bit of comedy almost effortlessly and is a perfect movie to make your heart beat faster on Valentine's Day.
---
3. Ore Monogatari!! (My Love Story!!)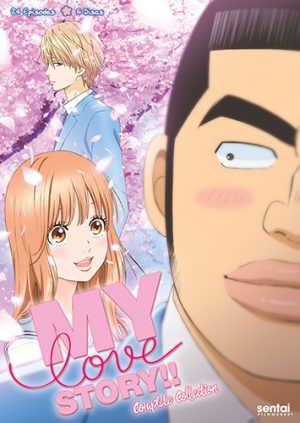 Episodes: 24
Aired: April 2015 - September 2015
We're getting to our last three recommendations on today's list and what better show to cheer you up than Ore Monogatari!!?
You know the stories of beautiful boys falling in love with beautiful girls, but what about the normal looking or even off-putting characters? This is exactly where Ore Monogatari!! comes in. This high school love story introduces you to Takeo Gouda, a boy with a heart of gold, but who scares people away with his huge body and rough-looking face. To make matters worse, Takeo's best friend is the most gorgeous and popular guy in the whole school and makes girls fall for him left and right. This is the story of Takeo and how he won't give up on finally finding true love.
There's no way you'd watch Ore Monogatari!! and not cheer for Takeo in his quest for love. He's a charming character and if we're being honest, don't we all want the underdog to get the beautiful girl for once? Ore Monogatari!! adds a nice twist to your usual high school romance stories and we appreciate the fresh wind in this genre. Ore Monogatari!! is a laid-back and fun story to watch on Valentine's Day and it gives all of us hope that anyone can find love if you only try hard enough.
---
2. Ano Hi Mita Hana no Namae wo Bokutachi wa Mada Shiranai. (Anohana: The Flower we Saw That Day)

Episodes: 11
Aired: April 2011 - June 2011
If you haven't cried enough tears for Kimi no Na wa., then we have another tear-jerking anime for you with AnoHana.
At the heart of this story stands a group of six friends who seem to be inseparable. They spend hot summer days together, go on adventures and get into all kinds of small fights. Nothing seems to be able to pull them apart - until one of them dies. The remaining friends go their separate ways and try their hardest to forget the ghosts of their past. What they didn't see coming is that the past catches up with them when they are literally visited by a ghost - the ghost of their dead friend.
You might argue now that AnoHana is not a romance anime per se and we would agree with you. But we didn't simply want to compile a list of our favorite romance anime today; we want to create a varied selection of anime to enjoy on Valentine's Day and what better pick than a show that will touch your heart and make you think about the importance of friendship and love? AnoHana gives you all that and even more, so definitely give it a try if you haven't already (just don't forget to keep a pack of tissues nearby).
---
1. Akagami no Shirayuki-hime (Snow White with the Red Hair)

Episodes: 12
Aired: July 2015 - September 2015
We have come to the end of our list, but before we let you go to give all of today's recommendations a try, we have one last show for you: Akagami no Shirayuki-hime.
Our last show takes place in a fantasy universe filled with castles, adventures, dangerous woods and evil princes. Red-haired Shirayuki is a cheerful girl living in the country of Tanbarun who devotes herself to her job at a local apothecary. But her carefree days find an abrupt end when Prince Raji forces the young girl to become his companion. Shirayuki flees and stumbles across Prince Zen from a neighboring country. The unlikely pair decides to work together to reach their respective goals and soon enough, a beautiful adventure is about to unfold.
A charming prince, a fantastic universe, a beautiful castle - what more could you want from a romantic story? While these elements might sound like a cliché now, they actually work together to create an exciting story which just continued into a second season. Akagami no Shirayuki-hime might not reinvent the wheel, but it does a great job at being a romantic fantasy story and it's a perfect choice to just get lost for a bit and follow the main cast on its magical adventures. If you haven't watched this anime yet, maybe Valentine's Day is the perfect opportunity to change that.
---
Final Thoughts
This wraps up today's recommendations, thank you for staying with us until the end!
We've had it all today, didn't we? From Sci-fi to Fantasy, from the future to the past, romantic stories can take place in all kinds of places and timelines. We have tried our best to find a good mixture between recent releases and all-time classics so that you can enjoy all kinds of shows around Valentine's Day. If we have missed out on your favorite romance show, let us know down below. Otherwise, give those shows you haven't watched yet a try; we can assure you they are all worth a watch.
What kind of anime do you like to watch on Valentine's Day and what is your opinion on our selection? Leave us a comment and share your option!
---
---
Valentine's Day is upon us and we can already feel the love in the air. This is that magical time of year to be in love and get as cheesy and romantic as you can possibly get. It's a day to pamper your significant other by giving them chocolates, flowers, a nice card or whatever you think that'll make them go "aww <3".
For those who are secretly in love, Valentine's Day is a great opportunity to confess your feelings for your beloved one. And then we have the forever-alones who just spend this day watching TV on their own while cursing stupid Cupid for his poor aim.
Today we have a special Valentine's Day selection that's meant for everyone to enjoy. You can watch these shows next to your significant other to get in the romantic mood. Or you can watch these on your own to cry like a baby; you'll feel really hopeful and a lot better about yourself once you get it off your system, trust me.
So, I give you my Top 10 Anime to watch on Valentine's Day!
10. School Days

Episodes: 12
Aired: Jul 2007 – Sep 2007
Watching School Days would be a nice way to warm up for Valentine's Day. It will just make you want to fall in love as easily as the girls on this show do for the main character, Makoto. Apparently, there's something about this self-centered good-for-nothing sex-addict that's driving girls crazy.
The story begins with Makoto Itou falling hopelessly in love with a girl on the train, Kotonoha. Makoto's classmate, Sekai, helps him to meet Kotonoha and start dating her, and in the process Sekai herself falls in love with Makoto as well. This show about a love triangle is not as innocent as the name suggests, and there are some drastic turns of events that'll shock you a bit.
However, it deals a lot with relationships, dating and love. So it's a nice choice for Valentine's Day, especially if you watch the Valentine's special, in which the girls fight each other over who's giving chocolate to Makoto. Just don't watch the last two episodes yet; they're not as romantic as the rest of the show.
---
9. Golden Time

Episodes: 24
Aired: Oct 2013 – Mar 2014
Golden Time is one of the cutest and most romantic shows on this list. It tells the story of Banri Tada, a law student who suffered an accident and lost all memories of his past. At law school, he meets Mitsuo, who becomes his friend, and Kouko, a gorgeous and wealthy girl who's had a crush on Mitsuo since they were children.
You'll discover a new world of romance and comedy in Golden Time; a world full of love triangles, forgotten memories and childhood crushes. Because you know, "love knows not what time is".
---
8. Byousoku 5 Centimeter (5 Centimeters per Second)

Episodes: 3 parts (Movie)
Aired: Feb 2007 – Mar 2007
I watched this one not long ago and it hit me right in the feels like no other. It's a beautiful love story about two children, Takaki and Akari, who become really close in elementary school. As time goes by though, their families move to opposite parts of Japan and the two drift apart, keeping in touch less and less with the passing of years.
I find very touching the way they feel about each other despite the distance. It really makes you believe they are true soul-mates, even when life keeps them apart. Their feelings for each other seem to never fade away. After all, distance means so little when someone means so much.
---
7. Kanon (2006)

Episodes: 24
Aired: Oct 2006 – Mar 2007
Kanon is a perfect show to watch on Valentine's Day. It tells the story of Yuuichi Aizawa, who's visiting his cousin's wintry town after a seven year long absence. Apparently, he has no recollection of his previous visits to that town, and the reason why he was away for so long is shrouded in mystery.
As the story moves forward, Yuuichi meets a few very special girls, each with an interesting and moving story and a connection to Yuuichi's past. This is exactly why this anime is so good and so romantic. It's not really like any other harem anime; it's much more about the emotional bonds between Yuuichi and the female characters.
Some say that when you're in love, forgetting is difficult, but remembering is worse.
---
6. Higashi no Eden (Eden of the East)

Episodes: 11
Aired: Apr 2009 – Jun 2009
Higashi no Eden is a fantastic story that combines love, mystery and adventure. Saki is a young dreamy girl from Tokyo who travels to America to meet the White House. She gets in trouble with the police for trying to get past the gates at the White House Garden, but is saved by a young man with a gun in one hand, a cellphone in the other, and no clothes.
This boy, Akira Takizawa, has a severe case of amnesia, and everything in his apartment tells him he's a terrorist. Saki, however, sees him as her knight in shiny armor who's come to rescue her. All this happens during a missile attack on Tokyo, and together these two kids will have to find out the truth behind the terrorist attack, Akira's lost memories, and his cellphone loaded with millions of dollars… while they fall for each other, of course.
Love is meant to be an adventure, indeed.
---
5. Bakemonogatari (Monogatari Series)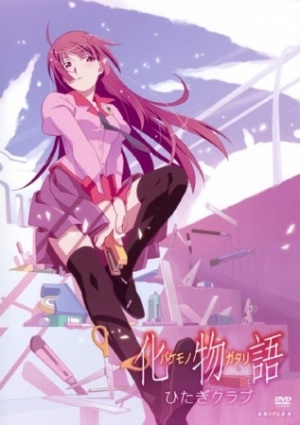 Episodes: 15
Aired: Jul 2009 – Jul 2010
Any of the Monogatari Series would be great to watch on Valentine's Day. I mean, you just can't go wrong with Monogatari, it has everything you need. It combines romance with mystery and supernatural occurrences. But what makes this show so suitable for Valentine's Day is the odd couple that Araragi and Senjougahara make.
Their relationship is only as ordinary as they are. This former vampire and the weightless girl will develop strong feelings for each other as they go around trying to help freaks like themselves.
Because when you're waiting for that special someone, you just don't know exactly how special they'll be.
---
4. Shigatsu wa Kimi no Uso / Your Lie in April

Episodes: 22
Aired: Oct 2014 – Mar 2015
This is a beautiful love story, which shows us that love can bring back color to one's life and add meaning to one's existence. This is the kind of story that makes you believe in starting over. You'll see that love can fix anything and heal old wounds.
Kousei Arima used to be a prodigious pianist as a child. After his mother's passing however, he fell into a deep depression that made him unable to listen to the sound of his own piano. After two years of feeling miserable and not playing the piano, he meets Kaori, a gorgeous violinist girl who will teach him to love music. Soon, they'll both learn to love each other as well.
This show will make your heart skip a beat.
---
3. Sakurasou no Pet na Kanojo (The Pet Girl of Sakurasou)

Episodes: 24
Aired: Oct 2012 – Mar 2013
This show has romance, comedy and cute little kittens. What more could you ask for Valentine's Day? After all, that's what this holiday is pretty much about; love, cute things, and having fun. You'll definitely fall in love with this anime.
Sorata Kanda can't stand to see abandoned kittens, so he takes them with him. Unfortunately, kittens are not allowed in Suimei High School, so he's sent to the infamous Sakura Hall, where he meets some really eccentric characters. He meets the beautiful Mashiro there though, and so begins a love story that may be anything but ordinary.
---
2. Kaichou wa Maid-sama! (Maid-Sama!)

Episodes: 26
Aired: Apr 2010 – Sep 2010
Maid-sama is a love story so full of clichés that you'll be surprised to know you'll surely like it. The main character, Misaki Ayuzawa, is the first female student council president at what used to be an all-boys high school. She loathes men and so she rules with an iron fist. However, she keeps a little secret she can't let anyone at her school know.
Due to her family's financial situation, she works as a maid at a café. When the most popular boy at school, Takumi, finds about this, Misaki's reputation at school is threatened. However, he takes this opportunity to get closer to Misaki instead of bringing her down. Watch how love can soften even the toughest ones.
I'm sure you'll love this show a latte!
---
1. Clannad: After Story

Episodes: 24
Aired: Oct 2008 – Mar 2009
No other show deserves the top of this list as much as Clannad, AKA the "right in the feels" show. Clannad AS is a wonderful and really powerful love story that is perfect to watch next to your significant other. It's also the best choice for those less fortunate who have to spend Valentine's Day on their own and just want to sit down and cry themselves to sleep. (Not judging, been there, done that).
Clannad AS follows the story of Tomoya and Nagisa, as they face the struggles of growing up into adulthood as a couple. This show is a rollercoaster of emotions, since it has romance, tragedy, and a very realistic display of the trials of life. I dare you to watch an entire episode without shedding a tear. It's impossibru!
---
This is the end of our selection of Anime to watch on Valentine's Day. All these shows are quite different from each other, and each of them has its own approach to love and relationships. Some of them are more romantic than others, some are darker, some others more realistic, and we have as many happy endings on this list as sad endings.
You have plenty of high quality romance on these shows, so go ahead and check them out. I'm sure you'll love most of them. Happy Valentine's Day!
---