También puedes leer este artículo en:Español
Throughout history, women and men have been wearing cosmetics to enhance their appearances. Attributable to social standings and/or applied to supplement the beauty you already possess, makeup as a whole is a "feel good" confidence booster that is open to all shapes, sizes, and sexes. As such, various makeup styles for both genders have undergone dramatic changes, in addition to formulas and application. In today's society and culture, there are hundreds of thousands of products to choose from. Additionally, in the world of anime, makeup bearers are present as well. Therefore, we at Honey's will attempt to narrow down the top 10 anime makeup for you. Here's to the gals and guys that didn't just "wake up like this!"
10. Emporio Ivankov from One Piece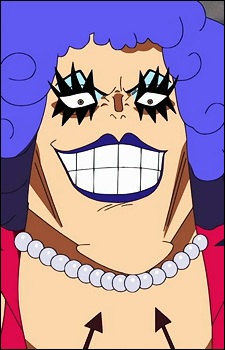 Episodes: Unknown
Aired: October 1999 – ?
In an era where pirates were "everything" on both land and sea, Gol D. Roger was the most prominent "Pirate King" to sail the Grand Line. Upon his capture and death by the World Government, his last words invoked and echoed a great challenge to the next generation of pirates. Among the challengers is Monkey D. Luffy. Unlike most pirates, Luffy quickly distinguished himself by setting the highest bounty in pirate history. Together, Luffy and his crew, the Straw Hats, take on their dreams of sailing the Grand Line in search of riches, fame and glory. Their adventurous spirits take them on an incredibly exciting voyage, with countless twists and turns.
Emporio Ivankov or Iva-chan is introduced to viewers at Impel Down, the Marine's maximum-security prison. Iva-chan is the former Queen of the Kamabakka Kingdom, where the inhabitants are cross dressers (okama). Recognized as a "miracle worker", Iva-chan is a current inmate in Impel Down's notorious Level 5, which is also the secret location of the "Okama Paradise". As a renowned Okama queen, Iva-chan does everything in the most outrageous fashion. Her makeup includes dramatic eyeliner and lashes, blue eye shadow, and purple lipstick to match her showy afro. Even in her other feminine form, she rocks this look with the utmost confidence.
---
9. Lust from Hagane no Renkinjutsushi (Fullmetal Alchemist)

Episodes: 51
Aired: October 2003 – October 2004
Fullmetal Alchemist follows two brothers, Edward and Alphonse Elric. The Elric brothers live in a world where alchemy exists. After their father abandoned them, Edward and Alphonse lived peacefully with their mother. Some years later, the boys tragically lose their mother at a young age. Having a talent for alchemy, the boys decide to bring their mother back. In explanation, alchemy utilizes the laws of equivalent exchange; something of equal value must be sacrificed in order to receive what is desired and things cannot be produced out of nothing. However, human transmutation, what the boys attempted to perform to get their mother back, is strictly forbidden and unfortunately goes terribly wrong. Consequently, as the anime progresses, we discover the heart-wrenching lengths Edward and Alphonse must go to in order to regain the parts of them that were lost.
Lust is a homunculus, an artificially created human. She disregards humanity and compels people to act upon their lustful desires for her own advantages. Lust is heartless and capricious, until later on, memories of her humanity gradually emerge. Classified as one of the seven deadly sins, Lust's appearance is dark, always dressed in form-fitting, feminine attire. Her makeup includes winged tip eyeliner for a sultry cat-eye look, in addition to the classic red lip that contrasting her pale complexion. A timeless, recognized look, you can't go wrong with a red lipstick to any outfit.
---
8. Narukami from Kamisama Hajimemashita (Kamisama Kiss)

Episodes: 13
Aired: October 2012 – December 2012
Kamisama Hajimemashita is a romantic comedy that follows a young lady named Nanami Momozono. Nanami is in a bit of a bind when she loses her home due to her father's gambling problem. Without any direction on what to do and where to go, she wanders into the park to figure out what her next step is. In happenstance, she hears a commotion, finding a guy stuck up a tree, blockaded by a barking dog. After Nanami saves this man from the harmless dog, he bestows to her a special mark deeming her a "land god", along with a place to stay, which happens to be a shrine, and the responsibility to care for it. As she accepts this task, Nanami's exciting escapades begin.
Narukami is a horrific, bratty god with a shrine located in the sky. Harboring huge jealously towards Nanami because of her close relationship with Tomoe, Narukami steals the mark bestowed to Nanami and temporarily gains control of the shrine. Cold and heartless in the most immature way, Narukami needs everything to be her way or the highway. Moreover, she treats her familiar in the most nasty and unpleasant ways. Dissimilarly, her horrible personality does not reflect the beauty she displays on the outside. As she is very alluring, Narukami has gorgeous blue and purple ombré hair, purple eye shadow, purple lipstick and wears beautifully matching kimonos. Essentially, she does not embody the phrase "beauty is only skin-deep."
---
7. Re-l from Ergo Proxy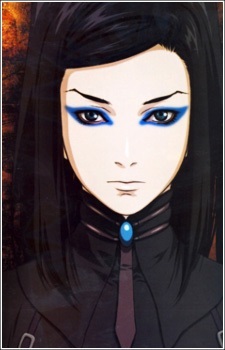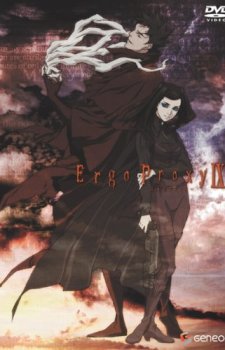 Episodes: 23
Aired: February 2006 – August 2006
Ergo Proxy is an interesting, deeply intricate and philosophical anime that surrounds the dark elements of humanity at the brink of extinction. As most of the planet is inhabitable, mankind must rely on the usage of autonomous robots called AutoReivs. Re-l Mayer enters the story as an AutoReiv inspector who must investigate a number of defective and contaminated AutoReivs due to contracting the Cogito virus. As she dives deeper into this investigation, Re-l further discovers mysterious and mythical beings called Proxies. As such, she must uncover what purpose they hold for the city of Romdo and the entire planet.
As Re-l has the fate of humanity to be most concerned for, we cannot help that her appearance is what draws viewers into this anime. In an all black ensemble, she wears heavy blue eye shadow around her eyes. Surrounded in darkness and dreariness, the blue that she wears may perhaps interpret tranquility within herself, as the world around her is in chaos.
---
6. Hisoka from Hunter x Hunter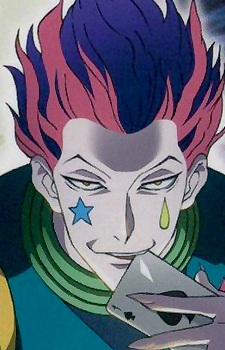 Episodes: 148
Aired: October 2011 – September 2014
Hunter x Hunter captures the story of Gon Freecss, a strong willed young man who is determined to be the very best hunter. In doing so, Gon must face perilous challenges, testing him in every way possible. In completing the prestigious Hunter's exam, Gon meets several people who grow to become his close friends; Leorio, Killua and Kurapika. Each with their own goals in mind, the four of them always have each other's backs. As time goes by, Gon, Leorio, Killua, and Kurapika encounter various characters, creatures and obstacles that demonstrate more challenging than the previous ones. Overall, they never lose sight of their ambitions, continuing to grow as skilled Hunters.
Hisoka is a memorable character because of his strength and abilities, climbing to the top in the most cruel and deceitful ways. As he is constantly scouting for challenging opponents, Hisoka quickly takes interest in Gon. Although he doesn't wear much on his face, Hisoka is recognized with his star and teardrop adornments and his thin but dramatic eyebrows. With an affinity for cards, this look is flattering to his brash personality.
---
5. Momo Adachi from Peach Girl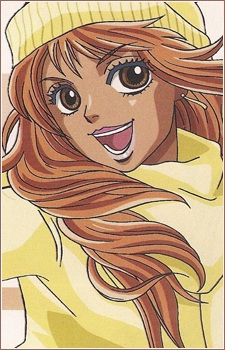 Episodes: 25
Aired: January 2005 – June 2005
Peach Girl is a drama-filled romance comedy about Momo Adachi, who is caught in a love triangle with a boy she likes, named Toji, and a boy who likes her, Kairi. Momo is not your typical-looking high school girl, in that she is very tanned due to her being on the swim team and tanning very easily. Her ginger hair also stands out from the rest as the chemicals in the pool water have lightened it significantly. As she is very gorgeous in her own way, her looks do not attract her crush, which notably crushes her self-esteem. Unfortunately, Momo tries her best to be the girl Toji wants, but has trouble doing so. Peach Girl reveals the events and circumstances of Momo as she is faced with everyday high school challenges.
Momo's look covers blue eye shadow and hot pink lipstick. As the anime is called Peach Girl, her skin tone is very glimmered and sun-kissed. As this warm tone is very flattering, Momo should remember that she should embrace her differences and not try to change who she is for anyone!
---
4. Galko from Oshiete! Galko-chan (Please tell me! GALKO-chan)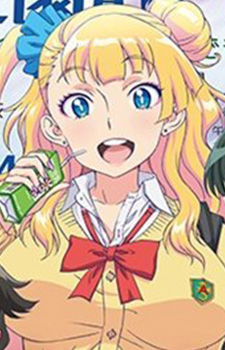 Episodes: 12
Aired: January 2016 – March 2016
Oshiete! Galko-chan shows the daily on-goings of Galko and her friends, Otako and Ojou, in and around school. In addition, the girls attempt to "bust" the myths surrounding the female anatomy. Galko-chan is "a bit sharp-tongued, but a good-natured, popular girl in the class." As such, we explore the minds of school-aged youths and what they experience as they go through various physical and psychological changes.
To highlight her bubbly personality, pinks are featured in Galko-chan's appearance. Galko-chan's makeup includes pink eyeshadow, blush, glossy lips and pink nail polish. Unlike the typical schoolgirls surrounding Galko-chan, she is more full-figured, but does not let this aspect of her become the target of intimidation.
---
3. Nana Osaki from Nana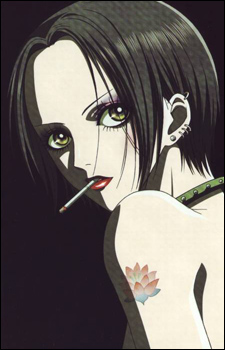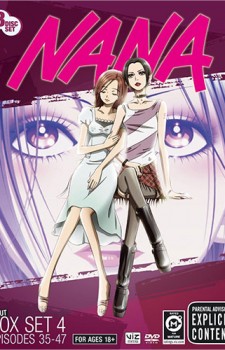 Episodes: 47
Aired: April 2006 – March 2007
Nana is the story of two women named… Nana, lol. Nana Komatsu, the narrative of this anime, is an adventurous spirit, who moves to Tokyo to be closer to her boyfriend. Alternatively, Nana Osaki is an aspiring musician in a punk band that is slowly making its way to the top. They coincidentally meet on a train, unexpectedly bond, and later end up as roommates. Nana captures the lives of these two women, joined by their name, as they live out their lives beginning new adventures.
Nana Osaki's edgy and dark look includes heavy eye makeup (eye shadows, liner, and mascara) and various hues of red lipstick. Her color schemes include a lot of red and black with little variation of anything else. In addition, she also has painted nails, piercings and tattoos and wears tons of accessories to brighten her look.
---
2. Sara Bihada from Bihada Ichizouku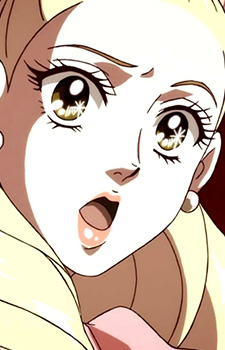 Episodes: 12
Aired: October 2008 – December 2008
In Bihada Ichizouku, the Bihada sisters, Sara and Saki are involved and compete in the world renowned "World Beautiful-Skin Competition" to retain their legacies as prominent figures in the beauty industry. Sara, the younger twin, is more personable with natural beauty to compliment. Saki, the older twin, is equally beautiful. However, Saki is more opposed to the industry and vindictively wants to steal the crown and spotlight from her outshining younger sister. Throughout this anime, we observe the drama unfold and the competitive nature between the sisters and other competitors. "It's about to be a girl fight!"
Although both Saki and Sara are beautiful in their own right, Sara is the face for Bihada Ichizouku. Sara resonates very pleasant and magical features; like a fairytale princess, if that makes any sense! Her makeup look includes eyeliner, mascara, blush, and pink lipstick. Her full and voluminous hair is always accompanied with a lovely accessory, whether it's a crown or a floral headpiece. Furthermore, Sara's look has influenced a line of beauty products to include facemasks, creams and cosmetics!
---
1. Kuranosuke Koibuchi from Kuragehime (Princess Jellyfish)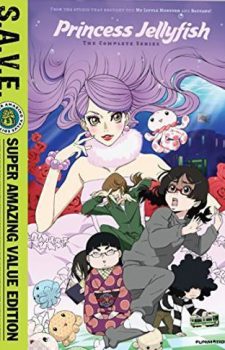 Episodes: 11
Aired: October 2010 – December 2010
Kuragehime is the story of Tsukimi Kurashita and her four awkward, nerdy, and anti-social roommates, all possessing strange fixations. Tsukimi and her roomies all live in a sharehouse in Tokyo with a strict 'no boys allowed' rule. Tsukimi's world, along with the other girls', is greatly impacted when she meets a gorgeous 'lady' who is actually a guy name Kuranosuke. Tsukimi and Kuranosuke are from vastly different worlds, but offer each other great advice, teaching each other the benefit of stepping out of one's comfort zone and accepting yourself as you are.
Kuranosuke, aka Kurako, is extremely fashionable. Not only has he helped Tsukimi and the other girls in the sharehouse open up, he discovers and puts forth more efforts into his own dreams and aspirations; that is, to make a name in the fashion industry. Kurako likes who she is and is not afraid to experiment with new styles and trends. It's hard to keep up with the many looks Kurako uses, but she usually pairs her makeup, a bold lip color, eye shadow and eyeliner, with different wigs and trendy outfits displayed throughout the series. As such, we feel she is number one on this list for the countless, limitless, and various ways Kurako uses makeup, inspiring beauty in herself and others.
---
So there you have it. These are Honey's Recommendations for Top 10 Anime Makeup! Makeup is neither constricting nor limited to gender or age. The styles and techniques you choose to apply on yourself can be altered and perfected with tons of practice. Further, we know there are a lot more anime characters out there that wear makeup. What others have we missed? Moreover, are any of these looks something you would choose to do on yourself? Leave your comments below! Remember, your face is a lovely canvas…so work it out!
---