También puedes leer este artículo en:Español
Japanese animation has that little something that lasts in our memory, in spite of being a distant reflection of our reality, anime makes us dream and inspires our daily life; becoming part of our cultural environment feeding us with emotions and beauty.
Anime is so popular that it became "fashion" and "fashionable". Following we will present to you anime series where "fashion" takes an important part of the plot. We have compiled a selection of the most unique and glamorous anime about clothing to dress up your imagination; kawaii fashion, practical and versatile battle getups, magical and cute costumes, sexy pieces of lingerie, powerful school uniforms, cool superheroes costumes, the perfect pair of shoes for that special someone, unusual designs inspired by jellyfishes, and finally, Haute Couture garments. So for all of you with a fashionista heart, we share this Top 10 Fashion Anime, in the hope it'll motivates you and awakes your creativity.
10. Cardcaptor Sakura

Episodes: 70
Aired: Apr 1998 - Mar 2000
Let´s start our countdown with Cardcaptor Sakura, one of the most popular anime series that has become an all-time favorite for boys and girls alike. This year Cardcaptor Sakura is celebrating its 20th anniversary telling us the story of Sakura Kinomoto, a cute 10 year old girl that lives her life normally, until she opens a magic book, and releases by accident the magical "Clow Cards", awakening their Guardians: Yue and Keroberos, who tasks Sakura with the mission of returning the 52 cards deck, and avoid the calamities that they'll bring upon the world when they release their power.
One of the aspects that makes this anime so successful, is the "Kawaii" fashion that is shown in every episode; thanks to the hard work of the charismatic Tomoyo Daidouji, who joins the adventures of her best friend Sakura, filming every moment of her adventures and preparing for her in every occasion, wonderful sets of clothes and its accessories, presenting more than 60 different changes of outfits at the length of the series. These cute attires, that in many occasions are allusive to the card that Sakura have to capture, became the favorites of the viewers attracting many fans to the series. This show was aired more than 15 years ago, and still continues to be present in every important anime convention, standing out among the cosplay fans and inspiring current fashion apparels for young girls in Japan and the followers of "Lolita fashion". So what do you think? Among all the costumes of Cardcaptor Sakura series which ones are your favorites?
---
9. Oshare Majo Love and Berry: Shiawase no Mahou (Fashionable Witches Love and Berry: Magic of Happiness)

Episodes: Movie
Aired: Mar 2007
Continuing with our fashionable shows, we present you another anime where the magical cards are highlighted, and this time, will take us directly to the dance floor with: Fashionable Witches Love and Berry: Magic of Happiness. This movie, introduces us in the adventures of the pretty Love and Berry, who besides of being great friends, are Fashion Witches, and with their ability to choose the perfect combination of clothes and accessories, helps the shy Yumi to gain confidence in herself, so she can shine in the audition of Sweet Records, and be able to make her debut as an Idol singer.
Even when Fashionable Witches Love and Berry is part of a videogame franchise, unexpectedly reflects a deeper focus on clothing that aims to popularize the more positive aspects of fashion among young girls, clothes and accessories are regarding as a tool that helps them to discover their own identity, beauty and improving their personal care. In this movie, Love and Berry make use of their many Magical Cards, which materialize different styles of clothes, shoes and accessories, rivaling with each other on the dance floor and to create the perfect ensemble; like the princess outfit that they use in the Royal Ball embedded with sparkling rhinestones, or the cute Charleston dress that both wear when they act as back dancers of Yumi in her audition as an Idol Singer.
---
8. Heartcatch Precure Movie: Hana no Miyako de Fashion Show… Desu ka?

Episodes: Movie
Aired: Oct 2010
Ongoing with the series where magic powers and colorful dresses are emphasized, the number 8 in our list is a movie that is part of one of the most popular anime franchises in all Japan: "Precure". This animation titled: Heartcatch Precure Movie: Hana no Miyako de Fashion Show… Desu ka?, casted the TV series stars Tsubomi Hanasaki as Cure Blossom, Erika Kurumi as Cure Marine, Itsuki Myoudouin as Cure Sunshine and Yuri Tsukikage as Cure Moonlight. Let's accompany them in a new adventure in Paris, where they'll fight to defeat the evil Baron Salamander.
This movie unlike others from the Precure universe, distinguishes for emphasizing the role of the Kurumi family in the development of the fashion industry, since the four girls, that are members of the fashion club in their high school, are sponsored by Sakura Kurumi (an ex-model who is Erika's mother). They travel to Paris and observe the making of a big fashion event. In addition to Erika, who stands out as a future creative fashion designer; her older sister Momoka is recognized for being a very famous Charisma Model in Japan, and their father Ryuunosuke Kurumi, is a coveted fashion photographer with international fame. Filled with battles and action within the city, cradle of the "haute couture", Precure enchants us with the cute floral costumes, with which the girls transforms and confront the battle against evil.
---
7. Chuu Bra!!

Episodes: 12
Aired: Jan 2010 - Mar 2010
Now let's jump off from the haute couture to the depths of lingerie with a fun and sexy comedy that plays in the borderline of fetishism, Chuu Bra!! This series, shows us in deep the school life of Nayu Hayama, a junior high school girl that loves lingerie, and that has an almost superhuman ability to see in others which pieces of underwear favor them more. When Nayu is discovered about her preference for more sexy and adult like underwear, she came to be misunderstood and rejected by everyone, until Yako Jinguuji and Haruka Shiraishi became her friends, and together with other classmates end up forming the "Panty Club", helping other girls in their school to discover how fun is to choose the most fashionable panties and bras that benefit them more, especially in the adolescence when their growing bodies need the adequate clothes to develop.
Chuu Bra!! Attract us with spicy themes, hook us with the comedy, were the characters always wind up under situations that tend to be misinterpreted. This show takes the taboos about female bodies and strip them naked, showing us in a hilarious and easy way to understand, the importance to know what the adequate underwear teenagers should use. Chu Bra!! Offers the viewers a peek inside the lingerie world as a fashion phenomenon; where from the frilly lace ensembles that give a "girlie" and cute vibe, to the more sexy pieces of garter and thigh-highs, which pulls us in with every episode the different types of modes, forms, designs, materials and sizes that make lingerie so attractive.
---
6. Kill la Kill

Episodes: 24
Aired: Oct 2013 – Mar 2014
Prepare yourselves to fill your screen with action, fanservice and adventure, because our number 6 is an anime series with a lot of visual impact: Kill la Kill. This anime initiate us in the mission of Ryuuko Matoi to find the owner of the second half of the "scissors blade", a legendary sword that was used in her father's assassination; her search for revenge, takes her to the Honnouji Academy, a high school ruled by the student's council, under the command of Satsuki Kiryuin and her "Elite Four", who use the "Goku" uniforms, that give to the bearers superhuman abilities. Being defeated in her first confrontation, Ryuuko withdraws wounded, accidentally awakening Senketsu, a sentient Kamui known as "God Clothes", who feeling Ryuuko's blood, feeds from her making a symbiotic link that imbues her with super powers.
Considering that for girls clothing can be seen as an armor (as it provides protection, status, and reflects the personality of the wearer) Kill the Kill takes this idea literally to the screen, giving the "Sailor Fuku" or sailor-like school uniforms a leading role, by imbued them with conscience and personality; playing a definitive factor in the fate of the girls who wear them, where fashion is used as a mean of segregation between social classes, and where only the rich can wear special suits that underpin and increase their power, while the rest of the people that form the basis of society, are regarded as the labor force and a source of energy that maintains them.
---
5. Samurai Flamenco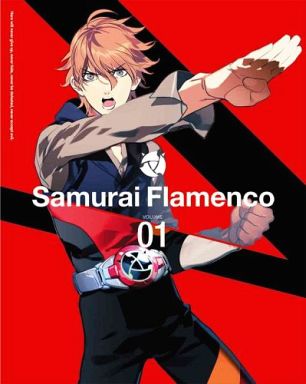 Episodes: 22
Aired: Oct 2013 – Mar 2014
Reaching the position number 5 comes Samurai Flamenco, an anime series that shows the secret life of Masayoshi Hazama, a charisma model that captivates audiences on the catwalks and commercials, and that at night becomes the superhero Samurai Flamenco fighting against crime. Unlike other anime titles, Samurai Flamenco shows comically the growth of a character who begins his fight against crime from scratch, without super powers, with any magic or any feature whatsoever that makes it stand apart from the rest, besides his strong sense of justice, and his fervent desire to fulfill a childhood dream to become the hero who always had admired.
For the fans of fashion, Samurai Flamenco is a blend of themes and scenes that displays, in an attractive and refreshing way, an eclectic collection of different costumes inspired by the genre of "Tokusatsu", also known as "Super Sentai" and "Sailor Senshi"; showing them in the best way possible, being wore by the handsome and attractive designed characters, providing an adequate amount of "fanservice". Like the cute costumes used by the "Flamenco Girls" who fight crime in their secret identities, without neglecting their fashion sense.
---
4. Gokinjo Monogatari (Neighborhood Stories)

Episodes: 50
Aired: Sep 1995 – Sep 1996
Based on a popular manga we introduce you Gokinjo Monogatari, also known as Neighborhood Stories. A tender and romantic story developed amidst the creative world of art and fashion design; where the cute Mikako Kouda and her neighbor and childhood friend, Tsutomu Yamaguchi, struggle to achieve their personal aspirations, as they discover and nurture their feelings for each other, making us empathize throughout the series, in their indecision towards change their relationship from friendship to romance, and sharing the adventures of those who are part of their life.
With beautifully stylized characters designs, that seems out of the fashion sketches, Neighborhood Stories lets us see in a positive light, the great work and effort behind the dream of belonging to the world of art and fashion industry, taking as a starting point the personal stories of Mikako (who wants to create her own brand of clothes) and Tsutomu (who wishes to become a great photographer ); introducing different characters with very special artistic characteristics like their best friends Risa Kanzaki, who wants to become a designer for children's clothing and the cute Mai Oota, who wears beautiful pieces of clothing filled with lace in the "Lolita " style, and wants to become a professional designer of teddy bears and stuffed animals. Neighborhood Story is an anime that surely will leave you a good taste and make your heart go "Dokyun".
---
3. Kotonoha no Niwa (The Garden of Words)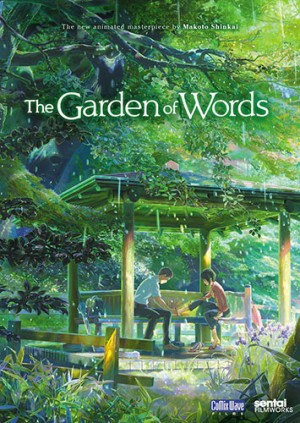 Episodes: Movie
Aired: May 2013
Continuing with the romance, in third place on our list we recommend a delicious animated film: The Garden of Words. This anime will catch your attention with the wonderful scenery and background designs, which develops in the city of Tokyo in Japan; transporting us to the National Garden Shinjuku Gyoen where we witness the meeting of Takao Akizuki, a school boy who decides to escape from class to sketch in the tranquility of a secluded place, and Yukari Yukino, a mysterious woman who feeling dejected from life, finds in the brief moments of silence shared with Takao, the cure for her disappointment and loneliness.
More than words, is a slow pace anime as warm as the summer rain, it makes us part of a simple story of friendship and love, where a shoe becomes for the protagonist the best way to say I love you. In this animated film Takao and his aspirations of becoming a professional shoe designer, gives us a glimpse into the world behind the craft of women's shoes creation, where to make palpable the beauty of the design into the production of the material object, it's necessary not just the talent, but also the study, the practice and the effort to create not a necessary item but a work of art; a premise that has helped making the shoe industry a stepping stone in the fashion world.
---
2. Kuragehime (Princess Jellyfish)

Episodes: 11
Aired: Oct 2010 – Dec 2010
Arriving near the end of our list, we take a brief pause from the romance, so be prepared because our recommendation No. 2 will have you laughing out loud with the adventures of Kuragehime. This anime series, takes us into the life of Tsukimi Kurashita, a girl whose dream and obsession is to surround herself with marine jellyfishes, or "Kurage" and although she usually is shy and withdraws herself for human interaction, when she sees that her beloved Kurage are being mistreated and neglected in a local pet store, she tries to defend them unsuccessfully, until a super fashionable girl rescues her from her predicament, ushering in an unusual friendship full of adventures.
Kuragehime takes us all the way down the rabbit hole in the Otaku world, where Tsukimi, thanks to the encouragement and support of Kuranosuke Koibuchi and the "Amars", which are her otaku friends, transforms her natural talent for illustration, in the passion to design beautiful and incomparable outfits inspired by her beloved Kurage. Apart from the beautiful pieces designed by Tsukimi, in Kuragehime we can also see the beautiful kimonos and traditional clothes and accessories that Chieko, the manager of Amamizukan, (the apartment building where they live) uses daily, supporting the nascent dream of her friend with her organizational skills and her sewing talent.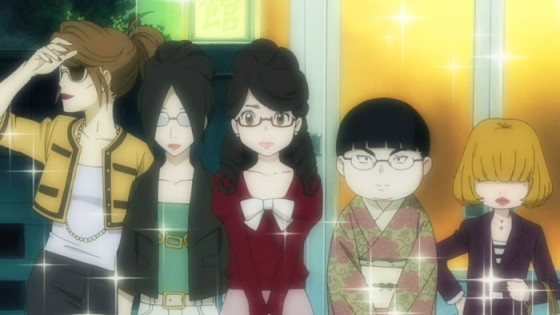 ---
1. Paradise Kiss

Episodes: 12
Aired: Oct 2005 – Dic 2005
Continuing in the field of fashion, we arrive at number one of our recommendations with Paradise Kiss. In this animated series, we share the feeling of Yukari Hayasaka, who is naturally endowed with beauty but sick of her monotonous life, however, like any other teenage girl, she fights to find her own identity and purpose in life, until a certain day, she is approached by an extravagant guy with blue hair and eyes named George, who offers her unexpectedly, to becomes the exclusive model of his clothing brand, "Paradise Kiss", introducing her into the world of haute couture.
With tints of romance and a strong sense of independence in the characters, Paradise Kiss, introduces us to the hard work behind the scenes of the fashion shows, the design of haute couture and the fashion world in general, where the characters put on the line all their efforts to project their professionalism into each piece presented, and thus consolidate the synergy that will get them professional success in the future. One of the great attractions of Paradise Kiss, is certainly the beautiful fashion pieces exhibited, like the grandeur floral dress with dozens of blue roses, which shows in every detail and accessories, the joint effort of all the characters and their particular contribution. So if you are a fan of fashion, do not hesitate to include this anime title in your list, we assure you, you'll enjoy this show full of romance and visual beauty.
---
Final Thoughts
We hope that our fashion anime selections not only help you to form the perfect wardrobe in your imagination; but also inspire you to persevere in reaching your dreams to make them true, as the common point of all these stories is that working hard towards your dreams makes of life a rewarding trip full of adventure.
This is how we reach the end of our list, what do you think of the themes in our countdown? If someone wants to share more anime titles inspired by the world of fashion and haute couture, they can do so with confidence leaving us your suggestions. We welcome your comments, See you next time!
by Jo. Hernández
---