Whether taking a more serious approach or going for laughs, the entertainment industry can help provide relief from some of life's harsher moments. Even if serving as nothing more than an escape from reality, there is value in temporarily leaving behind one's worries to focus on an anime or manga.
Once in awhile, a story comes along with ambitions to delve deeper into a particular topic than just offering a mild distraction. A common and serious medical illness, depression is a condition that should be familiar to most people, so it is not too surprising that the media occasionally brings it up. While quite a few fail to properly handle the subject matter, the best ones are definitely worth checking out!
10. Yahari Ore no Seishun Love Comedy wa Machigatteiru (My Teen Romantic Comedy SNAFU)

Episodes: 13
Aired: Apr 5, 2013 – June 28, 2013
Depression is far from an adult-only condition, as teenagers and children can go through similar experiences. Struggling to form their own identities while successfully building lasting connections with their contemporaries, puberty brings forth an avalanche of uncomfortable emotions and mood swings. My Teen Romantic Comedy SNAFU is all about facing these feelings and trying to make the most out of the situation.
Narcissistic and nihilistic, Hachiman Hikigaya is a high school student who masks his loneliness with a supremely arrogant and offputting facade. After submitting an essay with a thesis amounting to "friends are stupid," Hachiman is forced to join the Volunteer Service Club, a group of students who aid their peers. Led by the cold Yukino Yukinoshita, Hachiman is pushed out of his comfort zone and forced to deal with other people's problems.
Generally, My Teen Romantic Comedy SNAFU takes a more light-hearted approach to depression, although that hardly discredits Hachiman's journey. The main character believes that solitude guarantees he will never experience rejection while forgetting the benefits that arise from nurturing a support circle.
---
9. Barakamon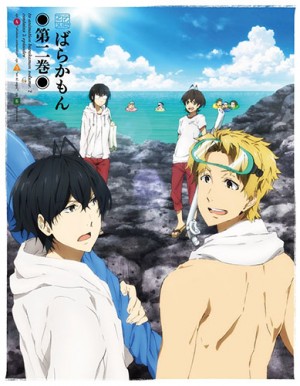 Episodes: 12
Aired: July 6, 2014 – Sep 27, 2014
While not always a surefire way to fix a problem, a change of scenery can make a world of difference. Calligraphy is a nerve-wracking industry, one that only rewards the very best in the business. While talented and marketable, Seishuu Handa is also an arrogant newbie who is completely incapable of receiving criticism. After an experienced calligrapher lambasts the youngster's award-winning work for being unoriginal, Handa sends him flying with a swift punch to the noggin!
In an attempt to punish and teach the 23-year-old some humility, Handa's father forces his son to leave his comfortable Tokyo lifestyle for the rural Goto Islands. Initially, the calligrapher sees this as the perfect opportunity to focus on his work by shutting out the rest of the planet, but the island's inhabitants refuse to allow Handa a moment of peace! Ranging from rambunctious children to intrusive old men, Goto Islands are far from a calm paradise.
Barakamon's protagonist is dealing more with a case of narcissism than depression, but Handa's character arc is still driven by self-reflection and intimacy. As Goto Islands' inhabitants slowly pick away at the calligrapher's tough outer shell, audiences are treated to a touching and hilarious coming-of-age story.
---
8. Kimi no Na wa. (Your Name.)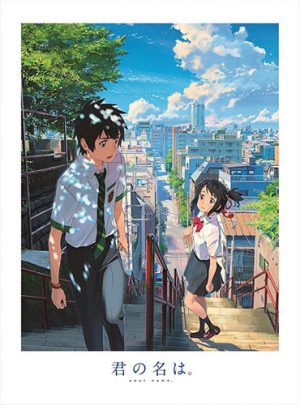 Episodes: 1
Aired: Aug 26, 2016
While most of these entries deal directly with mental illness or loneliness, some anime are just helpful because of their pure awesomeness! By this point, Your Name. has gained a reputation as one of the greatest animated films of all time. No matter someone's background or preference, CoMix Wave Films' gorgeous masterpiece should be seen. Trust us, this film is worth the admission price!
At its heart, Kimi no Na wa. is a love story between two teenagers from completely different walks of life that end up trading bodies at random intervals. As neither of them can really remember what transpired on these days, they start to leave notes to avoid screwing up the other's life. There are a couple of twists along the way, but Makoto Shinkai's film is an animated tour-de-force that should resonate with most viewers. One of the anime's main themes is that destiny can be changed, although it might require the help of a few friends.
---
7. Colorful (2010) (Colorful The Motion Picture)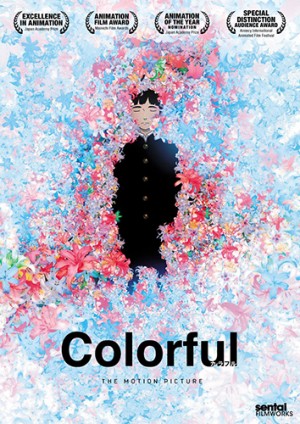 Episodes: 1
Aired: Aug 21, 2010
As a concept, reincarnation is a central component of many Eastern religions, specifically Hinduism and Buddhism. While each philosophical school has their own beliefs, the general idea is that a soul can be reincarnated a number of times to try and resolve any past issues. With a recently deceased protagonist who fails to qualify for reincarnation due to a committed sin, Colorful examines human behavior from the perspective of a spirit borrowing the body of a deceased 14-year-old boy.
Developed by Sunrise and Ascension studios, Keiichi Hara's supernatural drama strips away the masks that many people believe are necessary to survive. Representing unique personality traits and mental states, the protagonist learns that humans are made up of various constantly changing colors. No matter how bad things get, there will always be someone out there who shares a couple of the same shades as you. Even if the sum of their parts leads to a completely unrelatable whole, Colorful proposes that we are never truly alone. Sadness can be overwhelming, but there is always a reason to push on and live life to the fullest.
---
6. Watashi ga Motenai no wa Dou Kangaetemo Omaera ga Warui! (WATAMOTE ~ No Matter How I Look at It, It's You Guys' Fault I'm Popular!)

Episodes: 12
Aired: July 8, 2013 – Sep 23, 2013
When it comes to Watashi ga Motenai no wa Dou Kangaetemo Omaera ga Warui!, a viewer's mileage is going to vary depending on how they perceive the protagonist. As she starts high school, the resentful Tomoko Kuroki yearns to leave behind her days of virtual dating to forge a genuine connection with her peers. Unluckily for the young girl, nothing goes as planned.
WataMote tends to split people down the middle; some praise it as one of anime's funniest creations, while others see it as nothing more than a parade of mean-spirited humiliations at the protagonist's expense. Tomoko is the personification of social awkwardness and, on occasion, the series ventures into some truly uncomfortable territory. We are expected to laugh at her various unfortunate situations, but WataMote's brilliance does not hinge merely on making audiences feel sorry for the main character.
Yes, the majority of Tomoko's problems tend to be self-afflicted, but the deeply troubled girl refuses to give up! Despite struggling with a variety of issues, Tomoko continues to push against the tide to try and improve her life.
---
5. Kara no Kyoukai Movie 1: Fukan Fuukei (The Garden of Sinners Chapter 1: Overlooking View)

Episodes: 1
Aired: Dec 1, 2007
Split into eight films, The Garden of Sinners is among the hardest anime series to accurately describe. Based on Kinoko Nasu's light novels, the story follows the investigative team of Shiki Ryōgi and Mikiya Kokutō, who specialize in the paranormal. In spite of the relatively mundane premise, The Garden of Sinners is far removed from the likes of Ghost Hunt or Neuro: Supernatural Detective.
Largely taking place in the late '90s, Kara no Kyoukai 1: Fukan Fuukei launches with the detectives investigating a string of schoolgirl suicides committed by jumping off the roof of a soon-to-be-demolished skyscraper. As implied by the series' title, The Garden of Sinners is set in a city defined by corruption, grief, and sadness. Heroes do not exist in this world.
Philosophical in tone and willing to get gory, Kara no Kyoukai tackles depression with an unflinching earnestness that rings true. Offering no easy solutions or angelic saviors, ufotable's anime presents one of the most realistic portrayals of the medical condition.
---
4. Koe no Katachi (A Silent Voice)

Episodes: 1
Aired: Sep 17, 2016
In retrospect, 2016 was a standout year for anime. Besides the highly rated Your Name., Kyoto Animation also blessed the world with their adaptation of Yoshitoki Ooima's Koe no Katachi. Examining themes of bullying and peer pressure, A Silent Voice is a heart-wrenching masterpiece that is simultaneously hard to watch and a crowd pleaser.
As a terrible elementary school student with a mean streak, Shouya Ishida sets his sights on the deaf transfer student Shouko Nishimiya. Eventually turning the entire class against her, Nishimiya ends up being removed from school and, needing someone to blame, Ishida is used as a scapegoat by his peers. Overwhelmed with grief, the teenager makes it his mission to apologize to Nishimiya.
A Silent Voice is a tear-jerker bolstered by mesmerizing visuals and a fantastic soundtrack. Running the risk of venturing into stereotypical or even cartoonish territory, bullying is hardly an easy subject to accurately portray. A Silent Voice shows that past actions have consequences but steps can be taken to make amends.
---
3. ReLIFE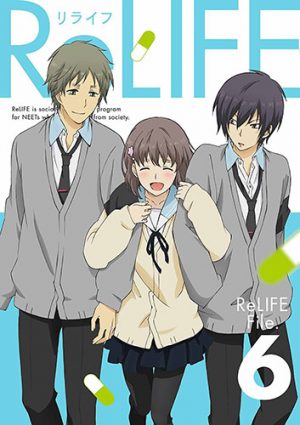 Episodes: 13
Aired: July 2, 2016 – Sep 24, 2016
In life, there are no do-overs; thankfully, the same cannot be said for anime! Centering on a 27-year-old shut-in named Arata Kaizaki, ReLIFE refers to an organization that allows desperate people to relive their high school years as an attempt to reignite their social skills. Presented with an anti-aging drug, Arata transfers into the local high school as a third-year student and finds himself embroiled in a strange relationship with the cold Chizuru Hishiro.
Funny and endearing, ReLIFE is a slice-of-life anime with a touch of romance and a whole lot of feels. While Chizuru and Arata monopolize the majority of the screentime, the entire cast is dealing with their own personal issues. From unrequited love to inadequacy, TMS Entertainment's anime covers a wide-spectrum of relatable emotions while delivering a thoroughly engaging overall experience.
ReLIFE's solution does not erase Arata's past mistakes but provides an opportunity to learn from them. Even in the worst situations, there are always ways to ease the tension.
---
2. NHK ni Youkoso! (Welcome to the N.H.K.)

Episodes: 24
Aired: July 9, 2006 – Dec 17, 2006
In any discussion focusing on anime dealing with depression, Welcome to the N.H.K is destined to receive a mention. Developed by Gonzo, this classic series follows the attempts of a NEET to overcame his social anxiety and venture out into the unknown. Actually, that is what Tatsuhiro Satou really needs to do, but the college dropout refuses to open his door.
Out of the blue, Satou is paid a visit by the optimistic Misaki Nakahara, who wants nothing more than to reintegrate the NEET into society. Hailing from a rich family and seemingly perfect, Misaki is struggling with her own insecurities and her motivation to help Satou is not completely selfless.
While capable of instigating a chuckle or two, NHK ni Youkoso! is a psychological drama that closely examines Satou's condition. Depression can arise from a variety of circumstances, and Gonzo's anime does a fantastic job of presenting different points of view. More importantly, NHK ni Youkoso! puts Satou through the ringer and requires the protagonist to reflect on his own behavior.
---
1. 3-gatsu no Lion (March comes in like a lion)

Episodes: 22
Aired: Oct 8, 2016 – Mar 18, 2017
Adapted quite recently, 3-gatsu no Lion is about as close to perfection as the anime industry is likely to get. Split into two seasons, this seinen series sees Shaft at the absolute height of its powers! Backed with splendid animation and based on Chika Umino's fantastic ongoing manga, March comes in like a lion is about life, family, heartbreak, and survival.
Reaching professional status in middle school, Rei Kiriyama is destined for shogi superstardom. Due to a rather troubling and isolating upbringing, Kiriyama drowned himself in the game as a means of escape. Despite being praised as a genius, Kiriyama is not even sure whether he enjoys shogi.
Okay, that is enough about shogi, as it is far from the anime's priority. March comes in like a lion revolves around Kiriyama's relationship with a trio of sisters who recently lost their parents and the impact they have on each other. Pretty much everyone in the main cast has experienced a trauma, but they find solace in life's little pleasures. At times, 3-gatsu no Lion makes us want to roll up in a ball, but there is always a release for that pent-up frustration! Frankly, 3-gatsu no Lion feels like therapy!
---
Final Thoughts
Depression is a serious illness that should never be dismissed or exploited. Unsurprisingly, many anime have tackled themes dealing with the medical condition and these ten recommendations should help to ease the sadness. Uplifting and respectful, hopefully, these anime can put a smile on someone's face!
What is your favorite anime to watch when feeling down? Please let us know in the comment section below.
---