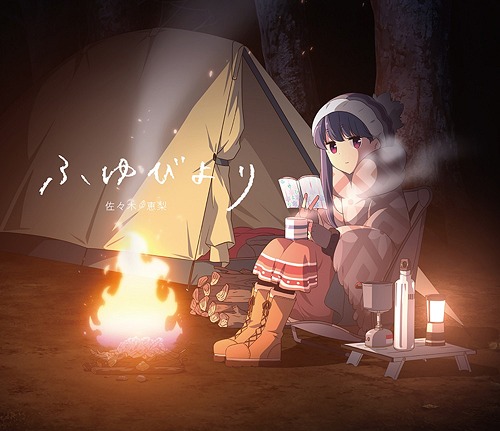 There have always been many different types of anime out there. If someone is in the mood for something action-packed and full of intensity, there is anime like that for them. What if they are looking for something with out-of-this-world comedy? There are undoubtedly many out there. Though, maybe you are in a bad spot right now and need a pick-me-up. Everyone has those days when they are feeling down in the dumps and just aren't in the mood for any intense anime. Instead, they may be looking for something that will turn a frown upside down or give them some motivation.
Today, Honey's Anime will be taking a look at ten uplifting anime that we feel can lift up those spirits and brighten those dim days.
10. Barakamon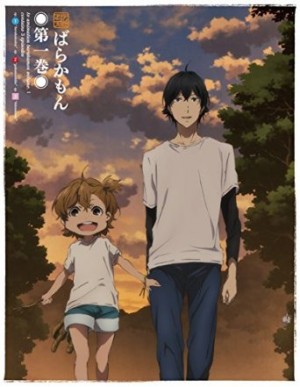 Episodes: 12
Aired: July 6, 2014 – September 28, 2014
As an artist, finding inspiration for your art can be difficult. It was the same for pro calligrapher, Seishuu Handa, when an experienced curator called his work "unoriginal". Artists will usually take criticism as it is and use it to move forward. However, the passionate Handa took a different approach in his situation and punched the respected art critic. To take responsibility for his actions, Handa's father banished him to the countryside to find a new inspiration and improve his "unoriginal" art.
This premise may not seem so uplifting, but as you look further into the anime, you will notice how lovely and heartwarming it truly is. Handa has to adapt to his new life on the countryside, encountering many different people of all ages and personalities. What can you do when you are constantly intruded on by energetic children, curious teenagers, and nosey elders? If we had to sum things up in a few words, this anime is simply about enjoying the fun and playful interactions you have with those around you.
---
9. Yuru Camp△ (Laid-Back Camp)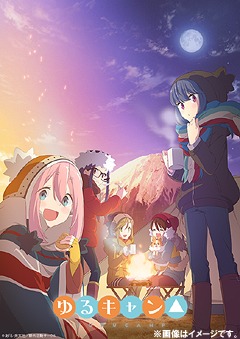 Episodes: 12
Aired: January 4, 2018 – March 22, 2018
To describe Yuru Camp in one word, we would say that it is "relaxing". This anime takes the Slice of Life genre into a setting we do not see often in anime. Camping is not for everyone, but when you watch Shima Rin and her friends hanging out and taking the time to enjoy the great outdoors, you can't help but start wanting to do the same yourself. While this anime just seems like a bunch of cute girls doing cute things, it truly becomes much more than that with every episode you watch.
Yuru Camp can be rather educational. It teaches its viewers many interesting camping facts and tricks that are way more fascinating than you may think. These facts also come with a witty narrator that follows the girls on their laid-back camping days and nights. This anime is unique and there aren't too many out there like it. It's comforting and can give you that warm, fuzzy feeling inside on those cold nights. Honey's Anime can assure you, this series is just what you're looking for.
---
8. Natsume Yuujinchou (Natsume's Book of Friends)

Episodes: 13
Aired: July 8, 2008 – September 30, 2008
To the other children around him, Takashi Natsume was always seen as a strange and weird kid. Little did they know, Natsume had an odd ability. Inherited from his grandmother, Reiko, he was given the ability to see spirits and yōkai that would haunt and terrify him daily. Now fifteen-years-old, Natsume has received the Book of Friends from his grandmother. Along with this book, came a duty; he must help the terrifying spirits listed in the book and get rid of the contracts they have made in the past with Reiko.
Undoubtedly, Natsume Yuujinchou is one of the most uplifting anime to date. The stories behind the spirits leave a mark on each and every one of its viewers. This anime will give you that warm and happy, yet bittersweet feeling you may be looking for. Not only that, but with six seasons under its belt, you can make the most of Natsume Yuujinchou and its beautiful stories to your heart's content.
---
7. Kuragehime (Princess Jellyfish)

Episodes: 11
Aired: October 15, 2010 – December 31, 2010
Nineteen-year-old Tsukimi Kurashita is a jellyfish fanatic living in an apartment building with many other girls that have their own unique obsessions. These girls come off as awkward and socially inept, but life begins to change for them when Tsukimi meets a gorgeous woman one night at a pet store. Now, this woman pays visits to these awkward girls often. However, she has an interesting secret that Tsukimi must not tell anyone. She is actually a man.
Kuragehime is a story of confidence and being comfortable in your own skin. Not everyone is the perfect person they wish to be, and that's the same for Tsukimi and her roommates. The woman they meet teaches them to love themselves and be confident in who they are. You should definitely give this anime a try if you are looking for something uplifting and encouraging, not just for the characters, but the viewers as well.
---
6. Non Non Biyori

Episodes: 12
Aired: October 8, 2013 – December 24, 2013
In the countryside village of Asahigaoka, days are always bright and full of fun due to four young girls and their silly antics. These girls are of all different ages and are just about the only students in the entire village. Asahigaoka is lacking in activities when compared to big cities and appears to not have much to do. Nevertheless, these girls always find a way to turn that nothing into something!
Nyanpasu! Non Non Biyori is a Slice of Life anime that shows off the rural life in Japan. There isn't as much convenience in the countryside and most of the people vary a lot in age. Despite those problems, the villagers always make things work out and have fun while doing it. The main characters are four young girls ranging from a first grader, to a ninth grader. The age differences are large, but the hilarious interactions between them all never fail to reach the viewers. This is one of the best anime to watch when life is bringing you down and you are feeling stressed or bummed out. Unwind with this anime and enjoy the fun, love, and companionship that it has to offer.
---
5. K-On!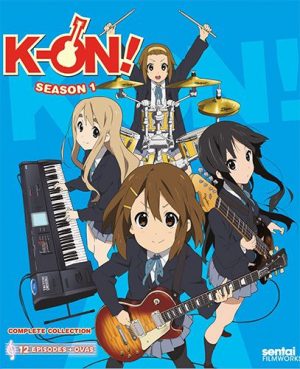 Episodes: 13
Aired: April 3, 2009 – June 26, 2009
The Light Music Club of Sakuragaoka High School is in danger of being disbanded if they do not find another member to join. Yui Hirasawa, a clumsy first year student, carelessly decides to visit and join the club on a whim despite having no musical ability at all. This all comes in handy for the other club members and the Light Music Club is saved. Follow bassist Mio, keyboardist Tsumugi, drummer Ritsu, and beginner guitarist, Yui, in their club activities filled with amazing music, laughter, and after-school tea times.
This anime is not only uplifting, but is also filled with lovable characters and catchy songs that leave an ear-to-ear smile on your face with every episode. K-On is a cute and light-hearted anime with plenty of character development and comedy that will make you feel like you've become part of the club as well. Without a doubt, this anime has earned its spot on our list. If you haven't seen it yet, it's never too late to give it a try!
---
4. New Game!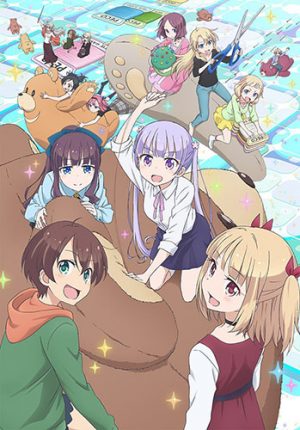 Episodes: 12
Aired: July 4, 2016 – September 19, 2016
New Game follows the young and enthusiastic Aoba Suzukaze, a recent high school graduate ready to begin her adult life. As a child, Aoba had a great love for video games. Her all-time favorite game series was Fairies' Story. This particular series sparked Aoba's love for games and the character designs within them. So, when Aoba landed a job with Eagle Jump, the company that produced Fairies' story, she jumped for joy! Not only that, but she had been given the opportunity to work on the next installment of her favorite game series, working directly under the game's lead character designer. How will Aoba fare in her new and exciting work life?
What makes this anime so special are the light-hearted and merry interactions between characters in a workplace environment. Work is usually stressful and can take a lot out of you. So, when you watch New Game, it's hard not to feel refreshed by the anime. Aoba and her coworkers work diligently to make their game the best it can be. The camaraderie among these workers is very uplifting and genuine. Those reasons earned this anime its rightful spot on our list.
---
3. Gin no Saji (Silver Spoon)

Episodes: 11
Aired: July 12, 2013 – September 20, 2013
Yuugo Hachiken was a hardworking student doing his best to live up to his parents' expectations. However, things changed for him when he failed to pass the entrance exam for the school he had planned on attending. Tired of trying to live up to certain people's standards, Hachiken decides to attend Ooezo Agricultural High School, where they teach how to care for animals, farm, and do various other agricultural tasks. It turns out, this countryside school is much more difficult than he had originally thought it would be. It looks like it will be a struggle for Hachiken to adapt to his new surroundings. Can he even live up to his own standards?
Gin no Saji, from the start, is a very humbling anime. When removed from their usual environment, people do not fare well. Hachiken is a hardworking and diligent student who believed this new school would be a cake-walk due to its countryside nature. However, noticing how difficult the tasks really were and seeing his fellow classmates progressing much faster than he was, made him acknowledge what he was lacking within himself, and see his surroundings in a new light. If this anime sounds like what you're looking for, why don't you give it a shot?
---
2.Usagi Drop (Bunny Drop)

Episodes: 11
Aired: July 8, 2011 – September 16, 2011
Raising a child is no easy feat. Daikichi Kawachi begins to understand that after he offers to take in his grandfather's illegitimate six-year-old daughter, Rin, after his death. Daikichi is a thirty-year-old working man who doesn't know the first thing about child raising. For all he knows, this whole situation could blow up in his face at any moment.
Usagi Drop is the story of being a father. This anime is very wholesome and you just cannot get enough of it. There will be times when it gets tough and things seem to never work out for the two. However, Rin and Daikichi pull through, continuing to teach, learn, and grow with one another throughout the good times, and the bad. These two are always willing to give one another a shoulder to lean on when things get rough and we are sure that this anime can do the same for you!
---
1. Little Witch Academia

Episodes: 25
Aired: January 9, 2017 – June 26, 2017
The power that witches hold in the world has been declining. Atsuko "Akko" Kagari aspires to become a great witch like her childhood inspiration, Shiny Chariot, and show everyone how great witches can still be. To make her dream a reality, Akko enrolls at Luna Nova Magical Academy, a school for witches in training, and the same school Shiny Chariot attended. Despite having so much determination toward her goal, Akko has trouble improving as a witch. It seems that she has no magical background and cannot easily perform magic in the same way her fellow classmates can.
Little Witch Academia has many different themes and elements that appear throughout the anime, ranging from perseverance, to the power of friendship. Akko is a well-developed character dedicated to the dream she wishes to achieve. This anime teaches its viewers that hard work pays off and you can do anything you set your mind to, despite what anyone has to say. When you think of uplifting and inspirational anime, Little Witch Academia turns out to be all of that and much more. If any anime deserves the number one spot on this list, it is this particular series for sure!
---
Final Thoughts
And so, our list has come to an end. We hope you enjoyed what we had in store for you. There are many different anime out there that can give inspiration, hope, and joy to its viewers. No matter the time or place, your favorite anime are always on the case!
So, what are you waiting for? Go ahead and give a few of these series a go. We are sure you will love them! There are plenty of other anime that could have also made our list. So, let us know in the comments below what you think about our choices!
by Christian "Kyueue" G.
---