The comedy genre has always been a staple favourite. Who wouldn't enjoy a light-hearted time amidst the tension and stress of daily life and reality? The year 2017 had just ended and it only felt just like yesterday when we were still anticipating episodes from many hit series. Here's a better year of anime with better series to be seen and watched. Before we fully move on, however, let's take a moment to count down the top 10 comedy anime for the year 2017 and to also reflect on what made these series so impressionable for the previous year!
10. Eromanga-sensei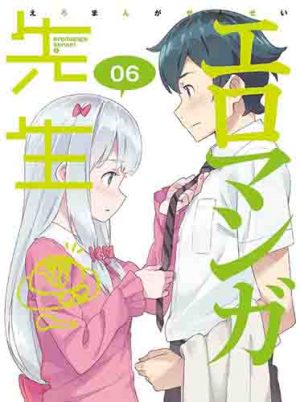 Episodes: 12
Aired: Apr 9, 2017 to Jun 25, 2017
It was just a year ago that Sagiri Izumi found a stepsibling in Masamune Izumi. All went well for them until the sudden death of their parents. This caused numerous problems to arise in their new family and Sagiri became a shut-in. Meanwhile, Masamune tries to keep the family together by earning his living as a light novel author. Through a series of events, he finds out that his illustrator, an acclaimed one, was actually Sagiri all along! With the new fact that the stepsiblings were actually partners all along, they tackle the challenge of the light novel industry!
Eromanga-sensei depicts the light novel industry and transforms it into a comical and almost nonsensical one. With numerous references to other animes, it is sure to bring a laugh or two. It doesn't just stop there! It also uses the common tropes of the rom-com and incest genres and is filled with gags with its eccentric cast of characters. It is definitely a must watch if you want something easy and carefree!
---
9. Gamers!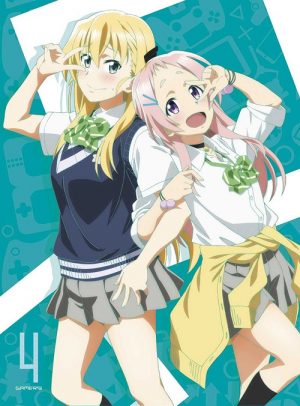 Episodes: 12
Aired: Jul 13, 2017, to Sep 28, 2017
Keita Amano is just your average high school student with a passion for gaming. Karen Tendo is a model student whose beauty is well-known in the school. A chance encounter between them has Keita asked to join the game club. What is more shocking is that Karen is the club's president. Keita's life now revolves around this unorthodox club. It is a battle of how just how long he can maintain his sanity due to the whims and fancy of the president and the members.
Are you someone that loves gaming? Look no further than Gamers! to fulfil your anime and gaming wants. Gamers! is basically an anime about a game club in a high school. It introduces elements of comedy to an absolutely normal club. Add in a little craziness and you get Gamers! Due to the random moments and quirkiness, it is no surprise that Gamers! was one of the more popular anime during the time of its release.
---
8. Blend S

Episodes: 12
Aired: Oct 8, 2017, to Dec 24, 2017
Maika Sakuranomiya is known to look fearsome when she doesn't smile. In truth, she is not at all fearsome. Maika just has a problem smiling sincerely. Due to this flaw, she is unable to find a part-time job. That is a cafe owner invites her to be part of a theme cafe. Within the cafe are numerous workers with a specified personality. Needless to say, our heroine is given the sadistic role. This is a series of the life of working in a themed cafe.
We are all familiar when it comes to themed cafes. From the more common tsundere and imouto cafes, Blend S showcases a rarer one - moe. Enjoy moments when Maika appears dominant and cruel and just let loose. After all, you're not the one facing her wrath. This is your chance to look into the life of a themed cafe worker adopting a persona.
---
7. Masamune-kun no Revenge

Episodes: 12
Aired: Jan 5, 2017 to Mar 23, 2017
When he was a child, Masamune Mukabe was often teased. 'Piggy' as he was known then, was a nickname given to him by the charming Aki Adagaki. Now as a high school student, he seeks revenge against his former tormentor. He slowly builds a relationship with Aki in the hopes of breaking her heart one day. As time goes by, however, he starts to question his original plan and whether if he was indeed falling for her...
At first glance, the synopsis sounds just like a rom-com setting. We can assure you that this anime has a very different take on just how the story progresses. All in all, this is just a harem series with numerous comical twists. Masamune-kun takes the typical rom-com trope but modifies it in such a bizarre manner that it becomes pure comedy. This is a perfect anime for those who want to idle time away by laughing!
---
6. Aho-Girl

Episodes: 12
Aired: Jul 4, 2017, to Sep 19, 2017
Yoshiko Hanabatake is the titular idiot girl in this series. She is a banana-loving klutz who seems to get into more trouble than of help to others. She has a constant record of 0 for all her tests and a myriad of baffling actions. The only person who can keep her on track is Akuru Akutsu. Violence comes at no qualms when curbing her insanity. Watch as Yoshiko rampages around the school with her idiocy.
Aho-Girl is just as the name suggests. It is about a girl who is absolutely clueless. Her shenanigans are what gets her into trouble most of the time. Sometimes, she doesn't even realise the consequence of her actions and the exasperation of her peers is what makes it ridiculously funny. Do you know that one friend who is always silly? Imagine that friend and multiply it by ten and you probably have no scratched the surface of Yoshiko's eccentricity. We mean it... Yoshiko's idiocy is at the next level that is beyond this world...
---
5. Boku no Hero Academia 2

Episodes: 25
Aired: Apr 1, 2017 to Sep 30, 2017
The continuation of the first season has our protagonist Izuku still trying to prove his worth to the world. Admiring heroes ever since he was young, he aspires one day to be recognised. However, his power is one that is immense... but incredibly useless. This is more of his misadventures as Izuku competes against others who have natural talent. If anything, he utilizes his sharp wits to get himself out of a pinch.
Few animes can combine action and comedy together. Action, a genre which is often taken more seriously and more fast-paced may not be the first thing that comes to mind when it comes to comedy. However, this series has made its place alongside One Punch Man as the few action animes that uses action to depict comedy. This is for those that need a faster pace than traditional comedy animes. It is a must watch, not just for being a top comedy show, but because it was one of the most popular anime in the year 2017.
---
4. Tsurezure Children

Episodes: 12
Aired: Jul 4, 2017, to Sep 19, 2017
Youth is the season of love. That is the spirit and essence of youth. This is the phase in life where everyone has no understanding of what love is and is trying to find the answer to it. From experimenting and feeling the first pangs of romantic attraction, this point in life is the peak of romance. Tsurezure Children is a collection of stories how numerous high school students go about confessing their love to their crush along with the difficulties and joy that comes with it.
This is yet another anime that sounds just like a rom-com but is not. Tsurezure Children shows how our protagonists go about professing their love to their partner with often comical results. This ranges from being totally oblivious to embarrassing situations. Tsurezure Children shows just how an impactful emotion can be made funny and light-hearted. Of course, this is to us the viewers and not the individuals involved, however...
---
3. Kono Subarashii Sekai ni Shukufuku wo! 2

Episodes: 10
Aired: Jan 12, 2017 to Mar 16, 2017
When Kazuma Satou died, he was given the choice to either ascend to heaven or be revived into a fantasy world. The previous season shows just how much he regrets his choice. His choice of weapon was the goddess that tasked him but she is incredibly useless... Welcome back to KonoSuba where our lovable Aqua joins us once again to show us just how little of a help she can be despite being a god. Returning characters include Megumin, a mage who has an ultimate magic that can only be used once a day, and Darkness, a knight with serious issues with masochism...
It is the dream to be revived into a fantasy-like a world. With the added advantage of having a god as your ally, you would think that you would dominate this new world, fulfilling the years of the desire of being in a video game... right? KonoSuba is an anime that ruins the dreams of our protagonist. Your trump card is pretty much useless and you have to bail her out most of the time, your mage has an ultimate attack that decimates everything but it can only be used once a day and your tank/warrior is the kind of person that likes being attacked for the wrong reasons... All this means for us is that the series is extremely funny but at the expense of Kazuma's misfortune.
---
2. Kobayashi-san Chi no Maid Dragon

Episodes: 13
Aired: Jan 12, 2017, to Apr 6, 2017
Kobayashi is your typical Office Lady with an 8-5 job. One day as she was leaving for work, she opened her door to be greeted by a frightening sight. The glaring face of a dragon. This dragon immediately reveals her other self - an energetic young girl in a maid's outfit much to the disbelief of Kobayashi. Apparently, she has agreed to take the young dragon in while she was drunk and thus starts her life of co-inhabiting with a mythical beast.
Tooru, the dragon is an extremely efficient but unorthodox housemaid. Often she will complete her tasks using her powers as a dragon, shocking Kobayashi. It is also due to her presence that Kobayashi eventually takes in other beasts with eccentric personalities. This collection of characters is what makes the anime lively. There is simply so much happening and when you put lively with eccentric, it means you're going to end up in stitches!
---
1. Osomatsu-san 2

Episodes: 25
Aired: Oct 3, 2017, to 2018
Meet the Osomatsu sextuplets. They are all over-20 but extremely lazy. Each possessing a unique personality, this household is a constant state of cataclysm and craziness. Even daily events will seem abnormal when the Osomatsu-sans set out. Welcome to the second season of absurdity and insanity.
Osomatsu is a series that is well-loved by the community and is much raved about online. When we talk about modern comedy in the anime scene, Osomatsu will definitely have a place. Osomatsu is a series after so long, that dares to challenge existing and past tropes. It parodies very recent animes much to the enjoyment of us. This is an anime that defines modern humour and takes the top spot on our list. If you haven't watched the first season already, then what are you waiting for?
---
Conclusion
2017 was a pretty good year for comedy. It had many comedy series continuing from the previous year and new ones that bring a refreshing change of pace. Some of those mentioned were even part of the top animes for the year itself! Have you watched all of these series? Are you a die-hard comedy fan and if so, did the year 2017 meet your expectations? Did we miss anything out? Leave us a comment below and we will see you next time!
---