Role Playing Game. It's the classic genre. Stemming from the idea of being someone different and being able to go on unimaginable adventures, it has grown into one of the most popular game genres. Every year of gaming is full of highly anticipated RPGs as well as surprise hits. Whether revitalizing the genre or sticking to its roots, every year there's a new RPG for any fan to enjoy.
2017, like every year, saw an influx of RPGs. As a year for RPGs, 2017 was a class unto itself. 2016 was a great year, for RPGs but 2017 upped the ante by releasing big-name remakes and sequels, new IPs, and some of the most highly anticipated RPGs in recent time. Although the year saw the release of many great RPGs, there were some that still managed to stand out from the crowd. Here are the Top 10 Best RPGs of 2017.
10. Golf Story

System: Nintendo Switch
Publisher: Sidebar Games
Developer: Sidebar Games
Release Dates: September 28, 2017
Golf Story is an RPG that combines elements of many different genres in a way that, on paper, shouldn't work but, fortunately, come together to make a role-playing sports adventure game. Golf Story tells the story of a golfer, who tries to find his love for the game. Where a traditional RPG uses combat for the player to gain experience and currency, Golf Story uses, as one would expect, golfing. Like in a traditional RPG, the player can gain and improve their skills as well as buy new equipment. Golf Story doesn't do anything new, neither as a golf game nor as an RPG. But its ability to stitch together several unlikely genres into a must-play can't be ignored.
Golf Story is a sleeper hit and, perhaps, the biggest surprise of the RPG scene in 2017. In fact, it won Game Informer's 2017 RPG of the Year Awards' "Biggest Surprise" award, so it can be said with certainty that it was. While Golf Story flew under the radar for many gamers, due to its exclusivity on a hard-to-acquire console, it received the praise of many critics and finds itself among great company.
---
9. South Park: The Fractured But Whole

System: PlayStation 4
Publisher: Ubisoft
Developer: Ubisoft San Francisco
Release Dates: October 17, 2017
In 2014, the minds behind one of America's most controversial animated comedies, South Park, decided to bring their art to a new medium, video games. South Park: The Stick of Truth brought South Park's crude humor to consoles around the world. The Stick of Truth was surprisingly a well-crafted RPG that didn't rely on its source's crude humor to be successful. Its sequel, South Park: The Fractured But Whole, improved on all the things that worked the first time around.
South Park: The Fractured But Whole takes place immediately after the first game. Content with role-playing, the kids decide to become actual superheroes and get a movie deal. Of course, in true South Park fashion, The Fractured But Whole's story takes many ridiculous and unexpected turns, all set off by the discovery of a conspiracy involving a kingpin's plans to increase crime in South Park.
The Fractured But Whole's story is what you'd expect from a South Park game. The game featured a turn-based battle system, which thanks to a time-based element, proved to be one of the highlights of the game. South Park: The Fractured But Whole managed to combine the series' humor with classic RPG gameplay to create what is not only one of 2017's best games but also one of the best comedy RPGs ever.
---
8. Pyre

System: macOS, Microsoft Windows, Linux, PlayStation 4
Publisher: Supergiant Games
Developer: Supergiant Games
Release Dates: July 25, 2017
Anyone that's aware of Supergiant Games knows that they are masters at creating RPGs with deep stories and new, interesting gameplay mechanics. When their latest game, Pyre, was announced, despite the lack of information, fans were beyond elated. Their excitement was proven to be well warranted when Supergiant Games released their latest game, which once again combined RPG elements and fantastic storytelling in new and interesting ways.
In Pyre, the player assumes the role of the Reader, as you help a band of exiles as they attempt to escape the Downside, a purgatory-like land. To do so, the Reader must guide the other exiles in Rites, a game-like competition where they can gain their freedom. These Rites are actually a 3-on-3 game, where the goal is to bring the opposing team's score down to zero, by driving an orb into the opponent's pyre. The game is simple in concept but intricate enough to provide lots of gameplay options.
As players contribute more to the team's victory, their stats and skills improve, which is where the RPG elements come in. In addition to choosing the team and the players' skills, the player controls the story as choices presented to the Reader help to drive the story forward. Like Supergiant's other games, Pyre's beautiful world is full of lore to explore, interesting characters, and a compelling story. Pyre doesn't look like or play like your standard RPG, but that proves to not be such a bad thing, as Pyre is one of the best RPGs of the year.
---
7. Nioh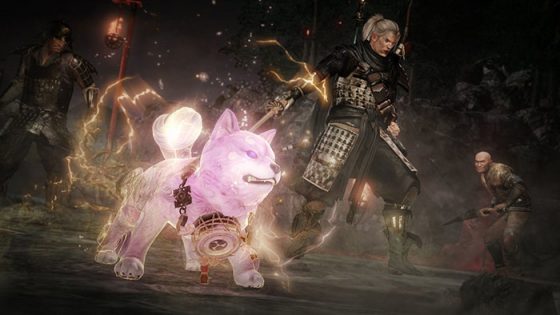 System: Microsoft Windows, PlayStation 4
Publisher: Sony Interactive Entertainment, Koei Tecmo
Developer: Team Ninja
Release Dates: February 7, 2012
Nioh, the final result of nearly a decade and a half of development and scrapped ideas, is an action role-playing game that tells the story of William Adams, as he aids Tokugawa Ieyasu in his battle against yokai that run rampant across Japan.
Nioh was praised for its hack and slash combat. Nioh set itself apart from other action RPGs with its diverse skill tree, allowing players to put stats into three different areas: Samurai, Ninja, and Oumyo. Depending on stat distribution, a player could use a game style that finds a balance of standard melee weapons, ranged weapons and poison, and stat boosting consumables or just prioritizes one.
Like other challenging RPGs of its ilk, Nioh implements a stamina bar, represented by William's Ki. Nioh, however, plays with the stamina bar in a dynamic way, allowing lost stamina to be regained with Ki Pulse which also serves as a buff. The experience in Nioh also works uniquely, being similar to loot: if the player dies, the experience gained is dropped; the player is allowed to return to the spot and pick up the dropped experience.
Nioh was praised for its combat and difficulty, as well as its use of Japanese setting and folklore. Nioh was originally based on an unfinished script by Akira Kurosawa. While this script was eventually scrapped, many of the games artistic elements and battle cinematics, which were highly praised, were inspired by some of Kurosawa's works. Nioh's difficulty has garnered such high praise that it has been compared to the Souls series.
---
6. Horizon Zero Dawn

System: PlayStation 4
Publisher: Sony Interactive Entertainment
Developer: Guerilla Games
Release Dates: February 28, 2017
Announced during Sony's E3 2015 press conference, Horizon Zero Dawn became one of 2016's most highly anticipated releases. Horizon Zero Dawn's release was pushed back to early February, to allow for extra polish which helped it earn a spot as not only one of the best RPGs of the year, but also as one of the best games of the year.
In Horizon Zero Dawn, the player assumes the role of Aloy as she sets out on a mission to discover why she has lived her life as an outcast in a post-apocalyptic world. Aloy must combat the machines that rule the land in order to acquire loot necessary to craft necessary items. Part of Horizon Zero Dawn's success stems from the combat and the variety of ways in which Aloy can interact with not only the machines but the world around her.
Horizon Zero Dawn drew the most praise for its successful implementation of an open world that, at the root of its story and gameplay, was meant for the player to explore. As the world is explored even more players can experience the beautiful visuals, story, and challenging gameplay that made Horizon Hero Dawn such a hit.
---
5. Xenoblade Chronicles 2

System: Nintendo Switch
Publisher: Nintendo
Developer: Monolith Soft
Release Dates: December 1, 2017
Xenoblade Chronicles 2 is the latest entry in the Xeno series and the direct sequel to 2012's Xenoblade Chronicles. Xenoblade Chronicles 2 follows Rex and his friend, Pyra, as they search for Elysium, a land rumored to be paradise. Fans of the original Xenoblade Chronicles were happy to find that Xenoblade Chronicles 2 returned and improved what made that game a classic while removing the less favorably received elements of Xenoblade Chronicles X.
Like the previous entries in the series, Xenoblade Chronicles 2 features an open world with a day-night cycle that also affects many different aspects of the game, including quests and available items. Xenoblade Chronicles 2 features many beautifully environments ranging from industrial complexes to deserts and forests. The beauty of these areas, as well as the games ability to seamlessly explore the areas, was praised by critics and gamers alike.
With addicting action-based combat, a large open world for the player to explore, and a compelling story, Xenoblade Chronicles 2 is easily one of the best RPGs of the year.
---
4. Nier: Automata

System: Microsoft Windows, PlayStation 4
Publisher: Square Enix
Developer: PlatinumGames
Release Dates: February 23, 2017
Nier Automata has a lot of RPG history to its name, and it shows. The sequel to 2010's Nier, which in itself was a spinoff of 2003's Drakengard, Nier Automata was received surprisingly well, especially considering it belongs to a series of great RPGs with largely cult followings. Nier Automata, fortunately, was able to make a splash on the mainstream scene.
Nier: Automata, continuing the mythos of Nier and Drakengard, and is set in a proxy war between the remains of humans and machines created by invaders. The game's protagonist, 2B is a combat android, sent to earth to aid the Resistance in its fight against the machines. Much like its predecessor, Nier: Automata combined gameplay elements from many different genres, not only action and RPG games.
The success of Nier: Automata wasn't due solely to its story and ability to improve upon Nier's genre-bending gameplay. Nier: Automata was essentially a complete package, with its themes, music, and combat also receiving high praise. Surely, Nier: Automata also had high expectations of its own, with 26 different endings, Nier: Automata requires quite a few playthroughs: mediocre games don't earn that kind of replay value.
---
3. Persona 5

System: PlayStation 3, PlayStation 4
Publisher: Atlus
Developer: P-Studio
Release Dates: April 4, 2017
The Persona series has been lauded for its ability to combine challenging RPG gameplay with a deep and nuanced social simulator. Persona 5 is no different, combining the two genres into a fun and challenging RPG. The modern-day Persona games have always been stylized, and Persona 5 is no different. The aesthetic of Persona portrays the game's darker story remarkably well.
Even though Persona 5's story is gripping and somber, it manages to include its fair share of light moments all the while tackling some serious issues not often explored in video games. From the start of the game, Persona 5 lets the player know not to expect the same old Persona. These changes can be found in the gameplay as well. The social link system and its benefits are vastly improved, even having an effect on the game's dungeon crawling and the options available there.
Persona 5's success, while not dependent on it, can be attributed to the previous entries in the series. With gameplay that improves on its already outstanding predecessors in every way, Persona 5 met expectations and easily became a top RPG of not only the year but all time.
---
2. The Legend of Zelda: Breath of the Wild

System: Nintendo Switch, Wii U
Publisher: Nintendo
Developer: Nintendo EPD
Release Dates: March 3, 2017
The long-running The Legend of Zelda series makes its way to next-gen consoles with The Legend of Zelda: Breath of the Wild. The Legend of Zelda: Breath of the Wild sought to create an entirely new The Legend of Zelda experience.
The Legend of Zelda: Breath of the Wild's story at its core: In Breath of the Wild, Link awakens from a hundred-year slumber and, guided by a mysterious voice, must defeat Calamity Ganon before he brings destruction to the kingdom of Hyrule. The overall gameplay of Breath of the Wild, however, takes a drastic turn from your standard The Legend of Zelda game. The Breath of the Wild introduces a completely open world with an in-depth physics and chemistry engine, encouraging experimentation from the player.
Breath of the Wild's open world allows for the player to complete the story however they see fit. The game also allows an insane amount of variety, letting players choose whatever playstyle they see fit. Breath of the Wild used one of the most lauded open world RPGs, The Elder Scrolls V: Skyrim, as inspiration and combined it with the classic The Legend of Zelda series to create a truly remarkable game.
---
1. Divinity: Original Sin II

System: Microsoft Windows
Publisher: Larian Studios
Developer: Larian Studios
Release Dates: September 14, 2017
Generally, sequels are unable to live up to the name of the original. 2014's Divinity: Original Sin was praised by many critics, with its strongest praise being its "ability to modern the RPG genre." 3 years later, the sequel to Divinity: Original Sin II was released and met with just as much, if not more critical acclaim.
Divinity: Original Sin II, while having several premade characters available, allows the player to create their own character with many characteristics, including origin story, being customizable. In addition to the character's customizability, the game's skills, too, are customizable, with a skill crafting system. This in-depth skill crafting system plays to the game's story, as the character plays a Sorcerer, beings capable of manipulating the world's energy to cast spells, caught up in a struggle for power that could determine the fate of the entire world.
Although Divinity: Original Sin II's plot sounds like your typical cookie cutter RPG, the story and the way it handled its multiple endings received a lot of praise. In fact, every aspect of Divinity: Original Sin II was praised, with many considering it to be the best RPG of all time. It would be hard to claim that title if a game couldn't claim it for its year of release.
---
Final Thoughts
The RPGs of 2017 managed to produce a range of RPGs. Some stuck to the classic RPG model that has worked and will continue to work for years. Others made the most of modern improvements to gaming consoles, opting for beautiful and lush open worlds. At the end of the day, what matters is the story and gameplay. Though the year saw many RPGs that were able to combine all these elements into great games, these 10 games stand alone as the top RPGs of 2017.
Which RPGs did you play and enjoy last year? Let us know in the comments below.
---