2017 had a lot going for it, including all of the lovely new ecchi anime we got to enjoy! We were blessed with minisode series like Skirt no Naka wa Kedamono Deshita and Omiai Aite wa Oshiego, Tsuyoki na, Mondaiji and new OVAs of older favorites like No Game no Life! And To LOVE-Ru. With all the fun new ecchi additions, it was hard to narrow down our top ten! However, these series stand out in length (more to enjoy~), sexy content (the reason we're here), and interesting themes. After all, you can only watch so many boy meets girl meets girl meets girl!
10. Saenai Heroine no Sodatekata ♭ (Saekano: How to Raise a Boring Girlfriend .flat)

Episodes: 11
Aired: Apr. 2017 – Jun. 2017
Season 2 of Saekano finds the Blessing Software doujin circle in the midst of creating a new dating sim. Eriri is as devoted to her art as ever, forcing the main heroine model Megumi into whatever pose she deems necessary. Utaha continues proving her literary genius as well as her cunning in getting their director Tomoya alone with her. Tomoya ever walks the fine line of being direct about the nature of the galge (girl game) they're creating and being respectful to the female members. New obstacles and opportunists present themselves to Blessing Software which will either ruin them or push them farther than they've ever gone before.
If you enjoy dating sims or galge this is a fun series. Continuing on from last season, the group aims for a completed game for Winter Comiket and the stress is getting to everyone. Of course stress manifests itself in different ways and, usually, Tomoya is either the punching bag or on the receiving end of sexual advances, neither of which he is a fan of. Eriri is a particularly fun character because even though she loves 2D ero work and gets really into drawing Megumi provocatively for the sake of the game, she dislikes lewd displays in the real world.
---
9. Tsugumomo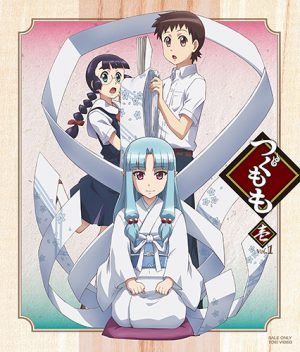 Episodes: 12
Aired: Apr. 2017 – Jun. 2017
Kazuya, a young high school student, keeps the sakura obi his mother left him with him wherever he goes. He never expected one day this memento would manifest a spirit named Kiriha that would protect him from amasogi, or items that become infused with malicious intent and attack people. These cursed items pop up with increasing frequency and it's up to Kiriha and Kazuya to protect the town. But just why does being with Kiriha feel so nostalgic?
Tsugumomo is what you'd expect with a spirit that doesn't conform to human views on nudity or personal space. Doing things like taking baths or sleeping with Kazuya in the same bed are not embarrassing for Kiriha in the slightest, and that's just episode 1. Despite being an opportunistic perv and doing things like stealing looks at girls' panties, Kazuya is often made flustered by Kiriha. This is the story of a boy just trying to get his kicks without being overwhelmed by Kiriha's unabashed nature or killed by possessed household objects.
---
8. Boku no Kanojo ga Majimesugiru Sho-bitch na Ken (My Girlfriend is Shobitch)

Episodes: 10
Aired: Oct. 2017 – Dec. 2018
Haruka has fantasized about his class rep Akiho for months because of her beauty, serious attitude, and diligence. He's surprised but delighted when she accepts his confession, but nothing could prepare him for her casual conversations about sex and intimacy. Akiho wants to be closer to Haruka and thinks the way to do that is through being physical, while Haruka is shy about even holding hands! It certainly doesn't help that Haruka has female friends that like to throw themselves on him even in front of Akiho. Haruka is going to have a hard time trying to keep up with Akiho's pace!
Akiho says whatever's on her mind, and it just so happens that it's usually sex-related. Her idea of becoming a good girlfriend is physically pleasing her boyfriend which is too much for the inexperienced Haruka. Akiho talks about learning new sexual positions or bringing up Haruka's penis in regular conversation and has trouble reading the mood. As if a very forward girlfriend isn't enough, putting his friend Shizuku in the same room with Akiho will undoubtedly lead to numerous sexual innuendos and Akiho's increasingly aggressive attempts to be closer to Haruka.
---
7. Shokugeki no Souma: San no Sara (Food Wars! The Third Plate)

Episodes: 12
Aired: Oct. 2017 – Dec. 2017
Having survived all the trials Tootsuki Academy has thrown at him so far, Souma is eager to continue his quest to be the top chef at the school. While he immediately challenges any and all members of the Elite 10, he's frustrated when they deem they have no time to have a cooking battle with someone so unworthy. But with the school's Moon Festival coming up, he'll have the perfect excuse to go against these untouchable foes. But behind the spices and cookware, something sinister is going on that threatens not only Souma but the whole school!
If you haven't jumped on the Shokugeki train yet, you probably should. Not only is it funny and engaging in both drama and self-awareness, it's one of the best examples of equal opportunity nudity. The usual formula is people eat something delicious and their clothes explode off their body, but we also have provocative outfits and free spirits running around in only aprons. Men and women of all body types succumb to the clothes-destroying deliciousness and while maybe you wouldn't want to see everyone naked, it's definitely a break from the mold.
---
6. Akiba's Trip the Animation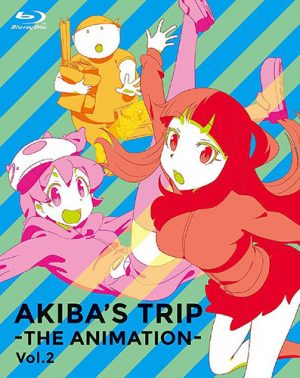 Episodes: 13
Aired: Jan. 2017 – Mar. 2017
Tamotsu is living his best otaku life when one day, fights start breaking out in Akihabara. He doesn't think much of it until he hears about a cafe his little sister is visiting being destroyed, but he's not prepared for what he encounters. A powerful girl with a baseball bat appears to be fighting possessed humans, and after he makes sure his sister is safe, Tamotsu runs in to help only to be fatally stabbed. He is then revived by the mysterious girl, Matome, who informs him he can never go back to his regular life. Much to her dismay, without knowing much of anything Tamotsu is excited at this fun turn of events and jumps right into playing hero.
So we have these creatures known as 'bugged ones' that take over people and make them attack others and conveniently enough, the only way to stop them is by ripping their clothes off. They're sensitive to the air, which is why they usually attack people in cosplay (more clothing covering their bodies) so you'll see lots of maids get stripped. Also convenient, the only way to bestow a human with the power of a bugged one without being taken over is by kissing, which apparently includes a little grinding just to be safe. This show is boobies and battles galore.
---
5. Renai Boukun (Love Tyrant)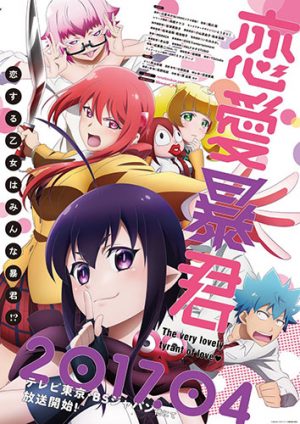 Episodes: 12
Aired: Apr. 2017 – Jun. 2017
The human whose name is written in this note shall... kiss?? The Kiss Note wielded by cosplaying cupid Guri has the power to bind people together through love forever by writing a couple's name in her note and having them kiss within 24 hours. One day Ruri attempts to feed her yaoi obsession by writing two men's names and ends up misspelling the first one, leading her to high school student Seiji's house. Guri tells him he needs to kiss someone or she'll die and he'll remain a virgin, he kisses Guri which has no effect. She further elaborates he needs to choose someone so she can write someone else's name so he chooses his crush Akane. It is discovered, though, that through no effect of the Kiss Note, Akane loves him to the point of violent obsession. Guri decides she's taken an interest in Seiji too and writes Akane and her own name next to Seiji! Being bonded with a cupid means Seiji can't die, which protects him against Akane's knives, but his troubles are far from over!
As you can imagine, there's a lot of kissing in this show. Guri is laid back to a fault and uses her Kiss Note to amuse herself instead of doing her job of creating good couples. She likes both yaoi and yuri and gets excited when a girl confesses to Akane and throws her into their group relationship too. She also likes commenting on Akane's big boobs. She enjoys kissing and seeing other people kiss and is a complete contrast to the jealous Akane who is quick to brandish her knives when she feels her relationship is threatened. With girls vying for Seiji's affection, and sometimes other girls' affection, there's a lot to enjoy with Renai Boukun.
---
4. Hajimete no Gal (My First Girlfriend is a Gal)

Episodes: 10
Aired: Jul. 2017 – Sept. 2017
Junichi and his band of virgin friends lament not being able to get a girlfriend even in high school. One day his three friends decide to force him to confess to a gal named Yame Yukana thinking she'll be easy. Yame oozes sex appeal but also confidence and laughs at Junichi's weak confession. However, being unused to guys to guys seemingly wanting to properly date her instead of just hooking up, she agrees to be his girlfriend. She loves teasing Junichi with sexy pictures and provocative poses but who knows how much his little virgin heart can take?
Junichi is both plagued with constant sexual desires and absolutely no cool when it comes to sexual situations, though that's why Yame is so attracted to him in the first place. He's constantly being bombarded with big boobies and several times ends up with girls on top of him. Yame loves how much Junichi wants her yet freaks out every time they touch or she says something suggestive and with his being surprisingly popular, there's no end to all the compromising situations he ends up in.
---
3. Skirt no Naka wa Kedamono Deshita.

Episodes: 12
Aired: Jul. 2017 – Sep. 2017
Shizuka is terrified of men but wants to improve her conversation skills and so joins her friend at a singles mixer. After finding it to be too much for her and taking a break outside, she meets another woman from the mixer who suggests the two amuse themselves somewhere else. Shizuka finds it easy to talk to this beautiful woman named Ryou and enjoys their time together, ending up in Ryou's room. As Ryou starts making moves on her, Shizuka is shocked that a woman could make her feel so good, but even more shocked when she realizes there's a penis under Ryou's skirt! Ryou is actually a cross-dressing man who's taken an interest in Shizuka due to her kindness and purity, but can Shizuka overcome her fear of men?
With the episodes being so short, they are jam-packed with ecchi scenes just short of hentai. You see all of Shizuka and almost all of Ryou, but it's mostly finger action. Shizuka has a super beautiful curvy body you get to see every episode and it's pretty great seeing her go from super shy to being more comfortable being sexual and honest about what she wants. Ryou usually goes for Shizuka while dressed as a woman, though he identifies as a man, which makes for an interesting dynamic.
---
2. Omiai Aite wa Oshiego, Tsuyoki na, Mondaiji

Episodes: 12
Aired: Oct. 2017 – Dec. 2017
Nano is a passionate teacher but hasn't given much thought to marriage. Her father and his life-long friend decide it would be good for their children to meet to see if they would be good marriage partners, and Nano's meeting with 'Souichirou' goes extremely well. That is until she realizes the man she ended up in bed with is actually Souichirou's younger brother and her student! Souji has harbored feelings for his teacher for a long time and when he heard she was to meet with Souichirou, he dressed up as his older brother. Nano thinks that, morally, it's a terrible idea but comes to love Souji's cute reactions and his devotion to her, as well as the feel of his body.
Another minisode series, there really is the finest line between this and hentai. Souji can't keep his hands off his teacher and while Nano worries about ruining Souji's future, she really comes to love touching and being touched by him. They have sex a few times before she admits to her love, and you can almost see it all! They do it in his room, her room, a hotel, the school, all over the place. If you want a show that's not quite porn but you can still get your rocks off to it, this should do it.
---
1. Sin: Nanatsu no Taizai (Seven Mortal Sins)

Episodes: 12
Aired: Apr. 2017 – Jul. 2017
When Lucifer is punished by God and banished from Heaven, she decides she wants to only do what she wants from now on. She doesn't care about Heaven, Earth, or Hell as long as no one tries to get in her way. However, after an accidental scuffle breaks out with the 7 Sins reigning over hell, Lucifer decides to take them out one by one with the help of Leviathan, a demon absolutely obsessed with her, and a young pious girl who can discern the location of the 7 Mortal Sins.
If you liked Queens Blade, you'll want to check this one out. Pretty much the only reccurring character in the show to not wear revealing clothing is Maria, the poor human taken along by Lucifer. Levi is crazy about Lucifer and is always fondling her breasts and grabbing her butt much to Lucifer's fury. Whenever a fight ensues, you can bet their clothes will be shredded and they'll be left fighting naked. There's a lot in the way of sexual punishments too like being groped or made to sit on a wooden horse. The women also have a lot of situations where they lick boobs or make others lick their boobs and with the artwork as beautiful as it is, you're in for some great eye-candy, exciting battles, and stimulating scenes.
---
Final Thoughts
While ecchi and comedy usually go hand-in-hand, we're seeing more serious themed ecchi anime, and it's pretty good stuff. People are getting braver exploring new ideas for ecchi anime which results in shows like Shokugeki or Sin: Nanatsu no Taizai where actually having sex or winning a girl is on nobody's mind. It seems a mix of supernatural and ecchi were pretty popular this year which is fun for fans of spirits and demons! We hope you enjoy all that which 2017 had to offer, and let us know in the comments which were your favorites!
---