También puedes leer este artículo en:Español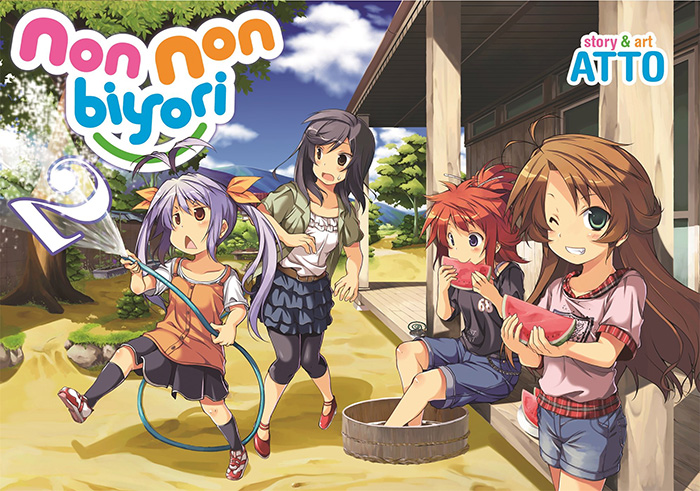 When one thinks of Japan, usually the first thing that pops into mind is the bustling metropolis of Tokyo, or the temple and shrine covered Kyoto. However, like in every other country, there are large expanses of countryside in between most big cities. The countryside, or inaka in Japanese, is that place one goes to get away from it all; or if you've lived there your whole life, it's the place you want to get away from.
Considering most of Japan is covered in untouched nature, it should come as no surprise that there are a lot of anime set in the inaka. And just like the anime renditions of Tokyo are true to the reality of the city, the anime versions of the Japanese countryside convey the beauty found in these mostly preserved areas. That's why today, we invite you to take a break from the concrete jungle and come relax in the inaka with these wonderful 10 anime set in the beautiful Japanese countryside! They span all genres, so we're sure you'll find something to love.
10. Boku dake ga Inai Machi (ERASED)

Episodes: 12
Aired: Jan 2016 – Mar 2016
Satoru Fujinuma has a gift; when calamity strikes, he is thrown back in time a few minutes in order to prevent it. Though his life hasn't really gone the way he'd wanted, at least he takes solace in the fact that he has used this ability to save lives. Until one day, his mother is murdered and he's the prime suspect. Shaken and trying to figure out what's going on, he is sent back as usual, but this time it's much further, 18 years into the past to be exact. Somehow his mother's death is connected to something that happened in his childhood and his murdered childhood friend, Kayo. He'll have to figure this all out if he wants to save anyone and get back to the present.
The town in ERASED isn't necessarily as small as a village, but it's a small enough community that everyone knows each other, which is why it only places at #10. ERASED was one of the biggest hits of 2016, which is to be expected considering its supernatural storyline full of twists and turns and its very well developed characters. On top of that, its beautiful art style does justice to the gorgeous frozen snowscapes of life in the wide open spaces of Hokkaido. This supernatural mystery anime keeps you trying to figure out the answers before Satoru does, but it also does a great job showing what people in Hokkaido are like, as well as the slow-paced life they live. If for some reason you haven't already seen ERASED... what are you waiting for!?
---
9. Kuma Miko (Kumamiko: Girl Meets Bear)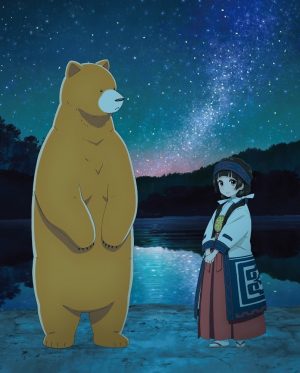 Episodes: 12
Aired: Apr 2016 – Jun 2016
Machi Amayadori is a young shrine maiden who lives in the mountains. She's lived her whole life there with her talking guardian bear Natsu, but now she wants to move to the city. Does Machi have what it takes? How does Natsu feel about all this? Can he help? With the help of Natsu and the other villagers, Machi will certainly try her best!
Kuma Miko shows us beautiful mountainscapes, forests, shrines and even the shinto traditions that Machi is in charge of upholding. It's a slice of life, but much like other titles on the list, it has a twist. Natsu the talking bear adds a whole different kind of adorable to the show. Not only is he super cute and fluffy, but he acts as Machi's parent and it's really sweet to watch. It's also interesting that he is much more knowledgeable about city life than Machi. Machi's naivety makes it very hard for her to learn about modern city life, but it also makes it easy for people to take advantage of her, which puts her in hilarious - and usually awkward - situations. Kuma Miko's ending caused some controversy among fans because it differs from the manga, but Natsu alone makes it worth the watch!
---
8. Non Non Biyori

Episodes: 12
Aired: Oct 2013 – Dec 2013
Asahigaoka is a small countryside town. It is so small in fact, that there is only one school and all the kids, regardless of age, are in the same class. All five of them. Renge is the youngest and the catalyst to most shenanigans these kids get into. And when Tokyoite Hotaru moves into town, things only get livelier! These kids make the most of their life in the country and their ingenuity and wit will have you chuckling the whole way through.
This slice of life anime will definitely feel like a little vacation from other fast-paced titles. Just like the life in Asahigaoka, everything flows calmly and slowly and even the most intense situations will seem to just fade away by the next episode. If you've ever wondered what it would be like to grow up in a town with less than 10 kids in it, and not much to do, this is a cute and funny way to find out!
---
7. Gin no Saji (Silver Spoon)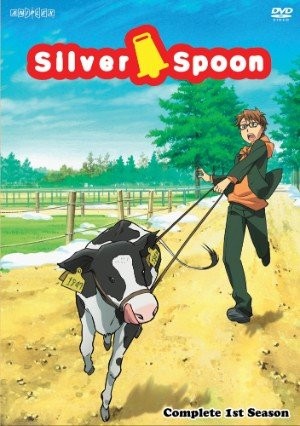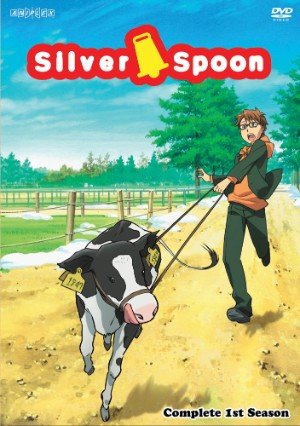 Episodes: 11
Aired: Jul 2013 – Sep 2013
Sometimes you just need to get away and find yourself. That was Yuugo's plan when he decided to enroll in an agricultural high school in the Hokkaido countryside to get away from his parents. He's a very good student and usually works hard so he thought it'd be a walk in the park. He was wrong. A kid from the city has no idea what it takes to live and work on a farm. His getaway turns more into a challenge, but he makes new, interesting friends, learns more than he ever wanted to know about animals and gets to know himself as well.
Hokkaido has some of the most beautiful Japanese landscapes that don't involve closed forests and mountain ranges. Gin no Saji gives us breathtaking views of the open Hokkaido land and how it transforms with the seasons. If, like Yuugo, you're looking for an educational escape from your everyday life, Silver Spoon's silly antics and farming facts are just what the doctor ordered!
---
6. Mayoiga (The Lost Village)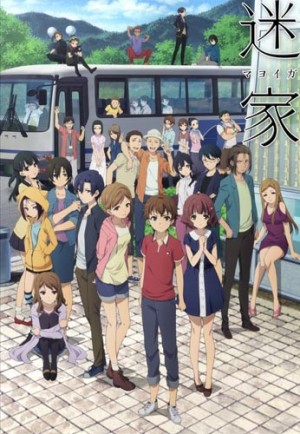 Episodes: 12
Aired: Apr 2016 – Jun 2016
There is a legendary place deep in the mountains known as Nanaki Village, where anyone can start a new, idyllic life. It's not on any maps and, as an urban legend, it's said not to exist. But an eclectic group of people are on a bus, and they are determined to find it and put their pasts behind them to start fresh. With tensions high and after a few setbacks, the group somehow makes it to Nanaki, but the village is abandoned. When people start disappearing and the others find claw marks and blood, there's no one to trust and no guarantee of survival. What is this place? Will anyone survive?
Mayoiga is a beautifully illustrated psychological horror anime. We are presented with the most gorgeous scenery one can imagine, truly the place to get away from it all and start over. On top of the dark mystery aspect, it also highlights many different sides of the human condition and how we see ourselves, society and each other. Every episode will keep your eyes on the screen, whether it's because of the beautiful scenery, the character interactions or just so you won't miss a second of suspense!
---
5. Dagashi Kashi

Episodes: 12
Aired: Jan 2016 – Apr 2016
Kokonotsu Shikada is the heir to his family's business, a Japanese sweets (dagashi) shop out in the middle of nowhere. But, much to his father's dismay, what he really wants is to become a mangaka. Enter Hotaru Shidare, the heir of a massive sweets empire who has just showed up at the Shikada shop to recruit Kokonotsu's dad to work at her father's company. Of course, until Kokonotsu agrees to take over, nobody's going anywhere. It's now up to Hotaru to change Kokonotsu's mind so she can get what she wants.
Dagashi Kashi is another slice of life title that immerses you in the calm countryside life. While we don't get to see as many beautiful panoramas as in other anime on this list, we do get a feel of the slow-paced inaka lifestyle. With very little to do, there is plenty of time to get into ridiculous situations with the eccentric Hotaru, and Kokonotsu's childhood friends, Saya and Tou Endou. Hotaru doesn't miss an opportunity to teach Kokonotsu and the others about the wonders of dagashi and she is always down to experience the country life. Dagashi Kashi was a hit at the beginning of 2016, and with pretty girls, funny jokes and yummy snacks in every episode, it's really no surprise!
---
4. Barakamon

Episodes: 12
Aired: Jul 2014 – Sep 2014
When talented calligrapher Seishuu Handa has his prized piece called "unoriginal" by a veteran, his ego is shattered and his over-the-top reaction comes with consequences. That's when his father sends him off to the Goto islands to live in a small village and gather himself. Seishouu is a hardcore city boy and so this punishment hits him where it hurts, especially because the islanders don't seem to know how to mind their own business. With daily uninvited visitors and little Naru's shenanigans, getting work done seems impossible, but maybe the artist can actually learn a thing or two about life and people in general.
Not all inaka is in the middle of the forest, Japan being an archipelago, there are a multitude of slow-paced island villages that are just as beautiful as the ones on the mainland but with the added benefit of secluded beaches available year-round. Barakamon gives us just that; kind hearted people living simple lives by the ocean and one stubborn Tokyo pretty-boy who needs to be knocked down a peg or two. With both hilarious and touching moments as well as cute characters, Barakamon will help you escape to the beach if that's more your kind of countryside getaway!
---
3. Higurashi no Naku Koro ni (When They Cry)

Episodes: 26
Aired: Apr 2006 – Sep 2006
It is the summer of 1983 and Keiichi Maebara just moved to Hinamizawa Village. He quickly makes friends in school and begins his laid-back country life. Until he finds out that there have been many murders in the village and they all seem to be related to the village's god Oyashiro and the annual festival. Suddenly, the village seems sinister and friends are hard to trust when they won't give Keiichi answers. More questions than answers begin to arise and Keiichi is trapped in the middle of the mystery of Hinamizawa.
At the beginning, When They Cry almost tricks you into thinking it's just another silly inaka slice of life anime, and then it all gets really dark and twisted. We get plenty of beautiful views of the village as well as lovely - yet scary - forests and mountains. This one's a thriller, so it's great for those who don't prefer slice of life anime. Higurashi has the kind of anime storyline you want to remember (or not!) the next time you're out camping and it's time for scary stories.
---
2. Tonari no Totoro (My Neighbor Totoro)

Episodes: Movie
Aired: Apr 1988
Odds are you've seen this classic, but just in case, here's a short synopsis: Satsuki and Mei have just moved to the countryside with their father because of their mother's illness. One day, Mei follows what looks like a cute little white bunny into the forest and ends up meeting a big forest spirit she calls "Totoro". When Mei brings Satsuki to meet her new friend, they are both immersed in a world of forest spirits and other fantastic creatures that could only come from Miyazaki-sensei's imagination.
You really can't have a collection of inaka anime without a Ghibli title in it. My Neighbor Totoro is one of the happier countryside stories from Ghibli and that's why it's the one on our list. It's full of adventure, comedy, and magic and it'll make you feel like a kid again. As is to be expected, the illustrations depicting the forest and its creatures are gorgeous and inspiring. If you want more beautiful panoramas with incredible stories and don't mind feeling a bit outraged towards humans, we also recommend Pom Poko and Princess Mononoke. Ghibli sure knows how to do nature!
---
1. Mushishi (Mushi-shi)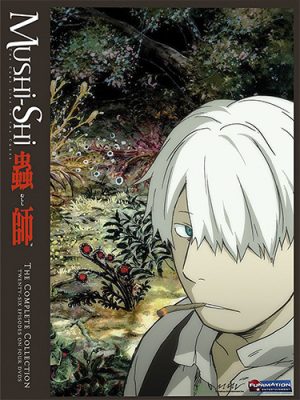 Episodes: 26
Aired: Oct 2005 – Jun 2006
Mushi are beings that exist on a different plain than humans. They are alive and influence life on Earth more than one can imagine, but very little is known about them, as most people can't even see them. This is where Mushi-shi like Ginko come in. Ginko can see Mushi and travels the countryside involving himself with them and the people and places they affect, all to learn more about them and their reason of being.
If you need just one reason to watch Mushishi, the awe-inspiring art is it. Mushi thrives in nature so we travel with Ginko through forests, rivers, and lakes; get lost in mountains, and see every season roll by as beautifully as if we were really there. This supernatural seinen anime brings out your inner philosopher while it keeps you interested in learning more about Mushi and Ginko's past. Mushishi is a must-see if you want to escape into a beautiful world full of nature and magical creatures. And that is why it is our #1!
---
Final Thoughts
From Hokkaido to the Southern islands of Japan, there are countless inspiring countryside locations, and lucky for us, we can find them through our favorite pastime; anime! Be it a slice of life comedy or its total opposite, supernatural horror, the countryside seems like the best place for these stories to develop. And no matter what you're into, there's bound to be an anime on this list that can show you the Japanese countryside and its people in a way that speaks to you.
Some of the characters in these titles want out of the peaceful world they know, while others take comfort in being as far away from the city as possible. We're just thankful we get to experience it with them and have some laughs... or bite our nails in suspense!
We hope you enjoyed our inaka anime list. Please share with us what other countryside anime titles you love or would recommend in the comments below! Thanks for reading!
---