Other Reference: Otogizoshi
As many anime fans naturally know, a good portion of anime on what viewers may catch will happen to take place in Tokyo, Japan's capital. And with some of Honey's writers living either within the city or considerable distance, we have chances to see whether or not Tokyo can live up to what fans in other countries can only see in anime (or in Japanese movies and TV dramas). Today's list will explore a top ten in which anime takes place in Tokyo, and how that anime is a great representation of such an awesome city in past, present and future.
10. Neon Genesis Evangelion

Episodes: 26
Aired: October 1995 – March 1996
In this hit anime, the name of the setting is Tokyo-3. Despite the name, Tokyo-3 does not geographically take place in the real Tokyo area but instead in Shizuoka prefecture, give or take two to three hours south of Tokyo. As for why this was changed story wise, because of the geological consequences of the second impact, the original Tokyo was lost in the disaster and was rebuilt in that region. Along with its beautiful ocean shore, the cliff side Shinji visits in some of the early episodes is actually a spot that is infamous for suicides.
Despite its resemblance to some of the business districts like what you might see in the Shinagawa district, the city is reconstructed as a war zone to accommodate Angel attacks and have the EVA units connected to their power sources and have their artillery on-hand ready. However, there is a highway in the area that was the inspiration for Tokyo-3, which plays Cruel Angel Thesis over the speakers.
---
9. Ashita No Joe

Episodes: 79
Aired: April 1970 – September 1971
In this boxing classic, viewers get a view of what Tokyo was like between the end of World War II and before their economy took off from the mid-1970s. Fans get to see how Tokyo was slowly urbanizing to the city it is today. If you look up pictures of Shibuya crossing from that time period, you can see that it is comparable to the Tokyo portrayed in Ashita no Joe.
Cars were more used and trains were a work in progress. Heck, there were no skyscrapers as of yet. Neon light signs were not commonly used and the city had a grittier and more chilling feel as opposed to being a party that is 24/7. There was more class warfare and the homes Joe and his neighbors were living in would be classified as homeless by today's standards.
---
8. Sailor Moon Crystal

Episodes: 26
Aired: July 2014 – July 2015
This reboot serves to re-tell the original manga story by Takeuchi Naoko but with some minor changes to keep up with modern Tokyo. This series (along with the original 1990s series) takes place in the Azabu-juban area of Tokyo's Minato Ward. If the most expensive city in the world has the most expensive area, it has to be Minato.
It is home to Tokyo's former tallest building, Tokyo Tower (with that distinction now taken by Tokyo Skytree). The anime portrays a higher middle class of Tokyo with its cast getting access to the best in quality education (even if Usagi is not the biggest academic achiever), and overall the best quality of living in Tokyo.
---
7. Durarara!!

Episodes: 26
Aired: January 2010 – June 2010
In this series of mayhem, Durarara!! takes place in Tokyo's other famous district for the capital's trendy youth, Ikebukuro in the Toshima Ward. A majority of what is portrayed in this series takes place just right outside the east exit of Ikebukuro Station. Visible in some episodes is the actual location of one of Japan's most famous electronic store chains. In addition, the area outside the Sunshine City mall, with its famous window shopping, is accurately portrayed from the KFC, Sanrio Store, and arcade (to non-Japanese, arcades still exist in Japan).
Speaking off personal experience, the real life Ikebukuro can be pretty crazy at times but is a fun place for fans and non-fans alike to check out and have a good time. Like in the anime, Ikebukuro did have a problem with youth gangs in real life, but that has progressively gone down since the early 2000s. Now the Ikebukuro is very lively and a safe place to hang out for the most part.
---
6. Tokyo Magnitude 8.0

Episodes: 11
Aired: July 2009 – September 2009
One series that needed to be included is Tokyo Magnitude 8.0. Due to the March 11, 2011 disasters (though the anime portrays its respective disaster on July 12, 2012)., this anime has become something of a controversy despite being broadcasted before the disasters. If anything, this anime was made because prior to the disasters, there was always the high anticipation of such an earthquake happening in the Tokyo area. Even though such a tragedy affected Tokyo in real life, the city did not receive the same devastation as portrayed in the anime.
This anime follows the journeys of Yuki and Mirai Onozawa who are trying to make it home from Odaiba (home of the giant Gundam, and is a plaza on the seaside that is supposed to be a future gimmick), to the Setagaya district (one of the most populated areas of Tokyo), which is quite far by train. If you knew the real life distance between Odaiba and Setagaya, fans who are familiar with Tokyo can tell you that their journey home with transportation shut down and roads in ruin can make the journey home very difficult.
---
5. Tokyo Godfathers

Episodes: 1 (movie)
Aired: August 30, 2003
As opposed to portraying the geography of the city, this movie by Kon Satoshi provides a story about its people, and that anything can happen to anyone. In a city as vast as Tokyo, that saying could not be more than true. It also displays Japanese society on forgiveness and how we as human beings are all connected. Everyday, people can see the same person at a corner, on a particular seat in a train or restaurant.
Even if we people do not know them, it shows how people in this great city can come together and make great things happen. The movie does a great job of portraying that when crazy things happen, they have this saying, "it cannot be helped" or "shou ga nai". It's a mentality on how they handle uncontrollable situations and to look at the bright side of things. In the end everything works out if people stay positive.
---
4. City Hunter

Episodes: 139
Aired: April 1987 – January 1990
This old school title about a private eye who is a jack-of-all-trades (and perversions), and tends to do a chunk of his work in Tokyo's underbelly, Shinjuku Ward. Despite this series being thirty years old, its portrayal of Kabuki-cho in Shinjuku, in terms of its function and legacy, lives on to this day.
If any of you readers are familiar with Sega's Ryu Ga Gotoku (or called Yakuza overseas) gaming series, it's pretty much what you are getting. If Tokyo has its sin city, then it's Kabuki-cho. Portrayed is its entrance neon light sign and all of its countless pachinko establishments, bars, and sex industries, which still continue to flourish to this day.
---
3. Steins;Gate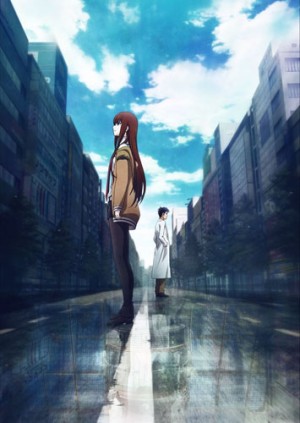 Episodes: 24
Aired: April 2011 – September 2011
For the hardcore anime fan, the place you want to check out is Akihabra, right? Based on the visual novel and gaming series, this quantum leap of a series uses Akihabara as a backdrop. Despite being popular to non-Japanese nationals as a Mecca of anime or anything related to Japanese pop culture, Steins;Gate embraces the area's true origin as an electronics flea market.
The anime accurately portrays the areas surrounding the station such as the exit that is accessible to Yodobashi Camera, another famous electronic's chain (bring your passport and some of your purchases are tax free. The area also wonderfully demonstrates the Radio Kaikan building outside the Electronic Town exit of the station and many of its surrounding the locations such as the Don Quijote department store (think of it as Japan's Wal-Mart) on the Main Street.
Many of the areas you want to see are accessible from the Electric Town exit (or 電気街口 in the kanji) and everything you see in this series you can find in the real life Akihabara.
---
2. Akira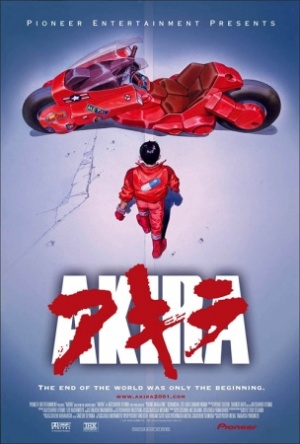 Episodes: 1 (movie)
Aired: July 1988
Though labeled as Neo-Tokyo in this groundbreaking classic from the late-1980s, what this anime also magically pulls off is that it predicted that the 2020 Olympics would take place in Tokyo. Despite taking place in an alternate 2019 without taking into account the Internet and touch screen technology (as with other pre-Internet stories about the future such as the second Back to the Future movie), this anime does a very excellent job of showing a neon lighted city that never really sleeps. Though there are no holograms onto of buildings, the movie does a great job of accurately showing its eye-catching and distracting visuals.
The movie also depicts an adult society that is willing to spend money like water back in the bubble economy days, and lost youths who do not have the same economic opportunities as their parents, thus resorting to joining gangs. Though the circumstances are different, the anime also does a great job of critiquing Japan's militaristic past from World War II. Because as of recently, there have been demonstrations in Tokyo against present (upon publication of this list) Prime Minister Abe Shinzo, who wants to reform the military and revise Article 9, in which the nation renounces war and a full-time military.
---
1. Bakemono no Ko

Episodes: 1 (movie)
Aired: July 2015
With the newest hit from Hosoda Mamoru, we have Bakemono no Ko at number one. Though portions of this movie takes place in the fictional feudal monster city of Jutengai, Ren/Kyuuta spends his time in Tokyo's Shibuya district. Having been to the Shibuya district numerous times, it is quite amazing how accurate it is portrayed, mostly around the area outside the Hachikou Exit of Shibuya Station.
The movie shows the crosswalk outside the station between the restaurants, the 109 Shopping Mall, and the Starbucks/Tsutaya music and rental store. The Dogenzaka shopping area is also accurately portrayed and even its burger joints can be instantly found in conjunction to its real life geographic location. The movie shows how Shibuya is a place where the youth of Tokyo can have a great time.
---
Conclusion
For some honorable mentions, I would like to share Cardcaptor Sakura, Tokyo Mew Mew, Sakura Taisen, Welcome to the NHK, and Tokyo Underground. So what are some of your favorite anime titles that portray Tokyo's unique evolution? Please share it in the comments.
---