The season of love is in the air! Haven't you noticed how the weather is getting a bit warmer and the couples are starting to fill up the streets? And let's not forget the merchandise, including chocolate and all sorts of sweets. Anime can also raise for the occasion with some memorable couples. Are you ready to remember some of the Best Anime Couples of 2017? Let's go!
10. Cardia Beckford and Arsene Lupin from Code:Realize Sousei no Himegimi (Code:Realize Guardian of Rebirth)

Episodes: 12
Aired: Oct 7, 2017 to Dec 23, 2017
Cardia is a young woman who can only remember life in the mansion where her father Isaac kept her. Cardia is considered a monster who poisons everything she touches, so she is alone… until the day when the military try to take her away. Instead, our heroine is stolen by Arsene and Impey. Thus, Cardia embarks in an adventure to try to find out how to become a normal human alongside her new friends.
Cardia and Arsene are the perfect steampunk couple! She is delicate and apparently passive, but as the show advances, our heroine is shown to be resolute and up for the adventure. And well, Arsene is just the most perfect gentleman thief who is always there for her. He even does his best to grant her wishes! We all deserve teammates to confront the danger just like these two do.
---
9. Fuuka Akitsuki and Yuu Haruna from Fuuka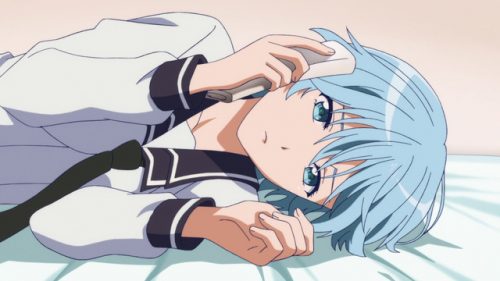 Episodes: 12
Aired: Jan 6, 2017 to Mar 24, 2017
When Yuu Haruna accidentally bumps into a blue haired girl, he could not have imagined that his life was going to change even more than when he just recently moved. It turns out that he shares classes with this girl! Fuuka is frustrated, though, as she cannot find something fulfilling enough in life. Yuu suggests that maybe music can help and they end up forming a band…
2017 had a thing for music based animes. Fuuka shows us how teenage love charged with sound waves looks like. Yuu is a supportive guy who tries to balance Fuuka's upbeat and exploring personality. This anime does not shy away from conflict and drama, though, so be careful while you look at this couple shining.
---
8. Nino Arisugawa and Kanade "Yuzu" Yuzuriha from Fukumenkei Noise (Anonymous Noise)

Episodes: 12
Aired: Apr 11, 2017 to Jun 27, 2017
At her young age, Nino Arisugawa has suffered two separations. She still keeps singing, though, hoping to reunite with the two guys who left her behind. And that is just what happens at her new school whe she encounters Yuzu, a talented musician. Yuzu will offer Nino the chance to become the vocalist for his group "In No Hurry to Shout". However, what happens when they find out that her first love Momo is also at the school??
Nino and Yuzu are an unusually complicated couple. Let's say that while Yuzu is head over heels for her, Nino is too fixated on Momo. However, the chemistry of this pair is evident since the first time that they enjoyed making music together. We can only hope that Nino matures enough to realize that the most dependable and lovable guy is already by her side and proving his loyalty day after day.
---
7. Maika Sakuranomiya and Dino from Blend S

Episodes: 12
Aired: Oct 8, 2017 to Dec 24, 2017
Maika comes from a traditionalist family. However, she would like to study overseas, so she is looking for a part time job to earn money. Maika has one problem though: her weird, scary smile. That is why the perfect job for her might be at the Cafe Stile, where she plays the part of a sadist waitress.
We have to admit that Maika and Dino are not a conventional pair. Dino is the owner of the Cafe Stile, and he actually discovers Maika's potential. With time, he has developed a crush on her, but Maika is a hard working lady and does not notice much. They are comical and cute together, though.
---
6. Mio Natsume and Eita Izumi from Just Because

Episodes: 12
Aired: Oct 5, 2017 to Dec 28, 2017
The last year of High School in Japan is very important, not only because the University entrance exams are taken, but also because it is the last year of carefree youth. That also means that the third year is the last chance they have to confess to those who they like. In the case of Mio, her unrequited love from her childhood suddenly materializes as a transfer student! Will this last chance prove to be a gift sent from heaven? Or will it make Mio's life more difficult?
Because Just Because is heavily centered on the characters, we get the chance of seeing a slice of life from the point of view of Japanese teenagers. It is a tipping point in their lives and the struggle between reaching out to their loved one or restraining is palpable. Confusion, heartbreak, a sudden rush of emotions… everything makes this couple stand out. If you do not like fluffy shoujo, you might like this Just Because.
---
5. Miou Aida and Haruki Serizawa from Itsudatte Bokura no Koi wa 10 cm Datta

Episodes: 6
Aired: Nov 25, 2017 to Dec 30, 2017
Miou is a shy girl, while Haruki is a more outgoing person. They have always got along well, but never crossed the line of friendship. However, it is obvious they fancy each other. Will they ever have the courage to ask about their feelings? You will have to watch this anime to find out :p
Ok, so perhaps your thing is the more conventional fluffy love story. The adventures of Miou Aida and Haruki Serizawa are relatable, as they are centered on normal life at school. However, a good quality animation helps to depict their clumsy personalities. All the hormones and the tenderness of the first love are floating around this couple!
---
4. Chtholly Nota Seniorious and Willem Kmetsch from Shuumatsu Nani Shitemasu ka? Isogashii Desu ka? Sukutte Moratte Ii Desu ka? (WorldEnd: What do you do at the end of the world? Are you busy? Will you save us?)

Episodes: 12
Aired: Apr 11, 2017 to Jun 27, 2017
Willem fought against the "Beasts" 500 years ago before falling into an icy slumber and awakening in a future without humanity. The surviving races live in a refuge of floating islands in the sky. In this strange post apocalyptic world, Willem gets a job as caretaker of Leprechaun-weapons. By becoming some sort of father figure for these creatures, Willem redoubles his determination to defend peace in this world.
One of the more mature Leprechauns among the group is Chtholly, who goes to great lengths to fight against the Beasts. She is one of the people who is drawn close to Willem upon their first meeting. Their scenes together show an incredible amount of care! Although none of them are vocally expressive about their feelings, it is obvious they have chemistry. If you like fantasy and adventures with your companion, you will definitely understand Chtholly's and Willem's relationship.
---
3. Moriko Morioka and Yuuta Sakura from Net-juu no Susume (Recovery of an MMO Junkie )

Episodes: 10
Aired: Oct 10, 2017 to Dec 12, 2017
Who hasn't wished to take vacations from the off-line world and submerge themselves in a great RPG like universe? When Moriko is left unemployed, she submerges herself in one of such universes! Creating her online persona as the dashing hero Hayashi, she befriends the powerful healer Lily. Adopting the NEET way of life, Moriko only ventures outside her department when necessary. However, real life might have interesting encounters for her too…
If there is a couple who incarnates modern romance in Japan, that couple has to be Moriko and Yuuta. Both are antisocial, while they fully express themselves online. They also are living proof that mediated feelings can be as real as one want, as long as they are sincere, of course. Proud successors of NEET couples like the one in Welcome to NHK!, Moriko and Yuuta are a must watch pair of 2017.
---
2. Chise Hatori and Elias Ainsworth from Mahoutsukai no Yome (The Ancient Magus' Bride)

Episodes: 24
Aired: Oct 8, 2017 to Present
These two did not precisely have a good start. The story of Mahoutsukai no Yome begins when Elias buys Chise with the intention of making her his magic apprentice and his future wife. Although it turns out that this bone headed entity is rather clueless regarding human feelings, his relationship with Chise turns out to be full of respect and caring. From being a rejected teenager in all aspects, Chise finds a true family who understands her and accepts her for who she is.
Mahoutsukai no Yome is the adaptation of a successful manga by Kore Yamazaki. A combination of slice of life and magic, the adventures of Chise and Elias bring us a fantasy story with a twist. Both are very matter of fact about their relationship and try to reach to each other as much as they can. They surely are an unusual couple in the world of anime.
---
1. Akane Mizuno and Kotarou Azumi from Tsuki ga Kirei (As the Moon, So Beautiful)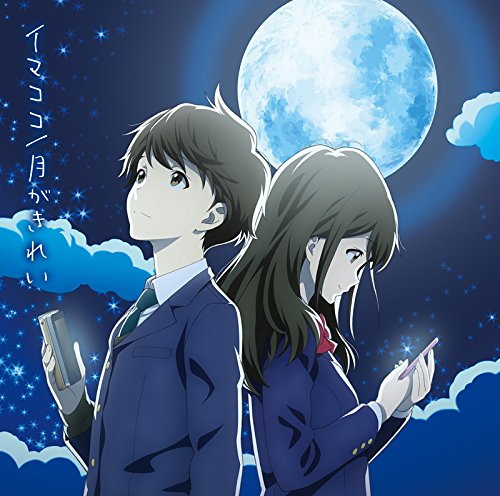 Episodes: 12
Aired: Apr 7, 2017 to Jun 30, 2017
Akane Mizuno is a sporty girl. Kotarou Azumi wants to become a writer. They end up in the same class in junior high and the signs of young love start to appear around them. However, love isn't easy. When Kotarou decides to be brave one moonlit night, their relationship might change forever…
Although we are fond of all the couples in this article, Akane and Kotarou are simply too cute to be ignored. Their story might look generic, but is full of the enchantment of daily life, nature and nostalgia for the first love. Both shy and insecure (they are teenagers, of course), their story is portrayed with sincerity. If you miss those moonlit nights with your significant someone, this is the anime couple you can't miss.
---
Final Thoughts
Couples in anime offer us a vision of what Japanese experiment in matters of the heart. They are not so far from us, right? From the tender first love to the bold, mature one, we can get inspiration for next Valentine from them. Which was your favorite Anime Couple of 2017? Comment away. See you soon and Happy Valentine!
---