As probably all of you already noticed, drama anime are those dynamic shows which undergo a lot of changes from their starting point, to the end. What we mean is that the initial arrangement of the characters and their personalities, just like their personal stories, start in a way and, right after, begin to change, and we discover the other side of the coin. Therefore, it goes without saying that drama anime may start slow, and then become fast-paced in an escalation of events. Not only that, the word "drama" holds so many meanings, and it can be applied to so many situations, that drama anime are really unpredictable, and they can make you crack up, or cry your eyes out.
Among all the drama anime out there, some of them are clearly oriented to a female audience. We don't mean to discriminate saying that some anime are "female only", because everyone is free to watch and enjoy any anime; we just mean to say that some anime are especially created for girls, because they face some relatable trouble, or are meant to fill their eyes with hotties having troubles. As we already said up above, the word "drama" is full of meaning when it is applied to a show; in fact, in this ranking you'll find different kinds of drama anime: the ones which are meant for girls!
10. Free! (Free! - Iwatobi Swim Club)

Episodes: 12
Aired: Jul 2013 – Sep 2013
The only things Haruka Nanase truly loves are swimming free style – and the water in general – and eating mackerel. During elementary school, he, Makoto and Nagisa won a relay race, but right after they went separate ways. Now in high school, Haru, Mako and Nagisa attend the same high school – Iwatobi – while Rin attends the Samezuka High. Nagisa, full of love for swimming, and good memories from the past, decides to form the Iwatobi Swim Club. He forces Makoto, Haruka and Rei – a new entry – to join. The events lead Haru and Rin on the same path once again, but this time as rivals...
Free! is a sports, drama show in which our protagonists are almost always shirtless, showing off their wonderful biceps and quadriceps. There's no need for further explanations as to why this anime can fit in a list of drama anime for girls. What's more, Free!'s producers really had fun creating some subtle BL hints among the characters. All this adds to the drama part, which is up to Haru, Rin, and the ghosts from their pasts.
---
9. No. 6

Episodes: 11
Aired: Jul 2011 – Sep 2011
Shion lives in the city of No.6, where everything is peaceful, and perfect; Nezumi lives outside the walls of the city, where poverty and misery overflow. One stormy night, covered in blood, Nezumi appears in front of Shion's balcony, seeking shelter for the night. Shion does all he can in order to help him, but the next day Nezumi has disappeared. The help Shion lent to Nezumi didn't go unnoticed by the government, so Shion is downgraded from his position in the society, and deprived of his bright future. Years after, Nezumi will repay the favor to Shion when he gets in trouble...
Speaking of drama anime being very dynamic, No.6 is a great example. In fact, the initial set-up suddenly changes in an escalation of dramatic turn of events. No.6 is a drama anime which sticks to a dystopian atmosphere, but it also wields a message. As a shounen-ai show, it goes without saying that it's oriented to girls. Shion and Nezumi develop a deep feeling for each other, giving the viewers very tender – and heartbreaking – moments.
---
8. Plastic Memories

Episodes: 13
Aired: Apr 2015 – Jun 2015
Tsukasa Mizugaki is an 18-year-old boy who just started working at the Sion Artificial Intelligence Corporation, responsible for the creation of "Giftias". Giftias are androids completely similar to human beings, except for one thing: their lifespan is only about 9 years long. Isla is a Giftia, and she is paired up with Tsukasa in the task of retrieving the Giftias whose life is almost over. Working together, though, the two of them get to know each other better, and what wasn't supposed to happen, actually happens...
Plastic Memories is a drama anime that can really pull your heartstrings. Tsukasa and Isla fall in love with each other, and every girl can find that part relatable, as there's jealousy, a love triangle, embarrassment, and so on. The awareness that Isla is a Giftia, and she will have to leave Tsukasa for good, makes this show's atmosphere very melancholy. By the way, Tsukasa and Isla don't want to think about the future, so they come up with a plan: to live their relationship to the fullest in the here and now, for as long as they have time.
---
7. Hachimitsu to Clover (Honey and Clover)

Episodes: 24
Aired: Apr 2005 – Sep 2005
Shinobu, Yuuta and Takumi are three poor college students, and share a little room with no bath. Hagumi is a doll-like talented artist with amazing ideas, while Ayumi is a sweet girl who loves someone without being loved back. The lives of these five people unavoidably intertwine, but eventually they're all bound to part ways. Yet, the bonds they managed to build will stay everlasting for the years to come.
Hachimitsu to Clover is the anime adaption of a josei, slice of life manga. As such, it is female-oriented by definition, but probably even sensitive boys may find it interesting. This drama show is a roller coaster of emotions, and its characters are very relatable. Hachimitsu to Clover softly depicts the joy and sorrow of falling in love, the pain of letting go, and the importance of bonds. It's a drama anime for girls that can really hit where it hurts!
---
6. Nana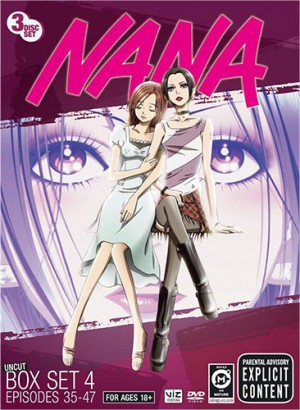 Episodes: 47
Aired: Apr 2006 – Mar 2007
Nana revolves around two different girls: Nana Komatsu, a naive 20-year-old girl leaving the countryside in order to find her true calling in Tokyo; Nana Osaki, a proud girl with the same rural background, but with the dream of becoming a professional singer. Meeting by chance on a train, these two girls end up sharing an apartment in Tokyo, and supporting each other in time of need. But the rosy picture cannot last long...
Nana is a wonderful story of friendship, love and passion. As a drama anime, it starts out by presenting the characters, but as the episodes go by, we begin to see their flaws, and in what way their past influences them. As a slice of life anime, it depicts very relatable moments, in fact Nana can make you laugh, and cry. Even with its enigmatic ending, Nana is the epitome of the drama anime for girls, and that's why it more than deserved a position here.
---
5. Natsume Yuujinchou (Natsume's Book of Friends)

Episodes: 13
Aired: Jul 2008 – Sep 2008
During his childhood years, Takashi Natsume jumped from one relative to the other. The reason why each relative found him too strange to deal with is that he can see the spirits. When Natsume finds the Book of Friends, his life is turned upside down. The notebook belonged to his long-gone grandmother Reiko, who also could see spirits. Together with Nyanko-sensei – a powerful spirit in the body of a maneki neko – Natsume begin a journey bound to give the spirits written in the Book of Friends, their names back.
Natsume Yuujinchou is the anime adaption of a popular shoujo manga by Yuki Midorikawa. The anime gained a lot of popularity, as well, but it goes without saying that this work was intended for a female audience. It leaves room for deeper thoughts, and themes like loneliness, fear, and loss are debated softly. We highly recommend Natsume Yuujinchou to all those girls who like a drama anime that is funny, but at the same time thought-provoking.
---
4. Sakamichi no Apollon (Kids on the Slope)

Episodes: 12
Aired: Apr 2012 – Jun 2012
Sakamichi no Apollon takes place in the summer of 1966, and it revolves around Kaoru Nishimi, a boy who is forced to move to Sasebo, in Kyushu. Moving from place to place since he was a child, Kaoru just found it hard to make friends, so the years spent here and there made him become an introverted boy. When he meets Sentarou Kawabuki at school, known for being a "delinquent", Kaoru's life changes for good: Kawabuki introduces Kaoru to jazz music, and they gradually become good friends!
Sakamichi no Apollon is a wonderful coming-of-age story about friendship and love. What's more, it's full of good music, and overly good vibes. We follow the characters' growth as they deal with their first love, learning about life and how to overcome the hardships. There's a certain bromance between the two main characters – Kaoru and Kawabuki – and the show is the anime adaption of a josei manga. It's a drama anime for girls, but even boys could enjoy a wonderful show such as Sakamichi no Apollon!
---
3. 3-gatsu no Lion (March comes in like a lion)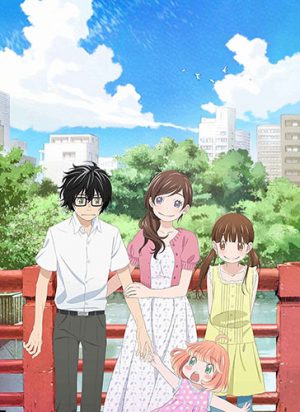 Episodes: 22
Aired: Oct 2016 – Mar 2017
At the age of 17, Rei Kiriyama is already a professional Shogi player. When he lost his family due to a car accident, Rei had to move in with an adoptive family, but things didn't really work out between Rei and his foster siblings. So as soon as possible, he decided to move to Tokyo in order to live on his own. As a teenager, having to think about adult stuff can turn out to be very difficult. The fated meeting with the Kuwamoto sisters will turn the tables: Rei and the Kuwamotos share a difficult past to cope with, so their relationship will be one of mutual understanding.
3-gatsu no Lion is a wonderful drama anime that can be both funny, and very sad. It starts out by presenting each character, but then the drama spiral begins and the rhythm hastens and so the viewers discover the truth about Rei's past. Even if the sensitive issues are debated very lightly, there are some moments where the viewers' heartstrings are pulled strongly. We are sure girls out there will find Rei overly cute and will cheer for him as he faces numerous hardships!
---
2. Mahou Shoujo Madoka Magica (Puella Magi Madoka Magica)

Episodes: 12
Aired: Jan 2011 – Apr 2011
Madoka Kaname is a middle school girl. Together with Miki Sayaka, they meet Kyuubei, a magical being who offers to let them become magical girls. In exchange, he will grant their wishes, whatever they are. Homura Akemi is already a magical girl, and she warns Madoka and Miki not to trust Kyuubei, as things aren't exactly as good and easy as they seem. However, the two girls accept Kyuubei's offer, and together with Mami Tomoe, Kyouko Sakura and Homura they will learn the most important lesson of their lives.
We don't have to explain why a magical-girl anime is oriented to a female audience. What we need to explain, though, is that Madoka Magica can be misleading. We are used to magical-girl shows which are meaningless, or wielding a lighthearted feeling. That is not the case with this show. We said up above how drama shows are dynamic, and Madoka Magica is a good example: it starts off like a typical shoujo anime, and then it turns to a show full of tragedy. These girls will learn the importance of bonds, at the greatest price... so beware, because it will be a roller coaster of feels!
---
1. Shouwa Genroku Rakugo Shinjuu (Showa and Genroku Era Lover's Suicide Through Rakugo)

Episodes: 13
Aired: Jan 2016 – Apr 2016
While in jail, Yotaro spent his time while listening to Yakumo's performance of Rakugo. Once he got out of prison, he begged Yakumo Yuurakutei to become his apprentice. At first reluctant, seeing how Yotaro's pleas won't stop, Yakumo accepts him as his apprentice. While trying to teach Yotaro the secrets behind the Rakugo, Yakumo will get the chance to revisit the old days spent with his greatest rival, and biggest friend: Sukeroku Yuurakutei.
Our first position in the drama anime for girls had to be Shouwa Genroku Rakugo Shinjuu! This show starts off in a way that makes it appear to be a lighthearted show full of good vibes, but then the tables suddenly turn and the viewers are thrown in a whirlwind of new emotions. Yakumo and Sukeroku's relationship is very deep and sincere, and it's only in the second season that the viewers understand to what extent their bond is solid. "Bromance" is a key word, as the two protagonists give off those vibes in their interactions. Shouwa Genroku Rakugo Shinjuu is a wonderful story about love, friendship, and dedication. A must-see among drama anime for girls!
---
Final Thoughts
With the wonderful Shouwa Genroku Rakugo Shinjuu, our ranking of 10 Drama Anime for Girls comes to an end. How did you like it? As you all can see, this ranking contains different kinds of drama anime: from those which can make you crack up, to those that can make you cry. What these ten shows share, though, is how they were made especially for girls. But it doesn't mean that boys can't equally enjoy some of these drama anime! Then, let us know what you think in the comments below... See you next time!
---