También puedes leer este artículo en:Español
Lolis are little angels that, we, as mature adults, must protect with our lives and cuddle them with all our love. And as adults, we must teach these still-developing girls how to prepare for the many years of hardships ahead of them. Never tease their height, and never mock their flat chests! We must save and protect the lolis! Onwards, men!
To break it the top paragraph into one simple sentence: It's time for another list of loli anime! Though this time we're going extra lewd by updating our list of the Top 10 Loli Ecchi Anime [Best Recommendations] with new shows with very lovely lolis. Admittedly, the first Top 10 has listed the best loli ecchi anime out there, and this update will expand the list with new titles we think are the best.
Now, sometimes we're a bit technical when defining what the terms "loli" and "ecchi" mean, so the list you're about to see will contain shows with loli characters and shows that are true loli shows, and the ecchi fanservice isn't as extreme as you initially thought.
Are you ready? Let's dive right in!
10. Papa no Iukoto wo Kikinasai! (Listen to Me, Girls. I Am Your Father!)

Episodes: 12
Aired: Jan 2012-March 2012
Let's start this list with something very, very light. The main TV series is revolved around Segawa Yuuta, a college freshman taking responsibility to raise the three young daughters of his sister who died in a plane crash, as their new father. The path of going there is harsh for he has to raise money and care for the girls. PapaKiki is not an anime that is filled with fanservice, it's an anime about being a responsible parent and the sacrifices it entails.
At its core, PapaKiki is not an ecchi anime, and if there are some lewd moments, they're very passive, and the majority is centered around Yuuta's love interest, the well-endowed, and airhead but mature Oda Raika. However, the anime was holding back on the loli ecchi because, believe or not, Japan doesn't tolerate child exploitation in public television. Thankfully, this is where the unaired, BD/DVD exclusive steps in. While short, there are some loli ecchi fanservice as a sort of bonus for people who enjoyed the heart-warming story and bought the Blu-rays.
---
9. Chu-Bra!!

Episodes: 12
Aired: January 2010-March 2010
At the opening middle school ceremony, first-year representative Hayama Nayu slipped in front of everyone, exposing her wearing black-laced panties only adults wear. Rumors about her spread across the school that she's a prostitute, but in reality, Nayu simply loves wearing underwear and wants to share her love with everyone. Nayu and her new friends Haruka, Yako and Kiyono started a club that focuses on undergarments.
Chu-Bra!! is very interesting because it doesn't try to be ecchi, despite having tons of panty shots and scenes with the girls down to their bare essentials. Chu-Bra!! feels like an educational show for young girls on how to deal with their developing bodies as they reach middle school. There are the usual stuff you see in an anime featuring cute girls doing cute things, and Chu-Bra!! is no different, but watching girls talk about undergarments, discuss what designs suit different bust sizes, what color suits their personality, and trying them out are rather interesting. For guys, Chu-Bra!! is just an anime about underwear, but if you take a second glance, Chu-Bra!! is more akin to a coming-of-age anime that involves underwear.
---
8. Strike Witches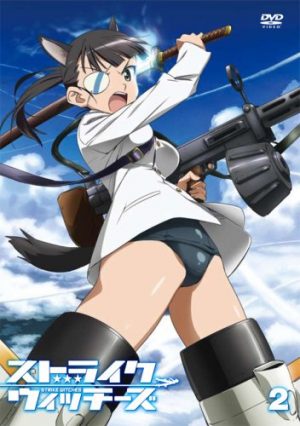 Episodes: 12
Aired: July 2008-September 2008
Strike Witches is set in an alternate 1944, where the world found alien invaders instead of the Axis. These invaders are called the Neuroi and mysteriously appeared before humanity in the year 1939. It is unknown where the Neuroi came from and why they are here but it is a fact, their relentless attacks drove people from their homes and countries. To combat the Neuroi threat, humanity has devised a new type of weapon that harnesses magical energy. In order for these weapons to work, they gathered every magic-using witches from around the world. These elite groups of young witches are called the Strike Witches, and they are the first and last line of defense against the Neuroi threat.
"Why aren't they wearing pants?!" is probably the first thing that will come out of your head after watching the first few minutes of Strike Witches because all witches never wear any pants, in or off duty. It was explained why they don't wear pants, but obviously, it's just a lame excuse to watch these lolis risking their life, limb, and panties fighting the evil Neuroi, while the camera aims at their crotches for those angles lolico—loli fans love.
If you want the FBI to come storming your front door, one fan with a hell of an imagination and has a ton of free time on their hands has removed the steam from a particular bath episode and drew in female genitalia with such skill that one might think his edits were officially animated. So with that said, let's all salute to this fellow lolicon for showing up a glimpse of loli heaven only a few mortals have seen.
---
7. Fate/kaleid liner Prisma☆Illya

Episodes: 10
Aired: July 2013-September 2013
Illyasviel von Einzbern is your typical elementary school student who is friendly, kind, has good grades and likes her brother a lot, has become a mahou shoujo because the talking magical wand Kaleidostick Ruby is fed up with her former master Tohsaka Rin, and sees Illya as a worthy successor. With the power of Kaleidostick Ruby, Illya is now tasked to hunt for seven Class Cards containing the Heroic Spirits of legend. Prisma Illya is a story of love, magic and a ton of ecchi moments.
When lolis are involved, the setup is usually the main loli and an older main guy who is either the brother or teacher of the main loli. But what's not common is a mix of lolis and yuri, and Illya-tan has a lot of them. Now, girls liking an older guy do exist in Illya-tan, and it's incestuous, they're not as common as loli to loli action that involves of a proper technique to mana transfer. When a mahou shoujo depletes her energy, she can restore some by taking energy from another person. As the story progresses, Illya knows firsthand the best way is through kissing. The more intense the exchange of bodily fluids and saliva, the more efficient is the mana transfer. Watch out for a certain dark-skinned girl, and chances are you'll see something extremely ecchi. Yes, Illya-tan isn't meant for kids.
---
6. Ro-Kyu-Bu! (Ro-Kyu-Bu ~ Fast Break!)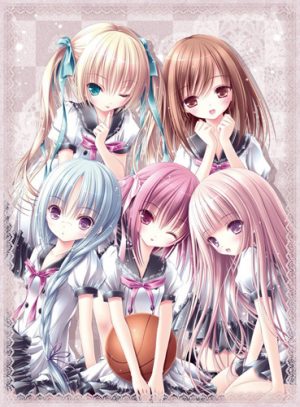 Episodes: 12
Aired: July 2011-September 2011
Hasegawa Subaru's dream to play basketball in high school was shot down after the team captain was found out he was having a relationship with their coach's underaged daughter, and the team was suspended. Ouch. However, fate has forced him to wear his uniform and hold the ball once again when his aunt forced him to coach a girls basketball club at an elementary school. Reluctant at first, but after seeing the girls, especially the future point guard, and star player of the team Minato Tomoka and their love for the soon-disbanding club, Subaru gathers up the courage to stand up and teach them basketball.
Being a loli anime, there are things Ro-Kyu-Bu! has other than basketball. At its core, the anime is all about cute girls doing cute things, and while the basketball part of the anime has some bit of depth to it, Ro-Kyu-Bu! is focused more on the Tomoka, her teammates and the rest of the female supporting casts, who, by the way, are lolis by a majority. There are the usual ecchi moments, like naked scenes, spats!, groping scenes, "girl bonding" scenes, and scenes of girls showing their innocence to our hero Subaru. Fortunately, Ro-Kyu-Bu! is not crazy about showing off the loli goods, but it has a ton of well-timed ecchi moments that will make the lolicon in you jump for joy.
---
5. Yawaraka Sangokushi Tsukisase!! Ryofuko-chan

Episodes: 4
Aired: December 2007-March 2008
Two popular figures from the Three Kingdoms story ended up on Earth as elementary girls and the chaos revolves around Ryofuko groping his… er... her classmates, badmouthing her teacher for having massive F-cup boobs, and do things no normal girl should be doing.
One word to describe this anime: Shameless. Ryofuko-chan has no reason to exist other than giving the viewers a very uncomfortable experience, and sometimes you wonder the writer of this anime is a lolicon. To put it simply… Ryofuko-chan is a lolicon's (wet) dream came true. It has everything a lolicon will ever need: lolis, sex jokes revolving around lolis, and more sex jokes revolving around lolis. From perverted grown men stuck in the bodies of lolis doing indecent things to a fat otaku running around half-naked, Ryofuko-chan, at its core, is an anime that will either make you laugh at the ton of ecchi scenes involving lolis or feel disgusted that everyone on this anime are genuine lolicons and mental cases.
---
4. Eromanga-sensei (Eromanga Sensei)

Episodes: 12
Aired: April 2017-June 2017
Fans love it and a lot of fans hated Eromanga-sensei, and chances are these fans had a bad experience after watching Ore no Imouto ga Konnani Kawaii Wake ga Nai, a series created by the same author as Eromanga-sensei. But hating on the anime doesn't stop Honey's Anime from including it into this list.
Eromanga-sensei has a good cast of loli characters apart from Sagiri, and this being a rom-com anime that pokes fun at the otaku culture, fanservice is inevitable, or rather, fanservice is required by default. You see, it's unironically unnatural for a show with comedy and lolis to not have comedy revolving around lolis, so Eromanga-sensei delivers the loli ecchi goodness made extra spicy with incest. Yes, Masamune and Sagiri aren't blood-related, but it's still incest… ugh, whatever, argue all you want! *ahem* Fanservice in Eromanga-sensei is sometimes subtle with camera angles aiming at the crotch areas, some showing of the belly button, and then upped the ante with imagery that will surely get the FBI's attention. But in all seriousness, there is a good amount of ecchi-ness involving lolis in Eromanga-sensei, and when you hear one of them proclaiming they love the penis, then you know the girls are far from innocent.
---
3. Tenshi no 3P! (Angel's 3Piece!)

Episodes: 12
Aired: July 2017-September 2017
Nikui Kyou is a shut-in and stopped attending school for quite some time. He spends his days at home composing music and upload them to social media. One day he got an email from someone praising one of his music pieces and invited him to meet up. After a bit of hesitation, Kyou accepted the invite, thinking it may help improve his music. In the meetup, Kyou was shocked the one he emailed was a 12-year-old girl. The girl, and along with 2 of her friends, asked Kyou if he could help them in their plans to hold a concert at an orphanage they are staying. To his surprise, the girls are capable of using musical instruments and decided to help them out.
Tenshi no 3P is a rom-com harem anime at heart, so don't take the serious tone of episode 1 way too seriously. Kyou gets a harem of lolis and he's a nice guy with no intentions to hit on them, but unfortunately, the lolis in his life are making it difficult. There are the usual ecchi moments in loli anime like panty shots, bath scenes, awkward scenes due to the girls' innocence, and a bit of incest. Again, this is a rom-com anime, so don't expect too much ecchi involving lolis who promised Kyou to let him "touch them" if he cooperates with their plans.
---
2. Moetan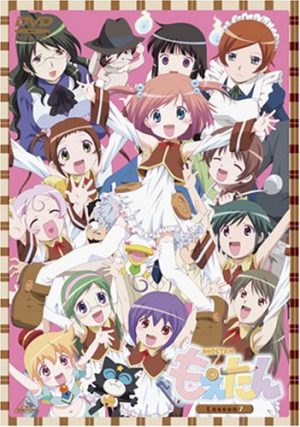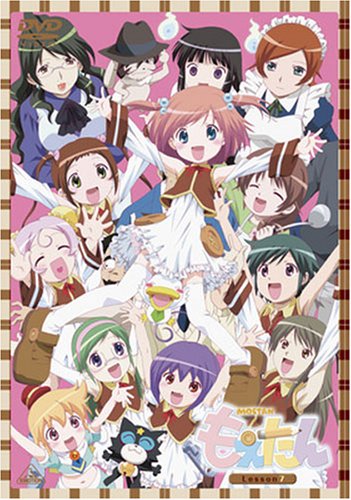 Episodes: 12
Aired: July 2007-September 2007
Despite her look and childish demeanor, Nijihara Ink is a high school student with a future ahead of her. But one day, a literal talking duck fell from the sky and Ink nursed him back to health. It turns out the duck, now named Ah-kun, is a powerful wizard from a magical kingdom and was sent to Earth against his will by his master. On Earth, Ah-kun grants Ink the power to transform into the mahou shoujo Pastel Ink and use her power to… help her crush study English.
Lolis and mahou shoujo go well together like peanut butter and jelly, so if there's a mahou shoujo anime, chances are the characters are very young. Though seriously, mahou shoujo is a popular genre among young girls, so it's natural the main characters are young as well. But what if you make a mahou shoujo anime specifically for teens and adults? You'd get Moetan!
Moetan is a self-parody of everything mahou shoujo (transformation scenes, costumes, talking animal sidekicks, etc.) and the typical tropes you find in anime, but all presented in a very funny way, so much so that every ecchi moment doesn't feel offensive, and you'll end up laughing at the absurdity of it all. Moetan lacks a story, but it makes up for it by presenting very cute loli characters, delicious flat chests, ecchi moments, and a fun good time.
---
1. Kodomo no Jikan (A Child's Time)

Episodes: 12
Aired: October 2007-December 2007
Daisuke Aoki is a 3rd-grade teacher who meets Kokonoe Rin, a very young girl with long hair. After an act of kindness by Aoki, Rin made Aoki, her teacher, her lover. Rin literally wants her 3rd-grade teacher to be her lover. Who would have thought that the biggest obstacles in your life come from the most unexpected places! But is Rin's love for Aoki really true? Are her feelings just puppy love? Or is it genuine true love? Does actively seducing Aoki mean something else?
Arguably the majority listed here are portraying loli ecchi are for humor, and simply just for laughs, but Kodomo no Jikan is being serious to its story involving a teacher infatuated with his very young student and delves deeper on forbidden young love. You won't see Daisuke and Rin having sex (not just yet), but rather how the two build up their relationship over the course of the series, and see if their relationship is going anywhere.
That aside, there is a ton of ecchi moments in Kodomo no Jikan like Rin seducing Daisuke by slowly removing her panties, or even Rin sneaking into Daisuke's room naked, and she even commented on "it" wouldn't fit inside her. The anime is going to make you uncomfortable, making you take your eyes off the screen and look around your room and double check every window is closed, you're wearing headphones and no one is behind you. Kodomo no Jikan isn't about you enjoying some laughs, but rather, it's about you seeing what it's like to be in the shoes of someone who is the target of affection for a young, immature girl.
---
Final Thoughts
Some of you were already disappointed at certain anime we've listed, and we understand that. Ecchi anime are abundant so there are at least 2 anime per season that are focused on ecchi. However, a majority of them have centered characters who are in their teens, and while loli ecchi anime are there, they show a level of restraint by limiting the amount of fanservice a show can give, or otherwise, the shows can be seen in poor taste and exploitative towards children. Some loli anime do get away with it like Moetan by portraying the main character Ink as 17 years old. Yes, a few digits in their age can make all the difference.
The loli ecchi anime we've listed are among the best anime out there. The ecchi moments on some of the listed shows aren't abundant of fanservice, but they are there to keep fans who are into lolis happy, and hopefully satisfied. Let's not forget the term "ecchi" simply means "H", taken from the word "Hentai," and ecchi has a playful tone and context compared to the more extreme and offensive Hentai term.
---
---
---
Lolis, an ever expanding market ever since the introduction of moe to the anime scene. You're guaranteed to see at least one short, flat chested wonder in every harem series, whether it's a little sister or some random school kid, you can't escape them. But despite their constant inclusion in any and all fan service filled series, as a niche character archetype, it's not often that we get series based solely around them, let alone ones with significant ecchi content.
So as to help everyone cope with this unfortunate problem, we at Honey's Anime have put together a list of the best Loli Ecchi shows out there. So read on as we count down the Top 10 Loli Ecchi Anime.
10. Saikin, Imouto no Yousu ga Chotto Okashiinda ga. (Recently, my sister is unusual.)

Episodes: 12
Aired: January 2014 - March 2014
After his single dad remarries, Yuuya Kanzaki finds himself with Mitsuki Kanzaki, a cute new little sister. Unfortunately, she's not a bit fan of men after a troubled past, so things haven't been going particularly smoothly. Add to that the perverted ghost girl who has been possessing her as of late, and the shiny new chastity belt that came as part of the possession package, and you can look forward to many a misunderstanding, and some strange but steamy scenes.
Mitsuki is one of the older lolis on the list, with her flat chest, lacking height, and cute, shy personality making up for her high school girl status. This has got to be the series with the weirdest scenes on the list, so if you're interested in bathroom accidents and ghost yuri then you're in for a treat. There's not a lot to say about Recently, my Sister is Unusual, except that it offers cute girls in very ecchi situations, and it delivers exactly that and more.
---
9. C³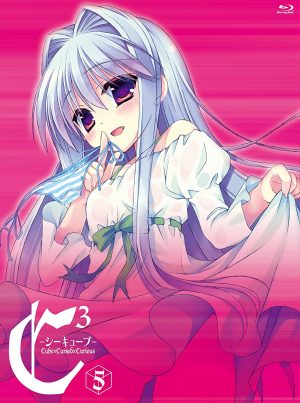 Episodes: 12
Aired: October 2011 - December 2011
After accidently activating a cursed black cube sent to him by his father, Yachi Haruaki is fortunate enough to find himself with an adorable loli to have about the house. Although she is primary an instrument of torture, which is interesting. With her crazy weaponry and his natural resistance to curses, the two find themselves working together to stop other cursed objects from running amok.
For all its comedy and ecchi, C³ is actually a pretty violent series, though that may come as little surprise when you consider that Fear's weapons are in fact all torture devices. Our main focus here is of course Fear herself, with her cute smile, shimapan, and violent darkness lurking underneath. Something for those who are into more action packed and bloody series, C³ combines exactly that along with ecchi, loli fan service, wrapped up in one neat little package.
---
8. Yawaraka Sangokushi Tsukisase!! Ryofuko-chan

Episodes: 4
Aired: December 2007 - March 2008
Originally a general from the Three Kingdoms, Ryofu Housen has found himself and his comrades transported to the human world by some unknown means. On top of that, the three of them have for some reason been transformed into elementary school girls, quite a disappointment for lovers of large chests such as themselves. Follow Ryofu, now Ryofuko-chan, and the cast of weirdos as they do stupid stuff, fight pointless battles, and get into surprisingly erotic situations.
At only 4 episodes long, Ryofuko-chan has packed as much crazy as possible into the short amount of time it has. In terms of ecchi it's pretty much lolis all the way down, apart from the F cup teacher, with each episode seasoned well with panty shots and changing scenes. Given that the now-loli main characters used to be pervy dudes means they're in on the joke too, and always trying to get some ecchi action. Ryofuko-chan is a fairly old looking series now but at only 4 episodes it's easy watching for any big loli fan.
---
7. Rizelmine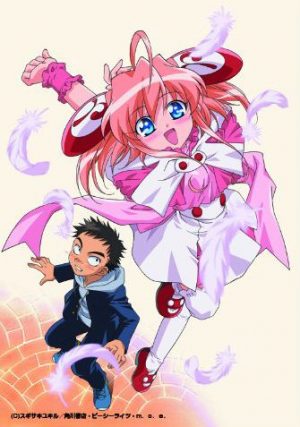 Episodes: 24
Aired: April 2002 - December 2002
After the crushing disappointment of finding out the teacher he liked is getting married, Tomonori Iwaki is not having the best day. Fortunately, the super cute, genetically engineered girl Rizel is waiting to surprise him when he gets back from school with the news that she's his new wife! But being drawn to older women, Tomonori isn't exactly thrilled to have a 12 year old girl forced on him by the government, no matter how sweet and loveable she might be. Regardless, with the two of them now living under the same roof, he's going to have to get used to his new life as a loli's husband.
Rizel is so adorable it's actually insane, this girl will do anything to make her new husband fall in love with her. And as you can imagine that gets both amusing, and a bit perverse at times. Rizelmine is actually more fan service than it is ecchi, but this is by no means a bad thing, giving the show a very light-hearted feel. With the fan service and silly comedy, plus the fact that each episode is only 12 minutes long, Rizelmine is a really nice show for more casual viewing.
---
6. Zero no Tsukaima (The Familiar of Zero)

Episodes: 13
Aired: July 2006 - September 2006
Summoned into an unknown world by a cute but irritable magician, Saitou Hiraga is understandably confused. With his summoner Louise expecting him to do everything from washing her clothes, to barking like a dog, things are not looking too hopeful either. But as war erupts, and the nearby country of Albion falls, the two will need to start working together if they're going to be of any use to their kingdom.
One of the most mainstream lolis about, Louise needs no introduction, and although there's quite a variety of cute girls in the show, we're mainly in it for our pink haired zero. No matter the occasion, Louise finds herself in a variety of outfits, cat girl included, and plenty of ecchi situations. A great show all around, Zero no Tsukaima offers a long and solid plot throughout its four seasons, as well as some excellent fan service, fights, comedy, and romance.
---
5. Astarotte no Omocha! (Astarotte's Toy)

Episodes: 12
Aired: April 2011 - June 2011
Despite being only 10, as a succubus Astarotte "Lotte" Ygvar needs to start working on her harem if she wants to keep her looks, and her life, for very long. But after a particularly bad incident involving one of her mom's partners, she doesn't even want to see a man, let alone take one as a lover. Foolishly promising that she'll only start a harem if it's with a human, her lady in waiting, Judith, is quick to deliver, picking up the lovely Naoya Touhara from our world. Of course, he's happy to help out with the situation, but only if he can bring his young daughter along as well.
With a simple but none the less interesting plot, Astrarotte no Omocha is hard to put down once you've picked it up, with some pretty speedy story progression and warm characters. Through the show's female cast is pretty varied, the focus on the two main loli girls is what's put it on this list. Although this is by no means a hardcore ecchi anime, with Lotte often wearing revealing outfits and Naoya's daughter Asuha rarely wearing underwear, there's plenty enough fan service here.
---
4. Fate/kaleid liner Prisma☆Illya

Episodes: 10
Aired: June 2013 - September 2013
After being granted magical powers by the talking wand Ruby, Illya is charged with collecting all of the Class Cards, a task originally assigned to Rin Tohsaka and Luviagelita Edelfelt, her now magical senpais. But with purple-clad rival Miyu assigned the same mission, its loli vs loli in a race to the finish. As things start to get more difficult, however, it looks like they'll have to work together if either of them are to reach the end.
A spin-off of the Fate/stay night series, Prisma☆Illya starts off as a simple magical girl show with a few fan service scenes here and there. But before long it takes a sharp turn into the world of girls love, with some incredible yuri scenes in the later seasons. As fairly a long-running show, with the fourth season being released in Summer 2016, there's plenty of content as well, so you can tell people you're watching it for the deep and complex storyline. As one of the most recent loli ecchi anime about, anyone who thinks of themselves as up to date anime fan should check it out.
---
3. Moetan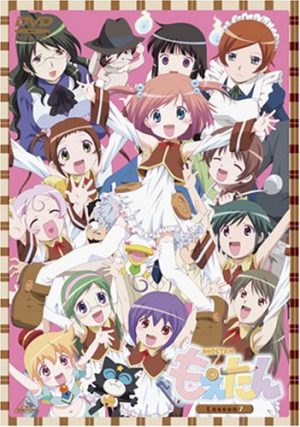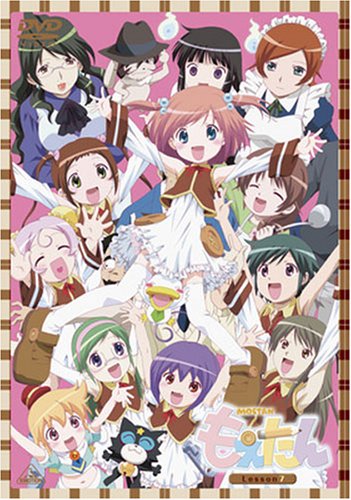 Episodes: 12
Aired: July 2007 - September 2007
A high schooler that looks suspiciously like an elementary school kid, Ink Nijihara has been gifted with the ability to transform into a magical girl, because something, something, vague reasons. Using her powers, she decides to secretly help her crush study, not quite a standard goal for a magical girl but okay. With irrational rivals and constant reminders that, yes, they are all, in fact, high schoolers, Moetan isn't 100% sure where it's going, but the journey is going to be simply hilarious.
A blatant parody of the magical girl genre, Moetan starts off as a silly comedy but shows itself to be surprisingly self-aware as it makes fun of the usual magical girl tropes. The main characters being constantly called out as elementary schoolers is an ongoing joke throughout, with them looking a good few years younger than any of their classmates. The 'highschooler' status is then used as an excuse to show off some exceedingly tight body suits and barely censored transformation sequences for our viewing pleasure. It's simple, bright art style has stopped Moetan from aging much, and with ridiculous comedy throughout, it makes for a great casual watch.
---
2. Kodomo no Jikan (A Child's Time)

Episodes: 12
Aired: October 2007 - December 2007
Starting his new career as a teacher, Aoki Daisuke is already having a rough time. Having to deal with a class full of elementary schoolers with a bad taste in their mouths caused by their previous nightmare of a teacher, as well as some unfortunate misunderstandings to get everyone off on the wrong foot. When Rin Kokonoe, one of the girls in his class, chooses him as her lover, things get even more complicated. So, how does one possibly deal with such an odd bunch of kids?
Kodomo no Jikan is probably the most ecchi show on the list, with some young lolis who know a surprising amount about the adult world. The only thing stopping it from reaching the top, in fact, is that its age is starting to show in the art and animation quality. Besides that, however, with several very cute girls involved, and a plot that's actually going somewhere Kodomo no Jikan is a must watch for any loli fan.
---
1. Ro-Kyu-Bu!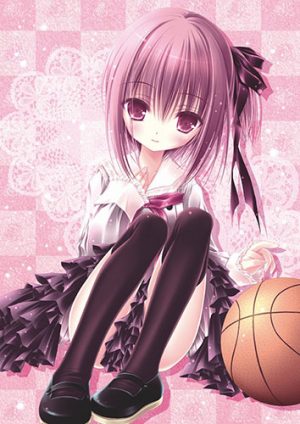 Episodes: 12
Aired: July 2011 - September 2011
After making a foolish bet with the captain of the boys' basketball team, the captain of the girls' team recruits Hasegawa Subaru to train her kids up for what could be their final match in 3 days. At first, things seem fairly hopeless with such a rag-tag bunch of girls: a bookworm, one who's on some kind of permanent sugar high, another who cries at the mention of her height, and a girl with more air in her head than brains. But there's also Tomoka Minato, the teams shining glimmer of hope, and she's determined to stop at nothing to keep the club together.
Ro-kyu-bu is one of the best-known loli centered anime about, with 2 seasons, along with the light novel's highly recognizable artwork by Tinkle. It's rare to find something of this quality with an also entirely loli cast, with the animation, art and VA work all maintaining a pretty high standard throughout. While you might not find as much ecchi as in a standard ecchi series, Ro-Kyu-Bu has a decent number of racy scenes, as well as a relentless stream of fan service. Overall it's a quality show, and one of the first we'd think to recommend to a fan of lolis.
---
Final Thoughts
With it being a reasonably niche area, it can be tough finding ecchi shows that focus solely on loli girls, especially when censorship issues can come into play. Despite that, there's a reasonable number of great shows about, to more die-hard ones like Ro-Kyu-Bu and Kodomo no Jikan, to the stuff that anyone can watch like Zero no Tsukaima.
So what shows have you already seen from the selection above? And are any of them personal favorites? Why not let us know all about your favorite loli ecchi series in the comments below!
---