También puedes leer este artículo en: Español
Lolis, an ever expanding market ever since the introduction of moe to the anime scene. You're guaranteed to see at least one short, flat chested wonder in every harem series, whether it's a little sister or some random school kid, you can't escape them. But despite their constant inclusion in any and all fan service filled series, as a niche character archetype, it's not often that we get series based solely around them, let alone ones with significant ecchi content.
So as to help everyone cope with this unfortunate problem, we at Honey's Anime have put together a list of the best Loli Ecchi shows out there. So read on as we count down the Top 10 Loli Ecchi Anime.
10. Saikin, Imouto no Yousu ga Chotto Okashiinda ga. (Recently, my sister is unusual.)

Episodes: 12
Aired: January 2014 - March 2014
After his single dad remarries, Yuuya Kanzaki finds himself with Mitsuki Kanzaki, a cute new little sister. Unfortunately, she's not a bit fan of men after a troubled past, so things haven't been going particularly smoothly. Add to that the perverted ghost girl who has been possessing her as of late, and the shiny new chastity belt that came as part of the possession package, and you can look forward to many a misunderstanding, and some strange but steamy scenes.
Mitsuki is one of the older lolis on the list, with her flat chest, lacking height, and cute, shy personality making up for her high school girl status. This has got to be the series with the weirdest scenes on the list, so if you're interested in bathroom accidents and ghost yuri then you're in for a treat. There's not a lot to say about Recently, my Sister is Unusual, except that it offers cute girls in very ecchi situations, and it delivers exactly that and more.
---
9. C³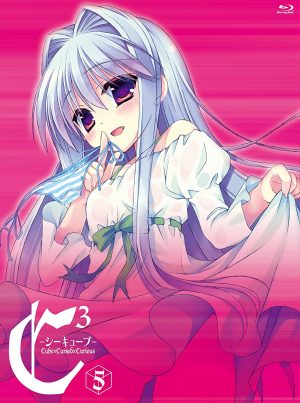 Episodes: 12
Aired: October 2011 - December 2011
After accidently activating a cursed black cube sent to him by his father, Yachi Haruaki is fortunate enough to find himself with an adorable loli to have about the house. Although she is primary an instrument of torture, which is interesting. With her crazy weaponry and his natural resistance to curses, the two find themselves working together to stop other cursed objects from running amok.
For all its comedy and ecchi, C³ is actually a pretty violent series, though that may come as little surprise when you consider that Fear's weapons are in fact all torture devices. Our main focus here is of course Fear herself, with her cute smile, shimapan, and violent darkness lurking underneath. Something for those who are into more action packed and bloody series, C³ combines exactly that along with ecchi, loli fan service, wrapped up in one neat little package.
---
8. Yawaraka Sangokushi Tsukisase!! Ryofuko-chan

Episodes: 4
Aired: December 2007 - March 2008
Originally a general from the Three Kingdoms, Ryofu Housen has found himself and his comrades transported to the human world by some unknown means. On top of that, the three of them have for some reason been transformed into elementary school girls, quite a disappointment for lovers of large chests such as themselves. Follow Ryofu, now Ryofuko-chan, and the cast of weirdos as they do stupid stuff, fight pointless battles, and get into surprisingly erotic situations.
At only 4 episodes long, Ryofuko-chan has packed as much crazy as possible into the short amount of time it has. In terms of ecchi it's pretty much lolis all the way down, apart from the F cup teacher, with each episode seasoned well with panty shots and changing scenes. Given that the now-loli main characters used to be pervy dudes means they're in on the joke too, and always trying to get some ecchi action. Ryofuko-chan is a fairly old looking series now but at only 4 episodes it's easy watching for any big loli fan.
---
7. Rizelmine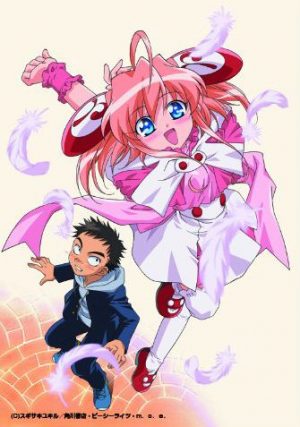 Episodes: 24
Aired: April 2002 - December 2002
After the crushing disappointment of finding out the teacher he liked is getting married, Tomonori Iwaki is not having the best day. Fortunately, the super cute, genetically engineered girl Rizel is waiting to surprise him when he gets back from school with the news that she's his new wife! But being drawn to older women, Tomonori isn't exactly thrilled to have a 12 year old girl forced on him by the government, no matter how sweet and loveable she might be. Regardless, with the two of them now living under the same roof, he's going to have to get used to his new life as a loli's husband.
Rizel is so adorable it's actually insane, this girl will do anything to make her new husband fall in love with her. And as you can imagine that gets both amusing, and a bit perverse at times. Rizelmine is actually more fan service than it is ecchi, but this is by no means a bad thing, giving the show a very light-hearted feel. With the fan service and silly comedy, plus the fact that each episode is only 12 minutes long, Rizelmine is a really nice show for more casual viewing.
---
6. Zero no Tsukaima (The Familiar of Zero)

Episodes: 13
Aired: July 2006 - September 2006
Summoned into an unknown world by a cute but irritable magician, Saitou Hiraga is understandably confused. With his summoner Louise expecting him to do everything from washing her clothes, to barking like a dog, things are not looking too hopeful either. But as war erupts, and the nearby country of Albion falls, the two will need to start working together if they're going to be of any use to their kingdom.
One of the most mainstream lolis about, Louise needs no introduction, and although there's quite a variety of cute girls in the show, we're mainly in it for our pink haired zero. No matter the occasion, Louise finds herself in a variety of outfits, cat girl included, and plenty of ecchi situations. A great show all around, Zero no Tsukaima offers a long and solid plot throughout its four seasons, as well as some excellent fan service, fights, comedy, and romance.
---
5. Astarotte no Omocha! (Astarotte's Toy)

Episodes: 12
Aired: April 2011 - June 2011
Despite being only 10, as a succubus Astarotte "Lotte" Ygvar needs to start working on her harem if she wants to keep her looks, and her life, for very long. But after a particularly bad incident involving one of her mom's partners, she doesn't even want to see a man, let alone take one as a lover. Foolishly promising that she'll only start a harem if it's with a human, her lady in waiting, Judith, is quick to deliver, picking up the lovely Naoya Touhara from our world. Of course, he's happy to help out with the situation, but only if he can bring his young daughter along as well.
With a simple but none the less interesting plot, Astrarotte no Omocha is hard to put down once you've picked it up, with some pretty speedy story progression and warm characters. Through the show's female cast is pretty varied, the focus on the two main loli girls is what's put it on this list. Although this is by no means a hardcore ecchi anime, with Lotte often wearing revealing outfits and Naoya's daughter Asuha rarely wearing underwear, there's plenty enough fan service here.
---
4. Fate/kaleid liner Prisma☆Illya

Episodes: 10
Aired: June 2013 - September 2013
After being granted magical powers by the talking wand Ruby, Illya is charged with collecting all of the Class Cards, a task originally assigned to Rin Tohsaka and Luviagelita Edelfelt, her now magical senpais. But with purple-clad rival Miyu assigned the same mission, its loli vs loli in a race to the finish. As things start to get more difficult, however, it looks like they'll have to work together if either of them are to reach the end.
A spin-off of the Fate/stay night series, Prisma☆Illya starts off as a simple magical girl show with a few fan service scenes here and there. But before long it takes a sharp turn into the world of girls love, with some incredible yuri scenes in the later seasons. As fairly a long-running show, with the fourth season being released in Summer 2016, there's plenty of content as well, so you can tell people you're watching it for the deep and complex storyline. As one of the most recent loli ecchi anime about, anyone who thinks of themselves as up to date anime fan should check it out.
---
3. Moetan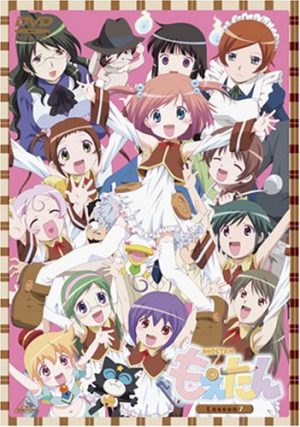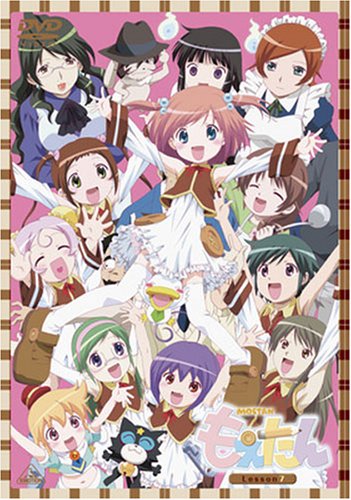 Episodes: 12
Aired: July 2007 - September 2007
A high schooler that looks suspiciously like an elementary school kid, Ink Nijihara has been gifted with the ability to transform into a magical girl, because something, something, vague reasons. Using her powers, she decides to secretly help her crush study, not quite a standard goal for a magical girl but okay. With irrational rivals and constant reminders that, yes, they are all, in fact, high schoolers, Moetan isn't 100% sure where it's going, but the journey is going to be simply hilarious.
A blatant parody of the magical girl genre, Moetan starts off as a silly comedy but shows itself to be surprisingly self-aware as it makes fun of the usual magical girl tropes. The main characters being constantly called out as elementary schoolers is an ongoing joke throughout, with them looking a good few years younger than any of their classmates. The 'highschooler' status is then used as an excuse to show off some exceedingly tight body suits and barely censored transformation sequences for our viewing pleasure. It's simple, bright art style has stopped Moetan from aging much, and with ridiculous comedy throughout, it makes for a great casual watch.
---
2. Kodomo no Jikan (A Child's Time)

Episodes: 12
Aired: October 2007 - December 2007
Starting his new career as a teacher, Aoki Daisuke is already having a rough time. Having to deal with a class full of elementary schoolers with a bad taste in their mouths caused by their previous nightmare of a teacher, as well as some unfortunate misunderstandings to get everyone off on the wrong foot. When Rin Kokonoe, one of the girls in his class, chooses him as her lover, things get even more complicated. So, how does one possibly deal with such an odd bunch of kids?
Kodomo no Jikan is probably the most ecchi show on the list, with some young lolis who know a surprising amount about the adult world. The only thing stopping it from reaching the top, in fact, is that its age is starting to show in the art and animation quality. Besides that, however, with several very cute girls involved, and a plot that's actually going somewhere Kodomo no Jikan is a must watch for any loli fan.
---
1. Ro-Kyu-Bu!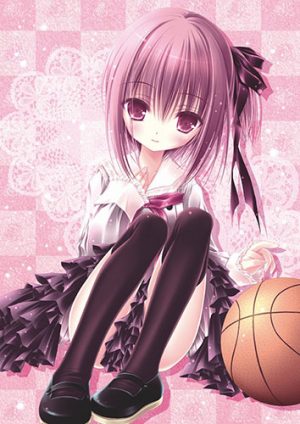 Episodes: 12
Aired: July 2011 - September 2011
After making a foolish bet with the captain of the boys' basketball team, the captain of the girls' team recruits Hasegawa Subaru to train her kids up for what could be their final match in 3 days. At first, things seem fairly hopeless with such a rag-tag bunch of girls: a bookworm, one who's on some kind of permanent sugar high, another who cries at the mention of her height, and a girl with more air in her head than brains. But there's also Tomoka Minato, the teams shining glimmer of hope, and she's determined to stop at nothing to keep the club together.
Ro-kyu-bu is one of the best-known loli centered anime about, with 2 seasons, along with the light novel's highly recognizable artwork by Tinkle. It's rare to find something of this quality with an also entirely loli cast, with the animation, art and VA work all maintaining a pretty high standard throughout. While you might not find as much ecchi as in a standard ecchi series, Ro-Kyu-Bu has a decent number of racy scenes, as well as a relentless stream of fan service. Overall it's a quality show, and one of the first we'd think to recommend to a fan of lolis.
---
Final Thoughts
With it being a reasonably niche area, it can be tough finding ecchi shows that focus solely on loli girls, especially when censorship issues can come into play. Despite that, there's a reasonable number of great shows about, to more die-hard ones like Ro-Kyu-Bu and Kodomo no Jikan, to the stuff that anyone can watch like Zero no Tsukaima.
So what shows have you already seen from the selection above? And are any of them personal favorites? Why not let us know all about your favorite loli ecchi series in the comments below!
---