Slice of life is one of the most common and popular types of anime around. They can take many forms and include things like comedy, romance, friendship, and sometimes some more serious stories. Each year we get a good mix of different types of slice of life anime. Today, we are going to be looking at some of the best slice of life anime 2018 had to offer. We will be looking at all of the different aspects that make these anime great and we will cover a variety of different types of slice of life stories. Join as we look at the top ten best slice of life anime of 2018.
10. Ryuuou no Oshigoto! (The Ryuo's Work is Never Done)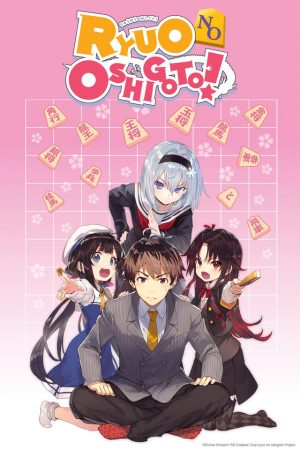 Episodes: 12
Aired: January 2018 - March 2018
Yaichi Kuzuryu is a prodigy shogi player, that won the title of Ryuo when he was just sixteen. Ever since he won the title of Ryou, Yaichi has been in a slump thanks to the immense pressure and expectations of everyone around him. Yaichi is finally able to break out of his slump when he meets Ai Hinatsuru, a young girl who wants to become his disciple. Amazed by Ai's potential, Yaichi agrees to become her master. Ai's mother agrees to let Yaichi teach her daughter, but only if he agrees to marry Ai if he is unable to turn her into a pro by the time she graduates middle school.
Ryuuou no Oshigoto is a cute anime that takes us into the world of shogi. The anime has plenty of cute moments and tons of comedy that make it a good starting point for our list. Although the anime has its story centered around shogi, it doesn't really get any segments focused on the ins and outs of the game or any intense matches between the characters. Instead, the series is focused on the characters as they push themselves to become the best shogi players around while getting into plenty of comedic hijinks.
---
9. Tonari no Kyuuketsuki-san (Ms. Vampire who Lives in My Neighborhood.)

Episodes: 12
Aired: October 2018 - December 2018
After hearing rumors about a mysterious girl living in the woods, Akari Amano heads into the woods alone to check it out. Unfortunately, Akari is not only unable to find the girl, but she also gets lost in the woods. Akari is saved by a vampire named Sophie Twilight, who helps her find her way home. Akari finds herself drawn to Sophie and begins to visit her every day, despite Sophie's attempts to make her stay away. Eventually, Akari asks to move in with Sophie. Although she was reluctant at first, Sophie agrees to let Akari move in after seeing how much fun they could have together.
As far as comedy driven slice of life anime goes, Tonari no Kyuuketsuki-san may be one of the best of the year. The anime focuses on making fun of vampire-related tropes and Sophie's otaku behavior. Alongside the comedy, there are some more light-hearted elements along with a bit of romance thrown into the mix. There are plenty of great characters and endearing moments throughout the anime and it is sure to keep you laughing all the way through.
---
8. Miira no Kaikata (How to Keep a Mummy)

Episodes: 12
Aired: January 2018 - March 2018
Despite only being in high school, Sora Kashiwagi is forced to take care of himself. Thanks to his workaholic aunt and adventurer father, Sora spends his days alone at home. After not hearing from his father for three months, Sora receives a mysterious coffin shaped package from him. Knowing his father's habit of sending strange gifts from around the world, Sora refuses to open up the strange package, but unfortunately for him, the package opens itself. Inside of the coffin is a little mummy. Sora fights through his initial fear and hesitation, and he starts to help the little mummy out. Sora begins his new life alongside the mummy Mii-kun, as he learns that living with a mummy may not be as easy as he thought.
Miira no Kaikata overloads you with cuteness from beginning to end. The anime starts out just focused on Sora and Mii-kun as they go about their daily lives. We eventually get even cuter supernatural creatures that Sora and his friends take care of. There isn't much going on in terms of the story or the characters, but Miira no Kaikata accomplishes everything it is trying to do. With plenty of funny and heartwarming moments with Mii-kun and his pals, Miira no Kaikata is the perfect anime to get you into a happy mood.
---
7. Slow Start

Episodes: 12
Aired: January 2018 - March 2018
Hana Ichinose missed her high school entrance exams, causing her to start a year later than all of her friends. Not wanting to be looked down upon, Hana moves to a new city in order to get a fresh start. Now living in her aunt's apartment building, Hana is able to attend a new school where nobody knows her secret. Despite her shyness, Hana is able to quickly befriend a group of girls and does her best to keep her secret safe. Together with her new friends, Hana starts her new life and works hard at catching up with everyone else.
Slow Start is another comedy driven slice of life that has all sorts that make it one of the best slice of life anime of 2018. There are plenty of great characters and it is always fun to watch them interact with each other. The characters all have cute and have some interesting personalities. Whenever the whole group of girls is together, you know you are in store for a scene that is either funny or heartwarming. Slow Start is also very colorful and has a nice art style that really ties the whole anime together.
---
6. Yuru Camp△ (Laid-Back Camp)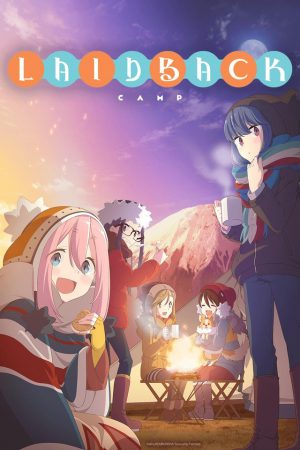 Episodes: 12
Aired: January 2018 - March 2018
High schooler Rin Shima is a fan of camping. Rin often travels around enjoying nature as she camps alone. One day while camping at the base of Mount Fuji, Rin encounters an energetic girl named Nadeshiko Kagamihara. Nadeshiko accidentally fell asleep after riding her bike up the see Mount Fuji. Feeling bad for her, Rin invites her back to her campsite and feeds her dinner. Although Rin prefers camping alone, she starts to think that maybe camping with others isn't that bad. Nadeshiko also enjoyed her camping experience and decides to join her schools Outdoor Activity Club.
Yuru Camp is a very soothing series with some fantastic visuals and funny characters. The main girls are all fantastic, with Nadeshiko and Rin being especially good characters. The opposite personalities of Nadeshiko and Rin carry the series and set up everything the anime does, from the comedy to the actual story. There is a nice balance in Yuru Camp with a mix of comedy, light-hearted moments, educational moments, and character development. Yuru Camp has beautiful visuals, and easy to digest story, and plenty of comedy for you to enjoy.
---
5. Karakai Jouzu no Takagi-san (Teasing Master Takagi-san)

Episodes: 12
Aired: January 2018 - March 2018
Karakai Jouzu no Takagi-san follows the story of classmates Takagi and Nishikata. Takagi has loved to tease Nishikata ever since they first met. No matter how hard Nishikata tries to tease her back, his plans always blow up in his face. Despite his constant failures, Nishikata vows to one day to finally get back at Takagi.
Karakai Jouzu no Takagi-san has one of the most innocent and pure romance stories all wrapped up in one of the funniest anime of the year. Most episodes are split into smaller segments with each one being centered around a new thing for Takagi to tea Nishikata about. The comedy in the show amazing, with each episode we get to see Nishikata's many failed attempts at teasing Takagi. While the comedy is the most prevalent aspect of the series, we also get the occasional moment of romantic development that melts your heart.
---
4. Koi wa Ameagari no You ni (After the Rain)

Episodes: 12
Aired: January 2018 - March 2018
Akira Tachibana is a quiet and reserved high school student. Once one of the top track runners at her school, Akira's love of running is taken from her thanks to an Achilles injury. In order to take her mind off of the past, Akira gets a job at the Garden Cafe. While working there as a waitress, Akira begins to develop feelings for Masami Kondou, the 45-year-old manager. Drawn to this kind nature, Akira can't help her feelings despite the large age gap. Koi wa Ameagari no You ni follows the story of this odd couple as they grow closer and discover what they truly want out of their lives.
Koi wa Ameagari no You ni is an interesting anime and approaches everything from the slice of life elements and the romance in unexpected ways. The anime includes fantastic characters, some great visuals, and an engrossing story. While many parts of the story are predictable, it is still incredibly fun to watch everything unfold. The best part of Koi wa Ameagari no You ni are the characters with a main couple that gets some deep character development and a cast full of hilarious side characters that provide a good majority of the anime's comedic scenes.
---
3. Comic Girls

Episodes: 12
Aired: April 2018 - June 2018
Moeta Kaoruko is a high schooler that also works as a manga creator, under the pen name Chaos. Unfortunately, her manga just isn't very popular. With the manga coming in at the bottom of reader surveys, Kaoruko's editor recommends that she move into a dorm filled with other female manga creators. Moeta agrees to the idea and moves into the Bunhousha Dormitory. There she meets her fellow dorm members Koizuka Koyume, Irokawa Ruki, and Katsuki Tsubasa, Kaoruko. Together, the girls strive to make their manga better than they ever were before.
Another slice of life comedy based on a four-panel manga, Comic Girls provides plenty of hilarious moments for you to enjoy. The story follows the girls as they try their best and does whatever they need to in order to create the best manga possible. Each of the girls has a great personality and some interesting quirks that really spice things up. Comic Girls also has fantastic visuals with some very expressive characters and soft and color backgrounds.
---
2.Gakuen Babysitters (School Babysitters)

Episodes: 12
Aired: January 2018 - March 2018
After the death of his parents, Ryuuichi Kashima is forced to take care of himself and his younger brother. Thankfully, Ryuuichi is able to get some help thanks to a woman he meets at his parent's funeral. The woman's name is Youko Morinomiya, and she offers Ryuuichi and his brother a home at her academy. In exchange for a place to live, Ryuuichi must be willing to work at the school's daycare. Ryuuichi agrees in order to have a better life for him and his brother. Ryuuichi starts his new life working at the daycare, taking care of his brother Kotarou and all of the other eccentric children that attend the school's daycare.
With a relaxing atmosphere and visuals, Gakuen Babysitters is another anime that just overloads you with cuteness. Despite its dreary setup, Gakuen Babysitters is an adorable anime with hilarious characters and a story that just makes you feel good. There a ton of fun characters in the series, but the toddler characters really carry the show. Each one of them has an interesting personality and they bring most of the comedic and heartwarming moments to the series.
---
1. Sora yori mo Tooi Basho (A Place Further Than the Universe)

Episodes: 13
Aired: January 2018 - March 2018
Mari Tamaki has always dreamt of doing something bigger with her life. However, Mari finds that trying to achieve her goals isn't going to be an easy task. After finding money belonging to her classmate Shirase Kobuchizawa, Mari's life changes forever. Shirase has been saving up money to go on an expedition in search of her mother who went lost while exploring the Antarctic. Seeing how dedicated Shirase was, Mari decides to chase her own dream and join the expedition. Together with Hinata Miyake and Yuzuki Shiraishi, the four girls are able to set out on their journey to Antarctica.
Sora yori mo Tooi Basho has everything you could want out of a slice of life anime. Like every other entry on the list, Sora yori mo Tooi Basho has plenty of comedy, but it also doesn't focus on the comedy and it brings a lot more to the table. There is a really good story here that mixes in emotional moments along with the light-hearted adventure moments. The four girls are all great and we really get to see them develop as they go on their adventure. Alongside all the great things the anime does with the story, there is also some beautiful visuals that bring us some unusual places you don't often get to see in anime.
---
Final Thoughts
That's it for our list of the top ten slice of life anime of 2018. There was plenty of amazing slice of life that came out in 2018 so it was hard to pick just ten of them. Hopefully, 2019 will bring another batch of great slice of life anime for us to enjoy. What did you think of the list? What was your favorite slice of life anime of the year? Let us know in the comments.
---