También puedes leer este artículo en:Español
We at Honey's hope that 2017 was a fantastic year for you. If not, it's okay! 2018 is only beginning and you've got a lot of time to make things right. The new year usually marks the time to create new habits and resolutions and we'd like to guess that watching more anime is one plan of action on your "to do" list that needs to stick! With that being said, slice of life anime provides viewers with a realistic representation of daily experiences, whether it comes to love, friendships, obstacles, or trauma. As such, 2017 was definitely not short of fantastic SoL titles! Furthermore, the choices on this list are special as there were so many series in circulation. Therefore, it was pretty difficult to gather a few of the best ones we believe left a big mark this year. So without further ado, here is our list of top 10 best slice of life anime for 2017. Let's do this!
10. Centaur no Nayami (A Centaur's Life)

Episodes: 12
Aired: July 2017 – September 2017
As ordinary as Himeno Kimihara and her friends seem managing school activities, love, and growing up, they are not at all your average high schoolers. Himeno, although sweet and very shy, is a centaur; and her classmates...well, they are supernatural creatures also, ranging from angels, demons, gorgons, fox-people and satyrs. Despite this little detail, Centaur no Nayami is a series that focuses on Himeno and her friends as they struggle to grow up.
Centaur no Nayami is an enjoyable series that offers more than SoL, comedy, supernatural, and fantasy elements. Even though at face value it appears as a series spotlighting a group of adorable girls at school, there is more to it than meets the eye. Centaur no Nayami is a special 2017 anime because it takes a look at hard-hitting issues not normally discussed in fun-loving anime. Tackling thought-provoking social and political themes, Centaur no Nayami brings these topics to our awareness, nicely availing alongside heartening entertainment.
---
9. Hinako Note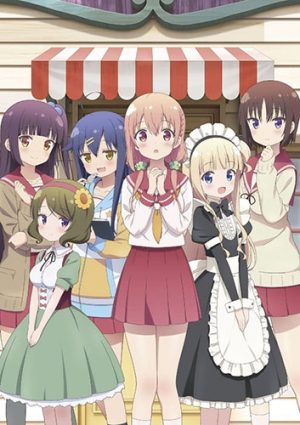 Episodes: 12
Aired: April 2017 – June 2017
"Just a small town girl…." Hinako Note follows the story of Hinako, who has lived in the country for most of her life. Wanting to improve her speech and conversation skills, as well as work on her passion for acting, Hinako decides to move to the big city, Tokyo. She's super excited about what the city has to offer! Upon her arrival, she discovers that her boarding house is actually a thrift bookshop/café, Hitotose. Following her journey, Hinako encounters five other individuals with standout identities, eventually making an impact on her life. Watch and see how Hinako interacts and learns from each of them.
Hinako Note is a fun 2017 anime because we experience living in a new environment through Hinako and her roommates' perspective. Open to endless possibilities, we are always presented with intriguing occurrences that the girls are continually staggered with, however bizarre or outrageous they may appear if they were ever to happen IRL. Nevertheless, our adorably cute cast of characters shows us their fascinating way of life, making it extremely difficult to turn away once we've gotten started.
---
8. Urara Meirochou

Episodes: 12
Aired: January 2017 – March 2017
"Labyrinth town is home to the diviners, known as urara, who wield a mystical power. Troubled wanderers make their way here to seek guidance. Girls of at least 15 years of age aiming to become urara pass through the gates of this town, with hearts full of dreams"
Urara Meirochou captures the story of four young ladies, Chiya, Kon, Koume, and Nono, on their adventures in becoming legendary first rank uraras. As these girls receive their letters of apprenticeship, they grow even closer as friends, and on some occasions, rivals. The girls also journey towards discovering their magical specialty, such as reading tea leaves, tarot cards, fortune papers and dousing, just to name a few. As they gain more knowledge and skills, our girls are in for a taxing experience. However, their enthusiasm and passion prove that they make each and every encounter an unforgettable one.
Urara Meirochou provides viewers with an excellent, uncommon storyline of a group of dynamic girls trying to become the best diviners of their age. Chiya, Kon, Koume, and Nono all have very distinct personalities and quirks that highlight this exclusive plot. Adding to this, the animation style is incredibly eye-catching; as the wide range of colors expresses the excitement and adventure each episode offers. Urara Meirochou is, overall, very enchanting and entertaining.
---
7. Just Because!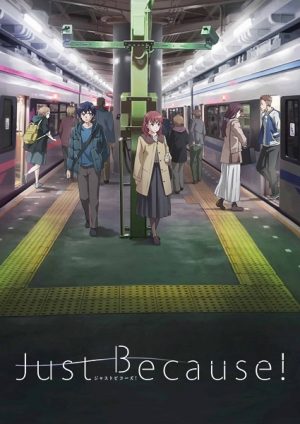 Episodes: 12
Aired: October 2017 – December 2017
Just Because! captures the story of five students, Ena Komiya, Hazuki Morikawa, Mio Natsume, Haruto Souma, and Eita Izumi, as they face the realization that four of them will be graduating soon. This lingering uncertainty regarding what will happen next is further complicated because Eita has returned to town after being away for four years. Following that, the ebb and flow of school, friendship, romance, and drama has drifted dramatically, leaving viewers to speculate.
Just Because! is ideal for viewers who enjoy a heartwarming story that moves at a slow pace. It is the type of anime that shows the delicate nature of growing up and taking the next steps into adulthood, whether it be college, a year off to explore, or migrating into the workforce. This anime is so great because it's super relatable, as we can definitely feel similar pains and joys as these characters. Ultimately, it shares a simply beautiful plot, letting us indulge in a feel-good mood.
---
6. Himouto! Umaru-chan R

Episodes: 12
Aired: October 2017 – December 2017
Himouto! Umaru-chan chronicles the perfect schoolgirl Umaru, idolized by everyone who meets her during the day; but when she comes home, she turns into a lazy bum who lounges around her brother's apartment. As Umaru constantly whines and complains to her brother, she almost always gets her way, as she regularly plays video games, reads manga, and stuffs her face with cola and chips all day long. Even though her brother yells at her for being the way she is at home, he wonders how different she becomes when she steps into the outside world. Himouto! Umaru-chan R is the second season, highlighting Umaru's adorable and funny qualities once again!
Umaru-chan's popularity hit an all-time high the moment it was known that the second season was going to come out. She is such a likable character, the little sister you wish you had and the senpai you always want to be around. Himouto! Umaru-chan R encompasses the phrase, "It is a lot better the second time around." This season, Umaru becomes more open to friendships, giving viewers more to look forward to as the whole gang experiences many extraordinary adventures. You'll be hooked, we promise!
---
5. Blend S

Episodes: 12
Aired: October 2017 – December 2017
Maika Sakuranomiya is your typical high school girl who dreams of studying abroad. However, to make her dream come, true she needs a job. Adding to her troubles, Maika has a bigger problem; she happens to have a scary smile! Moving along, Maika's luck changes upon meeting an Italian man who then hires her at a café. At the café, Stile, waitresses are given unique traits. Maika is asked to act sadistically while serving customers. Progressing at work, Maika becomes a little too devoted to her role and her dominant and cruel persona blooms without warning. Blend S is an outrageous comedy about a very distinct maid café and the employees that make it truly one of a kind.
Blend S is an anime that reminds many of us about how crazy some of us can be when it comes to working and fulfilling our duties and obligations. Sometimes, when the shift is done, we completely forget to turn off the "work-mode". In some instances, our work consumes our private lives and people forget how to effortlessly blend relaxation and responsibilities. As we watch Maika learn how to deal with her dual personalities, we hope she doesn't forget why she got the job in the first place: for her dreams!
---
4. Konohana Kitan

Episodes: 12
Aired: October 2017 – December 2017
Konohana Kitan follows the story of a cheerful young fox girl named Yuzu. Living in a village full of much life and activity, Yuzu starts her first job working as a hot springs attendant at the exclusive Konohanatei. With minimal experience in this line of work, Yuzu immediately gets put to work from the ground up. Although Yuzu's eager quality slows the ebb and flow of work operations, her charming personality totally makes up for it, gaining the satisfaction of customers and fellow co-workers alike. Konohana Kitan shares with viewers a heartwarming story of Yuzu and other fox comrades, as she learns new job skills and appreciates the beauty of the magical life surrounding her.
Konohana Kitan is a sensational anime that highlights the splendor of Japanese culture. With hot springs/onsen being essential to the Japanese way of life, this intimate form of bathing allows one to be in tune with themselves and Mother Nature, demonstrating a sense of peace and tranquility. Additionally, combining traditional elements with the supernatural, Konohana Kitan provides the aspect of co-existing with all walks of life peacefully, overlooking minor differences, and enjoying mutual interests.
---
3. New Game!!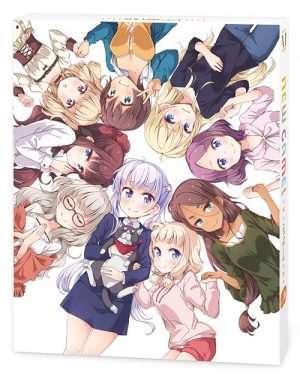 Episodes: 12
Aired: July 2017 – September 2017
Such amusement for Aoba Suzukaze as she is fresh out of high school and starts work at her dream job. Her employer, an all-girl gaming company, is the same video game company that inspired her to become a character designer. After spending time at Eagle Jump for more than a year, Aoba and her co-workers have finally completed their newest game, Fairies Story 3. With their newest game complete, they start a contest to decide the character designs for their impending game. Let's get those creative juices going!
New Game!! is a fun and enjoyable anime to watch because it's filled with a lot of new characters and even more intense twists and turns. Aoba and her co-workers are living the dream that many of us wish we could experience; to work and build an awesome fantasy video game! New Game!! supplies us with many fun and pleasing moments, as well as sprinkling bouts of drama and the feels. If you enjoyed watching the first season, you'll definitely get a kick out of the second season!
---
2. Shoujo Shuumatsu Ryokou (Girls' Last Tour)

Episodes: 12
Aired: October 2017 – December 2017
Shoujo Shuumatsu Ryokou or Girls' Last Tour is set in a post-apocalyptic world. The world has ended and a new era is emerging. The last remnants of humanity are Chito and Yuuri, two gals who are striving day to day to find their way into the light. Without concrete directions for how to deal with something of this magnitude, Chito and Yuuri remain positive, as their wits and resourcefulness eventually guide them towards a newfound hope for this existence. Watch them unearth the mysteries of the past, how their surroundings came to be, and moving forward into a bright and uncertain future.
Shoujo Shuumatsu Ryokou spotlights the importance of valuable friendships, precious memories, new encounters, and the essence of treasuring the little things. On a grander scale, Shoujo Shuumatsu Ryokou encompasses the possibility of a failed and dark future for humanity due to the corruption of industrialization, war, and conflict; specifically the creation of weapons of mass destruction, resulting in mankind's complete annihilation. After all this, we ultimately see our girls, Chito and Yuuri, start from scratch, puzzled and confused about why and how things are the way they appear. Shoujo Shuumatsu Ryokou makes it on this list because of its unique quality and style. Chito and Yuuri's intrigue with their surroundings has us tuned to what they will run into next.
---
1. Kobayashi-san Chi no Maid Dragon (Miss Kobayashi's Dragon Maid)

Episodes: 13
Aired: January 2017 – April 2017
One day in her ordinary life, Kobayashi and a dragon, Tohru, meet in the mountains. Agreeing that Tohru can stay at her house during a drunken conversation, Kobayashi realizes what she's done the next day and turns Tohru away. As Kobayashi is feeling some kind of guilt, or perhaps a sour stomach, she holds to her word and tells Tohru to stay, with a few conditions. Can this dragon maid clean? Do laundry? Greet people? Cook? Watch and see how Tohru acclimates to the chores of humanity while also bringing her squad of friends to Earth, how Kobayashi helps Tohru and friends along the way, and as Kobayashi discovers a new way of living.
Kobayashi-san Chi no Maid Dragon is a cheerful and silly anime that sparks laughter with each episode. Though we normally associate dragons with being terrifying creatures, this anime displays them as somewhat flimsy and absent beings in their new environment, but nevertheless, are still dragons that possess mighty physical strength. If we ever wondered how to keep a dragon in good company and tame them, watching this anime is definitely a "how to" guide, lol!
---
Final Thoughts
We hope you enjoyed our recommendations for top 10 best slice of life anime for 2017! If you haven't already, make sure to check out all of these great titles! Additionally, stay tuned to some of these hits, as sequels and multiple seasons may be in the works, giving you more to binge on! Woohoo! Let us know if we've missed any other great anime for 2017 by commenting below! Thanks for tuning in friends!
---