También puedes leer este artículo en:Español
We are back writing about manga with fantasy creatures. Goblins are a bit difficult to track, especially because we tend to think about them as the opposite to good elves. So, let's widen our horizons while we review some of the best manga about these dark creatures. Let's go!
10. Monsters

Genres: Action, Demons, Shounen
Volumes: 1:
Mangaka: Ryou Tasaka and Kenko Kurando
Published: Oct 20, 2008
We have the never ending quest of humanity for eternal life in this manga. People go to the length of hunting down dark beings for their organs and transplanting them into humans. But well, we know what happens with an implant. Many subjects died from these horrible experiments, but removing the organs means the last of the human race will have to confront the results.
If you are looking for some gory adventures, this one shot manga might be for you. There is a good balance between action, horror and suspense. You will feel like your life is in danger when you least expect it! The creatures are also very detailed and carefully drawn.
---
9. Youkai Shoujo: Monsuga (Monster Girl)

Genres: Action, Comedy, Ecchi, Romance, Harem, Supernatural, Seinen
Volumes: 11:
Mangaka: Kazuki Funatsu
Published: Mar 6, 2014 to present:
Yatsuki is your regular guy who one day, encounters one girl who is not human. Then he will encounter another… and another… you understand the logic of the story. Monster girl is a humorous harem with a curious cast of ladies. If you want to know everything about the "Interspecies Cultural Exchange", you have to take a look to the adventures of Yatsuki and company.
As you could expect from an ecchi, there is a lot of attention to the female protagonist's bodies. Yatsuki practically disappears among the curves of the rest of the cast. There is a bit of seriousness among the comedy though, as there are specific rules to deal with the monster girls, mirroring cultural exchange in our real world. If you want to have a few good laughs, you can check Youkai Shoujo: Monsuga in both manga and anime forms.
---
8. Monster x Monster

Genres: Action, Adventure, Comedy, Fantasy, Shounen
Volumes: 3
Mangaka: Nikiichi Tobita
Published: Apr 16, 2014 to Jul 25, 2015
Can you imagine what would it be like if the world was ruled by beasts of all kinds? Humans do not like to be the prey, so they united to bring them down. Years later, Wenz is a man with an objective: becoming the best professional monster hunter. Does he has what is needed? You will have to read the manga to find out 😉
And well, we are in front of a skillful piece. Every single panel of Monster x Monster is detailed, taking you from action, to adventure, to a more easy going pace and back to action. The story is not so gory nor too serious. Wenz is a guy with charisma, and his multiple adventures have a modern epic flavour.
---
7. Kumo Desu ga, Nani ka?

Genres: Action, Comedy, Drama, Fantasy, Seinen
Volumes: 3
Mangaka: Okina Baba
Published: 2015 to present
When we think that any decision or action we take can have consequences, we can at least be at ease that we are not powerful deities in an alternative world. The reason is that a blow from them could kill us in an instant even if we are far away. The heroine of Kumo Desu ga, Nani ka? Is hit by the supremes' power and destined to reincarnate as a supernatural spider. Unfortunately, because she was rather weak in her former life, now she is a weak and tiny spider fighting with gorgeous monsters in order to survive.
Besides having a rather original premise, the art of this manga is well balanced. The story could be boring if it was all about fighting, but Baba makes sure to have ample room for comedy and cute moments with our spidey heroine. The storytelling style reminds us a bit of Fullmetal Alchemist… with fantastic creatures instead of humans, of course. So, if you want some dark Pokemon or Digimon in your life (because of the level-ups and evolutions, you know), try this manga!
---
6. Hai to Gensou no Grimgar (Grimgar of Fantasy and Ash)

Genres: Action, Adventure, Drama, Fantasy, Shounen
Volumes: 3
Mangaka: Ao Jyumonji and Mutsumi Okuhashi
Published: Apr 22, 2015 to Jun 22, 2016
Haruhito has lost all memory of who he was before being swallowed by darkness. All the others who are by his side are the same, with their names as their only clue. Now, they will team up to explore Grimgal, the fantasy world they discover when the darkness disappears. Of course, this world is full with all sorts of creatures, including goblins.
This manga has a graphical style somewhere between elementary school children and junior high. This means the characters act young but are serious when the situation requires it. When the illustrations are in color, the palette is slightly soft but emphasizing movement. If you are a fan of fantasy RPGs, you might want to give a try to Hai to Gensou no Grimgar.
---
5. Spirit Migration

Genres: Action, Fantasy
Volumes: 2
Mangaka: Kotetsu Akane and Tennki Hero
Published: Jan 21, 2015 to present
This is the story of Lord Voldemort after being defeated by… ok, no. Our protagonist has a lot in common with him, though. As a wandering spirit without memories, he learned to possess creatures in order to survive. He will also gather three beautiful and skillful girls to have adventures in the dungeon… and later outside of it.
The thing with our spirit is that he is a good boy. He only wants to help people out by possessing all sorts of creatures 🙁 The fact that he has an all girl theme only adds points to his coolness. It is like reading Charlie's Angels mixed with Dungeons and Dragons!
---
4. Tensei Shitara Slime Datta Ken (My Reincarnation as a Slime)

Genres: Fantasy, Shounen
Volumes: 8
Mangaka: Taiki Kawakami and Fuse
Published: Mar 26, 2015 to present
Did I read well? Slime? Seriously? Yes everyone, this story is about a guy who was killed during a robbery. Now that he is some sort of slime, he has decided to make the best of it. He changes his name to Rimuru Tempest and joins a girl named Storm Dragon Verudora in a new world full of fantastic creatures and adventures.
If you are fan of light novels in a fantasy world like Sword Art Online or Norn9, you will like this manga. The character design is more rounded and less adult than the one found in past recommendations, without leaving out a varied cast of good and bad goblins. There are several full color pages that will strongly remind you of RPGs. And well, for a Slime, Rimuru has a lot of spirit and personality.
---
3. Iron Knight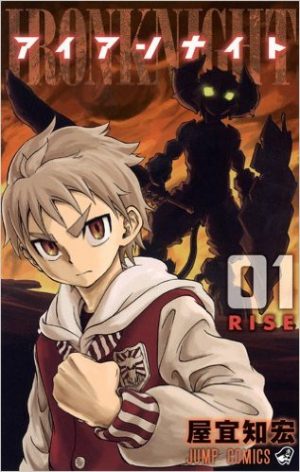 Genres: Action, Fantasy, Shounen, Supernatural
Volumes: 3
Mangaka: Tomohiro Yagi
Published: Dec 2, 2013 to Mar 31, 2014
Sometimes we have to make difficult decisions in life, especially when our instincts want to take the better of us. That is what happens to Teppei, a normal boy who just wanted to be like his father, a policeman. But one nightmarish night, several humans transform into goblins, destroying civilization as we know it. Despite all the pain and finding out he is one of them, Teppei vows to use his powers to protect the innocent and fight against evil.
This manga has a good combination between idealism and brutal scenes that remind an apocalipsis. The goblins on this one truly are scary apparitions. Nevertheless, what reminds in the heart of the story is the conflict of taking decisions. Teppei is a great lead who still has the freshness of a young child despite the heavy mission he is trying to carry out.
---
2. Goblin Slayer

Genres: Action, Fantasy, Seinen
Volumes: 1
Mangaka: Kousuke Kurose and Kumo Kagyuu
Published: May 25, 2016 to present
Let's imagine you are forming your first adventure squad. In your naivety, you become easy prey for the evil goblins out there. But fear not! The Goblin Slayer will join you. The only problem might be that the guy is super famous and is being searched by the most deadly goblins in the world…
If you are into something similar to other recommendations of ours involving an RPG atmosphere but you want more action and gore, you could search for Goblin Slayer. The art is pretty dark on this one, we should warn you. The contrast between the innocent protagonist and the rough Goblin Slayer is an interesting combination. Bloody adventures await you here!
---
1. Re: Monster

Genres: Action, Adventure, Fantasy, Magic
Volumes: 2
Mangaka: Haruyoshi Kobayakawa and Kogitsune Kanekiru
Published: Mar 27, 2014 to present
We once more have the plot of a protagonist who dies and reincarnates into a goblin. Tomokui Kanata at least remembers who he was, and although he is the weakest guy around, he has some impressive skills. Now that Tomokui has to survive in an alternative world, all his beliefs and values will be tested.
Re: Monster is very similar to Iron Knight, although with a few important differences. The overall tone of the story is even darker in this manga. Our protagonist is older, and thus tends to have more existential questions and conflicts. Between every masterfully drawn battle, Tomokui will wonder what is next in the survival agenda. If you are fan of the epic genre but would like to have an interesting twist on it, Tomokui might be your hero of choice.
---
Final thoughts
And thus concludes our travel to the dark side of fantasy manga. Do you know any manga related to goblins that you would like to recommend us? Have you read any of our recommendations? Comment away! See you soon!
---