2021 is soon coming as the December month begins to wrap up. This year's anime to watch was mind-blowing with hundreds of series scattered throughout the various seasons. Of course, which such a large assortment of anime to watch there were an equal amount of anime opening tracks to repeat over and over while working—at home—or just relaxing. Here at Honey's Anime, we have found the best anime openings and we hope these tunes are some of your favorites too. So pump up your stereos, headphones, and soundbars, this list is about to get loud!!!
10. Eizouken ni wa Te wo Dasu na! (Keep Your Hands Off Eizouken!) "Easy Breezy" by Chelmico

Episodes: 12
Aired: January 2020 – March 2020
Zany, wacky, and wild are only a few of the words we can use to describe Keep Your Hands Off Eizouken! When this series dropped in Winter 2020 we didn't know we'd end up falling in love with the comedic story of girls enjoying their world in their own ways. Another surprise from this ridiculous anime was the opening called Easy Breezy by Chelmico. Easy Breezy is easily one of the most bizarre openings we've heard in some time but oddly enough, it has an addicting nature with its use of strange sound effects and catchy sing-out-loud lyrics. Keep Your Hands Off Eizouken! was one of the best 2020 anime series and the opening fit the series to the letter!
Official Music Video
---
9. No Guns Life 2nd Season – "Chaos Drifters" by Hiroyuki Sawano, Jean-Ken Johnny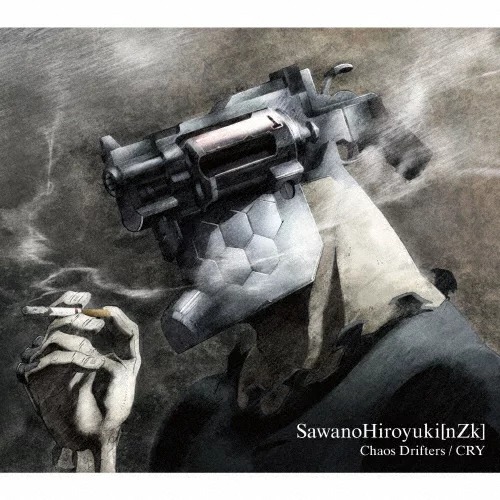 Episodes: 12
Aired: July 2020 – September 2020
One of our absolute favorite musical composers is Hiroyuki Sawano and one of our favorite singers is Jean-Ken Johnny from Man with a Mission. That's why when we heard the two of them were teaming up for the opening track for season 2 of No Guns Life we were beyond excited! When No Guns Life 2nd Season released in the summer, we loved the series but couldn't stop jamming out to the rock-heavy opening called Chaos Drifters. This chaotic opening tune captures the intensity of the series with a melody that just fuels your spirit with a desire to move. Even now as we write this list we have Chaos Drifters in the background and it might be impeding our writing…just a little bit.
Official Music Video
---
8. Jibaku Shounen Hanako-kun (Toilet-bound Hanako-kun) - "No.7" by Jibaku Shounen Band

Episodes: 12
Aired: January 2020 – March 2020
Any series that has the word "toilet" in it seems a bit off-putting. Luckily, Toilet-bound Hanako-kun turned out to be a masterpiece of a series with some fun romance comedy elements all wrapped up in a supernatural theme. However, when Toilet-bound Hanako-kun ended, we didn't just miss the show but we also missed the fabulous opening! No.7 by Jibaku Shounen Band was an opening we'd look forward to weekly as we watched our cute cast of characters buzz around while a rock opening played in the background. Here's a challenge for you readers out there. Just try to sit still while listening to No.7…trust us this challenge is neigh impossible!
Opening Theme
---
7. ID: INVADED – "Mr.Fixer" by Sou

Episodes: 12
Aired: January 2020 –March 2020
Mystery anime like ID: INVADED tend to have usually openings that are mysterious or orchestral. Mr.Fixer by Sou is a pop opening that just feels like an adventure within a song. Aside from the opening visuals—which capture the series and the odd mind games you're about to enter—Mr.Fixer revs you up to get ready for anything coming! Sou is a truly talented artist and his music being featured in a hit anime is just a sentiment to how far he's come in the musical world. Here's hoping some more of Sou will be found in future anime works.
Official Music Video
---
6. Deca-Dence – "Theater of Life" by Konomi Suzuki

Episodes: 12
Aired: July 2020 – September 2020
A powerful anime opening will get you hyped and truly ready for whatever series you are about to watch. Deca Dence accomplished that goal wonderfully thanks to the impressive opening called "Theater of Life" by Konomi Suzuki. Watching our heroes Natsume and Kaburagi fly around slashing enemies left and right while showing—minor—spoilers is what just made this song last in our playlists far after the series wrapped up. Deca-Dence was a series met with mixed reviews after the "monumental" surprise unleashed in episode 2 but we don't care about that. What we truly care about is how wonderful this opening still is and how even now we can jam out with friends and fellow otaku!
Official Opening
---
5. The God of High School - "Contradiction" by KSUKE (feat. Tyler Carter)

Episodes: 13
Aired: July 2020 – September 2020
The God of High School was one of the anime of 2020 that we need—and pray for—a soundtrack to be released sometime soon. Not only were the fight scenes powered up thanks to some truly upbeat tunes, but the opening made the series epic before it even began! Contradiction by KSUKE and Tyler Carter was a synth-heavy, electronica-blasting opening that put you into the fight before the actual battles even started. Each time we watched Contradiction, we couldn't wait for the drop to come and when it did we just smiled and felt the goosebumps form. Contradiction is one of our favorite KSUKE tunes and we hope that if a season 2 airs, he will re-join Tyler Carter for yet another powerful op!
Opening Video
---
4. Golden Kamuy 3rd Season - "Grey" by Fomare

Episodes: 11
Aired: October 2020 – December 2020
All shounen themed series like Golden Kamuy 3rd Season need a shounen-themed opening and Fomare found the perfect song. Grey reminds us of the classic shounen series from the 90s -2000s. Everytime Grey starts up we feel the spirit of adventure surge within our otaku hearts and we wish to go outside to explore. Unfortunately, going outside as of late isn't the safest thing so we enjoy seeing the cast of Golden Kamuy walk on through snow-filled landscapes for us. Grey is easily one of the best openings of not only the Golden Kamuy series but of this year and can't get enough of this calming rock tune.
Opening Video
---
3. Higurashi no Naku Koro ni Gou (Higurashi: When They Cry – New) - "I Believe What You Said" by Asaka

Episodes: 24
Aired: October 2020 – Currently Airing
The Higurashi franchise has always had impressive anime openings that filled your speakers with a mixture of pop, rock, and haunting melodies. Higurashi: When They Cry – New is the latest entry in the supernatural horror tale and the newest opening is worthy of the incredible legacy this series has created. I Believe What You Said by Asaka is a hauntingly powerful track that ebbs between pop and rock to just get you in the Higurashi mood. Not only do the visuals capture the mystery elements of Higurashi: When They Cry – New but the images remind you of the struggle these characters will face. Asaka's song couldn't have been a more perfect choice and we will fondly remember this opening long after the series wraps up.
Official Music Video
---
2. Kami no Tou (Tower of God) – "TOP" by Stray Kids

Episodes: 13
Aired: April 2020 – June 2020
Stray Kids is a band that many anime enthusiast might not recognize and this understandable seeing as how they are a Korean boy band. It makes sense that Stray Kids song "TOP" was used though for the recent anime Tower of God which also has its roots in South Korea. TOP starts off with a nice pop theme that goes into a strong rap and then back to pop/rap which is just ecstasy for the ears. We still think TOP is the best choice for an OP about survival and adventure like Tower of God. If you somehow missed out on Tower of God or the impressive opening you need to correct that by watching both as soon as possible! End the year on a truly solid note!!!
Opening Video
---
1. Jujutsu Kaisen – "Kaikai Kitan" by Eve

Episodes: 24
Aired: October 2020 – Currently Airing
It makes sense that one of the best anime of 2020—Jujutsu Kaisen—would also have one of the best openings and that is thanks to the incredibly talented Eve with his work Kaikai Kitan. We can't say this enough, Kaikai Kitan is just a powerful opening that flows between quick, slow and a mixture of the both that keeps you constantly just blasting the tune in your ears. Kaikai Kitan by Eve was hands down the best opening track of 2020 and of recent memory and that is why it deserves our top spot on our list.
Official Music Video
---
Final Thoughts
Wow, 2020 might have been a truly tiring year filled with arduous challenges, drama and various world-related issues but thank the anime gods above for delivering us some truly epic opening tracks. We know there are hundreds of openings and that maybe one of your favorites didn't make our list. Let us know which anime opening should have made our top 10 in the comments below. For even more anime top lists like this one keep stuck to our swinging hive here at Honey's Anime!
---