What You Need to Know:
Happy Tuesday everyone, and welcome to this week's light novel ranking, straight from the Oricon charts!
Over the last few weeks we've seen a battle between Hai to Gensou no Grimgar, Mahouka Koukou no Rettousei, and the almighty KonoSuba - but how are things looking seven days down the line?
Let's get to it and find out which light novels Japan loves this week!
---
Top 10 - Top 6
---
10. Imouto Sae Ireba Ii ↓
9. Mobile Suit Gundam Unicorn
8. Gakusen Toshi Asterisk
7. Ansatsu Kyoushitsu Movie: The Novel
6. High School DxD ↑
---
Top 5 - Top 1
---
5. Mahouka Koukou no Rettousei ↓
4. Madan no Ou to Vanadis
3. Date A Live ↑
2. Hai to Gensou no Grimgar ↑
1. Kono Subarashii Sekai ni Shukufuku wo! →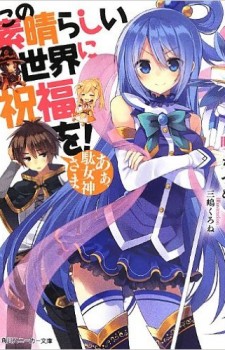 Source: Oricon
---
Just how long will KonoSuba stay at the top? Until it's finished?!
Probably! Never mind that though, how many adaptations can Ansatsu Kyoushitsu fit in one work?
---
[ad_dfp position="bottom1" unit_pc1="true" unit_pc2="true" unit_sp1="true" class="mt40"]