Many of us that watch regular anime series normally also sometimes watch OVAs as well. So what exactly is an OVA? Typically, an OVA is an episode with no bearing on the regular story an anime has but instead, is made in addition to the story. Oftentimes it's done as a sequel, an extra story, or even a parody or comedy episode. OVAs are commonly only one or two episodes long, but sometimes they can be as long as a regular anime! They can also be original stories that are unrelated to existing anime. What they all have in common is that they are not aired on TV, but rather come out on the DVD release.
Because they go straight to DVD, sometimes OVAs can get away with having material that would not have otherwise been on TV. They also give anime a chance to have material that didn't fit into the initial story. Luckily for ecchi and harem fans, there are plenty of OVAs made in these genres as well! You can expect lots of girls with one guy, as well as some sexy and steamy action. So what are the best OVAs to watch for ecchi and harem fans? We have compiled a list of what we think are the Top 10 Ecchi/Harem OVAs for you to enjoy! Some are original stories and others spin-offs of regular series, but all of them are great!
10. Rescue Me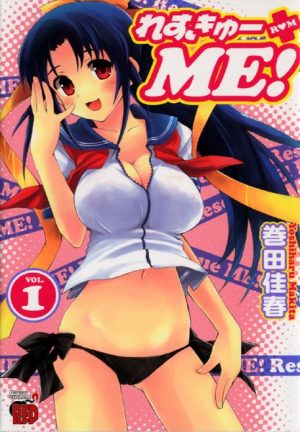 Episodes: 1
Aired: Jun. 2013
Rescue me is the story of high schooler Masayuki Mizutani. His life is pretty typical except for one important detail - his unlikely "roommate." Sayaka Shimizu is Masayuki's classmate but also is living with him. But on top of that, she's also his maid! And not just an average maid, but one who is determined to be involved in Masayuki's life as much as she can, with very few personal boundaries. She wants to do her job, but is she doing it a bit too intensively?
Rescue me is short, sweet, and to the point. Because it is a standalone OVA, you can enjoy it without much commitment and with no prior knowledge - just 27 minutes of free time is all you need. Sayaka's over-enthusiasm and lack of personal space lead to a lot of ecchi action between her and Masayuki. And of course, Sayaka is wearing a maid uniform for most of it! So that means if maids are your thing, you've definitely found the right ecchi OVA. And that's only the beginning because there are even more female characters to get involved in the plot and the fun, leading to a harem element too. Another fun and simple story, Rescue Me is a great ecchi OVA to check out.
---
9. Baby Princess 3D Paradise 0 [Love]

Episodes: 1
Aired: Jul. 2011
Baby Princess 3D Paradise 0 [Love] is a standalone OVA based on a novel, so the story it has to tell can't be found in any other anime. And it's definitely a unique story for an ecchi harem at that. Yotaro has always thought he was an only child, but his last year of high school he discovers a very shocking truth - actually, his biological mother has 19 daughters! That means Yotaro is not only not an only child, but he has 19 sisters ranging in ages from newborn to 18 years old. So what will happen when he moves in with them? His life is definitely in for some serious changes, that's for sure.
Because Baby Princess 3D Paradise 0 [Love] is a standalone OVA, you can enjoy it and understand without needing any prior knowledge. At only 30 minutes, it's also great for a quick fix for the ecchi and/or harem fan that is looking for something new to watch (if you don't mind a bit of incest of course!). Baby Princess 3D Paradise 0 [Love] is ridiculous (come on, even the basis of the story is ridiculous), but that's what makes it so entertaining. And watching Yotaro's life change from thinking he was alone to learning to live with 19 different sisters is definitely an experience we recommend if you're interested in watching OVAs.
---
8. Trinity Seven OVA

Episodes: 1
Aired: Mar. 2015
Trinity Seven is an anime about dark magic centring on Arata Kasuga, who discovers everything he has ever thought to be reality was all an illusion created by a magical book. He ends up in a magical school called Royal Biblia Academy - and surrounded by seven beautiful girls who can do magic. Of course, there is plenty of ecchi fun to be had, but plenty of action too as they face the possible destruction of the world! Trinity Seven OVA is a one side episode of Arata's time at the academy where he is about to be expelled forever. The only way for him to save his future at the school is to deepen his study of magic and take it more seriously - and who better to teach him than the Trinity Seven girls?
Trinity Seven OVA is unnecessary to watch to understand the plot of the original show, but that doesn't give it any less value. If you're a Trinity Seven fan, it's great to see some extra ecchi action between Arata and the girls - and with seven of them, you can bet it's harem style. It gives more time to see the characters you like on the screen as well and does tell an extra chapter of Arata's life as a student at the academy. It's an OVA that has comedy, ecchi, and action, which gives it something to appeal to everyone! Trinity Seven OVA is well made and tells a good short story you shouldn't skip if you enjoy watching the anime.
---
7. Sora no Otoshimono: Project Pink (Heaven's Lost Property OVA)

Episodes: 1
Aired: Sep. 2010
Sora no Otoshimono: Project Pink is one of the OVAs for the series Sora no Otoshimono. The main series follows Tomoki Sakurai, a high school boy with an angel named Ikaros bound to him. Ikaros is forced to grant Tomoki's wishes - and he can have quite the perverted mind. Little does he know that while he uses Ikaros to fulfil his fantasies, there is a much bigger, more dangerous plot unfurling around him. Project Pink is an OVA where the main characters all decide to have a fun day at an indoor swimming pool together. Hilarity ensues as Tomoki is his usual self - imagine a pervert loose at the swimming pool, after all!
Of course, Project Pink was never actually aired on TV, especially because of its content, but that just makes it all the more intriguing! Not only is it a great comedy episode that is a lot of fun, it also gives a bit of extra insight into some of the characters. For example, alongside the main story in the episode, it also follows Nymph and how she deals with the loss of her master. OVAs are great opportunities for character development and showing side stories that they never had time to explore in the main anime, and Project Pink does just that. It's a great chance to see the main characters having a lot of fun, alongside sexy ecchi action at the pool - and some extra character development on top of everything else!
---
6. IS: Infinite Stratos Encore - Koi ni Kogareru Rokujuusou

Episodes: 1
Aired: Dec. 2011
IS: Infinite Stratos Encore - Koi ni Kogareru Rokujuusou is an OVA sequel to the main series IS: Infinite Stratos. It takes place in a futuristic Japan where the government has created a powerful exoskeleton weapon that only women can control. This has created a society where women rule over men. A young man named Ichika Orimura turns out to be the exception though when he finds out by accident that he can control them too! And now he's stuck at a school learning how to use the exoskeleton where he is the only boy. Like many OVAs of anime that take place at a school, IS: Infinite Stratos Encore - Koi ni Kogareru Rokujuusou takes place during Ichika's summer vacation. It tells two short stories. In the first, many of Ichika's classmates have the same idea to get some alone time with him at his house, which results in many girls all there together! And in the second story, Ichika surprises one of his friends by showing up at the shrine she is helping at for a summer festival.
IS: Infinite Stratos Encore - Koi ni Kogareru Rokujuusou is a fun sequel if you were left wanting more from your favourite characters in the original series. It isn't full of action and fighting, but rather comedy and harem romance. It makes this OVA a very light-hearted, easy to watch choice if you like harem stories especially. So if you loved the characters in the original series and wish you had more of a chance to see them interacting and having fun together, this OVA is your chance! Of course, it helps if you also like mecha and science fiction anime, since that's what Infinite Stratos is all about. It's a satisfying extra chapter to a very fun sci-fi anime.
---
5. Kiss x Sis (OVA)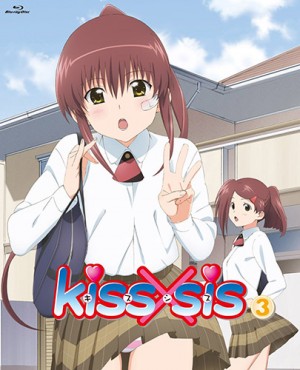 Episodes: 12
Aired: Dec. 2008 – Apr. 2015
Kiss x Sis has two series by the same name; one regular anime series, and one OVA series. Of course, we are focusing on the second! It all starts when Keita Suminoe's father gets remarried to a woman who already has two daughters similarly aged to Keita, Ako and Riko. The girls may become Keita's step sisters, but that doesn't stop both of them from falling in love with him. And as teenagers, that love quickly turns to lust! Ako and Riko take to trying to win over Keita's affections as well, sometimes competing against one another and other times working together to double team him. Keita wants to see them only as his sisters, but living in the same house with them, will he be able to hold off forever?
Kiss x Sis is a fantastic example of an ecchi harem OVA. It has plenty of scenes involving all three main characters, and despite only being an ecchi, it pushes its limits as far as possible to make sure things get pretty steamy. And it's hilarious too! Ako and Riko will stop at absolutely nothing to get Keita's attention and to end up in as many sexual situations with him as possible, so each episode's mini story is sure to feature some kind of awkwardly funny, ecchi situation. Kiss x Sis is a full 12 episodes of fun too, and while it took a long time to originally air all the episodes, you're lucky in that you can watch them all as fast as you want to now! And you don't have to see the anime of the same name to understand, don't worry about that, just kick back and enjoy Kiss x Sis.
---
4. Kami Nomi zo Shiru Sekai: Tenri-ken (The World God Only Knows: Tenri Arc)

Episodes: 2
Aired: Oct. 2012 – Dec. 2012
Kami Nomi zo Shiru Sekai is a fun, harem anime about a boy named Keima Katsuragi, who is tasked by a devil to help girls who have spirits trapped inside their souls. The challenge is that in order to release the spirits, Keima has to make the girls fall in love with him! And failure will cost his life. Kami Nomi zo Shiru Sekai: Tenri-ken takes place during Keima's summer break, which he intends to spend playing video games and not doing his job. However, his plans change when a girl named Tenri, who he knew a long time ago, shows up - and has a spirit trapped inside her as well! Can Keima save his childhood acquaintance?
Kami Nomi zo Shiru Sekai: Tenri-ken is a two episode OVA, so a bit longer than most of the one episode OVAs on our list. But of course, that just means you have twice as much time to enjoy it! Of course, you can expect some romance content since Arata has to make Tenri fall in love with him to accomplish his goal, but since his goal is to remove a lost soul, Kami Nomi zo Shiru Sekai: Tenri-ken is great especially for supernatural fans. It's also not an ecchi, just a romance, so if ecchi is a bit too much for you, you can still enjoy this OVA choice! It has a good standalone story that is fun, dark, and exciting all at the same time.
---
3. Asobi no Iku Yo! Asobi ni Oide (Cat Planet Cuties: Come Drop By)

Episodes: 1
Aired: Jun. 2011
Asobi no Iku Yo! Asobi ni Oide is an OVA based on the main series Asobi no Iku Yo!. It is a fun addition to the main story without any real plot progression, but it's fun to watch all the same. Asobi no Iku Yo! revolves around Eris, a cat girl from another planet who is living on Earth now with a human to learn about Earth's society and human culture. Her lessons continue is Asobi ni Oide, where Eris finds herself learning how to play games. She misunderstands the rules from the start, though and believes that whatever the game is, she has to place a bet. Of course, her first bets are traditional material things, but then she learns a new tip - she can also bet articles of clothing!
As you can probably imagine from that description, Asobi ni Oide is a lot of fun to watch. It's got the same comedy feeling of the rest of the anime - and of course, when you add in a cat girl playing strip poker, you can bet on some great ecchi action too. Whether you like Asobi no Iku Yo! and just want more of its characters having sexy, fun time together, or even if you're just a fan of catgirls, Asobi no Oide is a great OVA to check out. It's light-hearted and fun, and you won't regret how you spend those 28 minutes of your life.
---
2. Senran Kagura: Estival Versus - Shoujo-tachi no Sentaku (Senran Kagura: Estival Versus – Festival Eve Full of Swimsuits)

Episodes: 1
Aired: Mar. 2015
Senran Kagura is a popular ecchi anime about five girls training to become shinobi or trained assassins from Japan's past. Senran Kagura: Estival Versus - Shoujo-tachi no Sentaku is an OVA spin-off from the main series with a more light-hearted and funny story. Usually, the girls are seen working hard to study and defend their prestigious academy, but in this OVA they are all invited to a spa resort - and during cram school of all times! When they arrive, the girls find other girls from all their rival schools. Rather than continue their usual fights, though, they all decide to call a truce and just have a nice time. That is until a small argument grows into something much bigger…
Senran Kagura: Estival Versus - Shoujo-tachi no Sentaku is a great break from the rest of Senran Kagura. It shows all the girls in a more casual environment and gives characters from their rival schools more screen time as well. It also gives the viewer a chance to see all the beautiful girls interacting with each other in a different way - and all while in bikinis of course, which adds to the ecchi fun. And if you're looking for some action, don't worry, this OVA still has some shinobi fighting in it as well! With so many ecchi girls having a great time at the pool, Senran Kagura: Estival Versus - Shoujo-tachi no Sentaku is a really fun OVA to watch, especially if you're a fan of the main series or someone looking for a lot of bikinis and boobs.
---
1. Isekai no Seikishi Monogatari (Tenchi Muyo! War on Geminar)

Episodes: 13
Aired: May 2009 – May 2010
Kenshi Masaki is taken from Earth to a world called Geminar in Isekai no Seikishi Monogatari. On Geminar, he has the chance to pilot a mecha, a feat very rare for boys, with the promise that if he does it to assassinate a ruler in this world, he will be able to someday return home. Things don't go according to plan, though, and that same ruler he was meant to kill takes him hostage. Her name is Lashara, and she allows Kenshi to live only if he becomes her servant. She also gives him the chance to be a pilot too, again with the promise of returning to Earth someday, but will Kenshi ever go home? And can he deal with being practically a slave to Lashara and her female crew?
Isekai no Seikishi Monogatari is a full-length original OVA at 13 episodes, the same as a short regular anime. That gives it plenty of time to develop and hash out a full and interesting story, though! This OVA has plenty of ecchi, and it's all harem style too since Lashara and her crew put Kenshi into quite a few compromising situations. Isekai no Seikishi Monogatari has a great science fiction story too, so if you like mecha anime and sci-fi as well has harem and ecchi, it's a great option. Be ready for the commitment to watching a longer OVA series (each episode is about 45 minutes long) but the quality is really high, so you won't regret taking the time to enjoy it!
---
Final Thoughts
So are you ready to enjoy some OVAs now? Whether you have 30 minutes to kill or enough time for a full-length series, there should be at least one ecchi or harem OVA here for you to enjoy! Sometimes OVAs are overlooked or fans don't even know they exist since they go straight to DVD but they can be just as good - and sometimes even better than a normal episode of anime. We hope you have found something new to watch and enjoy next time you're wondering what to watch next but maybe don't want to commit to a whole new show!
Have you enjoyed any of these ecchi or harem OVAs yourself? Did we miss your favourite when we made the list? Do you often watch the OVAs that release with your favourite ecchi or harem anime? Let us know in the comments below!
---