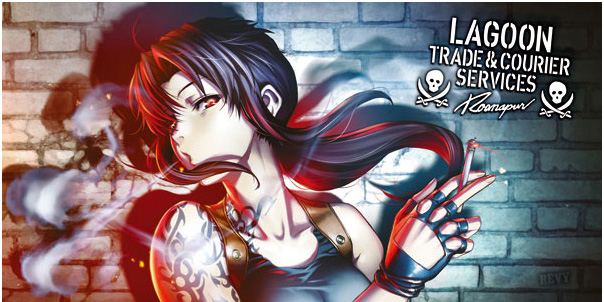 Santa Claus is known for giving gifts to good children all around the world who have been at their absolute best for the whole year. Though, Santa is also known for giving another type of "present" to anyone who is considered bad and is put on his infamous Naughty List. That's right folks, Santa gives those who are bad coal and it's something many people fear when Christmas is upon us. We here at Honey's Anime—who are always on Santa's good list—tried to find out who deserves a heaping helping of coal this Christmas and we think we've found our list. Here is our Top 10 Manga Characters Who Deserve Coal For Christmas list!
10. Hiroyuki Kyouda from Darwin's Game

Mangaka: FLIPFLOPs
Genres: Action, Mystery, Shounen
Volumes: 16
Published: December 2012 - Ongoing
Imagine for a moment the following. One day your so-called friend asks you to join him in playing a game. If you're bored and or just figure your friend is asking you to join him in a safe but fun game. Hiroyuki Kyouda from Darwin's Game asks his friend Kaname Sudou to do just that but with the removal of a safe and fun game. Instead, Hiroyuki brings his friend Kaname into a deadly game where the stakes of losing are fatal! Since Hiroyuki literally is one of the worst friends imaginable in manga history, we figured it was only fitting that he starts off our list of the Top 10 Manga Characters Who Deserve Coal for Christmas.
---
9. Sophia Theodores from Eden: It's an Endless World!

Mangaka: Endo, Hiroki
Genres: Action, Drama, Sci-Fi, Psychological, Seinen
Volumes: 18
Published: September 1997 - June 2008
We understand that raising kids can be quite tough for a young parent as we know many who bare such a burden. Despite the trials and tribulations though, many of these women mature quickly and try to provide their children with the best possible lives they can muster despite their circumstances. These mothers should be given a slew of goodies under their trees this Christmas but one mom who should be excluded from receiving these gifts is the now cyborg Sophia Theodores. Due to a troubled past, Sophia went from relationship to relationship and ended up having several children in the process. However, Sophia didn't raise these kids but instead shipped them off to orphanages. Granted once she becomes a cyborg, Sophia changes her ways and becomes more mother-like but we still think her past actions earn her some coal this coming Christmas. Maybe next year she won't get coal, but this year she better.
---
8. Revy from Black Lagoon

Mangaka: Hiroe, Rei
Genres: Action, Drama, Military, Seinen
Volumes: 11
Published: April 2002 - Ongoing
Revy is Lagoon Company's ace shooter who wields her dual guns into battle like they are an extension of her arms/hands. We admire Revy and her tough—and hot—persona, but equally, Revy can be a bit of a…mean girl. Not only does she treat Rock—a man who started off as a normal businessman but then was forced to join Lagoon Company for reasons—cruelly, but she tends to berate others, swear like a pirate and has a knack for ending lives pretty prematurely. In our minds, Revy isn't a girl who we'd imagine on Santa's Good List and that's why we think ole Santa will be giving Revy some black coal this Christmas. Revy will probably get coal every year if we're being honest.
---
7. Yukiteru Tamaki from Uwakoi

Mangaka: Itosugi, Masahiro
Genres: Drama, Ecchi, Romance, School, Harem, Seinen
Volumes: 6
Published: September, 2011- September, 2014
Many of us here at Honey's Anime understand that being a guy surrounded by beautiful women can be quite tough…even if that doesn't happen to many of us often. That's why we sympathize with Yukiteru Tamaki from UwaKoi as he tries to choose between a childhood friend and a new girl who both seem to want a piece of him. What we can't forgive from young Yukiteru though is how he handles his girl problems. Instead of kindly rejecting the girls who seek him out, he sleeps with all of them. The childhood friend—Yuno Kirishima—we know is insane in every definition of the word but Yukiteru has it coming to him when he basically lies to her and uses her. What Yukiteru also should have coming to him is some stockings full of nasty coal this Christmas. Goes to show you guys out there that being a two timer will not only get you hurt—in numerous ways—but will also net you on our Top 10 Manga Characters Who Deserve Coal for Christmas list.
---
6. Takeru Amaya from Kamisama no Iutoori (Like God Says)

Mangaka: Kaneshiro, Muneyuki- Fujimura, Akeji
Genres: Action, Drama, Horror, School, Shounen, Supernatural, Psychological
Volumes: 5
Published: February 2011- October 2012
Being in a death game is bad enough for Shun Takahata in Kamisama no Iutoori, but when you add the psychopath Takeru Amaya, then things go from bad to nightmarish. Takeru throughout the death game is constantly provoking opponents to help him win and often makes Shun's life even tougher every step of the way. While Takeru does have a few moments of kindness—and we mean a few—that doesn't excuse his actions and makes him a threat more often than not. You know what Takeru deserves as a prize for being such a pain in the behind? A bag of coal with a tag saying from Santa with love.
---
5. Griffith from Berserk

Mangaka: Miura, Kentarou
Genres: Action, Adventure, Demons, Drama, Fantasy, Horror, Supernatural, Military, Psychological, Seinen
Volumes: 40
Published: August 1989 - Ongoing
Griffith had intentions of becoming a leader and a prince in the world of Berserk. Readers and fans of Berserk have seen first hand that Griffith wasn't initially a bad guy even with his occasional moments of cruelty. However, once the Eclipse occurred, Griffith—who became something else entirely—went from semi-bad guy to just a downright evil being. While Griffith might blame Guts—the main character of Berserk—for his failings, we blame Griffith for his own downfall as he made poor choices that led him away from his dreams. While the internet makes a joke that it's not Griffith's fault, we say it is entirely his fault and he deserve the worst thing ever. No gifts from Santa only coal and tons of it.
---
4. Mai Mashiro from Dead Tube

Mangaka: Yamaguchi, Mikoto- Kitakawa, Touta
Genres: Ecchi, Horror, School, Seinen
Volumes: 10
Published: April 2014 - Ongoing
There's always this desire to make another big hit on social media sites and find recognition from a huge audience. Yet, in the pursuit of becoming a viral hit, people do need to realize there's limitations on what should and shouldn't be done. Let's look at Mai Mashiro from Dead Tube for an example. Mai might be a looker, might have a great cameraman behind her and might be in a life or death situation due to this strange death game but that doesn't excuse Mai from her actions that basically have made her a serial killer at this point. Mai now deserves one more major hit and that is from the realization that Santa will be bringing with him bags and bags of coal to her chimney in December. Though, Mai would probably just use the coal as an unboxing and place that on some site for some free hits…
---
3. All for One from Boku no Hero Academia (My Hero Academia)

Mangaka: Horikoshi, Kouhei
Genres: Action, Comedy, School, Shounen, Super Power
Volumes: 20
Published: July, 2014 - Ongoing
Boku no Hero Academia has its fair share of people who deserve to be forever placed on Santa's Naughty List. However, no matter how bad some of the villains are in the series, no villain trumps All for One. Willing to kill, torture, manipulate and lie, All for One is hands down the scariest threat of Boku no Hero Academia. What's worse is with his Quirk that allows him to steal other's powers and make them his own, All for One seems to be truly unstoppable. While Deku and his friends might have to ramp up their game when it comes to beating this force of evil, at least we can rest peacefully knowing that Santa will be dropping no good gifts to All for One…only the black coal that mirrors All for One's heart.
---
2. Isabella "Mama" from Yakusoku no Neverland (The Promised Neverland)

Mangaka: Shirai, Kaiu- Demizu, Posuka
Genres: Mystery, Horror, Sci-Fi, Shounen
Volumes: 11
Published: August, 2016 - Ongoing
Moms are supposed to keep us safe from harm and to shield us from the darkness that is in the outside world. That is what a mom is meant to do. Isabella from Yakusoku no Neverland does the literal opposite of this in the series. Not only is she aware of the horrors she does by sending her kids she raises in the "orphanage" outside when they hit a specific age, she seems completely unaffected by their eventual sufferings. While there are many manga moms out there who are a bit bad at what they do, Mama Isabella is the worst of the worst. We hope Santa drops a bag of coal on her smug face this Christmas and gleefully moves on to the next on our list.
---
1. Kanade Uryuu from Platinum End

Mangaka: Ohba, Tsugumi - Obata, Takeshi
Genres: Drama, Shounen, Supernatural, Psychological
Volumes: 9
Published: November, 2015 - Ongoing
Coming in at number one on our list is Kanade Uryuu from Platinum End. In the deadly competition to see who will be crowned the next God, Uryuu has decided that he will stop at nothing to become God and do whatever it takes. While Uryuu's intentions of bringing his deceased sister are understandable, his actions towards fulfilling his wish are far from it. Uryuu continues killing off other candidates and even manipulates some to help him carry out his brutal executions. In our minds, angels are meant to represent righteous beings with the intentions of protecting others and guiding those who are lost. Uryuu is no true angel and if anything we hope the man in red gives him so much coal he won't be able to fly anymore.
---
Final Thoughts
Many manga characters are deserving of presents and or some love during this amazing holiday known as Christmas but as you witnessed from our list, many don't. The people we mentioned above in our Top 10 Manga Characters Who Deserve Coal for Christmas are individuals that actually should be probably put into jail for Christmas or at the very least given so much coal they could light a fireplace for years. Our list mentions many manga characters who are indeed on the Naughty List this Christmas, but do you think we missed any others who are even worse? Comment below to let us know who we failed to find and why they should be given nothing but coal by Chris Kringle himself. If you also liked this article, we have tons like it here at Honey's Anime just waiting to be unwrapped before Christmas!
---