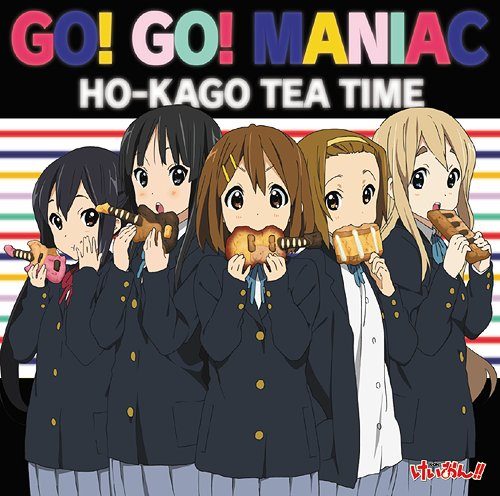 Perhaps more so than any other genre, the opening for music anime is important for setting the overall feeling of the anime as well as being the standard bearer of the music of the entire series. Like musical genres themselves, there is a great variety of shows encapsulating "music" anime. For our list, we are including any series where music plays a central part of the story, be it idols, rock bands, or otherwise. In this list, we're counting down the best openings for music anime, taking into account the animation, how well it represents the series as a whole, and, of course, the all-important musical element. 3, 2, 1, Let's jam!
10. "Exterminate" by Nana Mizuki – Senki Zesshou Symphogear GX (Symphogear GX)

Episodes: 13
Aired: July 2015 – September 2015
One of the best things about the Symphogear series is the awesome, energetic fighting animations which are brilliantly highlighted in the opening for Symphogear GX. After a short visual buildup culminating in an explosive closeup on the relic sword Dáinsleif, this opening goes all out, showing the large cast of characters diving into the fray of battle. It's bombastic and colorful, shows off the cool character designs well, and illustrates the spirit of the show quite nicely.
Nana Mizuki, who also voices Tsubasa Kazanari, once again provides the opening for this season of Symphogear, and does an excellent job at that! Her powerful voice combined with high tempo, synth-heavy instrumentation makes this opening exciting, accentuating the animation wonderfully. The synchronization between the visuals and music work especially well in the last thirty seconds, with the best example probably being when we see Leiur Darāhim dodging bullets and counter-attacking perfectly in time with the beat. Overall Symphogear GX's opening is a really solid entry for this really solid, underrated series! Watch Symphogear!
---
9. "DREAM SOLISTER" by TRUE – Hibike! Euphonium (Sound! Euphonium)

Episodes: 13
Aired: April 2015 – July 2015
Kyoto Animation really does do beautiful work, and Hibike! Euphonium is no exception! This opening does a great job at showcasing all of the characters individually and then bringing them together as a band, much in tune with the theme and premise of the high school concert band premise. Another highlight of the animation for this opening is how well it integrates 3D artwork which is first used for backgrounds behind the characters in a colorful, somewhat abstract way and then later used quite effectively for a sweeping camera turnaround of the entire band and closeup on Kumiko, which at this point is something of a KyoAni trademark when it comes to music anime Ops, more on that later. One final thing worth mentioning on the animation side is the using of musical notation symbols to spell out the characters names at the beginning which was a very cute touch!
Musically, DREAM SOLISTER is a fitting song for the series, appropriately utilizing many of the band instruments featured in the show. This gives this otherwise fairly-standard, albeit good, pop-y anime opening track enough brass-heavy, orchestral style to make it stand out. It's upbeat and happy and has just enough of a buildup to crescendo to make it exciting without being overblown for a series about a high school band. One major improvement that could be made would be to better sync the opening and the visuals so that the characters could be playing parts of the OP themselves but that doesn't take away much, Hibike! Euphonium still has one of the best music anime openings ever!
---
8. "Rose" by ANNA inspi' NANA ~Black Stones~ – NANA OP 1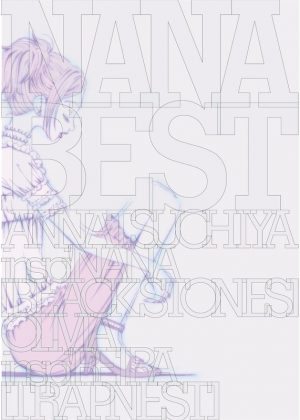 Episodes: 47
Aired: April 2006 – March 2007
NANA's opening really knows how to use minimal animation with striking imagery for great effect. This is seen throughout the opening, but most obviously near the beginning with a less than one second long shot of the two Nanas' eyes opening against a solid white background. Overall, the opening has a serious and dark feeling, which is accentuated by the many high-contrast, intensely lit scenes. Much of it takes place during a concert with a lot of close-up, personal shots of Nana singing and some from the perspective of the audience that make it feel very authentic.
"Rose" is an excellent, hard-and-heavy rock ballad that suits the serious nature of the series. Moreover, it's wonderfully integrated with the visuals, both in terms of the concert setting, making the sound diegetic for an all-the-more 'real' feeling, and how well the cuts are timed with the music in mind, as seen with the previously mentioned eye opening and elsewhere. Another highlight is the attention to detail in the animation of Nana's hands and the following match cut from her hand and arm to the barren tree branches. Nana shouldn't be missed!
---
7. "Aozora Jumping Heart" by Aqours – Love Live! Sunshine!!

Episodes: 13
Aired: July 2016 – September 2016
Love it or live it, Love Live! has been something of a phenomenon since the original series in 2013 and continues to be extremely popular now into Sunshine!!, no doubt largely thanks to its catchy songs and super-cute idol protagonists. Like the other Love Live! Openings, this one centers around a (somewhat romanticized) stage performance of the title song interspersed with cuts of the girls doing various things illustrating their meeting, personalities, and events leading up to their future performance. Sunshine!!'s first opening isn't really anything groundbreaking visually but nevertheless is done quite well and has a substantial visual improvement in the 3D character models and animation over the original series. It gets the job done, showing off the adorable characters and a bit of the seaside setting with the colorful, sparkly style befitting an idol anime series.
Coming on the heels of the original series, Aqours had a lot to prove to be a worthy successor to the μ's and this opening was a huge part of that. "Aozora Jumping Heart" is a fabulously executed idol song that is bursting to the brim with cutesy charm and fervent energy that really gets you excited. Their voices and music are great and the animation and music are linked together with the concert setting and the characters' dancing to great effect (shoutouts to the "Jumping heart!" line) to make it one of the best music anime openings ever!
---
6. "Lion" by May'n and Megumi Nakajima – Macross F (Macross Frontier) OP 3

Episodes: 25
Aired: April 2008 – September 2008
Macross Frontier's third opening is probably the most imaginative and visually varied yet, and our choice for the best to come out of the venerable Macross franchise. If anything bad could be said about this opening's animation is that the imagery might be so wild and wide that is borders on too much, but we'd disagree! Our singing stars Sheryl Nome and Ranka Lee colorfully set against the backdrop of epic space battles full of giant mechs and destruction really encapsulates the appeal of Macross as a whole perfectly. All of this is brought to greater heights with a variety of special effects and smooth integration of 3D elements to make most of the visuals spectacular to view!
Similarly to the visuals, the sound of "Lion" is top-notch, which should come as no surprise as it was composed and produced by the legendary Yoko Kanno. This song's soaring vocals combined with beautiful instrumentation that blends orchestral, electronic, and pop rock with strong percussion is excellent and slightly unusual, making it all the more memorable. As a whole, the final opening for Macross Frontier stands out for its creative imagery, great music, and sense of escalating intensity.
---
5. "Hit in the USA" by Beat Crusaders – Beck (Beck: Mongolian Chop Squad)

Episodes: 26
Aired: October 2004 – March 2005
As hinted to in the title of this OP, Beck's opening is one of the most "American" of all anime openings featuring a huge variety of images of Americana like the famous sign for Stardust Resort and Casino on the Las Vegas strip, an aggressively American church sign, the Empire State Building, a stereotypical roadside restaurant, and more. The rest of the animation focuses on the main cast, that being the titular band Beck, hanging out together and singing the opening. The short character 'skits' in the opening are extremely well done, full of charm and illustrative of the characters' personalities.
"Hit in the USA" is similarly great and fits the feel and style of the show to a T, authentic and rockin'!
Beat Crusaders was a real-world rock band that provided several songs for the series and would also produce music for Bleach as well as the anime-influenced American cartoon Kappa Mikey. Interestingly, this song is sung entirely in English which adds to the somewhat strange vibe of the entire OP as being very much in an American style while still being recognizable as Japanese. All in all, Beck's opening is really fantastic, it shows off the individuality of the characters masterfully, has unique theming for anime, and has visuals and music that synchronize together in perfect harmony with impressive lip-syncing and well-timed editing. Beck rocks!!
---
4. "Nanairo Symphony" by Coala Mode. – Shigatsu wa Kimi no Uso (Your Lie in April) OP 2

Episodes: 22
Aired: October 2014 – March 2015
What first stands out in Your Lie in April's second opening is the beautiful, unusual colors used, very soft and pastel save for the brilliant blue sky that looks even more striking because of the contrast. Visually, this opening has a lot of buildup. It starts slowly with a series of short vignettes showing Kaori and Kousei getting their instruments ready and other peaceful scenes of the supporting cast and builds to a climax of imaginative beauty with flocks of seabirds flying over the ocean, feathers and flower petals falling against an azure, cloud-filled sky. The opening finishes with an expressive shot of holding hands and a fade out on the piano.
In terms of music, "Nanairo Symphony" is a lovely accompaniment to the touching visuals, and similarly has a strong buildup that lets the high points sing! Annyu's voice is expressive and shows great range, and the music overall works very well together with the imagery. Moreover, this opening matches the tone of the series emotionally and thematically, making it one of the best in our book!
---
3. "CHANGE!!!!" by 765PRO ALLSTARS – The iDOLM@STER OP 2

Episodes: 25
Aired: July 2011 –December 2011
The iDOLM@STER anime is one that balances the drama surrounding the stressful aspects of being an idol with a hefty dose of lighthearted humor. While this opening doesn't ever get too serious, the visuals do a great job showing what idols have to deal with in order to make it big, and their determination to do so. Seeing the girls doing realistic things like TV appearances, radio interviews, game shows, etc. is a lot of fun and does something to ground the opening, which otherwise largely consists of them flying and dancing across the screen patterned with colorful stars (which is also good to be clear). Overall, the visual side has beautiful, fluid animation, that highlights the cute character designs plus some simple touches like Yayoi being hit by the camera near the end for extra charm points.
You can tell that "CHANGE!!!!" is a stellar song just from the title, having that many exclamation points is surely a marker of excellence!!!! In all seriousness, it really is a great piece, although not necessarily anything revolutionary. Like "Aozora Jumping Heart", it's a track that embraces the core spirit and style of idol music without changing much of the usual formula, a refined triumph rather than an original one. Not that is a bad thing at all as The iDOLM@STER is, obviously, an idol show. What sets this OP apart from others is how well it showcases the various aspects of the story and themes in a stylish way that uses the music and animation in perfect synchronization with each other. Show must go on (to the list in the number 3 spot!!!!)
---
2. "GO! GO! MANIAC" by HTT (Houkago Tea Time) – K-On!!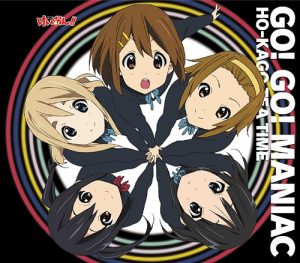 Episodes: 26
Aired: April 2010 – September 2010
Oh yeah it's on, K-On!! at least!! KyoAni once again graces our list with an opening that has a lot of uncanny similarities to Hibike! Euphonium's, showing the influence this opening had on later (K-On!! predates it by five years). These similarities being the 'character introduction' series of shots which render the characters' names with similar colors on a music scale (although they are not made out of music symbols this time around), oversized, floating 3D rendered instruments, and the dynamic 3D rotation shots around the band (which honestly look more impressive here despite it being older). As a whole, the visuals are exemplary at portraying all of K-On!!'s amazingly moe characters and their sick rock skills, which is the show in a nutshell. Some other highlights besides the spinning shots and instrument playing closeups include the shots of them slowly running in the hallway and Yui's absolutely savage chomp out of Ritsu's ice cream.
'GO! GOing' back to our previous statement on the importance of exclamation points, you should notice the two in this OP's title as well as the extra one added to the series' for this installment. Jokes aside, "GO! GO! MANIAC" is undoubtedly one of the best songs made for the series, if not flat-out the best with its frenetic energy, competent instrumentation, and abundance of 'moe points' for lack of a better word. It's catchy, cute, and fun and is also beautifully in time with the visuals and even has sections where the band is clearly playing the song in question for extra diegetic goodness. As for music OPs that illustrate their shows accurately, K-On!!'s is basically flawless, one of the best of all fuwa fuwa time!
---
1. "Sakamichi no Melody" by YUKI – Sakamichi no Apollon (Kids on the Slope)

Episodes: 12
Aired: April 2012 – June 2012
Everything about this opening is gorgeous. With fluid and expressive character animation, beautifully rendered scenery of the rural Kyushu setting, classy integration of musical notes and instruments, and seamless transitions, Kids on the Slope's opening sets the stage for a one-of-a-kind performance. The amount of detail put into the subtle animations to show the personalities of the characters and their relationships, not the mention the wonderful instrument playing, can be breathtaking. This opening's use of post processing effects also gives it a retro, film-like quality that looks distinctive and befits the 1960s setting very well. Overall, the visuals come together excellently with a feeling of refinement and sincerity.
"Sometimes life is like jazz and goes in an unexpected direction". Similarly, "Sakamichi no Melody" at first might seem like somewhat of a strange choice considering it's not overtly jazz, the musical focus of the series itself; nevertheless, this opening is so beautiful and fitting that all doubts will shortly be erased. Yoko Kanno returns to us again for one of her greatest compositions yet, brought to life by YUKI's magnificent soulful, voice, and excellent instrumentation, in particular the percussion! Once-more the visuals are perfectly paired in time with the music to form a rapturous audiovisual melody, some points in particular being the first character introductions on piano key hits, the fading in of the drum, the trumpet lead and the final frames of running set to the last guitar riff. Kids on the Slope's masterfully executed opening is our favorite music anime OP for its wondrous feeling of authenticity in emotion and artful, aesthetic presentation befitting the show it represents.
---
Final Thoughts
Music is one of humanity's greatest sources of expression and enjoyment and also makes for some great anime! As a genre, music anime is quite diverse, which makes it both interesting for watching and difficult to rank because of personal taste differences. As with all of these lists, there can't be an objective truth as to what truly is the best, but we hope you enjoyed our picks in any case! If you want to comment on this list or share your own favorites, please post in the comments section below! Go on singing!
---