También puedes leer este artículo en:Español
Ahhh the supernatural genre. It often gets confused with the fantasy genre. So, what is supernatural? Well essentially, supernatural is very close to fantasy, but it is often a movie, book, anime, or any piece of fiction that you would like, where the story uses themes and beings that would not normally exist within our realm of reality while making it believable. Some things that are often seen in Supernatural anime movies are things like the ability to cross over time, beasts that do not exist within our world, vampires, ghosts, spirits, aliens, and more. More often than not though, the supernatural is paired with another genre. Genres like fantasy, romance, action, and comedy, are just some of the others that the supernatural is linked with to spin its story. So sit down, buckle up, and let's journey into the top 10 supernatural anime movies and what they touch on.
10. Vampire Hunter D (Vampire Hunter D: Bloodlust)

Genres: Supernatural, Action, Drama, Fantasy, Horror
Release Date: August 25, 2000
The first ranking in on our list is Vampire Hunter D. This classic follows the story of D who is known as a dunpeal and is an outcast. In the series, dunpeal refers to someone who is half-vampire and half-human. D has made a name for himself because he is an excellent hunter and is hired to search for Charlotte Elbourne. While searching for her, which by the way her cruel father just says that she need be alive or dead as either does not matter to him, D starts to realize that this hunt is not like the others.
There is something evil lurking in the shadows and plotting. He does not know what it is, but either way, it is getting closer and closer. If he is not careful, there could be someone hunting him. Vampire Hunter D represents classic supernatural with the mixing of both the supernatural being the vampire, with other real world elements to make it appear as if in this story, everything is naturally this way. There are fantasy elements as well and this would not be a classic vampire movie without some action.
---
9. Sarusuberi: Miss Hokusai

Genres: Supernatural, Drama, Historical
Release Date: May 9, 2015
Miss Hokusai tells the story of Ouei, the third of four daughters to a painter named Tetsuzo. A bit of an eccentric, he paints what he likes. That could be a massive painting of the Great Daruma or two tiny sparrows on a grain of rice. Ouei is a little irritated with her father, but she assists him and is actually a very good painter of her own accord. One day there was a dragon painting her father was set to deliver to someone, and she accidentally damages it. She works hard to repaint it and falls asleep afterward. However, in the night, the dragon itself descends almost from another dimension.
This and more show her journey with her extremely talented father in life while showcasing Chinese mythology, Japanese mythology, and Buddhism. This is all the meanwhile set in the very real historical town of Edo in 1814. Supernatural meets historical meets drama in this award-winning supernatural film!
---
8. Fuse: Teppou Musume no Torimonochou (Fusé: Memoirs of a Huntress)

Genres: Supernatural, Action, Drama, Historical
Release Date: October 20, 2012
If Miss Hokusai was too cultural for you, then why not try Fuse: Teppou Musume no Torimonochou? Set in the ever popular Sengoku Jidai (Warring States Era) before Japan was united into the country that it was today, Hamaji, our main character, lives a way out from Edo. The government has declared that shape-shifting beings who look like humans, called Fuse, are a threat and need to be culled. Suddenly everyone is out hunting Fuse. Hamaji gets a letter from her brother Dousetsu to have her come to Edo. She gladly accepts his offer and hurries to Tokyo.
There is an issue though as she accidentally runs into a Fuse named Shino. She ends up forming a deep connection with him, and suddenly the game is to help him escape from Edo and being hunted while she tries to accept who he is as a Fuse. This wonderful tale blends yet again our reality of Edo as we know it, with the Fuse who are shape-shifting beings.
---
7. Sen to Chihiro no Kamikakushi (Spirited Away)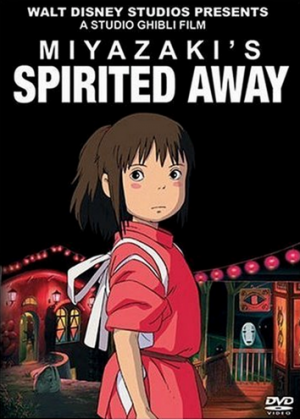 Genres: Supernatural, Adventure, Drama
Release Date: July 20, 2001
The next one on our list, we are pretty sure everyone has seen. It's Spirited Away! Chihiro is a young girl who is very selfish and does not want to move with her family. However, in the middle of the move, they find an abandoned theme park. There, her parents are turned into pigs after eating some strange food, and as the sun sets, supernatural beings of all sorts begin popping up everywhere! She is helped into a very large bathhouse by Haku and now must make a living there if she ever wants to not only get her family back but get out as well!
While we could go on and on, Spirited Away is the highest grossing film in all of Japanese history and has won numerous awards. Spirited Away excellently blends the concept of supernatural beings, while being set in a world that you could possibly find in old Edo or even Japan. It even has witches!
---
6. Aura: Maryuuin Kouga Saigo no Tatakai (Aura: Koga Maryuuin's Last War)

Genres: Supernatural, Comedy, Drama, Romance
Air Date: April 3, 2012
Aura follows Ichirou Satou who had chuunibyou to the max in middle school and passed as "Koga Maryuuin" to his classmates. Now that he has shed that immaturity though, he is in high school and tries to blend in. One day, he runs back after school to grab a book he forgot when he meets Ryouko Satou, who is in his high school but also has chuunibyou. Complete in a costume, he tries to avoid her, but the next day, his teacher asks him to become friends with the weird girl. He tries to avoid it but then realizes that she is being bullied just like he used to be. He decides to befriend her and help her under the moniker of Koga Maryuuin once again.
Reality tends to split in this series where in one scene, everything seems normal, and then soon after, the two are in another new world complete with fantasy and supernatural elements out the wazoo. They are able to leave their boring existences behind while Ichirou tries to help Ryouko face reality. This movie is a fantastic watch.
---
5. Momo e no Tegami (A Letter to Momo)

Genres: Supernatural, Drama
Air Date: Sept 10, 2011
Reality is split in in half as supernatural beings come one by one in this story of a girl coping. Momo grew up in the big city, but when her father died, she was forced to move with her mother to a very remote island. As one would expect, Momo is not pleased. There is nothing here but old houses, shrines, trees, trees, some fields, and then some more trees. She has a letter from her father as a memento, but the letter only says two words, "Dear Momo". Momo one day decides to explore her attic of her new home and there finds a book.
This book contains photos of famous Youkai that her father had gathered. When they come to life, she must mitigate her own life while dealing with these fallen gods and their mischief. Fans of Natsume Yuujinchou will love this movie!
---
4. Colorful The Motion Picture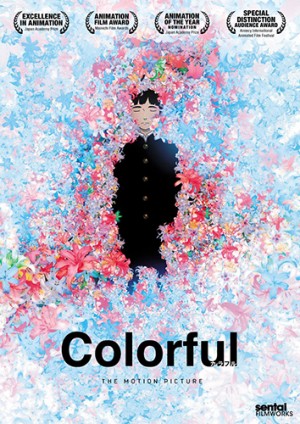 Genres: Supernatural, Drama, Slice of Life
Air Date: August 21, 2010
The protagonist of the movie dies. No really, that is how this story opens. When they reach the train station of death, they are told that they have hit the jackpot and get the chance to live again. This soul is then unwillingly injected into the body of a boy named Makoto who has just died via suicide. It wakes up in the body of Makoto, and a spirit named Purapura appears. It instructs Makoto that he needs to figure out what the greatest sin was in his previous life and fix it. He has six months to figure out what his sin was, but the problem is that he lives in a constant state of torment. His school and social lives are bad, but his family life is even worse.
In Colorful, the journey that Makoto has to go though is going to teach him how to enjoy the life that he has. Most importantly too, it will teach him how to find the best parts, the brightest colors, of his life and treasure them.
---
3. Hotarubi no Mori e

Genres: Supernatural, Drama, Romance,
Air Date: September 17, 2011
Hotaru Takegawa is a young six-year-old girl who, while visiting her relatives, get lost in a forest. She is helped though by a masked man named Gin. Gin will lead her out of the forest, but he has one rule: she must never touch him or he will disappear. Eventually, they make it out and Hotaru promises to bring him a gift. However, this man, who is actually a mountain spirit, makes a promise with Hotaru. Each summer, she will come back and they will play as long as she does not touch him. Years pass and each summer Hotaru comes back to visit Gin.
Now that she is coming back on a regular basis though, she finds that she is starting to get feelings for Gin, a man whom she can never have physical contact with. Can these two lovers cross the lines of the supernatural and natural, and both time and space, to be together? Find out more in this incredibly moving and touching story of a supernatural friendship that blossoms into love.
---
2. Bakemono no Ko (The Boy and the Beast)

Genres: Supernatural, Adventure
Air Date: July 11, 2015
Fans of Spirited Away will also enjoy this modern gem as Bakemono no Ko also plays with the concept of a world adjacent to ours where the veil is very thin. Ren is not having the best life. His mother is dead, his father is gone, and family he does live with does not feel like family. Finally deciding that he has had enough, Ren runs away to the concrete jungle of Shibuya to try and find a better life.
Shibuten is a beast realm that is nearby, and there, the lord in power has decided that he is going to retire. Kumatetsu is supposed to be the next in line to succeed him, but the problem is, is that he is so unfriendly, that the lord is having second thoughts. After Ren meets Kumatetsu, he follows him back to Shibuten. There, suddenly Kumatetsu finds himself in possession of a disciple, which, if he can train him right, might convince the Lord that Kumatetsu is suitable as a successor.
Suddenly fiery and stubborn Kumatetsu now has to teach Ren, renamed to Kyuuta, how to fight and survive, while Kyuuta has to teach Kumatetsu about compassion and humanity. That is, of course, humanity to a certain extent as Kumatetsu lives in a world full of half-beast, half-human creatures. Can they bridge the gap between their two worlds?
---
1. Kimi no Na wa. (Your Name.)

Genres: Supernatural, Romance, Drama
Air Date: August 26, 2016
Did you really expect something else to take #1 on our list of Supernatural movies? Mitsuha Miyamizu is trying to live her life and get out of the countryside while Taki Tachibana lives in busy Tokyo trying to manage his studies, a part-time job, and have some sort of a social life. Mitsuha goes to bed one night and wakes up in another room. The same happens for Taki. He is now not only in some room he has never seen, he is also not in a male body, but a female one?! They switched?!
Taki and Mitsuha start writing down what happens in their lives in order to let the other know when they are swapped back. Mitsuha gets a taste of that crazy Tokyo life while Taki experiences something well out of his range of knowledge. There is this comet too, and it is supposed to be passing over the Earth over the next few days and should light up the sky with a beautiful sight. The problem is though, is that will it do more than that?
This award winning movie from Director Makoto Shinkai has reshaped the supernatural anime movie genre as we learn about this love story of true star crossed lovers.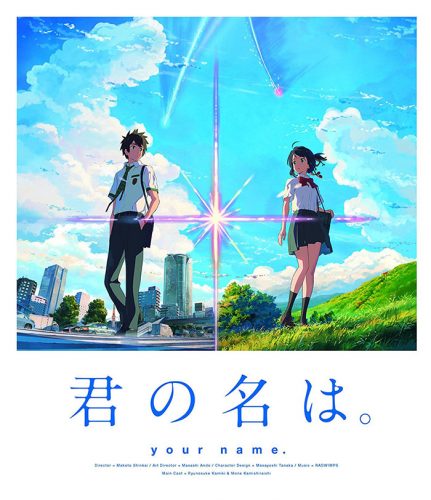 ---
Final Thoughts
There you have it! These are the top 10 anime movies out there that really do take the Supernatural genre and run with it. It is next to impossible to see the supernatural genre all on its own because it just permeates many different aspects of fiction. What are your favorite supernatural movies? Be sure to comment down below and let us know if you have one you want to be included as well. You never know! It could be added in the future! Till next time,
---