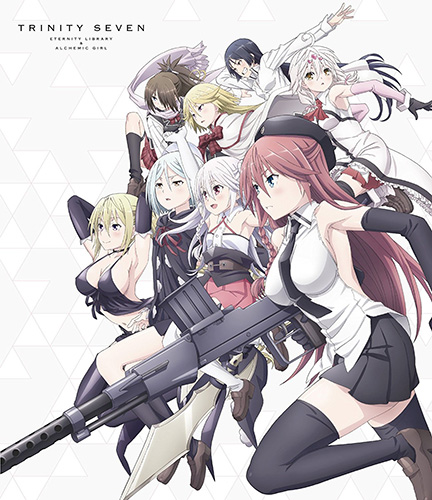 One of the great things about anime is that there is literally something for everyone. There are tons of supernatural anime, ecchi anime, and harem anime out there. However, there are moments when we just can't decide between our favorite genres. Why settle for just one of these when you can have a mixture of all them? If you are looking for a list of anime that has a supernatural vibe, tons of ecchi girls, and a male protagonist who everyone has their eyes on, then you are in the right place, my friend. Here is a recommended Top 10 list of Supernatural Ecchi Harem Anime.
10. Shinmai Maou no Testament (The Testament of Sister New Devil)

Episodes: 12
Air Date: Jan 2015 - Mar 2015
Basara Toujou is a normal kid living his life, until his dad brings home two beautiful girls that completely flip his world upside down: busty redhead, Mio, and petite silver-haired, Maria. Basara soon finds out that his new stepsister Mio, is actually the former Demon Lord's only daughter, and Maria is her trusted servant. Casual, right? However, Basara has a secret of his own. Basara reveals himself to be a former member of a clan of "Heroes," all members of which are sworn enemies of demons. Despite his past, Basara begins to grow fond of his new sisters and decides to protect his new family from the Heroes. The clan of Heroes keep a close eye on Basara and his family, while simultaneously protecting the world from constant demon attacks.
In the tenth spot we have Shinmai Maou no Testament. This anime is on the list because throughout the course of it, we see our main protagonist, Basara, in many peculiar situations and positions with his new sisters. However, it doesn't stop there. As Basara tries to protect his sisters from attacking demons, he ends up adding more people to protect. And if Basara has more people to protect, then be ready for edgy scenes.
---
9. Seireitsukai no Blade Dance (Blade Dance of the Elementalers)

Episodes: 12
Air Date: Jul 2014 - Sep 2014
In Seireitsukai no Blade Dance we find ourselves in the prestigious school, Areishia Spirit Academy. At this school, girls are trained to become elementalist who form slave contracts with spirits. This kind of ability has only been found in girls, but that all changes when Kamito Kazehaya, a transfer student, is able to form a contract with a spirit. Things get complicated when Kamito is accused of stealing the spirit from shrine princess Claire Rogue. To top it off, Kamito is forced to participate in a special tournament, by orders of the headmaster of the school.
Seireitsukai no Blade Dance places us in a world where the main protagonist, Kamito, is the only male at an all-female school. Kamito has his own agenda but is forced to stick around. Things begin to get more interesting when Kamito begins to interact with various students at the school. As Kamito interacts more and more with some of the girls at the school, we find out that a lot of them can be labeled as tsundere. This puts our protagonist in some pretty interesting settings with the girls that inadvertently provide us with greats laughs!
---
8. Gakusen Toshi Asterisk (The Asterisk War: The Academy City on the Water)

Episodes: 12
Air Date: Oct 2015 - Dec 2015
Gakusen Toshi Asterisk takes place in one of the six most elite schools for Genestella students, Seidoukan Academy. Genestella is a new breed of human that is born with amazing physical skills: superhuman strength, speed, etc. Ayato Amagiri, a transfer student, finds a handkerchief and attempts to return it. However, as he approaches the window of where the handkerchief flew out of, he walks into a female classmate changing, Julis-Alexia von Riessfeld. Ayato is then attacked by Julis and then challenged to a duel. The duel, however, is interrupted when Ayato saves Julis from a random attack. This causes Ayato and Julis to become friends, but Ayato has his own reasons for attending the academy.
In Gakusen Toshi Asterisk, we find our main protagonist, Ayato, in a school where students are trained to fight each other in a big tournament, known as the Festa. After Ayato and Julis first duel, student council president, Claudia Enfield, makes Ayato and Julis partners for the Festa. At Seidoukan Academy, Ayato continues making friendships with characters such as Kirin Toudou, who has her own motives in attending the academy; and Saya Sasamiya, a childhood friend. Throughout the series, we see how all these girls interact with Ayato but Ayato keeps his eye on his purpose: finding his long lost sister, a past Genestella.
---
7. Saijaku Muhai no Bahamut (Undefeated Bahamut Chronicle)

Episodes: 12
Air Date: Jan 2016 - Mar 2016
Five years ago, the empire of Arcadia was taken over by rebellious forces. The former prince of Arcadia, Lux, finds himself in trouble when he accidentally falls into a female dorm's bathing area. Unlucky for him, the first female he runs into turns out to be Lisesharte Atismata, the princess of the new kingdom. Lux is immediately challenged by Lisesharte to a Drag-Ride Duel. Drag-Rides are ancient armored mechanical weapons. Lux is infamously known as the "undefeated weakest" Drag-Knight because he refuses to actually fight in battle. However, out of the fight, he ends up attending the school to train girls to become Drag-Knights.
In Saijaku Muhai no Bahamut, we find another situation where our main protagonist, Lux, is in a pretty awkward and embarrassing position. However, the silver lining is that Lux ends up getting a job and working at an all-girls school. As Lux walks down the hallways of the school all the girls take notice that there is now a boy at their school. Through that many girls begin to grow fond of Lux and attempt to get closer to him.
---
6. Freezing

Episodes: 12
Air Date: Jan 2011 - Apr 2011
Humanity is under constant attack by an alien race known as the Novas. In an attempt to fend off these alien invaders, mankind uses young women known as "Pandoras," and young men known as "Limiters." Both Pandoras and Limiters must work together if humanity wants to survive. In Freezing, we follow the story of Kazuya Aoi who ends up being partners with Satellizer el Bridget, who is known as the "Untouchable Queen."
In Freezing, the way the partnerships work between Pandora and Limiter is based on how the Limiter can make his Pandora feel. Satellizer el Bridget chooses Kazuya because she isn't driven away by Kazuya's touch. However, rumours about Kazuya's touch begin to spread around the school like wildfire. This leads to many fights amongst Pandoras and Limiters, and let's just say that lots of screaming happen and tons of clothes begin to get ripped off. Yet, the real fight isn't just between Pandoras and Limiters but also the powerful Novas.
---
5. Negima!? (Negima!? Master Negi Maji)

Episodes: 26
Air Date: Oct 2006 - Mar 2007
Wizard Negi Springfield is an instructor at Mahora Academy in Japan. Before he can graduate and get his Masters in magic, he needs to take care of 31 school girls, who are definitely a handful. Darkness begins to close in, and Negi is going to need all the help he can get. So he looks for help in his lovely students to drive away ghouls from their school. Each girl wants to prove to Neji that they are the best in the class and that they aren't afraid of fighting phantoms for their favorite teacher.
31 girls is a lot for one wizard. A big problem in harem anime is that there are times where some characters don't get enough screen time or get too much screen time. In Negima!? that definitely isn't a problem. Negima!? shows perfectly how our main protagonist, Neji, is able to socially interact with each and every girl in his classroom. The best part is that each girl has her own unique personality and it's very nice to see all the possibilities Neji has. That allows us to decide which one of the girls is our favorite and which ones Neji should avoid at all cost.
---
4. Trinity Seven

Episodes: 12
Air Date: Oct 2014 - Dec 2014
Arata Kasuga's town is destroyed and all of the inhabitants of the town disappear, when the bright red sun suddenly stops shining, causing what is known as the "Breakdown." In an attempt to figure out what is happening, Lilith Asami appears before Arata and gives him two choices: hand over the book that can reconstruct Arata's town, or die. Arata doesn't choose either and ends up attending a top-secret magic school, Royal Biblia Academy, where he finds six other magical users. Here, Arata and his new friends prevent the destruction of his hometown and do their best to bring Arata's best friend back, Hijiri Kasuga.
One thing fans will possibly enjoy about Trinity Seven is the kind of character Arata is. Arata isn't your average oblivious main protagonist that we commonly find in harem anime. Instead of being embarrassed during an inevitable ecchi situations, he approaches them with humour and honesty. This kind of reaction from Arata is very refreshing and it makes the reaction of each girl even better.
---
3. Sora no Otoshimono (Heaven's Lost Property)

Episodes: 13
Air Date: Oct 2009 - Dec 2009
Tomoki Sakura keeps waking up with tears after having a dream about an angel. Tomoki's childhood friend, Sohara Mitsuki, worries so much, that she tries to get help from sky maniac, Eishirou Sugata. Eishirou comes to the conclusion that Tomoki's dreams are connected to what is known as the New World, floating structures that scientist are unable to comprehend. Eishirou names Tomoki and Sohara as the first members of New World Discovery Club. Everything changes for Tomoki when a strange girl falls from the sky and begins to call him 'master'.
One way to see Sora no Otoshimono is the perfect balance for a comedy harem anime. There is a preferred boy with a childhood friend, a creepy and weird senpai, and even a class president. This anime is filled with plenty of ecchi humor that is more on the corny-ecchi humor. However, what makes ecchi humor even better, is when it is supported by a strong story. And if you plan to watch Sora no Otoshimono, be prepared for one hell of a ride.
---
2. Kore wa Zombie Desu ka? (Is This a Zombie?)

Episodes: 12
Air Date: Jan 2011 - Mar 2011
High school boy Ayumu Aikawa is killed by a serial killer and is brought back to life by a necromancer, Eucliwood Hellscythe. However, Ayumu is not the same anymore, he's actually a zombie. And it doesn't end there-- Ayumu ends up stealing a magical girl's uniform and ends up having her powers also. Ayumu is ordered by ex-magician, Haruna, to fight evil creatures known as Megalo, meanwhile, they try to figure out how to get her powers back.
Kore wa Zombie Desu ka? is definitely an ecchi harem anime but what makes it stand out more is the randomness. A great thing about Ayumu is that he is the kind of character that doesn't go out of his way to be perverted. However, when given the chance, he certainly doesn't hesitate to peep. This kind of protagonist mixed with the randomness and plenty of fan service, makes Kore wa Zombie Desu ka? very enjoyable and everyone should check it out.
---
1. High School DxD

Episodes: 12
Air Date: Jan 2012 - Mar 2012
High school student Issei Hyoudou is asked out by a beautiful girl, but it turns out she is a fallen angel and kills him. Issei is given a second chance from Rias Gremory, who revives him as her servant, and recruits him into the ranks of the school's Occult Research Club. As Issei is adapting to his new life, he must train and fight in order to survive the violent world of angels and devils. Issei embarks on many adventures with his new comrades and is in for many surprises.
Imagine dying at the hands of a very attractive girl and then being revived by a girl just as attractive. High School DxD gets the number one spot because the anime is literally Issei going on adventures with his comrades, while he finds himself in very interesting, funny, ecchi positions and situations.
---
Final Thoughts
This Top 10 list consist of all types of supernatural, like magicians, girl weapons, and high school students in some weird circumstances. Now sprinkle some ecchiness and you'll find yourself laughing at all the weird situations we find our main protagonist in. And lastly, the third layer of this cake, a harem. We hope this list is what you're looking for in the category of supernatural ecchi harem anime. If you have any other suggestions that didn't make this list, please leave a comment below.
---