As the new year spreads its roots, we bask in the beauty of new beginnings and renewed goals in life. All with the hopes that it'll make our journey worthwhile. From the morning sky to the starry night; we wish to spend each waking moment with those dearest by our side. Moments pass by, red roses bloom, and fill the broken heart with the joy of life's delight. So gather your loved ones, your chocolate, and cast the stress in your life away. There's no better way to rekindle the warmth of love, than with a day spent with Honey's Anime's Top 10 Valentine's Day Episodes in Anime.
10. Mahou no Chocolate

Episodes: 1
Air Date: Aug. 2001
Eager to muster up the courage to confess her love for soccer club star, Ishida-senpai, Mami-chan decides to give him chocolate for Valentine's Day. Not just any chocolate however, but the so called "Magical Chocolate". If it works as advertised, Mami-chan will be swimming in a world showered by the love of Ishida-senpai. If, things go as planned, that is.
A fun twist on your typical chocolate giving endeavor. Exploiting the weakness of an easily manipulated young mind, Magical Chocolate makes a sweet addition towards kick-starting a day spent by the side of that special someone. At less than ten minutes; it will boost your day like a cherry topper to a birthday cake, without having to salvage any of your plans. So, what are you people waiting for?
---
9. The Disastrous Life of Saiki K. (Saiki Kusuo no Ψ-nan (TV))

Episodes: 120
Vir Date: Jul. 2016 – Dec. 2016/li>
Telepathy, X-ray vision, and all the other bells and whistles we all wish to have. Only that for Kusuo Saiki, this isn't a fantasy, but reality. Blessed with special abilities that one would assume could make life an endless string of joy, is in fact the very thing that causes Kusuo most of his frustration. Alongside his friends Riki Nendou, and Shun Kaidou, Kusuo is bombarded with all sorts of mayhem; hoping that one day he can just turn off the rest of the world, and live a normal life.
Hopefully he can see the benefits in grabbing people's attention when February 14th comes swinging around in episode 37, because there's no better feeling than someone handing you a box full of chocolate. Unfortunately, our favorite characters in Saiki K. will have spend the day, instead, dodging their daily mishaps amidst some sick minded, well planned, good ol' pranks. Just remember, if you live in the world of The Disastrous Life of Saiki K. then you'd best not get your hopes too high, because if it seems too good to be true, then it probably is. Even salt looks like sugar.
---
8. Lovely★Complex

Episodes: 24
Air Date: Apr. 2007 – Sep. 2007
Risa Koizumi is but your average high school girl who dreams of meeting her true love. That love came in the form of Ryouji Suzuki; a tall and handsome boy. As Risa stands 172 centimeters tall, height in a man is a must, and Ryouji falls right in place. However, when he jumps ship to another girl; one that was secretly being admired by Atsushi Ootani, Risa is once again left alone and heartbroken. Misery loves company, and soon Risa and Atsushi find themselves becoming close to one another. But at a meager 156 centimeters, can these two truly manage?
It's a cold day in hell when our past demons come to haunt us. But still, in the world of Lovely Complex, that simply means a great pretense for a fun, light-hearted Valentine's Day story here at episode 3. If you haven't seen it yet, then there's no better time than now. We believe it's worth every second spent, and soon you will too.
---
7. Toradora!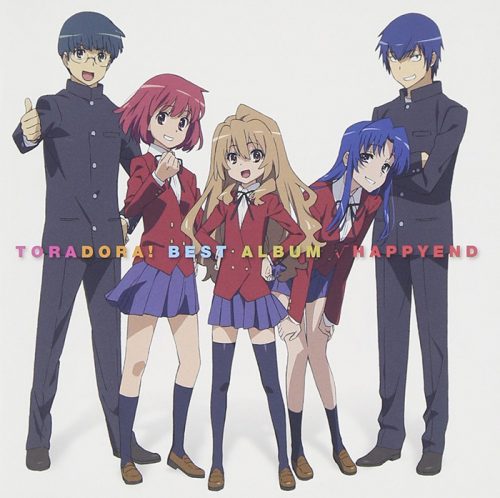 Episodes: 25
Air Date: Oct. 2008 – Mar. 2009
With a rough-looking appearance, Ryuuji Takasu can't seem to shake the false pretense of a delinquent. But like anyone, he's a boy with a heart that needs love; and finds himself attracted to a girl named Minori Kushieda. Crossing paths with schoolmate Taiga Aisaka; best friend of Minori, and prone to having a feisty attitude, Ryuuji finds himself at the butt end of her negative attitude. However, when Ryuuji realizes that Taiga has a crush on his best friend; Yuusaku Kitamura, it seems necessary that they place their dislike for one another aside and help each other accomplish their goals.
Touching base with the journey through life, and how that affects us and the ones we love. Exploring the nature of friendship, or maybe something that's a bit more. Illustrating the mind of an individual that is in the balance between taking a life changing leap of faith, and an opportunity missed. Toradora episode 23 reminds us that it isn't about the chocolate when it comes to Valentine's Day, but the acknowledgement of someone that we love; be it friend, family, or partner. This is a beautiful tale, and goes without saying that it is a must watch for this heart sharing time of year.
---
6. Nisekoi: False Love (Nisekoi)

Episodes: 12
Air Date: Apr. 2015 – Jun. 2015
She thought that she despised him, now she can no longer fight her growing feelings toward him. Enemies from opposing gangs, Chitoge Kirisaki is, again, at odds with Raku Ichijou; heir to his family's yakuza gang, in a fight that doesn't take toughness to win. With Raku snatching the attention of a new girl in town, Chitoge sets her sights on winning over his heart. However, it seems that Raku has his focus held elsewhere.
From Chitoge's high hopes of tasting the succulent sweetness of a cocoa confectionary, and hollering girls prancing around school hallways, nervous about giving their heartfelt chocolate to that unsuspecting someone; to Seishirou's complete ignorance towards the holiday of Valentine's Day. As you must already know, there is nothing preventing episode 6 of Nisekoi: False Love from being a rollercoaster ride of exhilaration; and a few moments in, you'll be surrounded by a chocolate-giving bonanza ripe for the atmosphere. Will Nisekoi ever disappoint us?
---
5. The Goddess is a Middle School Student (Kamichu!)

Episodes: 12
Air Date: Jun. 2005 – Sep. 2005
Off in the town of Onomichi; home to middle school student Yurie Hitotsubashi in the laid-back era of the 1980's, things take a turn from the usual. After believing to have become a goddess overnight, Yurie plunges her normal school life into a world like never before. She is now Kamichu; a middle school goddess, and with the help of her friends Mitsue Shijo, and Matsuri Saegusa, Yurie's life of school exams and secret crushes, is now one of holiness, spirits, and many more. No big deal.
Goddess or not, we all need to share our love with someone; and with Valentine's Day creeping around the corner in episode 15, now is the best time of all. This well pieced together episode of Kamichu! feels like a page right out of a hall of fame book of anime romance pieces. It traverses from scene to scene like a calm river. Pedaling through every minute, as it brings us a natural flow of laughs, enjoyment, and of course, romance. Apparently, being a middle school deity isn't so much about divinity as it is about being a human being.
---
4. Himouto! Umaru-chan

Episodes: 12
Air Date: Jul. 2015 – Sep. 2015
Top of the class, beautiful, model high school student; Umaru Doma, isn't all that she's cracked up to be. Like a split personality at the flip of a switch, once she touches home base, this girl gets straight to work. Being a lazy otaku mess, that is. Cloaked in her orange hamster hoodie, she has no intentions of making herself useful. But, thanks to her caring and responsible brother; Taihei, Umaru won't have to worry about ever picking up her own slack. What a life.
As episode 9 of Himouto! Umaru-chan commences, we are treated with the disoriented thoughts of girls preparing for that time of year when they must wear their hearts on their sleeves; Valentine's Day. For some looking to make sure that their deepest feelings are felt, the handoff is only half the job, as the real effort is in the art of homemade chocolate. Eager to lace every square inch with love, they waste not even a moment getting down to work as we drool over the holiday pastries that anime preps with such mouthwatering visuals. If only Anime could be our date for Valentine's Day. All our worries would be gone.
---
3. Candy Boy: Nonchalant Talk of the Certain Twin Sisters in Daily Life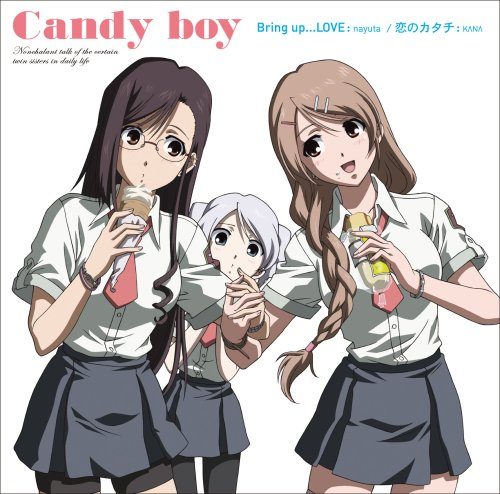 Episodes: 7
Air Date: May. 2008 – May. 2009
Yukino and Kanade Sakurai are picture perfect twin sisters living out their high school days within their dorm. Enjoying the young life of spending time with each other and their friends. Surely enough, the smell of love soon fills the air, and Yukino suddenly has an admirer on her tail. His name is Sakuya Kamiyama, and as Kanade would soon discover, he's been drawn to Yukino for quite some time now. With the complexity of love in between the dynamic of these two sisters, Yukino soon finds herself expressing her true feelings for her sister.
There is just something so heartwarming about a casually spent Valentine's Day. No fan service necessary, and free of all the slapstick humor, Candy Boy gives a more laid-back, true to form episode that'll make you and your lucky valentine melt in your seats. Presenting love in a way that comes as calm as the spring breeze with episode 5, you will suddenly feel the want to admire the small things in life. Finding out what it really is in life that matters, and realizing the beauty of the budding flower between you and your special someone.
---
2. My Love Story!! (Ore Monogatari!!)

Episodes: 24
Air Date: Apr. 2015 – Sep. 2015
At first sight, Takeo Gouda may seem more of a machine than an actual human being, but as it goes, he is nothing more than a normal high school freshman. Shrouded by a tall height and bodybuilder frame, Takeo is actually quite the kind-hearted individual. Unfortunately, everyone judges a book by its cover in the world of Ore Monogatari, and Takeo can't seem to find a girl that can look past his intimidating appearance. After saving Rinko Yamato from an attacker, Takeo instantly falls in love an ironically positions himself as her acting cupid.
Trying to read through the person we secretly have a crush on is a daunting, impossible; to be honest, a task that often plagued most of our high school years whenever we had a crush. That's why sitting back and watching Takeo suffer through that very same phase in life, in hopes of unlocking the secret towards squeezing out a valentine's day gift from the person he cares for the most, is so damn entertaining to watch. Episode 20 of Ore Monogatari is quirky, interesting, and just plain weird. All the reason to make you want to watch it sooner than later. We may even learn something useful in the process; for example, it isn't just about the chocolates on Valentine's Day, right? Or is it?
---
1. Kimi ni Todoke: From Me To You 2 (Kimi ni Todoke 2nd Season)

Episodes: 12
Air Date: Jan. 2011 – Mar. 2011
Sawako Kuronuma lives in a world in which her intentions are often misconstrued in interpretation. As kind and sweet-hearted as she may be, her classmates often interpret her as malicious and liken her appearance to the ghost of "The Ring" films, winning her the nickname "Sadako". Carrying out most of her days in solitude, Sawako one day happens across Shouta Kazehaya, whom she develops an attraction towards. As the most popular guy in class, this doesn't come as a surprise; but when Shouta begins talking to Sawako, she finally sees a path open towards a dream come true.
Love is like a copilot that can't seem to keep itself in second place. Constantly taking control of the wheel to your life and sending you on a circus ride into god knows where. Sawako is also suffering from this loss of control now that love is in the way, and she can't seem to shake the tendency to favor the man she secretly loves. The simple thought of putting too many heart shaped nuts on some valentine's chocolate triggers a manic fit of over thinking her own actions. Effectively doing what she'd been going crazy over in the first place; thinking too much about Shouta. However, someway, somehow, we can all relate to this odd, complex predicament; and thus, Kimi ni Todoke season 2 episode 1 makes for a fantastic way to spend a Valentine's Day rewinding back to the awkward quirks of our first thrust into the world of young love.
---
Final Thoughts
We hope that these anime episodes have managed to bring a spark of something great into your lives. From the beauty of a budding relationship, to the laughter induced by those unforgettable anime antics; there's always an episode that will fall right in place regardless of what you're looking for. With your lovers in hand, and chocolate in between your teeth, we here at Honey's Anime hope to have helped make your day a perfect one, and we would love to hear all about it in the comments below.
Life is like a box of chocolates.
---