También puedes leer este artículo en:Español
Comedy... When life throws you a little too much of issues that you simply must laugh it off. We say that it is a perfectly normal biological response! That's right, a good comedy anime will make you forget your troubles and woes no matter how hectic your life is. Just kick back into a nice chair and start watching a few of these series and you're guaranteed to be just a little bit happier. There is a reason why they say that laughter is the best medicine.
You do not need to go searching high and low for a suitable anime, here at Honey's Anime, we put together 5 anime series that you ought to check out during the season of Fall 2015! They'll put a smile on your face and make you happier.
5. One Punch Man

Episodes: 12
Aired: Oct 2015 - Dec 2015
Saitama is a seemingly average looking Joe. Don't let his appearance fool you, however; he is actually one of the strongest heroes that ever existed. If Chuck Norris actually has an idol, it's this guy. Infamous for ending almost all fights with only one punch, Saitama would rather go about his daily activities than rather scouting for trouble.
One Punch Man fuses the genres of action and comedy together. The dynamism of the action genre complements the light-hearted nature of comedy so well that you'll find yourself laughing silly amidst heart-pumping action scenes. Because of the ridiculous amount of power he has, everything is literally a push over to him and as such, he usually ends it in a comical fashion. Truly a unique blend of two genres, One Punch Man is a go to anime for Year 2015.
---
4. Gochuumon wa Usagi Desu Ka??

Episodes: 12
Aired: Oct 2015 - Dec 2015
The continuation of the first season, Cocoa still works at the cafe known as Rabbit House. Always making the place lively and energetic with her outgoing personality, Cocoa still finds time to balance working at the cafe, school work, housework around the residence and spending quality time with her friends. There is really nothing much else to say about the anime as it is really that simple, so join Cocoa for yet another season of light hearted comedy.
Gochuumon wa Usagi Desu Ka is quite similar to the Yuru Yuri. Both employ simplicity as the main theme of the show. There is nothing too outstanding and too elaborate and should the anime pride itself on something, it would have to be on its plain nature. Being very simple to understand, you don't need to comprehend or guess what the show will present next.
---
3. Shingeki! Kyojin Chuugakkou

Episodes: 12
Aired: Oct 2015 to Dec 2015
What happens when the entire cast of Shingeki no Kyojin is set in a high school? Shingeki! Kyojin Chuugakkou is a spinoff from the original hit series and utilizes gags and situations from its parent story. There will be very familiar scenes as the spinoff also uses notable scenes from the main story. Just relive the entire story of SnK in a more light hearted way with Chuugakkou!
If setting SnK in a high school is not enough, the creators even made in the school a separation of humans and Titans. So expect very entertaining scenes of SnK in a high school situation such as bullying and conflicts. There is really not much to say about this anime. If you really enjoyed SnK, you will definitely appreciate this comedy spinoff or even better; use it as sustenance whilst waiting for the second season which is airing this year!
---
2. Yuru Yuri San☆Hai!

Episodes: 12
Aired: Oct 2015 to Dec 2015
Yuru Yuri San Hai is the third season of the series. Join Akari, Yui, Kyouko and Chinatsu, the members of the Amusement Club, whose creation and existence is only for the purpose of amusement. Most of their days are usually spent discussing daily activities and having fun. Truly, a very light hearted anime with the theme of the simplicities of life and how to enjoy them. So what are you waiting for? Welcome to the Amusement Club!
Yuru Yuri is a popular series. It had seen a positive rating with every season, with this third season being no exception. If you were to liken the comedy that is present in the series, think Nichijou's level of hilariousness minus the eccentricity and having the same level of situation comedy as Lucky Star. Yuru Yuri's charm lies in its simple and down to earth presentation of 4 school girls just simple having fun. Yuru Yuri is the embodiment of the meaning "simply kick back and relax." Really simple, but really funny and a definite must watch.
---
1. Osomatsu-san

Episodes: 24
Aired: Oct 2015 - Mar 2016
Meet the Matsuno brothers, six identical looking and mischievous boys. The sequel of a very popular parody anime back in the late 80s, Osomatsu-san brings back the zaniness and wackiness of the six brothers and their misadventures. While still living in the same house, the streets have been changed to fit the modern lifestyle.
Dating back from 1988, you've got to ask whatever happened to this piece of gem and where has it disappeared for almost 10 years (some of us are not probably born then as well!). Osomatsu never lost its touch and the humour employed in the series can only be described as wacky, nonsensical and zany. The best part, in our opinion, is the fact that they fit current contemporaries to keep up with the time while maintaining the level of humour and style of the original series. In fact, it is so up to date, you will already see popular franchises like Love Live and Shingeki no Kyojin. Osomatsu did not air at that time and was already parodying these popular series.
Extremely funny and eccentric, we have to say, this is the fall comedy to watch, if not the 2015 comedy anime to watch!
---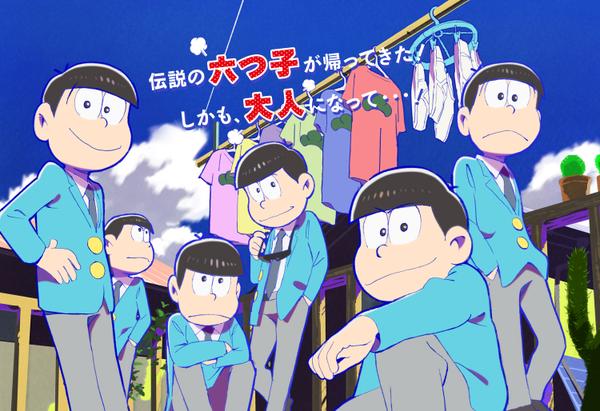 Sometimes, we just need something very light after a very intense anime binge. A good ol' comedy anime ought to lighten the mood as you relax after a very plot driven anime.
So how many of these shows have you watched already? And which one gave you the splits? Did any of these shows ease your tension and stress? If it hadn't already, what are you waiting for? Simply indulge in some comedy anime and share with us which are your absolute favourite!
These 5 comedy anime from the recent Fall 2015 will set you up a good way at least. Keep on smiling and we will see you next time as usual.
---