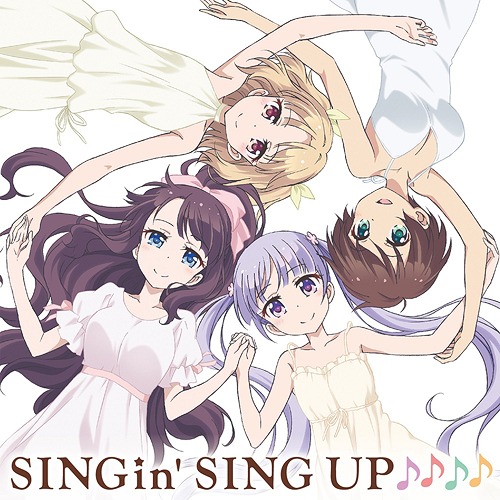 For many, the biggest pull of an anime series is how adorable, or kawaii, the characters are, especially if they are drawn in a chibi style. We're going to briefly show you some of the cutest anime—ones that are so innocent and sweet, they'll make anyone smile! For us, these are the anime we think of as soon as someone mentions the word "kawaii!"
1. New Game!

Episodes: 12
Aired: July 2016 – September 2016
New Game! is a slice of life series following Aoba Suzukaze as she transitions into a new job working for her dream company and works on character designs for her favorite video game series. She also gets to meet and work under Kou Yagami, the lead character designer and Aoba's idol! Through the ups and downs of meeting new coworkers, refining character designs and game errors, and producing something worth pouring your heart into, Aoba and the Eagle Jump employees show us how much hard work is put into every video game.
Despite the meaning and depth behind New Game!, the character designs and the characters' various antics fit well into the "cute girls doing cute things" trend in kawaii anime. It's a refreshing series full of loveable and adorable characters, one that will definitely make you smile!
---
2. Cardcaptor Sakura

Episodes: 70
Aired: April 1998 – March 2000
Cardcaptor Sakura is the tale of Sakura Kinomoto, a young girl who accidentally unleashes the magical Clow Cards into the world and must embrace her role as "Cardcaptor" to catch them all once again. With the help of the Beast of the Seal, Keroberos, and her best friend Tomoyo Daidouji, Sakura works to rid the world of the danger she has unleashed, before it gets too chaotic. Of course, she needs to keep up her appearance as an average 10-year-old girl as well, along with all of the usual mishaps of school and relationships!
Cardcaptor Sakura also has adorable character design, even the wise guardian "Beast of the Seal!" Its episodic nature can feel a bit repetitive at times, especially early on when Sakura is still learning in her task, but this mahou shoujo anime can surprise viewers, especially given how many episodes the plot and characters have to develop. When Sakura meets her first real rival in the form of Shaoran Li, the story begins to get more interesting, though the kawaii nature of the characters and its lighthearted nature still remains intact throughout.
---
3. Amaama to Inazuma (Sweetness and Lightning)

Episodes: 12
Aired: July 2016 – September 2016
In Amaama to Inazuma, Kouhei Inuzuka has been trying to raise his daughter Tsumugi on his own after the death of his wife. When his lack of cooking skills becomes too much for him to bear, Kouhei takes up an offer from his student Kotori Iida, who invites him to come eat at her family's restaurant. But when Kouhei and Tsumugi discover the Kotori often eats dinner alone, they continue to come to the restaurant to share meals together.
Full of heartwarming and adorable moments all along the theme of family, Amaama to Inazuma has a story with a lot of depth. Along with all of the kawaii moments and character designs that we love, this anime also focuses quite a bit on cooking and the ingredients. The series is lighthearted and ties in the cooking aspect with the character's daily lives as they each go through new life adventures. This series does a great job of realistically capturing the different trials of being a human. We love Amaama to Inazuma for its simplistic and cute nature – and the detailed, delicious food doesn't hurt either!
---
Final Thoughts
When it comes to kawaii anime, these are the series we think of right away! We love how lighthearted the stories are and how adorable the characters can be, and we know that given the chance, these anime are sure to make you smile!
What are some of the anime you think of when you think of "kawaii" in a series? Let us know what some of your favorite cute anime are in the comments section below! And stay tuned for more great articles from us here at Honey's Anime!
---