In the real world, our society has always made sure to put a stigma on criminals for understandable reasons. Criminals are seen as degenerates that have somehow violated the way society works and are deemed dangerous to the general populous. Well, in the world of Akudama Drive, society should fear those who are labeled as criminals. Those given the title of Akudama are considered highly dangerous and usually for just reasons. Essentially, like in our real world, Akudama are those going against the rules and norms set by humanity and should be feared.
Despite how dangerous Akudama might be, we here at Honey's Anime have fallen in love with these vicious individuals and love watching their weekly antics. Akudama Drive—created by Danganronpa's writer Kazutaka Kodaka—melds themes of sci-fi with action and a hint of odd comedy for a truly unique anime series. Finding series like Akudama Drive almost seems impossible when you realize how unique this creation is but luckily, we here at Honey's Anime have a recommendation list perfectly suited for the task at hand! If you want some weird anime that is similar to Akudama Drive, we have a list below just waiting to be read!
Similar Anime to Akudama Drive
1. Black Lagoon

Episodes: 12
Aired: April 2006 – June 2006
Ordinary and everyday businessman Rokurou Okajima has tried to endure his mundane life but has found the daily grind is truly getting to him. Forced to accompany his boss on a bizarre outing, Rokurou ends up smack dab in the middle of a shady meeting where he meets the deadly criminal team called The Lagoon Company. After he ends up getting kidnapped by Lagoon Company, Rokurou, in a strange turn of events, joins the team and gets nicknamed Rock. Now working alongside the gun-slinging Revy, the team hacker Benny, and Lagoon leader Dutch, Rock must try to live in a quite different world than he's used to. A violent life awaits Rock but maybe that's the life he was destined for after all…
Easily one of the more well-known action series produced by the amazing Madhouse team, Black Lagoon has always been one of those series we can't stop talking about. Action, violence, hot—but also violent—babes, and incredible animation are just a few elements we love about Black Lagoon. Like Akudama Drive, Black Lagoon has a bunch of oddball characters joining together for a nice paycheck. Yes, the chance of death is high for that payday but like the Akudama from Akudama Drive, Lagoon Company is willing to take some bullets if it means they can eat.
Black Lagoon Trailer
---
2. Lupin III: The First (Lupin the 3rd: The First)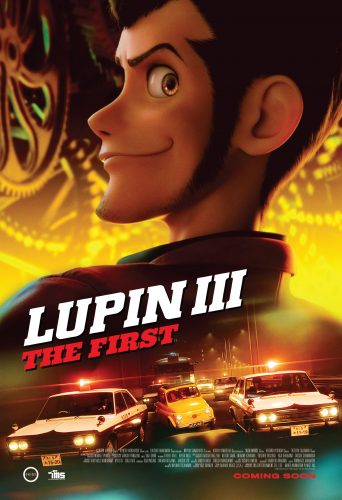 Lupin the 3rd returns in his latest and greatest adventure yet in the new Lupin the 3rd: The First movie! Lupin's newest heist throws him into an old WWII Nazi plot to harness a powerful device capable of creating pure destruction! As per usual, Lupin luckily has his "allies" to help him, such as Daisuke Jigen, Goemon Ishikawa, and the sexy but deadly Fujiko Mine! A new ally in the form of Laetitia will accompany the misfit team giving them the edge needed in this dangerous new adventure. Lupin has to race against the clock if he wants to avoid a world-ending event and being caught by his nemesis Zenigata. Will Lupin finally strike it big or will this be the heist that ends the thief's infamous escapades once and for all!?
If you're a fan of old-school anime then you're no doubt privy to the amazing Lupin the 3rd series. Recently, Lupin the 3rd has been released as a new movie by studios Marza Animation Planet and TMS Entertainment called Lupin the 3rd: The First and we will say it's one of Lupin's best adventures to date! We even had the honor here at Honey's Anime to review Lupin the 3rd: The First so you can check that out if you need more information! Needless to say, though, if you like watching misfits join together for a common goal—like Akudama Drive—then you're going to love Lupin's latest treasure hunt in the form of Lupin the 3rd: The First!
Lupin the 3rd: The First PV
---
3. Danganronpa: Kibou no Gakuen to Zetsubou no Koukousei The Animation (Danganronpa: The Animation)

Episodes: 13
Aired: July 2013 - September 2013
Makoto Naegi thought his luck was truly incredible when he received a letter inviting him to join the illustrious Hope's Peak Academy! Unfortunately, maybe Makoto isn't as lucky as the letter states as he soon finds his enrollment to be anything but fortunate. Makoto is drugged and awakens inside Hope's Peak Academy alongside others who were "invited" to join the school as well. The students soon learn that they have been sealed inside the school and must now fight for survival to earn their "freedom". Makoto will soon realize that when a student is pushed to the brink they won't just worry about grades…
Based on the super popular Danganronpa video game franchise, Danganronpa: The Animation might seem quite similar to those watching Akudama Drive. Akudama Drive is actually written by the same writer for Danganronpa—Kazutaka Kodaka—and the two series share a lot of similar themes. Random individuals with extraordinary skills, those with killer instincts, and those with larger goals are just a few themes found in both anime series! Danganronpa: The Animation is a survival game, unlike Akudama Drive, but aside from that concept, both shows echo similar ideas that make them a real pleasure to watch!
Danganronpa: The Animation Trailer
---
Any Anime Like Akudama Drive ?
4. Btooom!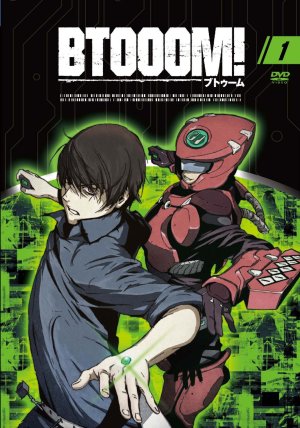 Episodes: 12
Aired: October 2012 – December 2012
Ryouta Sakamoto is about to be shell-shocked! After Sakamoto's mother loses her last bit of patience with her shut-in son, Sakamoto finds himself sent into a deadly game of life and death. Trapped on an island with other "participants", Sakamoto must now enter the bomb-focused game world of Btooom! which was once just an online game he loved to play. This real-world version of Btooom! doesn't have respawns or continues and one misstep will end Sakamoto's life. Sakamoto will need to tap into his gamer skills and join a familiar ally if he wishes to survive this deadly game and somehow go back home! Btooom! begins now and there can only be one survivor!
Early on in Akudama Drive, our main characters aren't given much of a choice in taking the mission bestowed upon them by a talking cat. Wrapped around their necks are explosive devices forcing the Akudama to participate in the cat's mission if they wish to leave alive. Btooom! echoes that theme where our players aren't given a choice if they want to play this death game or not. Forced to play or die, Sakamoto and the others on the island must use their BIM—the bombs in Btooom!—if they wish to overtake their competition. Btooom! is full to the brim with explosive action—pun intended—that keeps you always on the edge of your seat! If you're digging the intense nature of Akudama Drive and want even more we fully recommend Btooom!
Btooom! Trailer
---
5. Great Pretender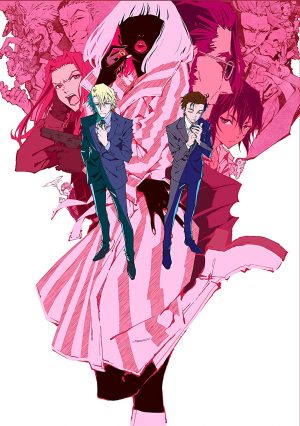 Episodes: 23
Aired: June 2020 – September 2020
Makoto Edamura has not had an easy life as of recently. Forced to take to the streets and become a scammer thanks to one of his last jobs, Makoto has somehow survived this new life up until his most recent victim. Unknown to Makoto, this strange tourist tricks him and uses his scamming skills for a big job. The tourist introduces himself as Laurent Thierry and makes a wager with Makoto. The job, scam the biggest West Coast mafia leader! If they can pull this off, not only will a nice sum of money be waiting for them but it would prove Makoto's scamming skills aren't just a cheap trick! Makoto is on his way towards becoming one of the biggest scammers the world has seen but does that mean his life will get better or just become more complicated?
Great Pretender was easily one of the highlights of the summer 2020 anime season and for good reason, this anime is fantastic! Beautiful animation and a stellar cast of likable criminals all set in a real-world-themed adventure make Great Pretender a show you cannot sleep on! Those who are adoring the adventure of the Akudama in Akudama Drive will no doubt enjoy watching Makoto and his companions as they swindle their way to fame! Swindler from Akudama Drive might need some swindling lessons from Makoto if she wishes to survive with her now fellow Akudama!
Great Pretender PV
---
6. Cowboy Bebop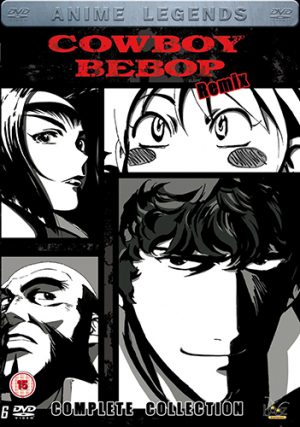 Episodes: 26
Aired: April 1998 – April 1999
The year is 2071 and space has become the home for many humans. Now able to travel to planets once thought unreachable, humanity has spread its reach beyond its wildest imagination. However, for some space travelers, this space lifestyle isn't the easiest and making money can be quite daunting. Folks like Spike Spiegel have donned the role of Space Cowboys to find the galaxies' most ruthless criminals and pay their bounty helps him and his partner—Jet Black—get enough for fuel and food. Watch as the Bebop journeys across space to stop bad guys and deal with a laundry list of strange characters/personalities!
Cowboy Bebop is a legendary anime that still to this day is usually on someone's top 10 list. Space, martial arts, gunplay, and goofy comedy are just a few elements found in Cowboy Bebop. While Akudama Drive might not hit legendary status, both shows have a lot of similarities that make them easy to recommend to those who love sci-fi and action! Those new otaku out there should watch Cowboy Bebop if they started with Akudama Drive, trust us here at Honey's Anime, you will not be disappointed!
Cowboy Bebop Trailer
---
Akudama Drive has truly been a breath of fresh air in this fall 2020 anime season and we can't stop talking about it with our fellow otaku! Have you witnessed the greatness of Akudama Drive and/or have seen the shows above? We hope you'll join our talks using the comments below! Another series we'd mention that almost made our list is Gangsta which is violent, action-heavy, and somewhat similar to Akudama Drive! If you seek even more recommendation lists then keep stuck to our totally normal hive here at Honey's Anime!
---