Dumbbell Nan Kilo Moteru is better than it has any right to be. It's a silly fanservice show about girls working out! It's the sort of show you'd think a studio that's just getting started would spit out in a vain attempt to drum up attention from the seedier side of the fandom. It's not the sort of show you'd expect to generate buzz from both fans and critics.
And yet Dumbbell Nan Kilo Moteru has turned out to be the surprise hit of the season. The premise isn't an excuse to ogle girls in gym clothes, but to earnestly teach viewers how to properly work out along with the science behind each routine. And it engages us with an extremely silly, self-aware view of just what kind of show it is and how little it cares about that fact. It doesn't need to justify what it is with an actual plot hook or anything. It only wants you to be just as excited about working out as it is.
However, Dumbbell Nan Kilo Moteru is not the first of its kind. If you've warmed up with Dumbbell Nan Kilo Moteru, maybe check these out to extend your training!
Similar Anime to Dumbbell Nan Kilo Moteru? / Similar Anime to How Many Kilos are the Dumbbells You Lift?
1. Anitore! EX (Anime de Training)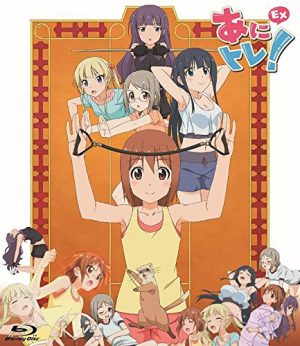 Episodes: 12
Aired: October 2015 - December 2015
It's tough getting your foot into the idol industry. The expectations for your body image are so ridiculous that it might seem impossible to get that thin. But all hope is not lost! Asami Hoshi and her friends don't want to give up on their idol dreams that quickly! Maybe if they do some basic training, they can tone their bodies properly!
Do you find the weight training tips Dumbbell Nan Kilo Moteru too intimidating to do anything with but still want to get your advice from cute anime girls? Anitore! EX might be just what you need. We're not going to pretend that there's much flavor to it. At a lean 4 minutes an episode, there's only enough time to set up an issue and explain that episode's exercise. Nevertheless, if you only need a little crash-course to explain things like stretching and common yoga techniques, it's worth a look! You can finish the entire series in the same time it would take to finish 2 normal length anime episodes!
Anitore! EX Trailer:
---
2. Yama no Susume (Encouragement of Climb)

Episodes: 12
Aired: January 2013 - March 2013
Yukimura Aoi once loved to hike around the mountainside, but that's changed since she entered high school. Now she's a more reserved girl and enjoys things like arts and crafts. However, she somehow finds herself in the same class as her childhood friend Kuraue Hinata, who's still as energetic as ever. Hinata wants to break Aoi out of her shell, but she's putting up more resistance than she thought. Can the two rekindle their friendship and rediscover their shared passion?
You may not think of Yama no Susume as a traditional "training" series, but there's more to it than meets the eye. Aoi and Hinata don't start off climbing Mt. Fuji, they have to work their way up to that point by hiking up various small mountains around Japan. Is it as intensive as a workout session you might get from Dumbbell Nan Kilo Moteru? Not at all, but even if it doesn't get you to hit the gym, it might inspire you to go walk off some calories!
Yama no Susume PV:
---
3. Grand Blue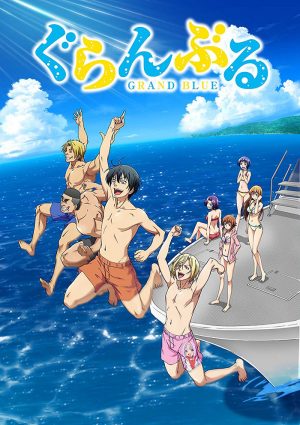 Episodes: 12
Aired: July 2018 - September 2018
Man, who doesn't get psyched for college life? You finally achieve independence from your family after 18 years of being under their rule. This is the life Kitahara Iori wanted when he moved to Izu for school, but unfortunately, he got talked into working at his uncle's diving shop. Through his new part-time job, he makes friends with people from his university's diving club and gets roped into joining that too! Now Iori has to find time to party while balancing work and diving.
Look, there's no getting around the fact that part of Dumbbell Nan Kilo Moteru's appeal is gawking at the well-toned bodies of cute anime girls. However, maybe you're not exclusively into cute anime girls. Maybe you also like a nice set of toned male abs, but not to the parodic levels of Machio. We'd like to direct your attention towards Grand Blue, which actually leers equally at both sexes, all with the same sense of self-aware over-the-top humor of Dumbbell Nan Kilo Moteru.
Grand Blue PV:
---
Any Anime Like How Many Kilos are the Dumbbells You Lift / Any Anime Like Dumbbell Nan Kilo Moteru?
4. Issho ni Training: Training with Hinako

Episodes: 1
Aired: April 2009
Hinako was once a real-life girl but changed into an anime character once she hit her 2nd year of middle school. She spends her life living for the camera and helping otaku everywhere get fit. Join her as she does sit-ups, push-ups, and other everyday calisthenics to get yourself in shape!
Are the exercises in Dumbbell Nan Kilo Moteru proving to be a bit too much for you? Issho ni Training might be perfect for you. It was a trailblazer in anime, claiming to be the first-ever muscle-training anime. It uses simple exercises that shut-ins stuck at home can do along with a cute anime girl to get them to do the most basic exercises. It's so simple that anyone can do it! So brush the Cheeto dust off your hands and get to work!
Just try not to get distracted by anything else. Considering that the sequels to Issho ni Training were about watching Hinata sleep and take a bath, we can't claim the animators' intent was entirely pure.
---
5. Keijo!!!!!!!!

Episodes: 12
Aired: October 2016 - December 2016
Keijo: the only sport actually worth a damn. The goal? Knock your opponent off a platform without the help of any of your limbs. No arms, no legs, and not even your head! All you can rely on is your butt and your chest. Anyone who can master this grueling sport will be awarded with riches beyond their wildest dreams, but the world of pro Keijo is nothing to sneeze at. However, Kaminashi Nozomi has her sights set on working her way out of poverty by becoming a global Keijo champion!
We know Dumbbell Nan Kilo Moteru likes to gawk at its cast, but doesn't it feel like it doesn't really want to? It treats its ogling more as a joke than actual titillation, while still successfully being kind of hot to watch. Keijo also manages to walk this fine line of parody and genuine arousal, ratcheting up the insanity tenfold with ridiculous punnery pulled out of its ass. I mean, can you really take a battle series seriously with attack names like "Gates of Bootylon"?
Keijo!!!!!!!! Trailer:
---
6. Shakunetsu no Takkyuu Musume (Scorching Ping Pong Girls)

Episodes: 12
Aired: October 2016 - December 2016
The world of junior high girls' ping pong is changing. Oudou Academy, once the undisputed champion of Japan, has been defeated by a team of complete no-names. Now everyone believes they've got a shot at the national tournament. One such team is Suzumegahara Junior High with a set of extremely skilled girls, but they are held back by the lack of a real break-out talent. However, when the exceptionally gifted Tsumujikaze Koyori arrives, the team suddenly believes they have a shot at glory… that is if Agari is willing to relinquish her position as the team's ace.
Are you into sweat? We're not talking about feeling the burn after a good set of reps, relaxing in the sauna, or anything like that. Do you enjoy watching people, and, let's be real here, specifically watching girls sweat? This is a surprisingly widespread kink, and one that Dumbbell Nan Kilo Moteru satisfies quite well. However, it's not the only game in town, as Shakunetsu no Takkyuu Musume was originally made famous due to appealing to the sweat fetishist market. There's also a surprisingly tender story of friendship as Agari works to get over her feelings of inadequacy towards Koyori, but somehow we think that might come second to any other interests you might have in the show.
Shakunetsu no Takkyuu Musume PV:
---
Final Thoughts
With Dragon Ball Z and One Punch Man being incredibly popular with the MMA crowd, it should come as no surprise that anime has often inspired people to work out. However, Dumbbell Nan Kilo Moteru? is special because it bridges the gap between earnest workouts and the ecchi fanservice of many of the series we mentioned above. Maybe that's what makes it so intriguing.
Are you done with our suggested routine? Well, stretch to prevent injury by letting us know in the comments below! Maybe you could share some of your own favorites as well?
---