2020 has become a memorable year in the history books worldwide. As we all take different levels of precaution for personal health, many of us are staying home more, and after a few months of that, it can be hard to stay as healthy as you want to. Even when we are not in quarantine, it is essential to keep self-care in mind regularly. With that in mind, here are five anime that inspire self-care to get you through quarantine!
5. Yuru Camp Δ (Laid Back Camp)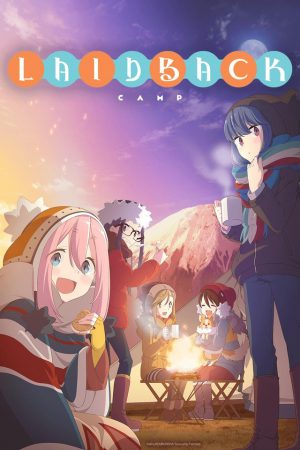 Yuru Camp Δ is about a girl, Rin, who goes solo camping. She spends her days off camping with a view of Mount Fuji and reading by the fire. After meeting a group of girls who want to enjoy the same thing, an adorable adventure ensues. This cute-girls-doing-cute-things anime shares fun camping experiences and highlights both camping solo and in a group.
Laid Back Camp includes many camping hacks for the solo camper or camping with a small group. If you do not know how to camp yet, that's okay! From booking a campsite to building a fire, Laid Back Camp shows the new camper the parts of the process. If you already camp, this anime still has something to show you. Laid Back camp takes short camping trips and makes many choices for simplicity's sake, such as having a separate heater for water to avoid soot from the fire darkening the vessel to be heated. In a year where we all avoid group activities, maybe there is some zen to be found in solo camping at a local site.
---
4. Barakamon

Sei Handa is a stressed calligraphy artist whose behavior gets out of control at an exhibition when an old man makes a discouraging comment. After his unacceptable and violent behavior, Sei is forced by his father to relocate to the Goto Islands, a remote place. Frustrated and unhappy, Sei slowly settles, but the town, with its culture of kindness, grows on him as the series progresses.
This story of a worn-out artist in need of a life change is one that shows what it is to heal. By taking it slowly, having the benefit of people nearby who care, and being willing to change himself, Sei starts to come out of his shell and appreciate the things nearby. If the quarantine blues have you feeling frustrated, try finding some inspiration in this slice-of-life journey to find some peace.
---
3. Ramen Daisuki Koizumi-san (Ms. Koizumi Loves Ramen Noodles)

Ms. Koizumi goes to great lengths to get her ramen. She travels to different towns and waits in long lines to get that delicious noodle-filled bowl of goodness. Koizumi's peaceful ramen adventures are interrupted when a classmate from school invites herself on her next trips out for ramen.
Visiting a ramen shop is an experience that can be done alone with ease, and this anime shows the enjoyment of many different types of ramen. Whether you are new to ramen or a seasoned pro, watch Ms. Koizumi Loves Ramen Noodles for some ideas to try, and take a trip out solo to give it a shot!
---
2. Anime de Wakaru Shinryounaika (Comical Psychosomatic Medicine)

Comical Psychosomatic Medicine is a lighthearted look at some commonly occurring mental states. In this series, topics such as anxiety, depression, sleep disorders, grief, ED, and more are discussed in a way that asks follow-up questions but keeps up the comedy throughout.
While we are all trying to keep those we love safe by staying home all the time, it is understandable to experience more mental stress than usual. When taking care of yourself, knowledge is power, and these several-minute long episodes are a start to having a better awareness of your mental state. But similarly to how the anime always ends, "if you think you are ill, you should talk to a doctor!"
---
1. Dumbbell Nan Kilo Moteru? (How Heavy are the Dumbbells You Lift?)

This anime brings together a group of students and an instructor from a nearby school, who have varying reasons for going to their local gym to workout. How Heavy Are the Dumbbells you Lift shows the viewer how to work out different muscles with equipment at the gym and at home, without equipment. From the effects of a sauna on the body, to the results of skipping breakfast to eat a larger lunch, this anime gives both instruction on proper workout technique and general knowledge that it's just helpful to know.
This slice of life comedy talks about muscle groups, workout guidelines, diet impact on results, and more. How Heavy are the Dumbbells You Lift? is a great anime to start if you could use some encouragement to boost your fitness routine.
---
Final Thoughts
Even though we are trying to stay socially distant while COVID 19 runs its course, we can still take self-care time. Whether it be new physical goals, a new hobby, or getting to know yourself more, we hope you'll find your next watch in our list of anime that inspire self-care! Have you seen any of these yet? Which will you watch next? Please tell us in the comments!
---