The world of video games is something that connects a lot of different people through many types of games. Yet we don't often think about video games as a larger experience we all share… unless it comes to multiplayer, of course! However, with shows like Saenai Heroine no Sodatekata, we get to share in the viewpoint of a game developer and focus a bit more on how video games impact people's lives. This includes not only the developers themselves (who we don't often think about), but also everyone who connects over a shared love of games. And luckily for all of us gamers, there are two great shows airing this summer that follow along with that same idea!
Our two featured anime are Gamers! and the second season of New Game!! Both of these shows are humorous and relaxing, but they also look intently at the way that video games can bring people together. While you may not see the similarities between Saenai Heroine no Sodatekata and these two newer anime right away (other than the obvious connection of video games), we will show you how both Gamers! and New Game!! are the same. Get ready for a journey through some great gaming experiences, without having to level up first!
About Saenai Heroine no Sodatekata (Saekano: How to Raise a Boring Girlfriend)

Episodes: 12
Aired: Jan. 2015 – Mar. 2015
Tomoya Aki is an otaku like any other except for his one dream – he wants to share his own story and characters with others by making a video game. Tomoya recruits his old friend Eriri Spencer Sawamura to work on the imagery and brings in Utaha Kasumigaoka to write the script for his personally directed visual novel. And through a chance encounter with the beautiful Megumi Katou, Tomoya finds inspiration for his main character! Tomoya and his group set out to create a game which will touch people's lives. Of course, they soon discover that the experience of creating a video game is something which will change their own lives as well.
Liked Saenai Heroine no Sodatekata? Watch Gamers!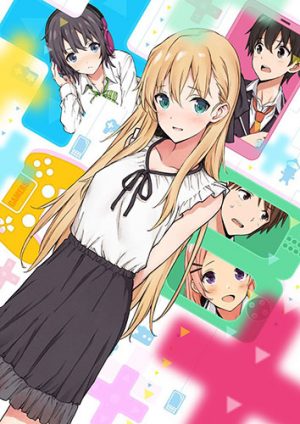 Episodes: 12
Aired: Jul. 2017 – Sep. 2017
Gamers often isolate themselves from others in order to spend more time playing video games, and that is certainly the case of our protagonist, Amano Keita. However, Keita's luck suddenly begins to turn around! The most beautiful girl in school, Karen Tendou, invites him to join the video game club, of which she is the club president. And soon after, Keita befriends Uehara Tasuku, a popular boy who hides the fact that he is also a gamer. Adding in Tasuku's girlfriend Aguri and the argumentative Chiaki Hoshinomori, Keita is beginning to have quite the crew! Yet a new world of friends means more opportunities for misunderstandings… and with a group of gamers, social skills are not always in abundance. Can this group united by love of video games successfully figure out their romantic and social lives?
Three Major Similarities Between Saenai Heroine no Sodatekata and Gamers!
1. Awkward, Funny Romance
For both protagonists, love isn't something that comes easily. Keita has to deal with a number of misunderstandings between himself and his new friends, especially when it comes to romantic intentions. Tomoya is similar in the way he approaches love, in that he must learn how to use his own emotions to help him create a game that will influence others. Both main characters are quite oblivious to romantic intentions from the girls around them. This ensures many hilarious moments between characters from both shows.
2. Video Games Are Emotional
Both Tomoya and Keita see video games in a different light than most people. They view games as an experience that people can share, connecting fans across the world. They both see the emotional connection that video games can have to linking one person to another. Keita speaks about this to his friends often, showing them he enjoys the experience of playing a game rather than the aspect of competing to win. Tomoya also views games in this way, as he hopes to make his visual novel something that others will be able to emotionally connect with.
3. Personal Growth Through Games
In both Gamers! and Saenai Heroine no Sodatekata, the main characters start out with an ideal in mind, but no real concept of how to achieve their goal. For Keita, it is his goal to be with Tendou – but since he has little social skills and spends most of his time playing video games, he doesn't expect to achieve his dream. For Tomoya, he wants to produce a game that will connect with others, but will have to work through a ton of problematic details to get a satisfying end result. During their respective anime, both characters will make new friends that teach them how they can better themselves, and make it to their dreams. While they both have humorous lessons along the way, the characters do actually learn and grow during their different trials.
---
Liked Saenai Heroine no Sodatekata? Watch New Game!!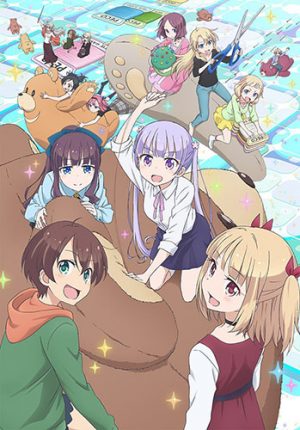 Episodes: 12
Aired: Jul. 2017 – Sep. 2017
After the release of the last Fairy Stories game, Aoba Suzukaze and her coworkers at Eagle Jump are trying to figure out their next big game. When a contest is announced to turn in character design ideas, Aoba decides to give it a shot. After all, her mentor Kou Yagami became the lead character designer for Fairy Stories at the same point in her career! However, as Aoba and her coworkers all begin to take steps forward in their respective career paths, will they still be able to remain friends? In this season of New Game!!, follow the adventures of Aoba and the others as they further their goals and their bonds with one another.
Three Major Similarities Between Saenai Heroine no Sodatekata and New Game!!
1. Creative Process of Video Games
Both New Game!! and Saenai Heroine no Sodatekata deal with the process that game developers go through in creating a new video game. Aoba is no longer as new to Eagle Jump, so she is allowed much more of a say in the creative process of the company's new game. This gives us, as an audience, even more insight into how the game development process works. Tomoya also shows how much work there is to be done in creating your own video game – he has to recruit his own crew and come up with everything on his own. Both anime give us a pretty thorough look at the gaming industry. We are able to see how video games are created, from both a large game developer in Eagle Jump and a small, single developing team through Tomoya and his group. Because of this small glimpse into the life of a developer, we are able to appreciate the work that they do to create games that connect with us.
2. Female Influence
Let's face it – while there are many women out there who love to play video games, and more who are involved with the producing of such games, gaming is still widely considered something that only guys do. Yet, both New Game!! and Saenai Heroine no Sodatekata consist of mostly female characters. The work force at Eagle Jump is made up entirely out of women, and the anime itself has an all-women cast. While Saenai Heroine no Sodatekata is focused on Tomoya and his efforts to create his video game, Tomoya is one of only a few males on the show! And the rest of his crew producing the game are women as well. While Saenai Heroine no Sodatekata is considered a harem, it is still impressive to note the work that Tomoya's group does for his game. Both of these anime are working to combat the notion that women do not have a place in creating video games.
3. Pleasant and Funny
Whether you're watching Saenai Heroine no Sodatekata or New Game!!, you're guaranteed to have a smile on your face at some point. The situations these characters find themselves in are often silly, but that only makes the episodes that much more entertaining! While New Game leans more toward the slice-of-life genre and Saenai Heroine no Sodatekata more toward harem, each one is definitely a comedy at heart. In addition, both anime are pleasant to watch, giving a relaxing viewing experience. That does not mean each show is without substance! On the contrary, both anime have a compelling, sometimes emotional storyline. Yet at the heart of it all, they will each have their own pleasant, funny style of entertainment.
Final Thoughts
Saenai Heroine no Sodatekata, Gamers! and New Game!! are all anime that any gamer out there can enjoy. Each one is full of appreciation for video games, without pandering too much to their audience. Now it's your turn to contribute to this discussion! Do you see any other similarities between these three anime? Are you currently watching any of these selections? Let us know what you think in the comments below!
---