Nowadays, you can't go on Twitter, Instagram, and/or Tik Tok without seeing characters from Spy x Family popping up somewhere. Whether it is Anya being adorable—she is the definition of pure adorableness—or Yor looking sexy, Spy x Family continues to be one of the best anime to release as of late. A spy series that blends comedy, action, and slice of life, Spy x Family is truly a unique creation that we rarely come across here at Honey's Anime! That being said, as part 2 dwindles down—our tears are already forming—we know you'll need some similar anime to watch when the curtain closes on the Forger family for now! From Yakuza husbands to random people teaming up to perform the ultimate heist, our list will ensure there is something for you if you are loving Spy x Family! Here is our list of 6 Anime Like Spy x Family!
Similar Anime to Spy x Family
1. Hinamatsuri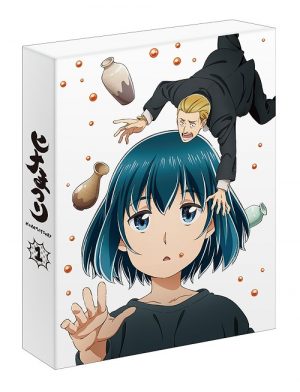 Episodes: 12
Aired: April 2018 – June 2018
Vase collector/Yakuza Yoshifumi Nitta ends up shying away from his criminal-like antics when a strange incident occurs in his own abode. Out of the blue, a strange capsule containing a small girl blows up in his room and he learns this young girl is no ordinary human. Within the girl named Hina, lies immense power that needs to be released otherwise disaster will strike! Nitta now needs to act as Hina's guardian to not only keep her safe but to ensure she doesn't get wrapped up in something that could destroy everything he knows…including his priceless collection!
The beauty of Spy x Family is it takes people who are far from normal and puts them in a home to deal with their own worlds but also intermingle with one another. The same can be said of Hinamatsuri which is a comical supernatural anime that aired several years back. We loved the dynamics between the stern and sometimes hot-headed Nitta and the aloof but powerful Hina, they just work so well together…despite their obvious differences. We hope Hinamatsuri gets a continuation one day but for now, this should be a series you look up when you need a similar anime to Spy x Family!
Hinamatsuri PV
---
2. Kotaro wa Hitorigurashi (Kotaro Lives Alone)

Episodes: 10
Aired: March 2022
Kotaro Satou has just moved into a small apartment complex but this isn't a young man going to college or looking to save up money for a home. Nope, Kotaro is a young 4-year-old who acts like he is a young man. For reasons unknown, Kotaro lives alone but is lucky that his neighbors will soon realize he needs a bit of help despite his adult nature. Can Kotaro live the life even some young men/women can't and can his neighbors act as his parents despite their…very different attitudes and ways of life? A sad but comical tale is about to unfold and it all stems from a little boy with a star on his shirt.
Anya and Kotaro would make good friends, we bet. Both are kids and both are adult-like—at times—but they also have unique situations that many don't really understand. Kotaro Lives Alone is a Netflix series that we won't deny made us cry and laugh multiple times, sometimes in a singular episode! This series is only 10 episodes but despite the short run, there is a grand story that not only examines a dark side of Japan we rarely hear about but also a comedic story of people learning to be adults when given a kid to raise. Do not sleep on Kotaro Lives Alone as this was one of our favorite anime of this year without a doubt!
Kotaro Lives Alone Official Trailer
---
3. Udon no Kuni no Kiniro Kemari (Poco's Udon World)

Episodes: 12
Aired: October 2016 – December 2016
Everyone needs a respite from city life, as Souta Tawara is only now realizing himself. Once, Souta's parents owned a small home and an udon restaurant. With memory guiding him, Souta enters the old place. Thinking it would be deserted, Souta is shocked to discover a young boy is using the restaurant as a place to rest. Knowing he can't just leave the child in the state he's in, Souta feeds and clothes the boy but unbeknownst to him, this isn't just an ordinary boy. He's a tanuki who has been using the udon restaurant as a hideout. Despite not being a parent and having his own life to live, Souta has decided to take on this tanuki named Poko and that will be the event that changes his life forever.
Anime doesn't always need to be Earth-shattering battles or filled with girls all vying for the same dumb MC. They can contain heartwarming stories just like number 3 on our list, Poco's Udon World. While it might not have the action or intense story of Spy x Family it does contain characters with multiple layers and a story that is truly heartwarming from beginning to end! Who knew a story with a young man, a tanuki shapeshifter and a small udon restaurant would be so deep!?
---
Any Anime Like Spy x Family ?
4. Gokushufudou (The Way of the Househusband)

Episodes: 5
Aired: April 2021
Among the yakuza, there is a legend of a man with the moniker "Immortal Dragon". When he was around, his enemies feared him and wondered if they would live to see another day! Yet, one day the Immortal Dragon disappeared and people wondered what happened to this legend…well, he's alive, married, and now a househusband! Going by his regular name Tatsu, the once powerful yakuza has given up his old life of fighting others to fighting programmable vacuum cleaners and getting a good sale at the market! Tatsu's life is quite different but is this cozy life so much better?
People can change…just look at The Forger family, especially Loid from Spy x Family. Once a cold-hearted spy who was slowly losing his identity after all his undercover missions, Loid is now becoming more open to the family lifestyle despite still needing to be the best spy in his agency. Just like Loid, Tatsu changed when he "actually" got married and went away from his darker past. The Way of the Househusband is a short 5-episode series on Netflix and while the animation might not be the best, the stories are genuinely hilarious, and rarely did we not laugh at the ridiculous issues Tatsu faces in his new life! If you want a straight-up slice-of-life comedy, then you're going to want to open up Netflix and add The Way of the Househusband to your queue!
The Way of the Househusband Official Trailer
---
5. Barakamon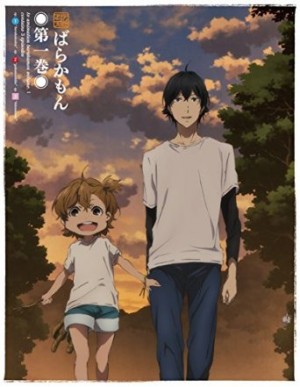 Episodes: 12
Aired: July 2014 – September 2014
Being talented isn't always as simple as it sounds. That is something Seishuu Handa is quite aware of when he ends up in a slump. After an outburst shames him and his father, Handa is forced to take a leave from the Tokyo landscape and go to the Goto Islands. Here, Handa will have to re-evaluate his life and see if he can muster up the strength to perform calligraphy once again. First, though, Handa will have to survive the island's various inhabitants including a young girl who seems to love crashing at his place. Island life is very different and Handa will soon come to realize.
Have you ever gone from a populated city to a quiet town/village where you can hear every leaf fall and every animal walk? There is a truly strange experience in switching between such places but sometimes, like Handa from Barakamon or the Forger family, that difference in living helps us grow as people. Barakamon is a comedy but true-to-life story of what it means to hit a slump in life and power thanks to friends and loved ones. Just like Spy x Family, Barakamon explores how living with people in a different world/setting changes not only your own customs but how you are as a person. Sometimes for the better! Barakamon also has a prequel, Handa-kun, if you want to see how the main character was as a high school student…which is pretty funny too!
Barakamon Official Trailer
---
6. Great Pretender

Episodes: 23
Aired: July 2020 – December 2020
There is an art to deception. "Pulling the wool over someone's eyes" takes dedication, manipulation, and a bit of luck…all things Makoto "Edamame" Edamura doesn't have. While Makoto has gotten away with small tricks and forms of deception, he's lived a pretty pathetic life until he is deceived by a blond-haired man who calls himself Laurent. Told he has great potential within, Laurent offers Makoto the chance to join his crew as they pull off large schemes of deception to make some big money. Can Makoto go from a low-time deception artist? Leaving his life in Japan, Makoto is about to find out as he enters a world far different than the one he knew!
Coming in as our last entry on our list is the Great Pretender by Wit Studio but we definitely saved one of the best for last. Just like Spy x Family, Great Pretender examines what it is to deceive others all for the "greater good" but with the added addition of these deceivers to make some serious cash. Great Pretender is split into several different story arcs but each one is more engaging and interesting than the last making it a very easy series to binge-watch! While Great Pretender lacks any adorable souls like Anya, it makes up for it with a stellar cast of unique individuals! Trust us, readers, if you love Spy x Family give Great Pretender a shot and you won't be sorry!
Great Pretender PV
---
Final Thoughts
Spy x Family is truly such a gem and we really just can't sing its praise! That being said, like all great anime, it will eventually come to an end but hopefully, our list can help you find some similar series to watch when it does! Are you also loving Spy x Family like we are? Comment below to let us know! Don't forget to keep stuck to our mind-reading hive—we really don't have mind-reading powers…—for more 6 Anime Like lists courtesy of us, here at Honey's Anime!
---