También puedes leer este artículo en:Español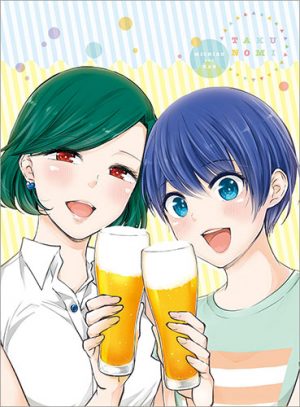 Michiru Amatsuki has just hit it big! With her job change going through, she has just left he sticks of Okayama and made it to Tokyo. However, her sweet, shy side makes it hard for her to find her way. Worried about living on her own, she decides to live in a "share house" with three other women. After finally making her way home, she meets the vibrant, Nao, the older-sister type Kae, and the reserved Makoto. That's when Michiru learns that these three women all have something in common with her, they love to drink! Now, every day they come home, crack open a beer or pour a drink, and set out to relax. If you are loving this borderline ecchi, comedy, slice of life anime, then we have good news! Here are six more anime just like Takunomi in one way or another.
Similar Anime to Takunomi。
1. Osake wa Fuufu ni Natte kara (Love Is Like a Cocktail)

Episodes: 13
Aired: Oct 2017 – Dec 2017
Osake wa Fuufu ni Natte kara tells the story of a serious office worker by the name of Chisato. She works hard every day as the assistant manager and is well-liked and respected by her peers and subordinates. Straight laced, she is not one to be messed with. That is until Chisato goes home and her husband, Sora, makes the perfect thing just for her, drinks! With a simple sip, Chisato is tipsy and affectionate. The target of her love? Why her husband, of course! Today too, Chisato is getting tipsy and showering the perfect husband with love.
This one is an easy and immediate connection. It's cute, fun, upbeat, and of course, centered around alcohol. While Osake wa Fuufu ni Natte kara focuses on how to make the drinks, Takunomi is more about pairing food with it as well as talking about how various kinds of alcohol is made. While they show thinly veiled alcoholism, both are still fun and enjoyable and a fantastic way to look into drinking in Japan.
Osake wa Fuufu ni Natte kara PV
---
2. Dagashi Kashi 2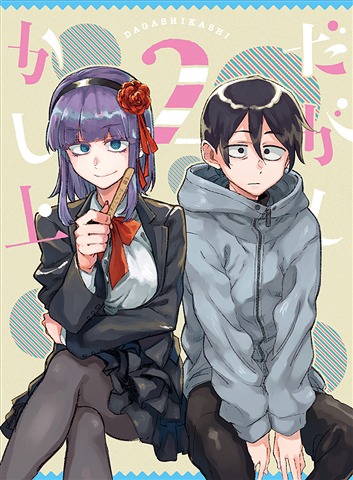 Episodes: 12
Aired: Jan 2018 – Mar 2018
Kokonotsu has dreams of becoming a manga artist. His father wants him to take over the family dagashi, Japanese sweets, shop. Refusing to do so, he plugs away daily at working on his manga until a strange woman named Hotaru shows up. She is from a massive candy enterprise and wants Kokonotsu's father to come work for her. He agrees on one condition, Hotaru has to convince Kokonotsu to take over the shop. Thus a confectionary journey sure to rot your teeth out begins as they look at the history of the majestic Japanese sweet.
The reason we chose the second season over the first is that the second is shorter like Takunomi and they actually air back to back and are meant to be watched together. Also, there have been some changes as well. Takunomi is blatant advertising for alcohol manufacturers in Japan going so far as to show labels and not changing any of the information. The same is more or less true for Dagashi Kashi which goes into the history of Japanese sweets and snacks. The second season in particular is not making much of an attempt at plot but rather is focusing on pushing the individual sweets. Either way, both series make you want to eat and drink, and there is plenty of comedy and fanservice to go around!
Dagashi Kashi 2 PV
---
3. Pan de Peace!

Episodes: 13
Aired: Apr 2016 – Jun 2016
Minami Tani really likes bread. No, she REALLY likes bread. Breakfast, lunch, dinner, in-between-meal snacks, she's got bread. So when she meets Yuu, Fuyumi, and Noa, they bond over loving food and bread. Noa is a bit out there, but still, she enjoys bread. While forming the bonds of friendship, the girls work together to enjoy more and more types of bread!
Starting out, both series are short with Pan de Peace being only 3 minutes. Both feature cute girls and silly antics that endear them even more to the viewer all while talking about very specific mediums. Pan de Peace has bread while Takunomi has drinks. Both take themselves seriously without being too serious at the same time and there is a lot of enjoy. Take a look and since your teeth into this sweet series!
Pan de Peace! PV
---
Any Anime Like Takunomi。 ?
4. Ramen Daisuki Koizumi-san (Ms. Koizumi Loves Ramen)

Episodes: 12
Aired: Jan 2018 – Mar 2018
Ramen Daisuki Koizumi-san is about a girl named Koizumi. She possesses a certain allure about her, but the thing is, no one really knows much about her even though she is well-liked. Koizumi is actually a ramen master, wandering from shop to shop in hopes of finding a new ramen store she hasn't been to. Thankfully, when she does find a good one, she does not hold back and dives right on in. Large men even feel threatened by this small girl who can put away quite a bit of ramen.
Let's start with both series being more or less blatant advertisements for something. Takunomi has drinks and food pairings while Ramen Daisuki Koizumi-san is for ramen. Just in case the title did not give it away. Both series don't really make much of an attempt to hide sponsorship, but on the other hand, it works for the series as it helps fans identify what they see online, in real life. Takunomi and Ramen Daisuki both sport a main cast of four girls who bond over food in one and drink in another. Cute and fun, if you are watching Takunomi then you should be watching Ramen Daisuki Koizumi-san!
Ramen Daisuki Koizumi-san PV
---
5. Bartender

Episodes: 11
Aired: Oct 2006 – Dec 2006
Ryuu Sasakura works in a bar where he is more or less the drink god. He can make the most amazing cocktails ever consumed for customers who wander into his bar. The thing is though, is that it is never that easy. He must listen to their issues and help them solve their problems all while they sip on his amazing cocktails.
At first, Bartender and Takunomi, other than the fact that they are about alcohol, may not seem so related. However, it is a bit deeper than one realizes. While Michiru is able to rely on those in her share house for consolation, advice, and drinking buddies, customers come into Ryuu's bar looking for a drink, but end up learning a lot about the history or taste while being consoled. The same goes for Michiru by hearing about most drinks from the girls around her. While Takunomi is not about to go off the deep end of an existential crisis, the series does have minor issues that crop up. Bartender, on the other hand, goes very deeply into thoughts, ideas, and concepts. If you are looking for a bit more pizzazz with your drink, then look no further!
---
6. Ben-To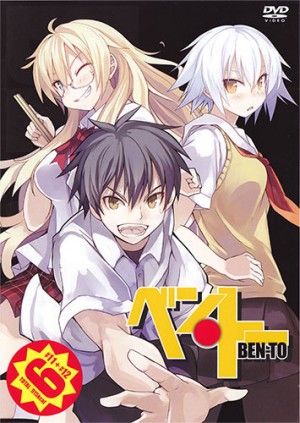 Episodes: 12
Aired: Oct 2011 – Dec 2011
You Satou is out shopping for dinner one night. He reaches for a half-off bentou and is subsequently knocked out. Coming to, all of the bentou are gone. What has happened? After this strange occurrence, he learns that half-off bentou are serious business and are not to be trifled with. In fact, it is an all-out bloodbath to get these bentou. Suddenly, he finds himself drawn into the world of Wolves and Dogs fighting where if you aren't smart enough and fast enough, you will go home hungry.
Our final addition is here to play up the comedy part of Takunomi. Ben-to is ridiculous to its core and reaches a fever pitch every time they end up in a supermarket waiting for the half-off stickers to be placed. The same happens to the girls in Takunomi when they start to get a bit too drunk. Kae almost assaults Michiru one time and another has them reach a frenzy pitch when they are all drunk and hungry. Ben-to, much like Takunomi does with alcohol, takes a serious look at the beloved bentou box and explains how things are paired and end up together. It's not random, it's on purpose! It's also difficult to find a character that you do not like in either series because they are always funny and amusing. Check out the trailer below and get ready to line up for a bentou.
Ben-to Trailer
---
Final Thoughts
And with that, our list draws to a close. There is a lot of series that are similar to Takunomi, but we found that either through themes and motifs, or simply through what they talk about. We hope that this list has made you hungry and you are now ready to sit down with a stiff drink and some sweets and food. What do you think? If you have another series that you think belongs, be sure to let us know down below!
Till next time!
---