También puedes leer este artículo en:Español
What can we say about swords and fighting that hasn't already been said before? Well, we can state that Toji no Miko stands out from the rest because of its characters' sword fighting style, supernatural elements, and overall intricacies of its storyline. Toji no Miko captures young girls with outstanding skills and the ability to maintain a social schedule. Talk about holding it down! No task is too enormous for our awesome Toji!
Toji no Miko shares the tale of ancient times, as shrine maidens wielding okatana performed exorcisms, expelling horrific creatures called Aratama out of the living world and back to their respective realm. These wild souls continue to be menacing, but with the aid of young girls recognized as Toji, the beasts are kept at bay and citizens can commence their day-to-day activities. Journeying with Kanami, Mai, Hiyori, Sayaka, Kaoru, and Eren, while living their average lives as students, they also hold the responsibility of an official government force with special permission to carry significantly distinct and powerful okatana. Toji no Miko demonstrates their knowledge, talents and supernatural powers by fighting to protect humanity.
A fantastic Winter 2018 anime, we at Honey's present to you 6 anime like Toji no Miko, in the hope that these series will slash their way into your "watch list!"
Similar Anime to Toji no Miko / Katana Maidens: Toji no Miko
1. Ga-Rei: Zero

Episodes: 12
Aired: October 2008 – December 2008
In the city of Tokyo, a government agency known as the Supernatural Disaster Countermeasures Division (SDCD) is established to protect the general public by dispatching monsters undetected. Posting agents around the clock, citizens are unaware, as members of the division swiftly perform their duty without alarming the people. However, the SDCD faces an internal affair: betrayal. Delving deeper into the story, we are introduced to a young woman named Kagura Tsuchimiya, survived by her mother several years before. Presently living with the Isayama family, Kagura and her adoptive sister, Yomi, are incredibly close. Inseparable, the girls work together at the SDCD as highly skilled exorcists, but over time drift apart due to the stressors of their position. Ga-Rei: Zero highlights the two young ladies in their role, as one falls further from the SDCD's objective and the other grows exceedingly obsessed with responsibility.
Ga Rei Zero and Toji no Miko are similar because they share the exhilarating quality of the supernatural, exorcising beasts with the aid of their swords. Although Ga Rei Zero displays a darker theme than Toji no Miko, both contain extraordinary young women that are impressive in their expertise in swordsmanship and defensive skills. Moreover, both stories are very engaging, leaving you hooked episode after episode.
Ga Rei Zero Trailer
---
2. Black Bullet

Episodes: 13
Aired: April 2014 – July 2014
The year is 2021 A.D. In this distant future, a cruel, monstrous virus called Gastrea has killed off most of the population. The remaining few have come to reside in the Monolith walls, a secured area composed of Varanium, the only element that can cripple the Gastrea monster. Moving along, we are then introduced to another force that threatens the Gastrea, Cursed Children. Cursed Children are always female, possessing trace amounts of the virus and granting them superhuman abilities. Recognized as Initiators, the government pairs them with mentors called Promoters. Together, the team fights the monsters created by Gastrea, attempting to keep citizens safe from this danger.
Black Bullet and Toji no Miko draw out two very intense and diverse plots that are both dramatic and engaging. Varying in themes, we follow each series' characters employed by the government to fight creatures posing a threat to humanity. Among the countless teams battling for a higher cause, viewers come to know the best in the field, as their personality captivates and entrances our gaze.
Black Bullet Trailer
---
3. Hidan no Aria (Aria the Scarlet Ammo)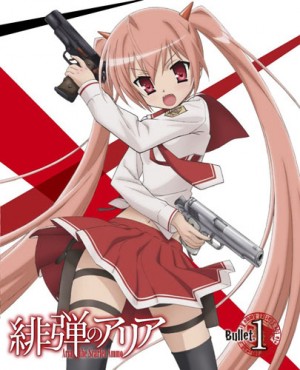 Episodes: 12
Aired: April 2011 – July 2011
In Hidan no Aria, we follow the story of Kinji Tooyama, a student at Tokyo Butei High. This elite institution was formed for students to learn how to become armed detectives, also known as Butei, in hopes of becoming mercenary-like agents of the law. Butei serve as law enforcement, tracking and bringing in criminals for a wage. Even though attending this academy holds high prestige, all Kinji wants to do is transfer out and live a calm and normal life. However, this train of thought changes when he is attacked on his way to school and is rescued by Aria Holmes Kanzaki. After saving his life, Aria declares him his partner/slave. Over time, we come to see his skills evolve as a Butei.
Hidan no Aria and Toji no Miko offer a great balance of incredible action scenes coupled with moments of SoL relief. Both provide viewers with a dynamic cast of characters that are all very interesting in their own way. As the characters are involved in specialized training, spectators see that this path of life serves a higher purpose larger than themselves.
Aria: The Scarlet Ammo Trailer
---
Any Anime Like Katana Maidens: Toji no Miko / Any Anime Like Toji no Miko ?
4. Qualidea Code

Episodes: 12
Aired: July 2016 – September 2016
Qualidea Code takes place in a world where humanity continues to wage war against the "unknown," a threatening enemy to humankind. Several decades ago, during an invasion by the "unknown," a group of Children was evacuated to a cold-sleep facility and upon waking up from their stasis, they discover that their bodies developed supernatural powers. As the world still falls at the peril of the "unknown" emerging from Tokyo Bay, the Children get ready for battle, as they defend the areas surrounding the bay.
With so many apocalyptic films and series to date, we can imagine and perhaps feel prepared for our impending doom. After watching so many "end of the world, attack of monsters" anime, we can say that we know how to handle ourselves when the time comes. With that said, whether it's by modern armory and artillery like in Qualidea Code or the traditional okatana as in Toji no Miko, as long as we start training now, we'll be expert weapons masters by doomsday. On top of all of this, both Qualidea Code and Toji no Miko portray explosive action sequences, getting us all pumped up for battle.
Qualidea Code Trailer
---
5. Ange Vierge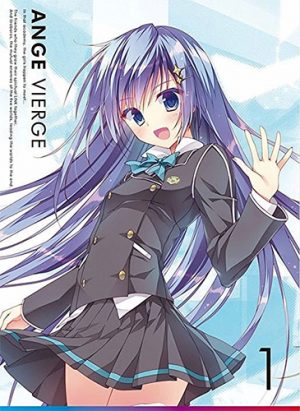 Episodes: 12
Aired: July 2016 – September 2016
Initially based off a card game, Ange Vierge highlights the lives of five "Progress" girls; Almaria, Elel, Nya, Saya, and Stella, as the Hairou portal opens and transports the girls from different planets to Earth. As this portal opens, they form mysterious "Exceed" powers. In the hopes of maintaining their newfound skills, the academy on Earth is the place where they can hone their powers.
In comparing Ange Vierge with Toji no Miko, we are presented with a group of adorably cute girls from various combative schools united as a single force to fight a greater threat to the world. The animation styles are dissimilar, but both contain a lot of detail when it comes to the girls dealing a blow to the enemy. Each member of the team is exceptional and uniquely contributes to the whole. We're able to pick out our favorites from each, and overall, the way they support and guide each other is an attribute that is essential during disastrous times.
Ange Vierge PV
---
6. Schoolgirl Strikers: Animation Channel

Episodes: 13
Aired: January 2017 – April 2017
The newly established Goryokan Academy for girls boasts a campus in the inner city with state of the art facilities. It has both middle and high schools and is very popular. However, this academy has one more side to it. Schoolgirl Strikers is a story about five young girls from Altair Torte, a division of the Fifth Force: Tsubame, Mana, Yuumi, Stoka, and Io. These girls can detect beings from the Fifth Dimension, O'bli, who are threatening and invading their reality. As Goryoukan's side objective is to find individuals for the Fifth Force and train them, we watch these girls struggle and triumph over the responsibilities of being teenage heroes.
When we compare Schoolgirl Strikers and Toji no Miko, we can easily distinguish that our girls aren't naturally blessed with their skills, but had to continually work at these qualities through intensive physical and academic training. We observe with each character that they put their battle skills to the test with countless drills, competition, and mock battles. When the time calls for our heroines to commit to their responsibilities, they have these exercises to fall back on, always successful in wiping out the adversary with their specialty weapons.
Schoolgirl Strikers: Animation Channel PV
---
Final Thoughts
We hope you enjoyed our recommendations for 6 anime like Toji no Miko. If you haven't already, make sure to check out all of these great titles, as they are ones that will not disappoint! Toji no Miko focuses on so many elements, particularly how badass these gals look when wielding their okatana! Even though we know these are only a few of many in comparison, let us know if we've missed any! What other anime similar to this one can you suggest to us and other readers? Leave your comments below! Later!
---