También puedes leer este artículo en:Español
Competition is a rivalry between a single being and group over something that both sides desire or need. Competition among living species coexisting within the same environment occurs naturally. Living creatures may compete for many reasons, including territory, sustainability, mates, or even for the adrenaline. The anime Uma Musume: Pretty Derby demonstrates the drive of competition, the thrill of horse races, and idol mania as the girls commence their training at Tokyo's Tracen Academy in becoming the best of the best.
A fantastic Spring 2018 anime, we at Honey's present 6 anime like Uma Musume: Pretty Derby, with such shows featuring human-animal hybrids, outstanding friendships, and tons of comedy. Hopefully, these series will fall right into your watch list!
Similar Anime to Uma Musume: Pretty Derby
1. Sora yori mo Tooi Basho (A Place Further Than The Universe)

Episodes: 13
Aired: January 2018 – March 2018
Mari Tamaki is filled with hopes and dreams but is scared to confront them, a barrier to pursuing many of her goals. With a change of heart and approaching her second year of high school, Mari is determined to do something with her life and not let her youth slip out of her hands while she can help it. Even though she still has anxieties, Mari meets someone else filled with the same aspirations as her, Shirase Kobuchizawa, and is super motivated to make things happen this year. Shirase Kobuchizawa has her motives for engaging in a trip to Antarctica with Hinata Miyake and Yuzuki Shiraishi later joining the duo. Together, they all embark on a grand journey.
Sora yori mo Tooi Basho and Uma Musume: Pretty Derby features a group of highly motivated young ladies who work hard to accomplish their goals and dreams. The casts of characters in both anime are very diverse, as both series strive to highlight each girl's characteristics and diversity. The animation is bright and lively, making both Sora yori mo Tooi Basho and Uma Musume: Pretty Derby very entertaining series.
Sora yori mo Tooi Basho Trailer
---
2. Uchouten Kazoku (The Eccentric Family)

Episodes: 13
Aired: July 2013 – September 2013
The story takes place in Kyoto, where a majority of the population is a tanuki, a raccoon dog species; and tengu, a mythical heavenly dog creature. The tanuki and tengu have lived among humans for a long time. We follow a young man named Yasaburou Shimogamo, who is a shapeshifter and enjoys spending most of his time people watching. As Yasaburou and his brothers are descendants of a legacy of tanuki, his late father would perhaps suggest that he do something more productive. With that said, the Shimogamo patriarch was a very influential leader of the community before his untimely death. Throughout the series, as Yasaburou uncovers the mystery of his father's murder, he and his brothers must also fight and avoid their father's very terrible fate.
Uchouten Kazoku and Uma Musume: Pretty Derby both have a vast and intriguing cast of characters that contribute to an exciting storyline. As our bands of characters unite to overcome challenging obstacles, their combined strengths and personalities are some of the reasons why they can achieve their dreams. The animation styles in both are eye-catching and utilize many vibrant colors within scenic shots and action sequences. Uchouten Kazoku and Uma Musume: Pretty Derby are overall exciting anime series.
The Eccentric Family Trailer
---
3. Demi-chan wa Kataritai (Interviews with Monster Girls)

Episodes: 12
Aired: January 2017 – March 2017
Demi-chan wa Kataritai is a story about an average high school biology teacher named Tetsuo Takahashi and his fascination for "Ajin," also known as "Demi." These human-monster hybrids have made themselves a place in society, but Tetsuo believes there is more to be learned about these beings. What better way to gain knowledge than by interacting with them first hand? As an instructor at Shihasaki High, we follow Tetsuo's daily life with his demi students and staff, engaging in countless interviews, learning that the Demi are not as different as he believed.
Demi-chan wa Kataritai and Uma Musume: Pretty Derby are both heartwarming, feel-good anime that are similarly themed. As each features monster girls, we observe that their differences do not make them any less unique than humankind, but make them even more special and spectacular. With the help of a nurturing and caring adult figure, the girls make a tremendous impact on their mentors when they least expected it.
Demi-chan wa Kataritai Trailer
---
Any Anime Like Uma Musume: Pretty Derby ?
4. Kemono Friends

Episodes: 12
Aired: January 2017 – March 2017
Set in the far future, we are welcomed to Japari Park! In this beautiful environment, our characters are adorable therianthropic creatures that overwhelmingly resonate friendship and happiness. In the story, we are introduced to a young girl named Kaban who has no idea of who she is or where she is from. Traveling with her new companion, Serval, the two commence their venture, in which they uncover various mysteries, meeting new and friendly creatures along the way.
Kemono Friends and Uma Musume: Pretty Derby share many similarities, but the most notable element is that both anime contain adorable, cute, and vibrant anthropomorphic girls. Each girl from Kemono Friends and Uma Musume: Pretty Derby has a stand out personality, contributing a remarkable quality that makes the group whole. With such amazing storylines, both anime will instantly get viewers hooked.
Kemono Friends PV
---
5. Sakura Quest

Episodes: 25
Aired: April 2017 – September 2017
Sakura Quest follows the conquest of Yoshino Koharu, a new Tokyo transplant in search of a job. After continuously applying for employment in the big city, she still hasn't had any luck. On one lucky day, she gets an offer to work at a travel agency. Overcome with excitement, she accepts the position but fails to read the fine print in her contract. The details include becoming the queen of a small country town for a year, promoting tourism in the area, and the small additions she overlooked. With help from Sanae Kouzuki, Maki Midorikawa, Ririko Oribe, and Shiori Shinomiya, Manoyama Town is going to be a happening place! It's good to be queen!
Sakura Quest and Uma Musume: Pretty Derby cover two vastly distinct genres, but spotlight a set of young ladies who plan to make a name for themselves in the big city of Tokyo. Both anime put out the message that a dream can never be too small or impossible. Further down the road, when obstacles stand in the way of a goal, the girls receive immense support from their friends, placing the dream within their grasp once more. Additionally, as we commonly hear that "life's not perfect," our girls in Sakura Quest and Uma Musume: Pretty Derby quickly learn that "yesterday is history, tomorrow's a mystery, and today's a gift, which is why we call it present."
Sakura Quest PV
---
6. Keijo!!!!!!!!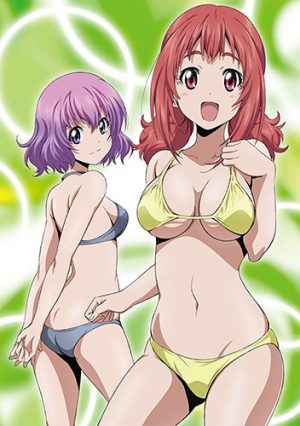 Episodes: 12
Aired: October 2016 – December 2016
Keijo!!!!!!!! is an anime about a fictional competitive sport that pits well-endowed ladies against one another in wrestling-like fashion upon a platform floating on water. The only methods of attack that these ladies can use are their boobs and butt! The sport of Keijo is so serious that there is an institution dedicated to training prospective Keijo participants. Sweeping across the country, many young ladies qualify and participate as Keijo players to become the next national champion and win the first place prize!
Keijo!!!!!!!! and Uma Musume: Pretty Derby revolve around a similar plot of a group of teenage girls participating in some very odd sports, Keijo and Horse Girl racing. Enrolled in particular institutions to train in their game, the characters in both anime share the aspiration of making it big, striving to be the best. Although at first glance viewers might resist starting a series of this nature, Keijo!!!!!!!! and Uma Musume: Pretty Derby are surprisingly entertaining. Ready, set, give it a go!
Keijo!!!!!!!! PV
---
Final Thoughts
We hope you enjoyed our recommendations for 6 anime like Uma Musume: Pretty Derby. If you haven't already, make sure to check out all of these great titles, as they are ones that will not disappoint! Even though these are only a few in comparison, let us know if we've missed any! What other anime similar to this one can you suggest to other readers and us? Leave your comments below! Later!
---