Have you been longing for a mystery anime that tests your sleuthing skills and makes you wish you could be the next Sherlock Holmes? We guarantee most of you said yes and thus have probably entered the world of Moriarty the Patriot. Following the exploits of Holmes' arch enemy/rival William Moriarty, Moriarty the Patriot has our math professor solving crimes and mysteries using science and intelligence as his main tools of mystery solving.
We have fallen in love with this mystery series crafted by Production I.G and the ratings for the series prove we aren't the only ones digging this new anime. If you are in dire need of similar shows—since waiting weekly for the next Moriarty the Patriot episode is a crime in itself—then these recommend anime will help ease your pain. You might be solving crimes in a different way than Moriarty but you'll still feel like a detective and that is what you'll love the most.
Similar Anime to Yuukoku no Moriarty / Similar Anime to Moriarty the Patriot
1. Young Black Jack

Episodes: 12
Aired: October 2015 – December 2015
Acting as a prequel to Black Jack, Young Black Jack focuses on Kuroo Hazama as he begins his battle to prove his surgeon skills. Despite his almost Frankenstein-like looks, Hazama is a masterful surgeon that uses his skills to perform deadly surgeries most would think impossible. Hazama must also deal with political/world issues such as a looming war taking over Japan and governmental issues that show no one can be trusted. Despite these pains, Hazama has to prove that nothing can stop the pride of medicine and he will continue to push towards the future that we all know he is destined for!
Black Jack originally released in the early 90s and was a cult classic among mystery anime fans. Young Black Jack attempts to revive the series by bringing us to the origin story of Hazama and his challenges as a young surgeon. Similar to Moriarty the Patriot, Young Black Jack has viewers constantly guessing what will happen next and how our protagonist will handle it. We loved Young Black Jack and know fans of the original or newcomers will dig it too!
Young Black Jack Trailer
---
2. Kubikiri Cycle: Aoiro Savant to Zaregotosukai (The Kubikiri Cycle)

Episodes: 8
Aired: October 2016 – September 2017
Tomo Kunagisa has been invited on behalf of the famous genius Iria Akagami to an island with several other famous folks. Accompanying Tomo is her assistant named simply as Boku and the two quickly realize this island is hiding an unknown threat. Their fears become a reality when one of the residents of the island is murdered and the guests begin to fear the killer is among them. Can Boku solve this mystery before more lives are lost? The most normal guy on the island might be the only person capable of solving this strange murder mystery.
The Kubikiri Cycle was a surprising 8 episode anime that Shaft produced that surprised viewers worldwide. Rather than being multiple stories/arc like the light novel series its based on, The Kubikiri Cycle focuses on the first volume and explores the world of Boku and his super-smart—but also strange—female companion Tomo and we get to learn their odd dynamic. The Kubikiri Cycle didn't disappoint mystery fans and certainly pushed our minds to the limits. Fans of the peculiar mysteries found in Moriarty the Patriot should definitely give The Kubikiri Cycle a peek!
---
3. Joker Game

Episodes: 12
Aired: April 2016 - June 2016
In preparations for the encroaching Second World War, Japan has begun to take the necessary steps to keep their information and secrets safe. A spy agency is created called D Agency comprised of several individuals with very unique skills and talents. Each agent will need to utilize their talents to safeguard Japan and prevent the war from overcoming their country. D Agency might work unseen but their actions will prove to be the game-changer in this war.
Joker Game is almost comparable to an action-espionage movie. The intense battles of D Agency and the various challenges they overcome make every episode of Joker Game better than the last! We absolutely love the style and concept in Joker Game and wished it would have been a bigger hit during the Spring 2016 anime season. However, it's never too late to pick up and check out Joker Game. And if you somehow missed this awesome series—and consider yourself a Moriarty the Patriot fan—then you need to join the talented D Agency and watch Joker Game!
Joker Game PV
---
Any Anime Like Moriarty the Patriot / Any Anime Like Yuukoku no Moriarty?
4. Monster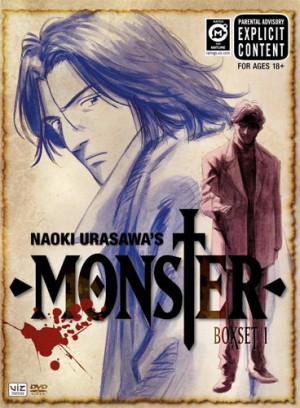 Episodes: 74
Aired: April 2004 – September 2005
Long ago, Dr. Kenzou Tenma faced several life-changing events due to his work as a neurosurgeon. Not only did he operate on those deemed less important but he also chose to save the life of a famous soul versus a poor normal man. It has been nearly a decade since Dr. Tenma made his choices in life and now, as the hospital director, his past has aged like a dangerous tumor. Tenma's choice in saving one life will prove a disastrous one.
Monster is one of those anime many have seen but not enough have at the same time. Those who adore dark anime stories with compelling plots will want to check out Monster if they haven't already. Fans of Moriarty's plight might see the similarities with Tenma as both deal with their choices both good and bad. Monster is easily one of the best mystery anime—and one of the greatest series ever made—so to the few who haven't seen it yet…you need to fix that ASAP!
---
5. Death Note

Episodes: 37
Aired: October 2006 – June 2007
Light Yagami might be a prodigy but his life has been nothing but dull and monotonous. That all changes when a notebook falls from the skies above. When Light picks up the mysteriously titled Death Note, he quickly learns this is no ordinary schoolbook. Those whose names are placed within the Death Note will die and given this new power, Light will awaken a side of himself he didn't know was within him. Can Light change the world and become its newest God?!
Here's another famous anime that we doubt many have passed on, Death Note. Originally released in 2006, Death Note has become a worldwide phenomenon spawning a manga series, several movies—both animated and live-action—and a dozen pieces of merchandise. Death Note is what many of us here at Honey's Anime consider one of the best mystery anime ever crafted and we doubt many otaku would say otherwise. Maybe you're new to anime and have only seen Moriarty the Patriot. If that's the case then we recommend with all of our combined hearts to check out the incredible Death Note for a truly amazing ride.
Death Note PV
---
6. ACCA: 13-ku Kansatsu-ka (ACCA: 13-Territory Inspection Dept.)

Episodes: 12
Aired: January 2017 – March 2017
As a means of establishing peace between Dowa and the 13 states, the public service department 'ACCA' was formed. Thanks to the efforts of ACCA, Dowa has had a century of calm and tranquility that seems unshakable. Unfortunately, this calm might be in jeopardy when a tip comes across ACCA's desk that discusses a possible coup d'état waiting in the background. Jean Otus has been tasked with using the full power of ACCA to prevent this from happening and keep the peace intact. Will Jean uncover the plot before it occurs or will those beautiful days of calm come to a screeching halt?
ACCA: 13-Territory Inspection Dept. surprised us here at Honey's Anime when it dropped in 2017 from studio Madhouse. ACCA constantly kept us wondering who was the true threat in the kingdom of Dowa and was there an evil scheme being crafted behind the scenes. Akin to Moriarty the Patriot, ACCA: 13-Territory Inspection Dept. proved to be a tremendously well-done mystery series that proved better than we ever could have imagined. ACCA: 13-Territory Inspection Dept might start off a bit slow but if you keep with it you'll be amazed at what this series can deliver. Plus, ACCA: 13-Territory Inspection Dept has easily one of the best anime openings of all time that even in 2020 we still rock out to.
ACCA: 13-Territory Inspection Dept. PV
---
Final Thoughts
The beauty of a good mystery anime is that feeling of trying to think what will happen next. Will a killer get away with his/her murders or will the protagonist save the day again!? We never know and that keeps us clutching our chairs waiting for the next episode. We're loving Moriarty the Patriot for that very reason and the shows above are the perfect ways to keep us busy till the series' next episode! Have you seen any of the shows above? Comment below to let us know and stick close to our mysterious hive for more recommendation articles here at Honey's Anime!
---