Kaifuku Jutsushi no Yarinaoshi (Redo of Healer) is raising a few eyebrows this season. It's causing controversies left and right, and it's even been banned overseas. For one, it's basically the greatest snap-back to anybody claiming that anime is just for kids. Another thing is that it should definitely be at least 40 feet away from any child (or any sane human, for that matter). Neither the plot, scenes, nor anything about it is suitable for children nor anybody weak of heart. It's borderline hentai and psychologically twisted to the point that censorship doesn't do much help. Despite that, the series has garnered quite a lot of viewership.
If you're part of the population who likes the series, then you may find these other borderline anime appealing.
Similar Anime to Kaifuku Jutsushi no Yarinaoshi / Similar Anime to Redo of Healer
1. Shinmai Maou no Testament BURST (The Testament of Sister New Devil BURST)

Episodes: 10
Aired: October 10, 2015 to December 12, 2015
The Testament of Sister New Devil BURST or just BURST is the sequel to the first The Testament of Sister New Devil. As the title suggests, the protagonist of the series has devils for sisters. Well, step-sisters to be exact. Basara takes it upon himself to ensure his sisters' safety. In the first season, the series is set on Earth, but for BURST, things are taken down a notch. It's set in the Demon Realm, but all the essence of the original story remains. That means Basara must be erotically pleased to further his strength.
Being completely honest, the series doesn't care much about the plot. The series is a bit disordered and a lot of information is being dumped at once, so the story feels a bit cramped and chaotic. As the premise suggests, there are a lot of sex scenes filled with moans and fluids. In terms of borderline hentainess, though, this series more than fits the bill. As a side note, Kaiyari also doesn't offer much of a story, so they're basically on the same footing.
The Testament of Sister New Devil BURST Trailer
---
2. Sin: Nanatsu no Taizai (Seven Mortal Sins)

Episodes: 12
Aired: April 15, 2017 to July 29, 2017
Unlike the known Nanatsu no Taizai, this one is straight up about sex. Even though the more famous Nanatsu no Taizai shows Meliodas constantly groping Elizabeth, it doesn't hold a candle to this one. In this series, Lucifer, similar to what is commonly known, has fallen from grace. He then meets an overzealous Leviathan, who wants to be the Demon King. All the while they're trying to achieve that, a lot of devilish actions (yes, the one you're thinking) happen.
Seven Mortal Sins doesn't seem to care about censorship anymore. The series is filled with huge, uncensored breasts, as well as multiple suggestive positions. Given that the series focuses on devils who literally don't give a damn about morality, it's quite obvious what kind of content you'll be seeing. It pretty much has everything you can probably think of.
Sin: Nanatsu no Taizai PV
---
3. Elfen Lied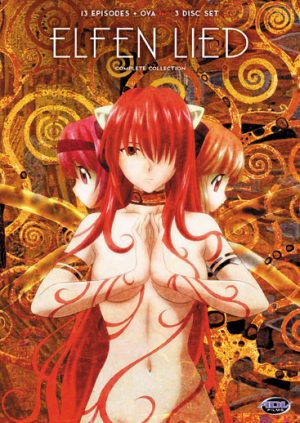 Episodes: 13
Aired: July 25, 2004 to October 17, 2004
Elfen Lied focuses on Lucy, a victim of government experiments and torture. When she sees a chance to finally break the government's shackles, she unleashes her telekinetic hands and only leaves bloodshed in her wake. However, things have not gone as smoothly as everybody hopes. During her escape attempt, she receives a crippling head injury, which ends up giving her a split personality.
Similar to Lucy, Keyaru has also been tortured and used by the government. However, Lucy doesn't have the right mental capacity to conjure a very detailed plan. Instead, she has overpowered telekinesis, which allows her to turn into a murderous being and nothing else. During her berserk mode, however, Lucy is mostly nude, and the studio hasn't even bothered with censoring it.
Elfen Lied Trailer
---
Any Anime Like Redo of Healer / Any Anime Like Kaifuku Jutsushi no Yarinaoshi ?
4. Peter Grill to Kenja no Jikan (Peter Grill and the Philosopher's Time)

Episodes: 12
Aired: Jul 11, 2020 to Sep 26, 2020
When the titular character of this series has finally obtained the title of being the strongest in the world, he originally plans on lying low and just living the rest of his life in peace. However, news travels fast, and soon, the news of Peter's might spreads across the land. That results in Peter being hunted by women of different races just to acquire his seeds.
Peter Grill is just as messed up as Kaiyari. For one, the king doesn't really want Peter to marry his daughter and not for a righteous reason either. It's because he, himself, wants to implant his own seeds in her. Not only that, the series is filled with NTR scenes, and the creators seem to want the audience to empathize with the protagonist. Sounds similar? That's probably because there are those who actually think Keyaru's acts are forgivable and even feel jealous about it. On another note, this series doesn't have the same sense of depravity as Redo of Healer.
---
5. High School DxD

Episodes: 12
Aired: Jan 6, 2012 to Mar 23, 2012
Even though it seems like a slice of life anime, High School DxD is considered to be one of the ecchi classics. The plot revolves around Issei, who happens to be dragged into the world of devils, angels, and fallen angels.
Issei, pretty much like Keyaru, is a huge pervert. In fact, he's infamous around his school for being a creep. A pervert for a protagonist, a bunch of devils, and an ecchi tag is basically the perfect combination for a very raunchy anime. High School DxD is just that. The series is filled with fanservice and nudity, but the best part is that it actually follows a good storyline. Unlike the other series that only focuses on giving fanservice, showing skin, and doing lewd stuff, High School DxD can probably stand on its own even without all the ecchi. The characters develop and the story progresses within a reasonable timeline, which makes it a truly enjoyable watch.
High School DxD Trailer
---
6. Prison School

Episodes: 12
Aired: Jul 11, 2015 to Sep 26, 2015
Prison School is pretty much what the title suggests. Hachimitsu Private Academy was originally an all-girls school, but that suddenly changed when the school started accepting male students. Despite the new rule, however, only five male students enroll. The females heavily outnumber the males, and the males are the extremely perverted kind. They try to take a peek into the female's bathroom and get caught by the student council. Then, they get thrown into the titular prison for an entire month.
Reading Prison School's premise makes it sound like a gag manga, but the fact that the male characters of the series are extremely perverted changes everything. Prison School has a lot of raunchy shots and poses. It also features a lot of scenes that cater to most fetishes, including masochism, foot fetish, and sadism. When we say that, we mean the female characters of this series takes pleasure in torturing the men. Weirdly enough, the men are actuall into that kind of stuff. We don't really want to get too into detail, but Prison School is basically a chest full of nasty stuff.
Prison School Trailer
---
Final Thoughts
As they say, to each his own. We are in no position to judge people's tastes and personal preferences, since even we have our own. At the end of the day, we all love the industry and the media, so we're doing our best to be open and make everybody happy. We get that talking about stories like Redo of Healer can straight up be inappropriate, so we hope this list will be of help. It's your choice whether to watch these series or avoid it like the plague.
---