It Took Half a Year, but They Bloomed!
Episodes: 12
Genre: Slice of Life, Idols
Airing Date: January - June 2020
Studios: P.A.Works, Studio 3Hz
About A3!
A3! (Act! Addict! Actors!) revolves around Sakuya Sakuma, a passionate student who fell in love with acting at a young age. He joins the MANKAI Company in an effort to become an actor and fulfill his dream of performing on a stage, but he soon discovers that the theater where he's supposed to have his debut is about to be demolished. Meanwhile, Izumi Tachibana, a former stage actress, arrives at the theater and discovers the situation, so she decides to become the new director and recruit two other members to join the troupe and save the building.
Coming Together… Blooming Together

After Sakuya, the second one to join the team is Masumi, a serious boy who decides to be part of the group just to be close to Izumi. It doesn't take long for Tsuzuru, Citron, and Itaru to join, finally completing the Spring Troupe. Even though it's hard for Izumi to bring the theater back to what it was, she never gives up, trusting that this new generation of actors will be able to put on an unforgettable play. In the end, all the efforts pay off, and they manage to save the theater while making new friends along the way. Such a nice story!
So... the world of anime is huge, with a broad range of plots and characters, but it's unusual for a show to have theatre actors—not rakugo performers, and certainly not wannabe-idols—as the main focus. For that reason, it's especially interesting to see how the boys keep up with their regular schedules and still manage to find time to practice, or how they behave around each other as they get to know the other members of the troupe. Another thing that's attractive about A3! is the fact that, although they all live in the theatre's dorms, it's not a boarding school; they still attend their regular classes at school or go to their day jobs!
It's refreshing to learn about acting and the extensive set of skills that are required to become a good actor, but it's equally exciting to see the boys learning to memorize and follow a script. Of course, there's more than cute boys learning and getting along, and the "Spring Troupe" has to put on a successful performance by the end of the month if they want to save the theatre. It will take a lot of practice and patience for them to reach a good acting level, lots of hours learning how to convey feelings not only with words but with actions. Will they manage to impress the audience?
Fujoshi Potential: B3! - Boys! Boys! Boys!

Now, let's talk about the most important stuff for the fujoshi audience: the cast. It's not difficult for us to dust our tools and start building ships when we're presented with five cute boys with different personalities. Oh, and don't worry about odd numbers... the more the merrier!
Masumi is an aloof high school student, used to being alone because his parents are always traveling. He usually comes across as rude and has a hard time conveying any type of feeling through his acting. He is particularly harsh on Sakuya, whose optimistic and pure personality is the exact opposite of his. Maybe Masumi is a bit of a tsundere?
Tsuzuru, the third boy to join the company, also has a pure personality but he's not afraid to speak his mind whenever he feels like it's necessary. Since he's the same age as Masumi and Sakuya, they're often together, which allows us to dream of a love triangle.
Citron and Itaru Chigasaki are the last members to join the group. Citron is a foreign exchange student who just went with the flow and decided to join the dorms. He has a hard time speaking Japanese as he's often mixing words and coming up with confusing sentences. Still, he's overly enthusiastic and makes everyone laugh with his sparkly personality. Itaru, being older than the rest, has a day job and appears to be really mature and collected. The truth, however, is that he has a really twisted personality when it comes to online gaming. He just can't stand to lose, and he gets in a really bad mood when that happens.
OK, They Look Nice, but Is the Animation Any Good?

The animation feels a little off sometimes, particularly during the first episodes. Some of the characters' expressions look weird and slightly off-putting, but we can see there are some improvements as the episodes go by. The character design is cute and it definitely does our boys justice. If you come from the game, then we're sure you weren't disappointed. After all, seeing all our handsome boys talking and actually being animated is a real treat! When it comes to backgrounds, it's 50/50. Some look really off like they don't actually belong to the anime, while others manage to blend in perfectly with the animation.
---
Honey's Anime Verdict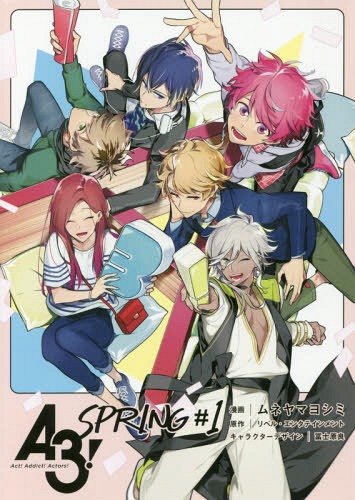 An anime centered around a group of boys living under the same roof, practicing every day until they can't take it anymore, sounds like a very interesting premise… not unique, but different enough to catch our interest. Overall, A3! is an entertaining show that allows us to take a peek at how a theater troupe is organized, and how much work is required to put on a successful performance. Surprisingly, it's really well-paced, giving each character the attention they need and deserve, telling their stories and what moves them to want to become part of the troupe.
When it comes to the Spring Troupe, the boys have a nice chemistry and their personalities go well together, something that helps the story flow. It makes sense to focus more on the Spring Troupe since they're the first ones to join MANKAI Company; also, Sakuya has the genki vibe that we all love in a protagonist. That being said, the Summer Troupe makes an amazing job too, putting on a great performance in the second half of the anime and bringing A3! to an end on a very positive note.
Now A3! is over, we can definitely say we enjoyed watching these characters achieve their goals. What will happen once the Winter and Autumn troupes join them, though? We're sooo looking forward to the next season!
---