También puedes leer este artículo en:Español
Do some Spring Cleaning with Crazy Superhumans, Creepy Villans, Distorted Realities, & Brave Heroes!
Here at Honey's Anime, it is always our mission to ensure that we provide you with concise and entertaining news to keep you coming back for more. Spring is slowly creeping up on us and so it's that time to clean out the old winter anime, and bring in the fresh and exciting lineup for all to enjoy. We thought that it would be nice to bestow upon you, our spring action anime lineup. Without further adieu let us get our cleaning tools ready and bring in the spring!
9. Terra Formars Revenge

Episodes: TBA
Aired: April 2, 2016
Terra Formars Revenge takes place in the 21st century, where scientists were given the task of warming the planet Mars, so that humans could inhabit it. The plan was to send cockroaches and mold to the surface so that the mold would be absorbed, while the roaches would serve as the food source. Fast forward to the year 2577, a manned ship was sent to Mars to see the results of their research, but what they find once they arrive is terrifying. Giant humanoid cockroaches with superhuman strength have inhabited the planet, and have completely eviscerated the entire crew who landed there. Not long before the destruction, a message was sent back to Earth detailing what they witnessed. Now Earth has geared up and dispatched an elite team of warriors to exterminate these humanlike roaches, and claim back the planet Mars.
While cockroaches aren't sought after in today's modern world, it's cool to see how they've finally transformed in a somewhat unfitting way as if to say, "Now we will crush you!" I'm not too fond of roaches, but this story actually makes these nuclear bomb surviving critters very cool. They've been given the human like ability to destroy anything in its path, which is ironic because we have spent thousands of years trying to destroy them. Now the tables have turned and the roaches are out to seek revenge in every possible way. The premise of the story is pretty amusing at first glance, but for those who haven't read the manga, it becomes very gruesome over the length of the series which makes it such a prospect to finally watch.
Terra Formars Revenge Trailer
---
8. Concrete Revolutio: Choujin Gensou – The Last Song

Episodes: TBA
Aired: April 10, 2016
Concrete Revolutio now sees its second season coming into fruition, and so those who managed to be occupied by the first season will surely be glued into this one. Back in 2015 we followed Jirou and Kikko on their fantastic journey to identify and approach superhumans, and the history behind why the superhuman race even exists in the first place. Their journey continues in season 2 as they continue to unravel the secrets behind the superhuman bureau, what their intentions are, and the reason for the superhuman race's behavior.
This is another anime we are certainly excited to watch because anything referring to superhuman powers always fascinate our minds for some reason (check out Big Order below for more). We were able to catch some of the first season to get a feel for the premise of what was happening, but now with the second season springing forth it would be acceptable to go back and watch all of it. Jirou seems like a character we all can relate to, along with Kikko who is the heroine of the story. Great character design is something we can all admire, and both characters have a colorful personality that draws you in immediately. If you're new to the series, then most definitely watch the first season and hop right into the second one once it drops this spring!
Concrete Revolutio 2nd Season Trailer
---
7. Macross Delta

Episodes: TBA
Aired: April 3, 2016
Macross has always been a classic mecha anime, and to this day there are still thousands of fans everywhere supporting the franchise. Macross Delta takes place in a futuristic world, where four girls are out on a journey to discover the galaxy. The premise of the story according to the special preview is that it takes place fifty years after mankind ventured out into space to avoid extinction. Var Syndrome has plagued society, as it destabilizes the mind which leads to erratic behavior. Due to the overwhelming panic of the citizens, a tactical unit called Walkure is assigned to the task of handling this situation. Under the strong protection of the Delta Platoon, they set out to put an end to the misery around them.
This received a spot on our list because mecha anime always bring something dramatic to the screen, and so we become glued to all that's happening. Also, the story behind Var Syndrome outbreak sounds interesting, since it reminds us of the Biohazard (Resident Evil in the west) franchise but with more mechs, and cute female heroines to keep us on our toes. What really attracted us was the art style which combined a more retro feel much like the past Macross series, and also a more modern feel with regards to character design. This is must watch for anyone stoked for spring!
Macross Delta Trailer
---
6. Ushio to Tora: Season 2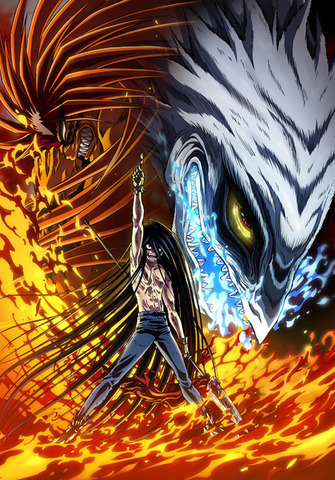 Episodes: 13
Aired: April 1, 2016 – June 24, 2016
In the first season of Ushio to Tora, Ushio comes across a mysterious creature located in his grandfather's secret basement. The creature, Tora, was sealed there with the Beast Spear and cannot leave unless someone pulls the spear from out of his shoulder. Ushio confronted Tora reluctantly with Tora warning him if he were to do so, he would be soon devoured by him. Having no fear in his heart, Ushio rips the spear from Tora's shoulder thus granting him the supreme power of the Beast Spear. From here, the two join forces to help put a stop to the endless army of ghouls who terrorize the city, and to discover the truth behind who created the Beast Spear.
This series was one of my favorites spanning back to the summer 2015 season because, it was actually a remake of the 1992 classic Ushio to Tora and that sparked my attention. I'm always a fan of classic remakes, and this series was undoubtedly a must watch to see the artistic style changes that were implemented. The story is very much the same but with a little modern touch to emphasize the current generation we now live in. One very good reason why this show is a must watch is most definitely the artistic direction they've taken with Tora. He starts off as an evil, in your face, and uncontrollable beast but after a while you come to love him for his quirkiness. I've never seen such unique design for a character like Tora, and that in itself is what lured me in. Pair that with the over the top action, and deep story plot, and you have yourself yet another hit for the spring anime season! Search for this action anime, bookmark it, and bask in all its glory.
Ushio to Tora Trailer
---
5. Jojo no Kimyou na Bouken Part 4: Diamond wa Kudakenai [Jojo's Bizarre Adventure part 4: Diamond is Unbreakable]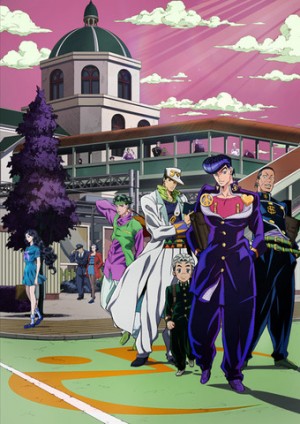 Episodes: TBA
Aired: April 2, 2016
The Jojo series will always stand the test of time all around the world, with its cast of characters all seemingly bizarre in their own way. Despite how odd you may find their mannerisms to be, Jojo and his friends have brought in a large number of new anime fans. The franchise spans over into the gaming world as well, selling hundreds if not thousands of copies at release. So it should come as no surprise that we had to bring you Jojo no Kimyou part 4 to ring in the Spring season. This is now the fourth story arc of the Jojo's Bizzare Adventure series, so if you haven't watched the previous three then most definitely tune in.
We are all very curious to see what all the commotion is about in this fourth installment. The series may not be new when compared to that of the others on this list, but it is certainly new for us which compells us to see what Jojo will do. The story of the fourth arc revolves around an ancient artifact named "Bow and Arrow" which has plagued the town of Morioh. Now it's become the responsibility of Jojo and his friends to solve the mystery behind all the homicides taking place. This season seems like a murder mystery compared to the more action filled prior seasons, which is interesting. Let's all cross our fingers in hoping that there will be action to compliment all of the unknown incidents that are taking place around the world of Jojo.
Jojo's Bizzare Adventure Part 4: Trailer
---
4. Sword Gai

*** Due to unknown reasons, Sword Gai has been cancelled for Spring 2016 and will air someimte in 2017. Thank you for your understanding. ***
We always seem to fall in love with characters who possess really dynamic powers in the form of weapons. Sword Gai is one of the must watches on my list because Gai has a demon sword as an artificial arm, and that is just truly marvelous. The story follows Gai on his cruel fateful journey in which he must face countless battles, and confront himself in midst of everything that is unfolding around him. Amon, who was the swordsmith that found Gai, becomes his master and forms his destiny by attaching the demon sword "Shiryuu" to his right arm after losing it in an accident prior. The story becomes a choice of a "beautiful history and an ugly person, or the cruelty of weapons and the beauty of humans" and Gai has to decide what is right in his mind to see things through.
There is so much to say about Sword Gai but to put it simply, this show is going to blow you away. With its nod to the comic noir and impeccable character direction, Sword Gai is nothing short of spectacular. If you haven't watched the trailer for it, we strongly recommend doing so as it invites you into a world full of danger, confusion, and chaos all at once. If you love extraordinary weaponry applied with extreme action, then bookmark this one as soon as you can!
Sword Gai 3DCG Trailer
---
3. Koutetsujou no Kabaneri [Kabaneri of the Iron Fortress]

Episodes: TBA
Aired: April 8, 2016
Action anime never disappoints as it supplies us with spectacular visuals, and a flurry of fun. Coming in at number ten is Koutetsujou no Kabaneri. The plot takes place in a world that is currently in the industrial revolution, where a monster harms the town and cannot be killed unless you pierce its iron heart. With each bite that the monster inflicts, humans become infected slowly transforming into undead creatures called Kabane. The show stars Ikoma, a young boy with a mission to put an end to the monster's onslaught of terror. He creates a weapon called "Tsuranukizutsu" with the sole intent of destroying everything in his path.
This is one anime to look forward to because the story itself is enticing and seeing Ikoma in action with his huge tsuranukizutsu is going to be thrilling. One other reason is because of the Kabane's origin, why it decided to attack the town he lives in and the island of Hinomoto. We're really anticipating something incredible from this, especially the back story behind how it all began!
Koutetsujou no Kabaneri Trailer
---
2. Big Order

Episodes: TBA
Aired: April 16, 2016
Producer Lantis is back at it again with another great anime for the spring lineup. Big Order plans to shake things up in the action scene with it's creative style, and super powers that surpass the human ability. If you observe closely at the art style of Big Order, you can see that it closely resembles that of Mirai Nikki, which was another classic hit from creator Sakae Esuno. In Big Order, a group of people labeled "Order users" have the super power to grant wishes through their own will, allowing for some real crazy and strange outcomes. However, there is one individual who harnesses the ability to turn people into puppets and destroy the world at will, and that is main character Eji Hoshimiya.
We're more than ecstatic for Big Order simply because it has a lot to offer in terms of story and the impact of each character. Sakae made heads turn when Mirai Nikki was released, and so this series should live up to expectations. We thoroughly enjoyed Mirai Nikki for its psychological story mixed with a heavy emphasis on the main character Yuki and his history. Eji is very similar in this case since We're curious as to how he even managed to harness this destructive power, and what he will do with it once all hell breaks loose. Psychological action anime will always have a place in our hearts, and so we hope it will make its way into yours once it drops this spring season.
Big Order Trailer
---
1. Boku no Hero Academia

Episodes: TBA
Aired: April 3, 2016
Boku no Hero Academia is arguably one of the highly anticipated anime for the upcoming spring season. Somewhat of a nod to One Punch Man, Boku no Hero Academia is a story about a young boy with dreams of becoming a hero. Izuku grew up in a small town and has had this one question orbiting around in his mind, "what is a hero?" Always referring to All Might as his childhood hero. All Might is the highest ranking hero and "symbol of peace" in world, and not in his wildest dreams would Izuku imagine that he would eventually cross paths with him one day.
To earn a status in Boku no Hero Academia, one must have "Quirks" which are developed throughout childhood. Unfortunately for Izuku and his alter ego, Midoriya "Deku", the quirk never emerged for him. However that all changes when he finally comes across All Might at the illustrious Yuuei Academy, and from here his transformation from zero to hero finally comes to fruition.
Everyone in their childhood always had this dream of growing up to be a superhero, and I immediately caught onto this show the minute it mentioned hero. There is just something that resonates so well with the word hero, because it is a clear reminder to all of us that we too can save the world and restore peace around us. I really love the passion and energy that exudes from Izuku when he finally meets his childhood hero, because it instantly reminded me of when we all were young and were hungry for adventure. I'm eagerly awaiting this one to see what kinds of mysteries All Might and Izuku will discover over time!
Boku no Hero Academia Trailer
---
These are just some of the more exciting anime that are about to blast off this spring, so we do hope that these recommendations bring in the hype just as much as it did for us. Make sure to keep an eye out on Honey's Anime for more updates on more upcoming shows, and as always for your sweet anime fill, keep it locked here at Honey's Anime.
---
Vote for your most anticipated anime of Spring 2016!