También puedes leer este artículo en:Español
It's a new year and we're off to a flying start in the ecchi and harem camp (also romance which is fresh.) Honestly, Fall 2016 was a tad dry in these areas bar the explosive "hip" action of Keijo!!!!!!!! and the hentai in disguise that is Okusama ga Seitokaichou!+!. This season, however, we have a quite delectable selection, from the mindless fun of Akiba's Trip to the dark romance of Kuzu no Honkai, and even the nice and pretty middle-ground of Masamune-kun no Revenge, which is hard to dislike. With so much variety we're pretty hyped about Winter 2017 and we hope you are too!
So to give you a hand and get you started with this season's offering, here's our preview for Winter 2017's Ecchi and Harem anime! Try not to get too excited now.
8. Rewrite 2nd Season

Episodes: ?
Aired: January 2017 - ?
The sequel to Rewrite which aired during the Summer 2016 season, while the first season took inspiration from numerous routes in the original visual novel, this second season will focus on the Moon and Terra routes. The first season starts off with Kotarou Tennouji a seemingly normal high school boy, with an unusual ability which allows him to rewrite parts of his body. With a body as strange as his own, Kotarou has developed an interest in the supernatural, which leads to him joining his school's Occult Research Club after some odd occurrences involving its president. Along with several other cute girls who join, Kotarou begins digging deeper into the mysteries of the world that they inhabit, and quickly realises that he is not the only supernatural thing, or person, about.
While the original visual novel by Key earned a high amount of praise and attained excellent sales, Rewrite's first season did not fair quite as well sadly. But don't let that put you off, as this second season looks to turn things around by focusing on some of the best content from the novel itself! On top of that, the series, of course, retains the best parts of the first season, namely the cute girls that Key is known for, as well as a stunning soundtrack that is frankly worth listening to whether or not you decide to touch the show itself. If you liked any of Key's previous adaptations or want something with a surprisingly complex story to watch, we can only recommend trying out Rewrite.
Rewrite / 2nd season PV 1 (Contains Spoilers from S1)
---
7. Akiba's Trip The Animation

Episodes: ?
Aired: January 2017 - ?
If you've heard of or seen the game, then you know exactly what to expect from this show. Set in Tokyo's anime heaven, Akihabara, the story starts when the city begins getting attacked by monsters known as Synthisters who prey on the inhabitants of the area. The only way to stop them? Strip them and let the sunlight do its work, "purifying" them. After saving a strange girl who was fighting the Synthisters, Tamotsu Denkigai has managed to get himself caught up in the on-going battle, though thankfully stripping people of their clothes appears to be a talent of his.
How can we justify stripping girls in broad daylight: The Anime. A fanservice onslaught, Akiba's Trip is where you should be coming this season for your lingerie, thighs, breasts, and basically anything else ecchi. Keeping the tone fairly light, along with the fanservice you can expect a lot of laughs from Akiba's Trip, as well as some quite cool fight scenes and colourful, wacky art. This is a series for any fans of the original games, as well as anyone who wants something fun, entertaining and easy to watch.
TV animation "AKIBA'S TRIP - THE ANIMATION - 2nd trailer
---
6. Seiren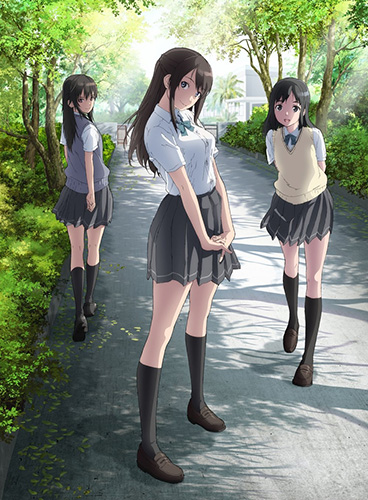 Episodes: 12
Aired: January 2017 - ?
Concerned about his future and the thought of no longer being a student, romance is the last thing on Shouichi Kamita's mind, even if he is slightly perverse. Trying to get his act together, he goes on a study camp with his friend, but for some reason he can't get one of his female classmates off his mind. Following an omnibus format, Seiren follows protagonist Shouichi Kamita's high school romances with three different girls, with each girl having four episodes dedicated to them.
An indirect sequel to Amagami SS, with a whole new cast and story there's no need to watch the other series beforehand, but fans of the previous series should feel right at home with Seiren. In particular, you might notice that the art looks familiar, as illustrator Shouichi Kamita who worked on the previous seasons is back for this original story. A school themed romance with a bit of comedy, ecchi, and slice-of-life on the side if you like any of the above then we recommend checking it out. Of course, there's also the beautiful girls.
TV animation "Seiren" the first PV
---
5. ChäoS;Child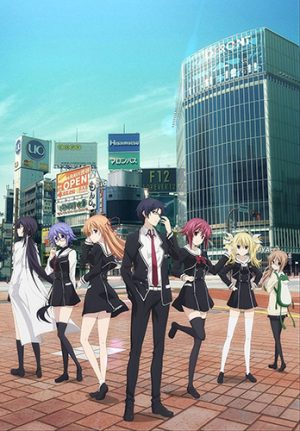 Episodes: ?
Aired: January 2017 - ?
It's been 6 years since the disaster known as the Shibuya Earthquake occurred, leaving the area in ruin, with many questions regarding its origin left unanswered. However, with incredible speed, the Shibuya district has been rebuilt and is once again a bustling city, with past events quickly forgotten. But now the bizarre murders that precluded the disaster 6 years ago are happening once again as if the past is repeating itself. Taking an interest in the cases, Takuru Miyashiro along with his school's newspaper club have begun looking into the murders, but will they like what they find?
A sequel to ChäoS;HEAd, ChäoS;Child's first episode aired alongside Episode 0, a recap of Chaos;Head's story, so you don't need to watch the whole season to get the gist of ChäoS;Child's plot. This series looks to be an interesting combination of mystery, thriller, and a harem, which at the very least makes you want to see how it turns out. Come for the cute girls, stay for the story, ChäoS;Child's visual novel is created by 5pb, the same company behind the aforementioned ChäoS;Child, as well as Robotics;Notes and the famed Steins;Gate, meaning you can look forward to a deep and bizarre plot.
TV anime "CHAOS; CHILD" Promotion VTR
---
4. Masamune-kun no Revenge (Masamune-kun's Revenge)

Episodes: ?
Aired: January 2017 - ?
Harbouring a grudge since he was a child, Masamune Makabe has always wanted to get revenge on Aki Adagaki for rejecting him and naming the then chubby boy "Piggy". Now attending the same high school as Aki, Masamune is a changed man: one of the kindest and most good looking boys at school, if a little arrogant. With a different name and such a different appearance, even Aki doesn't recognise him, making this the perfect opportunity to exact his revenge plan: make her fall in love with him, and then break up with her. Only with her being known as the cruel princess of the school, it could be a little harder than expected.
Although the premise of the series may seem cruel and dark, Masamune-kun no Revenge looks to be a reasonably light-hearted series, switching from romance and drama, to comedy and cute girls fairly regularly. Starting as a "romance" between Aki and Masamune, several other sweethearts are quick to join the fray making this probably the prettiest harem series of the season, with plenty of best girl choice for viewers, as well as a sprinkle of fanservice. What's looking to be a fun series with a solid plot to back it up, we'd recommend Masamune-kun no Revenge to any harem or romance fans.
TV animation "Masamune-kun no Revenge" PV 2
---
3. Super Lovers 2

Episodes: ?
Aired: January 2017 - ?
The second season of Spring 2016's Super Lovers, you may want to watch the first season before walking into this one. The original story revolves around Haru Kaidou, a guy who has been called to his mother's side when she was apparently "dying", and Ren Kaidou, Haru's new, adoptive brother who is slightly out of control. Spending the summer getting Ren's animalistic side under control, it may have all been for naught after Haru gets into an accident and loses his memories of their time together. But five years later the pair are united again in Tokyo, and they do appear to be a little closer than brothers would normally be.
Back for more yaoi fun times, Super Lovers 2 promises more drama, comedy, and most important to the viewers, boy's love. On top of the yaoi theme, Super Lovers also covers the incest-but-not-quite trope which has for a while been a popular kink. Of course, that's not to say that that's all the series is about. More than just fujoshi fanservice the story has plenty of romance and drama, as is not unexpected given the obvious difficulties suffered by characters in such a confusing family situation. So, BL lovers, this should be your top priority for Winter 2017.
TV anime "SUPER LOVERS 2" PV
---
2. Fuuka

Episodes: 12
Aired: January 2017 - ?
After just recently moving back in with his mum and sister, Yuu Haruna is new in town, and additionally, has a perhaps unhealthy obsession with Twitter. While walking and tweeting one day a girl named Fuuka Akitsuki smashes into him, and the very next second accuses him of taking upskirts of her when she fell over and promptly smashes his phone. Fortunately, the two meet afterwards at school and Fuuka turns out to be a surprisingly lovely and energetic girl and so starts the unusual relationship between the two. Although an old idol friend of Yuu's has just sent him a direct message, so that could certainly lead to some complications.
With the genres of this series spanning romance, ecchi, and music, we're certainly eager to see where Fuuka is going. Mostly because music anime isn't something we see much of, if you count out idol series, making Fuuka a refreshing addition to the Winter lineup. Although starting off as quirky and energetic as Fuuka herself, with one male protagonist and two lead heroines there's drama on the horizon, so if you do plan on watching this prepare your heart now. So if you like drama and good music, you should be definitely watching Fuuka.
TV animation "Fuuka" PV 2nd bullet
---
1. Kuzu no Honkai (Scum's Wish)

Episodes: ?
Aired: January 2017 - ?
Unrequited love, whilst sometimes considered a thing of beauty, is also tragic. Mugi Awaya and Hanabi Yasuraoka both know all too well the pain of it, as they fawn after two who are close to them but are somehow just out of reach. Each are in love with one of the teachers at their school, but unable to be with those people. Using each other as substitutes, their cold relationship allows them to play out the fantasies of being with the one they desire the most, while in truth neither one feeling anything for the other. But such a relationship can surely not carry on unimpeded.
So this is quite a dark premise isn't it? A couple using each other to sate their physical desires, we can't imagine how this could possibly go wrong. From both the preview and the first episode, there's one thing Kuzu no Honkai appears to be doing well, and that's the atmosphere. This is not going to be a series that's easy to watch, and the detail of the character's eyes and expressions, as well as their uneasy movements, is what really pushes that feeling of discomfort on the viewer. And that's not a bad thing, a good drama shouldn't be easy to watch, it should frustrate you and tug at your heart, which is exactly what Kuzu no Honkai is going for. With a beautiful art style and an interesting approach to romance, Kuzu no Honkai should satisfy any drama addicts this season.
TV animation "Kuzu no Honkai" 1st Animation PV
---
Final Thoughts
Although there aren't any hardcore ecchi series this season, we don't really mind taking a break from that in favour of some of the more fun show's that are coming out, as well as some of the more serious ones. In particular, we have our fingers crossed for ChäoS;Child's adaptation, given how varied 5pb's adaptations have been so far, as well as Akiba's Trip, hoping that it has enough wacky fun to fuel itself for the whole season. We'd say that judging from the episodes that have aired so far, though, most of everything is off to a solid start!
So what will you be watching this season? The light and ecchi shows like Masamune-kun no Revenge and Akiba's Trip, maybe the more serious stuff like Rewrite's sequel and ChäoS;Child? Or perhaps the more serious romance series that are on offer like Fuuka or Kuzu no Honkai. We'd love to know so why not leave us a comment down below!
---