Pure Gold In A Search For Treasure
Episodes : 12
Genre : Action, Adventure, Historical, Seinen
Airing Date : April 2018 – June 2018
Studios : Geno Studio
Golden Kamuy follows the tale of two unlikely strangers who pair up in search of a legendary hoard of gold. Saichi Sugimoto managed to survive the Russo-Japanese war, earning himself the name of "Immortal Sugimoto," though he now finds himself unable to help the widow of his dead comrade. When an Ainu girl named Asirpa saves his life, the two decide to hunt for a criminal's hidden treasure together. Struggling each day to survive, Sugimoto and Asirpa must hurry if they wish to reach the gold before various criminals and a corrupt military group.
What We Liked About Golden Kamuy
Golden Kamuy is one of the best anime out this season, with something for everyone! Though the plot overall is well done, it is the little moments that make this show stand out. Golden Kamuy is mature, yet not too heavy to bore or overwhelm an audience's emotions. We started out this spring thinking Golden Kamuy would be just another show on our list, but by the end of the season, we couldn't wait to watch what antics the characters would get up to next!
Why You Should Watch Golden Kamuy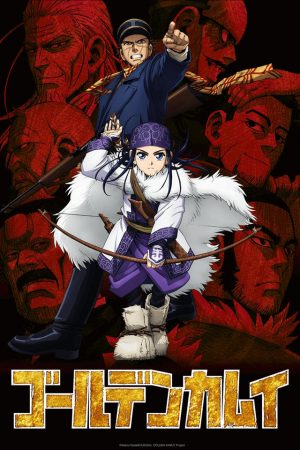 1. Great Mix of Just About Everything
Golden Kamuy truly has a mix of everything, with dramatic action, comedic scenes, an integration of historical truth, and even some focus on cooking. The characters can go from serious moments of fighting or strategizing to a silly punch line in the blink of an eye – and somehow, it works! Despite the historical weight of information thrown at you, it is surprisingly easy to follow along. And even with a wide cast of characters, each one gets their own development and attention. Golden Kamuy has a blend of everything, yet the characters and setting are able to seem real, even in animation.
2. Unexpectedly Hilarious
Easily the most memorable parts of Golden Kamuy are in the comedic moments that pop up unexpectedly. This anime looks like it should be a relatively serious affair, yet it remains lighthearted thanks to its comedy. Many anime in the comedy genre have the same sort of feel, so it is refreshing to have a show with a completely different take on the idea. The comedy itself in Golden Kamuy is all about facial expressions and random ridiculous antics, reminiscent in many ways of comedy found in shows like Gintama. Golden Kamuy fuses its serious and historical nature with these joking moments to make a ridiculously good anime all around!
3. Animation Style
The attention to detail in Golden Kamuy doesn't just show up in the story line, it is also apparent in the animation style of each episode. The characters are able to move from serious and refined to ridiculous in one scene. This quality of animation is evident in the sparks flying off fire, snow falling gently from the sky or water flecking off of waves as they crash. It is clear how much time and effort was poured into Golden Kamuy just from the animation alone. If you enjoy beautiful anime, Golden Kamuy is a hidden gem!
Why You Should Skip Golden Kamuy
1. CGI Animals Are Distracting
Golden Kamuy is usually set in the wilderness, which means Sugimoto, Asirpa and their comrades often encounter wild animals along their journey. Unfortunately, from the first episode, we see a sort of jarring animation sequences used for the movement of a large bear. From that point on, many of the larger animals, like bears and Retar the wolf, use an unnerving CGI animation. Sometimes CGI can be used well in anime – but not so in this case…
2. Historical Factor Could Deter Some
As we mentioned above, Golden Kamuy includes quite a bit of historical discourse, as well as some themes of war and PTSD from various characters. While this is handled in a way to make it easier for viewers to understand, the historical nature of this anime is not for everyone. It is interesting to see how Golden Kamuy incorporates such a realistic feel because of its setting and actual history. But this aspect may not be for everyone – and if you don't like how this part of Golden Kamuy is set up, not even the comedic moments will be able to save your interest in this show.
---
Final Thoughts
Golden Kamuy might be one of the best series to come out of the spring 2018 season, but it also has a few flaws. The CGI elements are distracting, and the historical aspect might turn some people away from the show. However, if you appreciate quality animation and a great blend of everything, including excellent comedy, then Golden Kamuy is something you should check out!
Do you agree with our review? Let us know your thoughts about Golden Kamuy in the comments section below!
---