Drowning in Laughter
Episodes : 12
Genre : Comedy, Seinen, Slice of Life
Airing Date : July 2018 to September 2018
Studios : Zero-G
Grand Blue Introduction and Story
At long last, Kenji Inoue and Kimitake Yoshioka's highly rated manga has earned an anime adaptation, but does Zero-G's comedy live up to expectations? An outlandish slice-of-life series centering around the hijinks of a college scuba diving club, Grand Blue boils down to a string of misunderstandings, dramatic facial expressions, and a whole lot of (male) nudity. Journeying across the country to attend University while staying at his uncle's shop, Iori Kitahara simply wants to lead a normal student life and forge harmonious relationships with his cousins. Strong-armed into joining the scuba diving club, whose passion for the ocean is only superseded by their unquenchable thirst for alcohol, Iori's idealistic college existence proves to be nothing more than a fleeting dream!
Why You Should Watch Grand Blue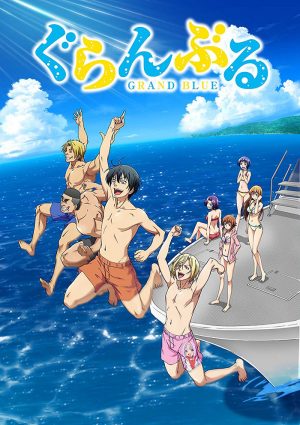 1. A Face Worth a Thousand Laughs
Grand Blue's poster paints an almost serene picture of an easygoing slice-of-life anime packed with ecchi moments and, perhaps, a couple of one-liners. Grand Blue is none of those things. When it comes to exaggerated facial feedback, anime comedies have always made good use of the freedom presented by animation. Comparable to classics like Great Teacher Onizuka or even the recent Asobi Asobase, Grand Blue's humor pivots on the barely human facial contortions thrown out by the characters. Whether embarrassed, angry, or bemused; Iori and company transform into demons and these scenes never fail to elicit a laugh!
2. Passion
As diving is not a competitive event and the club is merely practicing, Grand Blue does not qualify as a sports anime. On the surface, it might seem like scuba diving was intended to serve as merely a backdrop to the cast's hijinks, but this perception should subside after the first several episodes. Grand Blue takes diving seriously. While comedy is the name of the game, the show never messes around when the focus shifts to anything below sea level. As Iori is a complete novice, Grand Blue outlines the basics of diving, and these more subdued moments add weight to the story. Taking into account that Iori was, more or less, forced into the club by his senpai, everyone's passion for scuba diving greatly diminishes the premise's potential mean-spiritedness. Rather than ruining the protagonist's life, Iori's clubmates wish to share their enthusiasm with somebody else.
3. Friends to the End
Grand Blue has a wonderful protagonist, but Iori is far from the only source of comedy. The entire cast is packed with amusing characters who always find silly ways to trigger fits of laughter. Chisa plays the role of the straight man rather admirably, but Kouhei Imamura and Iori's friendship is easily the funniest part of the series. A bishounen and an unabashedly proud otaku, Kouhei is roped into joining the diving club by Iori, and the two are always trying to undermine the other. The living embodiment of a love/hate relationship, Iori and Kouhei bicker like an old married couple, but they are the club's only male members who try to keep the drinking to a reasonable level. Faced with an ocean's worth of vodka and gin, Iori and Kouhei put aside their differences for the greater good. Admittedly, it does not really help.
Why You Should Skip Grand Blue
1. Misunderstandings Are the Name of the Game
Grand Blue is undoubtedly an entertaining series, but it opts for a style of comedy that is totally dependent on misunderstandings. As a result, the episodes can feel formulaic and predictable. More often than not, jokes boil down to Chisa walking into the room just as the well-intentioned Iori strips down to his underwear after being pushed to drink by his senpai. Thankfully, this pattern is traversed via multiple routes, but Grand Blue is hardly the most subtle or varied comedy to ever grace the industry. Predictability should not automatically be taken as a negative, but the first couple of episodes are an accurate representation of the rest of the series. If these fail to elicit a laugh, then Grand Blue might not be for you.
---
Final Thoughts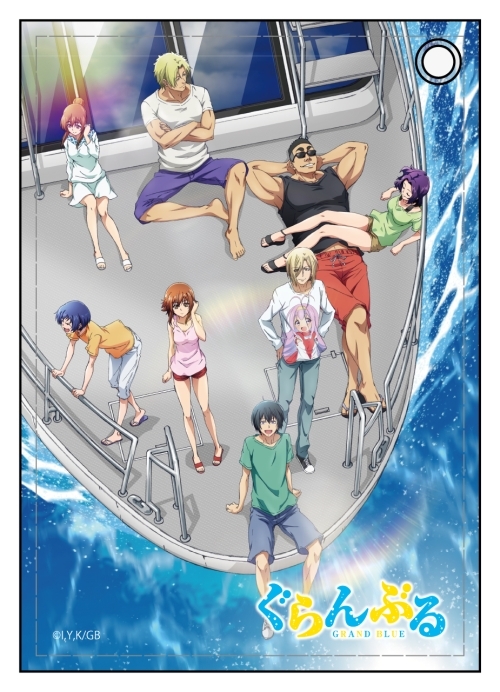 Summer 2018 boasted a refreshingly strong lineup of comedy series, and Grand Blue might prove to be the one that stands the test of time. Anime is the perfect medium for overexaggerated expressions, but precious few series came close to matching Grand Blue's ludicrous brilliance. Bolstered by an instantly likable cast that is allowed to grow with every new episode, Grand Blue is a modern classic!
Did you agree with our review? Is Grand Blue worth watching? Please let us know in the comments below!
---