Episodes : Unknown
Genre : Action, Comedy, Martial Arts, Shounen, Super Power
Airing Date : February 15, 2007 ? Ongoing
Producers : Studio Pierrot
Naruto: Shippuuden Preview (No Spoilers)
Naruto: Shippuden is the continuation of the original Naruto series set just two years later. It continues to follow Team 7's pursuit of Sasuke, who had disappeared in search of revenge as well as absolute darkness. Everyone that was introduced in the first part of the anime reappears in the second part of the anime, new and improved. Every single character is stronger, wiser, and has a bigger motivation to become a better ninja. Naruto, had been training with Jiraiya in the last two years, and comes back to Konoha ready to tackle the task of saving Sasuke from himself and from darkness. Along with Sakura, Kakashi, and two new members that create a new "Team 7", they set out on their mission, hoping for good results.
The series itself is one that has over 400 episodes, and it is still ongoing! With countless power ups that will have you amazed, the plot of the story definitely moves along quickly and keeps you on your toes. Despite some of the pointless fillers that take up some time, the premise of the anime itself is one that comes with gorgeous animation courtesy of Studio Pierrot. The themes that were originally present in the first Naruto anime are prevalent in the second part, however there are more serious aspects that present themselves as the anime goes along.
Not only is Naruto, the ninja we all know and love, all grown up and much more skilled, but his bonds with his teammates and his friends are stronger than ever ? a feat that had already started to show itself in Naruto! Naruto's relationships with those around him drive him to become better and stronger, bringing him much closer to his ultimate goal of bringing Sasuke home.
Haruno Sakura Bio
Often in shounen anime, there is always a heroine that stands alongside the hero. Out of the countless heroines that appear in shounen as well as other genres, there will always be one that, when you look at her or hear her name, you will instantly think "I like that heroine!".
Despite suffering criticism from the many fans of Naruto as well as Naruto: Shippuden, Sakura is definitely one of the more prominent female characters of the shinobi world. Her role as a heroine is a little unconventional in that she is not timid nor is she obedient, but rather, she approaches her problems with the will of a huge fire. Instead of always waiting for someone to come to her aid, she takes her own steps and forces herself to grow to become better.
From when she decided to train harder to become a better medical ninja, to her top five highlights that truly let her character shine, Haruno Sakura creates the image of a truly human being, of someone who possesses ideal strength and will still allow her heart to guide her through situations where it is vital to be human; and not simply a ninja who endures.
At this point in the story, Sakura has been under Tsunade's tutelage for a little longer than two years. Her medical ninjutsu has heavily improved since the last time we saw her, and she can now throw extremely powerful punches into the earth, much like her master. Upon testing the skills of his students, Kakashi notes that Naruto has become much more in control of techniques, and along with Jiraiya's similar observation, that Sakura has become what can be called a "second Tsunade". By Kakashi's wide eyes and fearful expression when Sakura punches the earth and causes a rift in the hard soil, it's pretty safe to say that she has come a long way since she was a defenseless damsel in distress.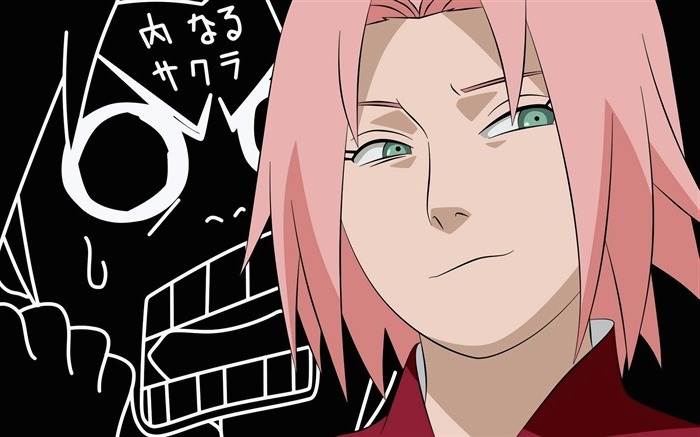 In the first part of the anime, Sakura relies heavily on her teammates and her teacher. They all resolve to protect her when situations are dire and life-threatening, which may not necessarily change drastically in Shippuden, but it does change significantly when she is older. It is namely Naruto and Kakashi that come to Sakura's aid in the first part of the anime, which makes her to appear to be helpless, making her seem less appealing.
Despite what had happened in Part One of the anime, Sakura does grow a lot in Shippuden! Despite being someone who was strict and would only take on an apprentice in extreme cases, when Sakura begged Tsunade to train her to become stronger, Tsunade saw the girl's conviction and agreed to help her ? but there would be no mercy. Having come from a family who was not notoriously known for being powerful, Sakura certainly sets a standard for not only medical ninjas her age, but medical ninjas throughout the shinobi world! She is, after all, Tsunade's disciple!
What with so many people complimenting, praising, and likening Sakura to her teacher, it's no surprise that she eventually does turn out like her. With all the wisdom of medical ninjutsu and high-level techniques that drive Sakura to be classified as pretty badass, countless other ninjas have had their lives saved by her gentle and determined hand. Some ninjas, like the ones who are close to her, are consistently saved by her once their lives are in danger. A perfect example of a ninja like that is Naruto.
Not only does Sakura know how to heal people, but she knows how to do it well. She ends up being a ninja who is very meticulous, caring, and compassionate. All of these qualities make her character seem to shine through and her shining moments glow ever brighter.
Haruno Sakura Highlights
1. Creating an antidote to an unknown poison
The very first moment where we see Sakura show off her newly polished skills is during the very first arc of Shippuden, when Gaara, who is now Kazekage, is kidnapped by two Akatsuki members. Naruto, Sakura, and Kakashi all rush to the Land of Wind to find that Kankuro had been poisoned by one of the two members, in an attempt to rescue his younger brother. The medical unit of the Sand was unsure of what to do, and thus, turned to Granny Chiyo ? one of the Elders of the Sand ? for assistance. The old woman refuses, however, and Sakura steps in, tying up her hair and asking for ingredients so that she can whip up an antidote.
It's revealed by the medical unit that the poison that was administered is one that had not been seen before, its molecular structure so complex, they weren't sure they had enough time to heal the Kazekage's brother. Sakura had merely asked a few questions before she requested herbs and equipment so she could start creating an antidote that would be incredibly specific for the poison.
Not only was the process of making the antidote delicate, but the method in which Sakura removed the poison from Kankuro's body was unconventional and interesting to watch. Granny Chiyo, who originally had detested Konoha, came to slowly acknowledge Sakura as a medical ninja, and even she compared Tsunade to the pink-haired ninja.
---
2.Beating an Akatsuki member until he's dead
In the same arc, Sakura set out with Naruto, Kakashi, and Granny Chiyo to track down Gaara and his two kidnappers. Naruto and Kakashi go on ahead to chase after the Akatsuki member who held Gaara in his possession, while Sakura and Granny Chiyo stayed behind to fight against the puppet master that had injured Kankuro, named Sasori. There are many tricks up Sasori's sleeves, which he only reveals gradually as he continues to fight Granny Chiyo and Sakura.
Of course, having Sakura fight Sasori alone and have her win would automatically make her a Mary-Sue character, so for purposes of the plot, Granny Chiyo along with Sakura made Sasori have to seriously defend himself, otherwise he'd be in grave danger.
Throughout their fight, Sasori slowly acknowledges Sakura's strength and says that she is a determined young lady ? someone so full of conviction and justice. He calls her foolish, but the more he spars and fights with her, the more he sees potential in her and acknowledges her. Sasori, having been thought of as fearful and ruthless, results to using his most lethal techniques in order to defeat both Sakura and Granny Chiyo. While some may argue that Sakura didn't defeat Sasori on her own, it's important to note that Granny Chiyo does not have the physical strength that Sakura does in order to silence the Akatsuki member once and for all.
Sakura not only possesses physical strength that stuns both Granny Chiyo and Sasori, but her deductive skills as a ninja help her to make decisions quickly in order to save hers, and Granny Chiyo's, life. When Sasori is about to die, he gives Sakura information of the whereabouts of another Akatsuki member, who knows for certain where Sasuke went. With the help of Granny Chiyo, Sakura was able to successfully defeat an Akatsuki member ? an achievement that not even Naruto had achieved yet.
3.Recognizing an enemy disguised as an ally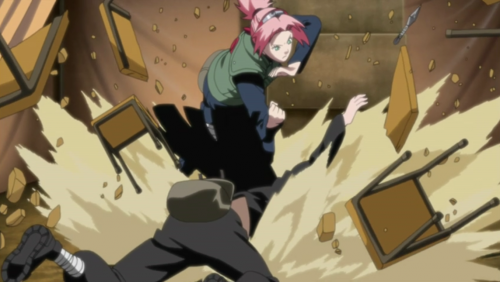 Much later on in the Shippuden series, Sakura is stationed at the medical unit, healing other ninjas that were on the front-lines, fighting to defend the shinobi world. What we see is Neji coming into her tent and sitting down across from her, waiting to be healed. When the scene is first introduced, it's already at least a little weird that Neji is there, since we know he was probably already out on the battlefield, fighting.
Essentially, what happens is that Sakura tests "Neji" asking about Tonton, her superior's pet pig, and when "Neji" fails to answer correctly, Sakura immediately takes action and punches his face in, revealing that he was actually a white Zetsu, disguising himself as an ally in order to infiltrate into enemy territory and gain information.
Although it is arguable that any ninja that was good enough could detect whether or not someone was a fake, it's important to note that the white Zetsu's are not ordinary ninjas, much less ordinary Akatsuki members. Other ninjas who are thought to have more experience and are sharper in terms of mentality and deductive skills, have been shown to be unable to quickly pick up on certain aspects of the war, white Zetsu's included.
Not only did Sakura immediately recognise that "Neji" wasn't acting like himself, but she tested that theory and when she was proved to be correct, she beat the enemy to a pulp which resulted in him asking her, "how did you know?".
Although a simple moment, it showcases Sakura's intelligence and heightened instincts that most, but not necessarily all, ninjas, need to possess. In just this one scene, we are shown that Sakura is both compassionate (towards her patients) and ruthless (towards her enemies), and what kind of heroine would she be if she didn't display that kind of badassery?
4. The Byakugou
Throughout the entire series, fans had been waiting for a "power-up" for Sakura. Naruto received multiple, and so did Sasuke ? so where was the long-overdue and very much deserved skill for Sakura? Although incredibly late, Sakura does eventually make her fans scream and shout when the diamond-shaped seal appears on her forehead, identical to the Uzumaki Mito's and her own master's seal. Up until this moment for Sakura, we learn that to obtain the Byakugou seal is not an easy feat.
Not only does the Byakugou seal completely heal the user of their injuries, but it also keeps their ageing skin to a minimum ? hence why Tsunade never looked her age! Having the Byakugou seal was always seen as a symbol of strength amongst all ninjas in the shinobi world. Even throughout the series, it was somewhat predictable that Sakura would inherit much more from Tsunade than just her medical ninjutsu.
In order to obtain the Byakugou seal, a ninja has to have close to perfect chakra control. From the start of the Naruto series, it's been stated that controlling chakra is not an easy feat. Naruto and Sasuke spent so much time at the start trying to do just that, whereas Sakura was able to fine-tune her chakra control better than her boys. That in itself is already a reason to say that she would become a better ninja, one that was infinitely better than her original state. Sakura controlling her chakra as she healed other ninjas was one thing, but the fact that she spent years saving up chakra to a centre point on her forehead is an indication of her determination and desire to be better.
Not only did her fans praise her and applaud her for finally shining through, but her own sensei patted her head and gave her a hearty "well done". Of the countless moments Sakura has throughout the series, her finally obtaining the seal is definitely one of the tear-jerkers for her fans ? since they are so proud of her for finally showing everyone how much of a badass she is.
5. Open-heart CPR
A little while after Sakura's seal shows on her forehead, Naruto's life is thrown into danger when the Nine-Tails is extracted from him. Because of his Uzumaki blood, he is able to breathe ? but only for a little while. At that point, Gaara rushes to the medical ninjas who would be able to help his friend, and who else hops onto Gaara's moving sand to help the blond-haired idiot? The girl he's in love with, of course. Sakura shows no restraint in helping Naruto to recover from any injuries, but this moment where his life is truly in danger is when Sakura becomes frantic, apprehensive, and truly afraid.
She listens for his heartbeat and tries to heal him with chakra alone, but when she finds that that is ineffective, she makes an incision in his side and pumps his heart with her bare hand. If that is not an indication of how amazing Sakura is, perhaps the fact that she breathes air into Naruto's mouth will give more reason for her to be labelled as badass.
Unlike in her other shining moments listed above, this particular Sakura moment is tinged with strong and deep emotions that drive her to make decisions. This is a perfect example of her letting her heart guide her to make decisions. If she were a normal medical ninja that had no knowledge or skill to do her job well, she would not have pushed herself and used part of her own life force to revive an almost-dead Naruto.
The fact of the matter of this scene was that Sakura was almost completely out of chakra and had originally been trying to recover so that she, along with Tsunade and Shizune, could heal the other ninjas on the battlefield. When she hears that Naruto's life is in danger, she doesn't care about replenishing her own chakra ? but rather, thinks of ways to use what remaining chakra she has to save her best friend.
---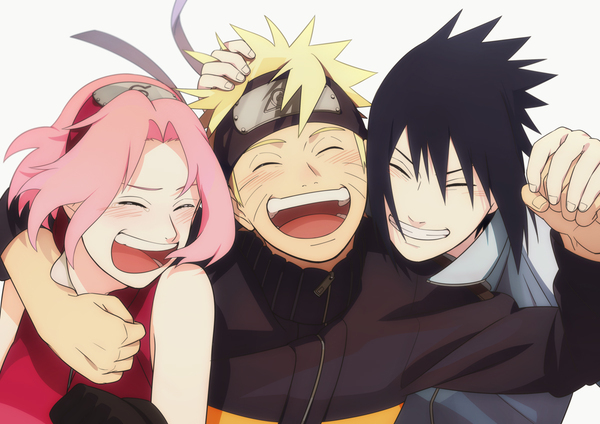 Despite popular posts and opinions that label Sakura as useless and not possessing a high level of strength, her five best highlights from Shippuden clearly display her character arc and make her appear more badass than originally thought. Clearly, Sakura's best moments correctly highlight aspects of her personality that make her more deserving of her heroine title ? more so than in the original series. Not only is she a medical ninja, but she is one that is beautiful, smart, compassionate, and absolutely ruthless ? definitely all the qualities that is needed in an awesome female character!
[ad_dfp position="bottom1" unit_pc1="true" unit_pc2="true" unit_sp1="true" class="mt40"]
---