También puedes leer este artículo en:Español
Like many anime titles we have treasured and loved, Naruto was instantly one of them. There is not a single anime fan who would not think about Naruto when we associate anime with the word "ninja". Like many fans of the series, I too grew up watching Naruto's journey, along with the endless memorable characters of the series. It has been a long exciting ride while we watch all of them blossom into super awesome shinobis and I enjoyed every moment of it.
Time has run so fast and I never imagined that Naruto would beat me in having kids. Forgive me if I somehow spoiled that news for you, but the Boruto Movie has been a huge success, I don't think anybody is still unaware of this information. If you still haven't had the chance to see it, we highly suggest that you do so.
Anyway, I'm sure you are a huge fan of the Naruto series so we came up with a new/updated list of 6 Anime Like Naruto recommendations that would surely satisfy your craving for more shounen comedy and action.
Similar Anime to Naruto / Similar Anime to Naruto Shippuden
1. Katanagatari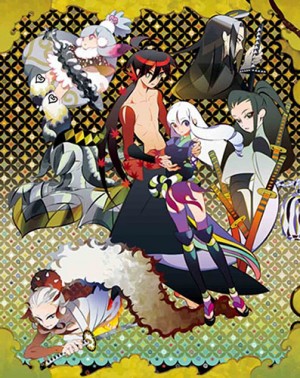 Episodes: 12
Aired: Jan 26, 2010 - Dec 11, 2010
If you want another dose of cool ninja action similar to Naruto, Katanagatari is the perfect choice. Set in Japan's Edo-era, Shichika Yasuri lives peacefully in isolation with his sister Nanami. Togame, a strategist fueled by revenge, barges into their lives and seeks help to collect twelve legendary swords, to give them as offerings for the Shogunate. Shachika being raised as a human weapon accepts Togame's request and they both set on a journey to battle the fierce wielders of these legendary "Deviant Blades".
Katanagatari's vibe is similar to Naruto in more ways than you can ever imagine. Packed with a lot of ninjas and familiar ninja techniques we have seen in Naruto, this anime will give you the same exciting feeling you had when you first watched Naruto. Also, the oriental background music we became accustomed to hearing every time a fight breaks out in Naruto, was also used in this anime which just made both of them distinctly memorable. If you are a fan of really good animation and want more ninja themed anime, you will surely love watching Katanagatari.
---
2. Fullmetal Alchemist: Brotherhood

Episodes: 64
Aired: Apr 5, 2009 - Jul 4, 2010
Fullmetal Alchemist: Brotherhood is another action packed anime similar to Naruto. It tells the tale of two brothers, Edward and Alphonse Elric, who has lost their mother to an incurable disease. They turn to "alchemy" in order to revive her using the forbidden act of human transmutation. It quickly backfires and they both pay a horrible price for their wrongdoing. Edward loses his leg and sacrifices his right arm to affix Alphonse's soul to a suit of armor. The traumatic event motivates Edward to fix his body using mechanical limbs called "automail" to try and become a state alchemist. His brother joins the journey and they find a way to revert their bodies back to their original form.
Like Naruto, FMA: Brotherhood has a huge lineup of diverse characters whom you will love and look forward to in every episode. Much like ninjutsu used by shinobis, the power used by alchemists in this series will remind you of summoning techniques. Another similarity worth mentioning is that Naruto somehow represents Edward; they both have a unique motivational drive to succeed despite all the boundaries they have to face. If you want a more mature anime similar to Naruto Shippuden, FMA: Brotherhood is one epic anime you don't want to miss.
---
3. Dragonball Z Kai

Episodes: 97
Aired: Apr 5, 2009 - Mar 27, 2011
Jumping from ninjas to Saiyans, Dragonball Z Kai is another anime that will quench your thirst for an insane action fighting anime. If you have not heard of Dragonball Z, which we doubt if such beings exist, here is a brief backstory of what the series is all about. DBZ Kai is about Goku, a martial arts prodigy from a distant planet who has trained himself to become one of the most powerful beings on Earth. Now a family man, he has settled on a peaceful island accompanied by his friends. Just as things look normal and calm, a great threat appears. Raditz, a fellow Saiyan reveals Goku's past and wrecks havoc to their once peaceful lives. It is now up to Goku to defend the world from these powerful threats.
Also a popular shounen anime like Naruto, Dragonball Z Kai will give you the fanciest fights that you always look forward to. With ridiculous abilities and powers, you will think every fight in DBZ Kai is in fast forward. They both share great humor on top of the great story and they are packed with endless characters that all play crucial roles. If you are a fan of great battles in Naruto, then be ready for another dose of mind-blowing action scenes that Dragonball Z kai has to offer
---
Any Anime Like Naruto/ Any Anime Like Naruto Shippuden?
4. Ao no Exorcist [Blue Exorcist]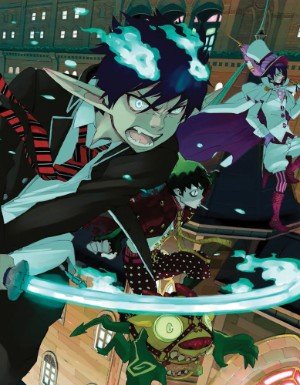 Episodes: 25
Aired: Apr 17, 2011 - Oct 2, 2011
Now switching the ninja world to a world with two sides, Ao no Exorcist is another anime that will remind you of Naruto because the main characters are so much alike. Rin Okumura is the illegitimate son of Satan. He was created to be a suitable vessel for Satan, so he can travel and conquer the human world. Demons can only travel between the two worlds as long as they can possess anything that exists within it. Rin, on the other hand, does not want to be associated with the demon lord and decides to become an exorcist to fight and protect their own world.
Naruto and Rin both share the quality of a helpful main character. They both feel like it is their obligation to save others away from harm, despite being born differently and being treated as trash by others. Also, they both have inner demons which they will try to learn to control over time. The concept of studying in a school and going on missions is also very familiar, just like with the Naruto series. If you are looking for a Naruto-ish character set on a much darker themed anime, you will surely enjoy Ao no Exorcist.
---
5. Mushibugyou [Mushibugyo]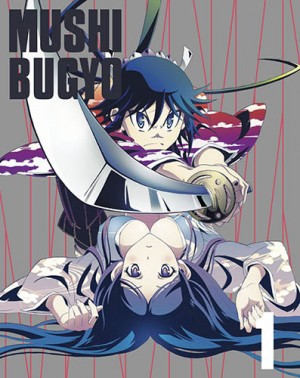 Episodes: 26
Aired: Apr 8, 2013 - Sep 30, 2013
Set in Feudal Japan, the people are plagued with giant insects that terrorize the city. Helpless and desperate, the people call for the Insect Magistrate Office warriors to eliminate these creatures. Jinbee Tsukishima, a samurai swordsman has traveled to Edo to join these warriors on behalf of his father. However, his bravery and skills are quickly put to the test as he faces the demonic insects on his arrival. In order to earn a position as an insect exterminator, he must be able to overcome this challenge and prove that he is a worthy samurai just like his father.
Mushibugyou is somewhat the samurai counterpart of Naruto. Both of the main characters struggle in becoming something as recognition. Similarly set in old Japan, the fighting techniques used in this anime will somewhat remind you of Naruto. Although a lot of swords are involved in this anime, there are still an ample amount of ninja references all throughout the series. The light comedy is also another quality both anime share. If you had fun watching Naruto's journey becoming a bad ass ninja, watching Jinbee's evolution becoming an awesome samurai will also be very pleasurable for you.
---
6. Boku no Hero Academia [My Hero Academia]

Episodes: 13
Aired: Apr 3, 2016 - Jun 26, 2016
I will succeed! This is just one of Naruto's famous lines adapted to Boku no Hero Academia's main character, Izuku Midoriya. Before we list down all the similarities of these anime, here's a little backstory to Boku no Hero Academia. Eighty percent of the entire human race now have different powers called "quirks". Unfortunately, Izuku Midoriya is part of the powerless twenty percent. He has dreamt of becoming a hero ever since he was little, looking up to his idol, "All Might". Not giving up on his dream of successfully becoming a hero, fate has destined him to inherit All Might's abilities. Now opening up a better path to his goal, he enrolls in the prestigious UA High, where all famous heroes are trained.
You will quickly love the main character Izuku because he has a very "Naruto-ish" attitude of not giving up on anything. They are both looked down by society for being different and is often bullied, but these things do not stop their motivation to succeed. The trials they would need to overcome in school will also remind you of the Chuunin exams in Naruto. This anime has so much similarity to Naruto that it may just be the next best thing to Naruto right now. If you want to fill that void that Naruto left in your heart when you finished it, Boku no Hero Academia is the answer.
---
Final Thoughts
I hope the selections above helped you find another great anime similar to Naruto. If you have been struggling to find another anime that has the same impact as Naruto, the recommendations we listed are tasked to give you that nostalgic Naruto vibe you are looking for in an anime series.
Have you already watched the anime from the list above? Would you like to suggest another anime similar to Naruto? Please feel free to share your thoughts in the comment section below.
Mark
by Mark Makalinao
---
---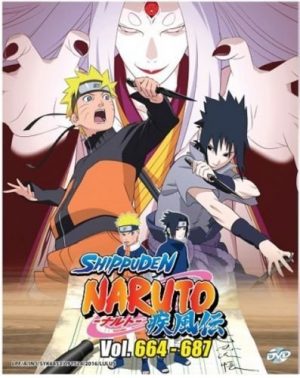 Naruto is one of animes most popular series around the world. Naruto has to be one of the best representations of ninja life and fighting. Of course, many Naruto fans know the manga series has already ended , thus telling the conclusion to the series, which is still airing on TV. To be quite honest, this writer has not read the manga and watches the anime instead.
Even though I have read about what has happened and knowing the outcome (I blame writing reviews and going to conventions), I still am very excited to see the anime interpretation of the ending. Naruto: The Last Movie has also released and was recently in theaters in the U.S. for an exclusive time, and provides further closure for the anime/manga.
If you are a huge fan of the Naruto anime series, here are a few recommendations for you to continue you viewing pleasures of similar anime. I hope you like the selections below, and that they fulfill you needs. Let's begin.
Similar Anime to Naruto
1. Soul Eater

Episodes: 51
Aired: Apr. 7th, 2008 - Mar. 30th, 2009
Having a lot of similarities in human weapon use, likable characters, and big boss battles, Soul Eater will definitely have you on the edge of your seat. Even though it's on a different level as for genre and theme, they both share what's most important about anime, which is stated in the beginning of the paragraph.
This anime is set in a school for shinigami technical weapon meisters, which is based on three groups of individuals with their own weapon meisters and a human weapon. In order to graduate from the school, each student must collect 99 evil souls and 1 witch.
That's until Death City, the schools home base, is under attack from a powerful creature who seeks to control all that is living.
---
2. Hunter x Hunter (2011)

Episodes: 148
Aired: Oct. 2nd, 2011 - Sept. 24th, 2014
This anime is similar as far as the same age of the main characters, both grew up without their parents, the situations they go through have them both progressing in life and abilities, and their powers are determined by the control of their abilities.
This anime is about Hunters, those who travel the world completing all sorts of dangerous missions consisting of capturing criminals, assassinations, recovering lost possessions and discovering new parts of the world that no one has ventured. The show follows Gon, a young boy who seeks to know the truth of his parents and striving to become a great hunter in order to find his father.
---
3. Nabari no Ou (King of Nabari)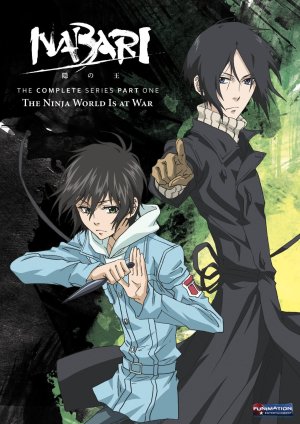 Episodes: 26
Aired: Apr. 7th, 2008 - Sep. 29th, 2008
This anime has a ninja theme to it as well as which can feel very similar to Naruto. Both the main characters have something powerful inside them, the friend ship between the main characters and the co-main character is also very similar.
Following 14 year old Rokujou Miharu who is the holder of the hijutsu, Shinrabanshou, a very powerful technique many ninja clans seek to control for themselves. Thus, becoming the ruler of Nabari. There are two secret ninjas, one who acts as the teacher and the other a classmate, watch over Miharu as they pledge their lenience of his safety from other attackers.
After becoming the victim of attacks, he decides to join the elite ninja group in order to guarantee his survival in becoming the ruler of the Nabari.
---
Any Animes Like Naruto?
4. Fairy Tail

Episodes: 175 (with a 2nd continuation that is ongoing; currently at episode 47)
Aired: Oct. 12th, 2009 - Mar. 30th 2013
Not only is Fairy Tale on its way to being one of the biggest anime series compared to Naruto, both series share the same atmosphere, fight scenes, and comedic moments. The similarity between magic and Ninjitsu in both series are also quite similar.
Taking place in an imaginary world where the Earth is inhabited by magic guilds, with each possessing their own significant abilities. One guild stands out the most as the most menacing, reputing guild in the land for completing tasks set forth before them.
Which is why a young girl named Lucy wants to join them, because they're the best at what they do and she feels she can develop very well into a mage.
---
5. Bleach

Episodes: 366
Aired: Oct. 5th, 2004 - Mar. 27th, 2012
Both shows are shounen and have a plot with the main characters fighting for their friends. They also share the same goals in accomplishing where fighting is necessary for survival. Also, both main characters are stubborn as heck, but are loyal and would give their lives for their friends!
The anime follows a 15 year old Kurosaki Iichigo, who isn't your ordinary student, he's always had the ability to see ghost and spirits roaming around the world and not really knowing what he's seeing. That's until he has a fateful encounter with a shinigami who saves him and his family from a Hollow spirit with her being injured in the process.
Because of her injuries, she has Ichigo taking the role as shinigami in her place and riding the town of plaguing Hollows.
---
6. One Piece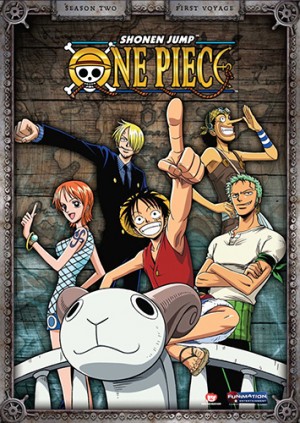 Episodes: 683 - and Counting
Aired: Oct. 20th, 1999 - Ongoing
This anime has some of the best and strongest characteristics to Naruto as far as character development, genre, comedy, personal goals, and action. Both characters seem pretty dumb or stupid, but indeed have a strong heart that defies everyones expectations.
This anime follows Monkey D. Luffy, a young teenager who defies the usual characteristics of a pirate. Following the footsteps of his childhood hero, he strives to become the King of the Pirates only to continue his exciting adventures and meeting new and intriguing people along the way. As well as finding the One Piece, the treasure of all treasures.
---
That's it for this segment of "6 Anime Like Naruto". I hope the selections above help to continue you search in finding great anime much like Naruto. Make sure to keep visiting Honey's Anime for more anime recommendations and reviews from your favorite anime series.
Is there another anime you think is similar to Naruto? Which anime in this list are you going to check out next? Let us know in the comments below!
---