También puedes leer este artículo en:Español
Mystery and Drama Anime Spring 2016 - Drama, Puzzles, Mysterious Disappearances & The Unexplained!
The countdown for Spring 2016 anime has begun. We know you're all looking for the best and the brightest to fill out your anime-watching schedules, and the tried and true genres to keep you hooked all season are mystery and drama. Oh, the suspense! Oh, the dramatic feels! Oh, the well-developed plot lines! Here are the seven anime that all you mystery/drama heads need to know about this season.
7. Super Lovers

Episodes: TBA
Airing Date: Apr. 6, 2016
On an emergency trip to Canada, Haru is suddenly introduced to his adopted younger brother Ren. Haru is tasked with "civilizing" Ren, who is very rough around the edges. Haru begins to learn about Ren's past and takes care of him diligently, and the two start to become a real family. Five years later, as part of a childhood promise, Ren moves to Tokyo to live with Haru and Haru's two biological brothers. Despite a brewing forbidden love between brothers with a notable age gap, Ren and Haru develop a bond that can only be described as love in its purest form.
Based on a manga with the same title, Super Lovers promises to be a yaoi anime about a romance that faces a lot of social boundaries. Fans of the manga will be pleased to know that the anime will be produced by Studio Deen, the creators of the well-received Junjo Romantica. If you're looking for a BL fix this spring, check out Super Lovers.
---
6. Kagewani: Shou

Episodes: TBA
Airing Date: Apr. 1, 2016
Kagewani: Shou is the upcoming sequel to its first season Kagewani, a horror anime with an experimental art style that has more than a few heads turning in its direction. In true Japanese kaiju fashion, strange monsters are attacking humans and seem completely unstoppable. One scientist, Banba Sousuke is looking for answers to the monsters and his past. In short 7-minute episodes, Kagewani stuffs in enough suspenseful monster reveals and small bursts of plot setting to keep us glued to the screen.
The first season took a fantastically interesting step into the human psyche in the last episode, but we were left with a gaping hole where a second season would fit nicely, and here it is! New mysteries have popped up for the second go-around, including the growing shadowy scar Banba has around his left eye. Brought to you by Takashima Tomoya, the director of Yami Shibai (Japanese Ghost Stories), Kagewani: Shou should be able to transition to this new direction quite nicely.
---
5. Phoenix Wright: Ace Attorney

Episodes: TBA
Airing Date: Apr. 2, 2016
Naruhodo Ryuuichi is a rookie lawyer who is filled with passion for fighting for his clients. Based on a hit visual novel game series by the same name, Pheonix Wright: Ace Attorney brings dramatic courtroom showdowns to your anime world. Ryuuichi's rival is a genius prosecutor Mitsurugi Reiji who has little pity for the accused, but with the help of his mentor Ayasato Chihiro and his assistant Ayasato Mayoi, Ryuuichi faces each unusual case head on.
With the visual novel games as a guide, we can expect new twists and turns in each unusual case. How will Ryuuichi slip past Mitsurugi's iron-clad prosecution? With triumphant finger pointing and a well-timed "Objection!" Ryuuichi is sure to find the important evidence he needs before the final gavel is struck. Players of the game will be the first on the hype train, but it's possible the anime will inspire the non-gamers to pick up their handhelds and take a shot at lawyering in the visual novel age.
---
4. Kiznaiver

Episodes: TBA
Airing Date: Apr. 9, 2016
Kiznaiver is an original anime—code for crazy awesome plot potential—set in the ruins of a futuristic metropolis, where our protagonist Agata Katsuhira is chosen to be a Kiznaiver, a person who can share pain from physical wounds with others through the Kizuna System. Each of the Kiznaivers is distinct in personality, and they all belong to different social circles, but the Kizuna System connects them. Will the shared pain of wounds also allow them to connect their feelings? As the promo dialog states, "Everyone wants to be connected to someone."
Kiznaiver already has a lot going for it. This new anime is produced by the studio Trigger, the wonderful people who have brought us the ever-popular anime orgasms of Tengen Toppa Gurren Lagann and Kill la Kill. If you're wondering about character development, you will be pleased to know that Kiznaiver's script is written by Okada Mari (Anohana, Toradora, Nagi no Asukara). The unique and vibrant animation from Trigger combined with interpersonal relationships guided by Okada Mari might just be the genius collaboration we didn't know we always wanted.
---
3. Mayoiga

Episodes: TBA
Airing Date: Apr. 1, 2016
The elusive village of Nanakimura is hiding a secret. The village is rumored to be a utopia, a place where you can leave behind all your troubles of the world. In a tour bus of thirty passengers, many are looking for the escape they need to bring peace to their troubled hearts in this village of legend, but when they arrive, they find Nanakimura is abandoned. What fate befell their last hope at finding the much-needed solace in their lives? For that matter, what fate awaits them in this forgotten village?
This drama anime filled with mystery is the second original collaboration with Okada Mari (Anohana, Toradora) on this list. With the recent success of Iron-Blooded Orphans, Okada has been able to show her writing versatility, and this spring collaboration has all the kiddies talking. Mayoiga will be directed by Mizushima Tsutomu, the man at the reigns of Shirobako and Prison School. This mix-and-matched staff of Mayoiga may even rival the melty combination genius of taco rice, but only time will tell! Time seriously needs to hurry up.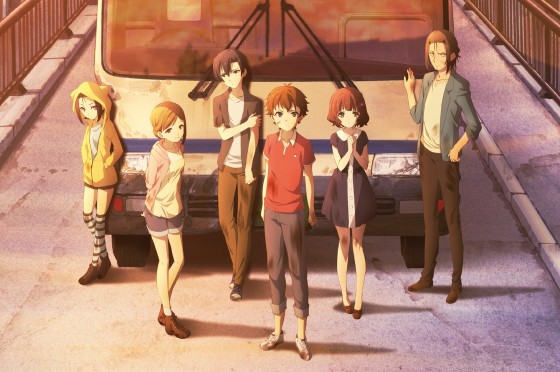 ---
2. Joker Game

Episodes: TBA
Airing Date: Apr. 5, 2016
This spring, Production I.G is blessing us with a new globe-trotting and spy-tastic seinen anime, Joker Game. At the eve of World War II, the Japanese military has developed a mysterious "D Agency," composed of talented intellectuals who excel at manipulation. Far from being assassins, these spies live under the rule of "Don't die; don't kill," and they certainly are trump card outliers in the Japanese army. Look forward to this war drama with a brainy twist.
Based on a real novel, not the light variety, the synopsis looks promising. The voice cast looks straight-up, down-right great. It looks great, period. Please, let this be great. As a World War II period piece, the visuals have a good level of realistic grit to them, letting it stand out in the polished Spring 2016 crowd. Joker Game has a unique aesthetic, with its adult male characters sporting suits, and with backgrounds matched to the time period and European locations. For anime fans who like well-developed plots with historical relevance, Joker Game needs to be on your watch list this spring.
---
1. Bungo Stray Dogs

Episodes: 12
Airing Date: Apr. 6, 2016
By far, the most anticipated anime for this season is Bungo Stray Dogs. Already slated for 2 seasons, Bungo Stray Dogs is adaptation of the supernatural mystery manga of the same name. In Bungo Stray Dogs, we get an eclectic group of detectives who all have supernatural powers. The main protagonist Nakajima Atsushi is an orphan who was thrown out of his orphanage, but he joins a supernatural detective agency on a hunt for a human-eating tiger that appeared around when Atsushi came to town. What is the connection between Atsushi and this tiger?
The original manga for Bungo Stray Dogs is well-received, and BONES isn't one to disappoint when they have a good story. If the anime holds true to its source material, look forward to a plot that is set up well and delivers consistently through the veil of mystery. If you looking for some supernatural action-packed detective work or some handsome guys with interesting sets of skills, Bungo Stray Dogs will have something you'll enjoy. Let's see if Bungo Stray Dogs will be the top-notch mystery we've been looking for.
---
This season's batch has so many promising titles, even us writers are worried about the time crunch, but some of these just too must-see to miss. Lately, the comedy titles have been ruling the airwaves, but some mystery could be the king of spring.
Are you ready?! What's got you most excited in the serious-ish side of anime?
---
Vote for your most anticipated anime of Spring 2016!