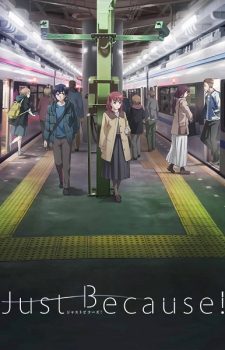 Tis the season for romance, or so we'd like to hope! There's a lot of innocence and naiveté when it comes to experiencing first love, although we are blinded by the "over the moon" feeling and butterflies in the belly. Essentially, romantic comedies are always an entertaining viewing experience because we allow ourselves to become fully engaged with our favorite characters. So in the following romcom titles, we share with you an exciting selection of recommendations, solely to give you a sampling of current flavors based on popular previously aired anime. Hopefully, by the end of this article, you'll give every one of these a shot!
About Ore Monogatari!! (My Love Story!!)

Episodes: 12
Aired: April 2015 – September 2015
Ore Monogatari follows the story of Takeo Gouda. Takeo's appearance is unlike your typical high school student; he is a tall and husky fellow with very intimidating facial features. One may think he is absolutely unapproachable, and he is even more unfortunate when it comes to scoring dates with the ladies. As luck may have it, in one incident, he saves a girl on a train, Rinko Yamato. Following this event, Takeo can finally grasp a chance at romance, as his and Rinko's relationship progresses into something absolutely adorable. With the help of his best friend, Makoto Sunakawa, Takeo and Rinko can flawlessly blossom into the ultimate kawaii couple!
Like Ore Monogatari? Watch Net-juu no Susume!
Episodes: 10
Aired: October 2017 – December 2017
Recovery of an MMO Junkie centers on the life of 30 year old Moriko Morioka. Considering herself an "Elite NEET", Moriko has taken time away from work and responsibilities, i.e. quit her job in search for a more fulfilling life. In her journey, Moriko discovers an MMO game and is instantly hooked. Here, Moriko creates Hayashi, a dashing male character. Sticking out as a total noob, a kind and beautiful character named Lily reaches out to help her. Simultaneously, as real life continues on, several encounters with various in-game players instantly add excitement to Moriko's once uneventful existence.
Three Major Similarities Between Ore Monogatari and Net-juu no Susume
1. "Adulting Is Hard!"
Work, school, extracurriculars, chores, etc. Sometimes, we just want to toss out our responsibilities, escape rigid routines, and put in a little "me" time. Is that too much to ask?! Moriko from Recovery of an MMO Junkie is able to commit to her gaming life for quite some time before she gears up for a date, ultimately, putting aside Hayashi, and begins to spend time with living, breathing beings. We also notice this rationale demonstrated by Makoto and his sister, Ai in Ore Monogatari. The siblings have known Takeo ever since they were children, and even at that age, Takeo always showed everyone kindness. Protective, possessive, and always coming to Takeo's defense, Makoto and Ai would shield their kind-hearted friend at all costs, protecting him from any harm. In the end, Takeo deserves his shot a love and to some extent, the heartache that follows.
2. We All Come In Different Shapes and Sizes
We are finally seeing a diverse range of body shapes and sizes being represented in anime and that is something we truly appreciate. A realistic portrayal of high school students and young adults is increasing in media, changing the way we view body standards. Too small, too large, normal? There aren't definite labels, but what sets each character apart from the rest are their exceptional qualities and abilities and we are able to observe this in both Recovery of an MMO Junkie and Ore Monogatari.
3. "Presents For Me? But It's Not Even My Birthday!"
Who can refuse a gift? Especially when it's given out of the blue! In Recovery of an MMO Junkie, Lily was extremely gracious in helping out Hayashi as Moriko was building her character. Starting a new character in any game is rough because it takes a lot of time, resources, networking, and real money (sometimes) in order to get your character in the rankings. Veteran gamers who can sympathize are pretty awesome to offer up their time and enterprise to novices. This act of kindness makes the gaming community a pleasant one, with the circle of giving and receiving in constant motion. In Ore Monogatari, we witness the act of giving when Rinko bakes delicious pastries for Takeo to taste. Since Rinko enjoys baking, this gesture reveals her efforts and affection towards Takeo, making each bite better than the last.
---
Like Ore Monogatari? Watch Just Because!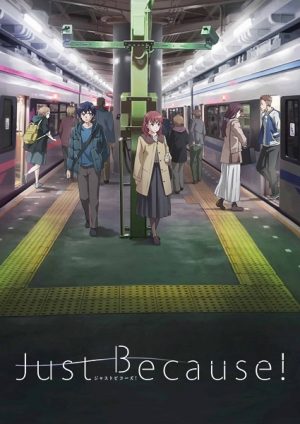 Episodes: 10+
Aired: October 2017 - Ongoing
Just Because! captures the story of five students, Ena Komiya, Hazuki Morikawa, Mio Natsume, Haruto Souma, and Eita Izumi, as they face the realization that four of them will be graduating soon. This lingering uncertainty to guess what will happen next is further complicated because Eita has returned to town after being away for four years. Following that, the ebb and flow of school, friendship, romance and drama has drifted dramatically, leaving viewers to speculate.
Three Major Similarities Between Ore Monogatari and Just Because
1. "I Have A Confession To Make"
Have you ever known the feeling of keeping a secret you wanted to let out so bad, holding in an immense pressure that's ready to burst at any second but were sworn to secrecy not to let out a peep? In particular, the most juiciest secrets are the ones that contain romance and crushes. So when it comes to secrets of the heart, it's best to let your crush know how you feel in person to avoid any confusion or drama. The torturous weight will be lifted off your chest and results could turn out positive. We see this relief present between Haruto and Hazuki from Just Because!, and Rinko and Takeo from Ore Monogatari.
2. "Get With The Times!"
Gone are the days of dial-up internet, big bulky computers and AOL instant messenger. Today's trendy kids are conversating with IM apps like Line, where you can convey the most inner parts of your soul with a sticker! The modern human is constantly glued to their phone with such apps as Line, swiftly communicating thoughts to anyone. In Just Because!, Eita, Haruto, Hazuki, Mio, and Ena often connect with one another on last minute plans, whether or not any of them have the time to drop by and hang out. Both with advantages and disadvantages, sometimes this instantaneousness can impulse one to react too quickly without thinking. Just make sure not to leave your phone unattended, like Rinko did at Takeo's house in Ore Monogatari. Otherwise, unintentional glances could become disclosed!
3. "Thanks For The Advice, Pal!"
"Whatever words we utter should be chosen with care for people will hear them and be influenced by them for good or ill."
– Buddha
Advice, feedback and criticism are difficult to suggest when the one receiving it fails to take in the knowledge and enrichment the message intends to offer. The quote above fully represents the warmth and fondness good friends have for each other, overall wanting the utmost best for their BFF. Haruto and Eita from Just Because! and Takeo and Makoto have friendships that spanned elementary and junior high. The devotion that exists between these friends is unlikely to fade. So when someone you really care about stops to tell you something on a serious note, take heed of their guidance because they only want to help.
Final Thoughts
As we conclude our assessment of Recovery of an MMO Junkie, Just Because! and Ore Monogatari, it's important to remember that the most awesome thing about the romcom genre is that it is so entertaining, heartwarming, engaging, and sometimes outrageous. Having said that, we highly recommend you watch current titles Net-juu no Susume and Just Because!! Overall, as there are so many other choices available, let us know if you agree with this analysis. Feel free to leave your suggestions and comments below! Thanks and enjoy!
---