Some of us may have experienced being the new kid once or twice and can agree that having "all eyes on you" is, at first, an unsettling feeling. The introductions, working at remembering names and faces, and trying to fit in seems like a demanding process, but once it's all said and done, the transition wasn't as bad as we made it out to be. When one is taken out of their comfort zone and placed into an environment totally opposite of that, we can look at the occasion as a new beginning, another adventure, or even a do-over. In these three slice of life titles, we introduce to you, an exciting division of recommendations, solely to give you all a sampling of current flavors based on popular previously aired anime. So let's get it started!
About Non Non Biyori

Episodes: 12
Aired: October 2013 – December 2013
City gal Hotaru Ichijou moved with her parents from Tokyo to rural town Asahigaoka. Shifting from such a fast-paced lifestyle to a slow-moving one, Hotaru is steadily adjusting. As she starts at her new school, she begins to really notice how small and different Asahigaoka is from Tokyo. With a total of five students in attendance, ranging from elementary to middle school ages, Hotaru experiences a mixture of personalities and characters. Following the lives of these kids throughout the seasons, we observe their heartwarming stories, as well as Hotaru's convergence to country living.
Liked Non Non Biyori and Hinako Note!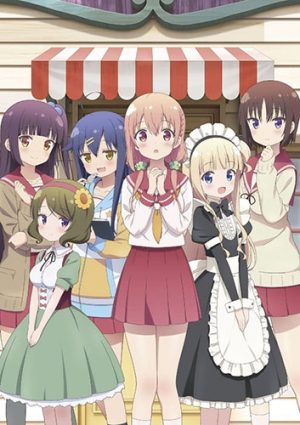 Episodes: 10+
Aired: April 2017 - Ongoing
"Just a small town girl…." Hinako Note follows the story of Hinako, who has lived in the country for most of her life. Wanting to improve her speech and conversation skills, as well as work on her passion for acting, Hinako decides to move to the big city, Tokyo. She's super excited with what the city has to offer! Upon her arrival, she discovers that her boarding house is actually a thrift bookshop/café, Hitotose. Following her journey, Hinako encounters five other individuals with standout identities, eventually making an impact on her life. Watch and see how Hinako interacts and learns from each of them.
Three Major Similarities Between Non Non Biyori and Hinako Note
3 Major similarities
1. Totes Adorbs!
In Non Non Biyori and Hinako Note, the girls and Suguru are collectively all around the same age group, spanning from first grade to the first year of high school. While many may consider this time in life to be young and only the beginning, we can always appreciate the innocent and vibrant quality they all possess. Admiring their eagerness for life's endless opportunities, their optimism for everything, and overall enjoying the simple period of their youth, we can't help but notice how precious and adorable they all act and appear.
2. Warm Welcome
When one is labeled as the "new kid", the collective can be one of two things: either accepting or vicious. Fortunately for Hotaru and Hinako, the new crowd demonstrates to be the warmest and most inviting group of people ever. As Hotaru and Hinako are adjusting to their new habitat, their new classmates and housemates show them around town, giving them tips to ensure that they are as comfortable as possible. To ease the symptoms of homesickness, the welcoming committee presents to Hotaru and Hinako distinguishable qualities of their new home that bare a resemblance to what they left behind. Thanks to this, Hotaru and Hinako both uncover that their current location won't be so terrible after all.
3. Quirk, Quirk, Quirk, Quirk, Quirk, Quirk
Ingredients to a slice of life comedy:
-A dash of adorable girls,
-2-3 choice settings, particularly a school environment,
-And to season, a topping of one oddity per character, such as an animal magnet, someone who freezes into a scarecrow, a gal who eats pages from a book, and a sassy, fiery first-year middle student with a 'give 'em hell' attitude, just to name a few.
With that being said, many anime in every genre have included characters that feature some kind of quirk or trait that really makes them stand out. Whether this was done to help viewers remember the show or to keep things entertaining, some of these qualities are excessively flamboyant and we love it!
---
Liked Non Non Biyori? Watch Sakura Quest!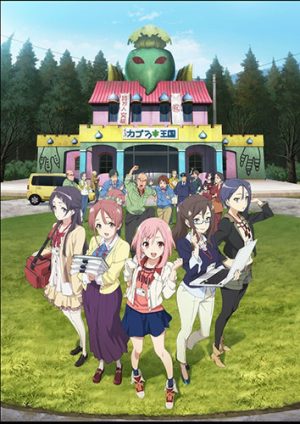 Episodes: 11+
Aired: April 2017 – Ongoing
Sakura Quest follows the conquest of Yoshino Koharu, a new Tokyo transplant in search of a job. After continuously applying for employment in the big city, she still hasn't had any luck. On one lucky day, she gets an offer to work at a travel agency. Overcome with excitement, she accepts the position, but fails to read the fine print in her contract. The details include becoming the queen of a small country town for a year, promoting tourism in the area, and the small additions she overlooked. With help from Sanae Kouzuki, Maki Midorikawa, Ririko Oribe, and Shiori Shinomiya, Manoyama Town is going to be a happening place! It's good to be queen!
Three Major Similarities Between Non Non Biyori and Sakura Quest
1. No Shade Country Bumpkin!
We've all heard of, or perhaps know about, country living: too slow, too quiet, and a bit of a trip to get to places. As Hotaru and Yoshino are gals hailing from the big city, they celebrate and are proud of every part of being a city girl. Wanting to distance themselves from country life from the start, they begin to wonder, later on, why they were so against their new surroundings in the first place. They learn by each episode that there are certain qualities and attributes they appreciate about both the country and the city. Overtime, they grown to love living where they're at, especially because of the people they've developed close friendships with.
2. The Devil Is In The Details
In Both Non Non Biyori and Sakura Quest, the animation and details are absolutely superb! Utilizing vivid and bright colors, each series really captures the beauty of the countryside. Untouched by the hustle and bustle of urban industry, the rural setting covers miles of stunning forestry, mountains, rice fields, and Sakura trees. Something to publish in a travel guide, the countryside of Japan is even more beautiful than these anime depict.
3. "I'm Coming Out, I Want The World To Know!"
After residing in Asahigaoka and Manoyama for a while, Hotaru and Yoshino start to come into their own, feeling that they belong and are accepted by the people in town. Instead of shutting themselves out in a totally new environment, Hotaru and Yoshino are open-minded and embrace what their new homes have to offer. Being optimistic about an abrupt circumstance allows for changes and growth within you. From this, we see in Non Non Biyori and Sakura Quest how these girls evolve in trying new experiences.
Final Thoughts
So that concludes our take in comparing two current titles with Non Non Biyori. The most awesome thing about slice of life anime is that they're so relatable, heartwarming, and truly enjoyable.
As there are so many other choices, let us know if you agree with this assessment. Moreover, feel free to leave your suggestions and comments below! Thanks and enjoy!
---