This one goes out to all of you slice-of-life lovers looking for something relaxing to watch on a warm summer evening. Is it still summer? Kind of. Anyway, today we'll be looking at a couple of Summer 2017's cute girls doing cute things series, that we think you'll be interested in if you were a fan of the dragon-tastic Kobayashi San Chi no Maid Dragon. It's been a little while since the scaly series aired, but hopefully, we can all still remember it's hilarious gags, incredibly cute scenes, and important lessons about what a family really is.
The series we'll be checking out today include Centaur no Nayami, a story of half-horses and other apparently not so mythical monster girls, and New Game!!, the continuation of cute girls making games. So if either of those sounds interesting to you already, then you should keep reading to find out why else you should check out this season's slice-of-life selections.
About Kobayashi-san Chi no Maid Dragon

Episodes: 13
Aired: Jan. 2017 – Apr. 2017
Anime has spent many years trying to develop the perfect maid, crafting, honing, never ceasing to dazzle us with cute girls in the famed black and white outfits. Kobayashi-san Chi no Maid Dragon demonstrates the latest revolution in cutting edge maid technology: cute, dragon maids. There's actually only one dragon maid, Tooru, but the other dragons are also adorable so we'll let it slide. Office worker Kobayashi is the lucky lady on the receiving end of the said dragon-shaped gift, as Tooru has added herself to the Kobayashi household indefinitely. This is a story about the daily lives of dragons in the human world, and the silly, ordinary, and downright dangerous things they get up to.
Liked Kobayashi-san Chi no Maid Dragon? Watch Centaur no Nayami!
Episodes: 12
Aired: Jul. 2017 – ?
In a world where "humanity" evolved with an extra limb or two, those extra appendages took the form of wings, tails, and horse legs? Yeah, the science might be a little flawed, but the important thing is that there are cute centaur girls! Centaur no Nayami is a look into the daily lives of a group of high school monster girls, starring the sweet as sugar centaur Hime. While there are no ordinary humans in this world, there are angels, devils, and mermaids on top of the aforementioned centaur sweethearts. It may be worth mentioning the disturbingly strict anti-discrimination laws as well. Might want to keep an eye out for those.
Three Major Similarities Between Kobayashi-san Chi no Maid Dragon and Centaur no Nayami
1. It's Okay, They're Only Monsters on the Outside
The titles make it fairly obvious anyway, but both Kobayashi-san Chi no Maid Dragon and Centaur no Nayami utilise the ever popular monster girl as their main selling point. Yes, the dragon girls might have made cute humans anyway, but the funny horns and wagging tails do add another cup full of moe to the already adorable concoction. The same goes for our centaur friends, who are perhaps a little bit more orthodox in their approach to monster girls. Note: a little bit.
While Centaur no Nayami's serpents are not quite as cute as Maid Dragon's, we're sure the angels and cat girls will make up for that without too much trouble. The main difference between the two shows, apart from the different animals, is how they use the monster theme within the show. In Kobayashi-san Chi no Maid Dragon the dragon related scenes are mainly used for comedy or action and are also used to discuss the difference between humans and dragons. In Centaur no Nayami the monsters are perhaps a more constant theme throughout the show, as there are no regular humans at all, and there's a lot of talk about how their world deals with having so many species living together.
2. Well That Got Dark Fast
Although slice-of-life shows are mostly all laughs and smiles, we can all appreciate when they want to get serious for a moment, which is something we think that Kobayashi-san Chi no Maid Dragon and Centaur no Nayami both do very well in their own way. Kobayashi-san Chi no Maid Dragon has one main plot point relating to Tooru, which becomes clearer throughout the series, and that relates to her feeling of not belonging. Among more obvious problems like her and Kobayashi's different life spans, and whether she's just an inconvenience, Tooru is tormented by the idea that she just doesn't belong with the human that she loves, and that frightens her.
Centaur no Nayami doesn't address a particular issue or character in this same regard, but it perhaps has some even darker stuff going on in the background. Throughout the series, one thing that gets mentioned constantly is how careful you have to be so as not to discriminate anyone in their society. To do so means a swift trial and time in the slammer it seems, and it becomes evident that in such a diverse society, drastic means have been taken to ensure that everyone remains "equal". The series, perhaps interestingly, doesn't paint this as being either right or wrong, and instead, it's left up to the viewer to decide what they think of this scary-but-equal society.
3. Slow and Steady…
Though those more serious themes may exist within the shows, Kobayashi-san Chi no Maid Dragon and Centaur no Nayami are slice-of-life series through and through and we would not have it any other way. Kobayashi-san Chi no Maid Dragon focuses on not only adorable moe moments (we love you Kanna) but also ridiculous comedy scenes, all too often centreing on delicious, home-cooked dragon tail. While also privy to such amusing goings-on, Centaur no Nayami is a little slower paced than the dragons next-door and spends a lot of time chit chatting and hanging out at friends' houses. So if you're after something sort of slow and certainly relaxing, we'd say that both series fit the bill pretty well.
---
Liked Kobayashi-san Chi no Maid Dragon? Watch New Game!!!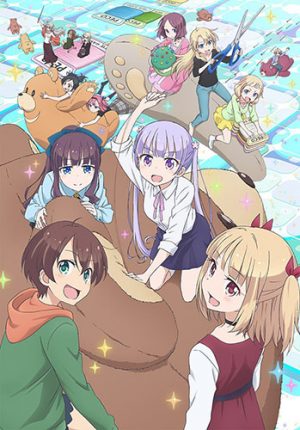 Episodes: 12
Aired: Jul. 2017 – ?
Yes, New Game! is back, and that extra ! at the end of title means double the excitement. Well perhaps not double the excitement, that'd be a little too much, but yes New Game!! is the sequel to last year's video game based slice-of-life series by the same name, now with more cute girls than ever before. Eagle Jump's latest recruit Aoba returns, still following in her senpai's footsteps and hoping to become a talented game designer. Of course, there are her three booth buddies, Hifumi, Yun, and Hajime ready to support her all the way, and her university friend Nene seems to be working on a way to sneak back into the company and keep an eye on her bestie. Things are looking great for the whole gang really, but what might happen when the long awaited new girls show up?
Three Major Similarities Between Kobayashi-san Chi no Maid Dragon and New Game!!
1. Cute Girls Doing Cute Things
When it comes down to it, the main reason to watch shows like New Game!! and Maid Dragon is obvious: cute girls doing cute things. Why else would Kanna be so constantly adorable and Quetzalcoatl so ditzy, Aoba so enthusiastic or Hifumi fantastically shy. While both series are so strong because they contain more than just your average moe-blob show, the cute girls remain a fundamental part of both.
Thinking about it, Tooru and Kanna are definitely carrying most of the weight for Kobayashi-san Chi no Maid Dragon when it comes to cute scenes, in fact, Kanna is debatably carrying more than what is reasonable for someone of her size. That deserves extra head pats. New Game!! is more of a moe feast, of sorts, with the entire cast being engineered to produce the highest amount of moe possibly on a continuous basis, with even the most senior members of staff having the cutest faces and most adorable personalities.
2. Let's Get Real
Just like we mentioned in our previous comparison with Centaur no Nayami, Kobayashi San Chi no Maid Dragon does actually have some real issues with it for the characters, although they might be addressed more lightly than in a drama series, and we think New Game!! is also similar in this regard.
With the series being based at a company, there are certain unavoidable realities that come along with that, such as deadlines and the fear of failing to perform up to what's expected of you. In more recent episodes we've seen Aoba dealing with some pretty serious disappointment as she loses out to senior staff, and Hifumi having to face up to her serious social anxiety, which although clearly comical at times, is obviously no easy task.
3. Aww Look at Her, All Grown Up
On a related note to that of realities shown in both series, let's talk about one of the other core themes they share: growing up. While Tooru might be an adult dragon, her maturity level is shockingly low, and then, of course, there's sweet little Kanna and socially inept Fafnir. On the New Game!! side, we're focused mainly on Aoba's new experiences in the adult world, along with Nene and some young new faces that appeared this season.
Many of Tooru's problems stem from both being away from home and from still being bound by her father, issues that are certainly not uncommon to those trying to break into adulthood. Kanna is literally growing up and learning to make friends, amongst other things, which she seems to be pretty good at. New Game!!'s situation is a little different, with Aoba and Nene having to learn how to take on adult responsibilities in the workplace and sometimes their personal lives, and even the older staff members sometimes learning a lesson or two from their younger colleagues, becoming that little bit more mature.
Final Thoughts
Although Centaur no Nayami and New Game!! are very different in terms of art style and plot, their target audience feels very similar, and they both certainly share a lot in common with Maid Dragon. Kobayashi San Chi no Maid Dragon is certainly considered to be a high-quality series overall, enjoyed even by those who aren't normally slice-of-life fans, which makes it difficult to compete with. We think that if you did enjoy Maid Dragon though that both Centaur no Nayami and New Game!! should be worth at least the three episode test, so we highly recommend giving them a shot.
So what did you think of today's selections? Were you a fan of Kobayashi-san Chi no Maid Dragon, and are you already watching Centaur no Nayami or New Game!!? We'd love to hear what you think of the series so far, so be sure to leave us a comment down below!
---